Fun & Rewarding Halloween Marketing Ideas For The Festive Season 2020
Running short of time? Get PDF of the blog in your mail.

Play Now
Join our Webinar "Preparing for the Holiday Season Sales in a COVID-19 Environment" Co-hosted with Google India. Register Now and catch experts talk about the changing retail landscape and best practices for this Holiday Season.
Halloween, as seen from the marketing perspective, proves to be a Magic Holiday. But things have changed in the wake of the global pandemic and so would be with the Halloween marketing ideas. Yes, covid is the very skeleton shrimp that would be lurking behind every mask this Halloween. Will that mean no trick-or-treating this time? Will it be a different kind of October 31st this year? Well, turning online for shopping would be the new normal, and yes the doors for the last-minute shopping deals gallops would be opened this Halloween.
The door-to-door trick-or-treating, or even the trunk-or-treating, or the children gatherings in school or church parking lots, will all that be possible? The parents on the one hand, are wondering that, but yes, the marketers, on the other hand, have planned something unusual. The brands have to propel marketing campaigns as they could get to show the real spooky side of theirs. The day is full of costumes, attires, mysterious gifts, and so on. Also, when we talk of the tren Primarily there are products for which Halloween is an opportunity for specific brands and, secondly, adds a chance to connect with the customers, thereby enhancing their brand awareness.
Halloween serves a connection with your Marketing campaigns
Ghosts and skeletons, jack-o-lanterns, witches, etc., Halloween is best known for the variety and cultural diversity it brings with itself. Marketers do take this day as an opportunity. They seek maximum chances to leverage the Holiday for instilling a unique value proposition through their marketing campaigns. Halloween is always thought of as a base to build an ultimate customer base with the people constantly looking for terrifying costumes, attires, candies, gifts, etc. Surprisingly, if you look at the previous year trends in a report by Statista, you will actually find the dwellings and sources of inspiration for Halloween costumes for the people and their pets in the U.S. Specifically, the trick-or-treaters embracing the madness, rise up to the occasion to serve purposeful marketing campaigns. 
Seeing the presence of COVID-19, marketers would be launching robust Halloween marketing campaigns, planning a sequence of activities, and promoting the respective products or services, underpinned with all-encompassing research and analysis sequentially. When talking of the statistics underpinned, when can rewind the tape a bit to see how smartly Vahe Habeshian from Marketingprofs gave in a number by number based statistics for marketers based on what the Americans were concerned about more in the Halloween week, last year. Let's look at how marketers are thinking of running their marketing campaigns generating ideas that could take a full-fledged advantage of the Halloween holiday spirit…
1)Spooky Holiday deals would serve maximum returns!

Not only these, customized Halloween accessories, Halloween promotional goodies, the scary promos, etc., would turn favourable for the holiday marketing campaigns this Halloween. Creating a marketing setup around the Halloween themed idea is great as it instils the spookiness along with the eerie connect. This thereby gives a base to your product or services overwhelming the audiences to feel a connection at this time of the season. And you know what it's always great when you analyse and monitor the benefits out of your marketing strategies and you have a chance to do this with the upcoming Holiday Marketing season, just have a go with…
Plan a right marketing strategy for your business for Holiday season 2020!
2)Make sure your marketing ideas add to the relevancy of the spirit of Halloween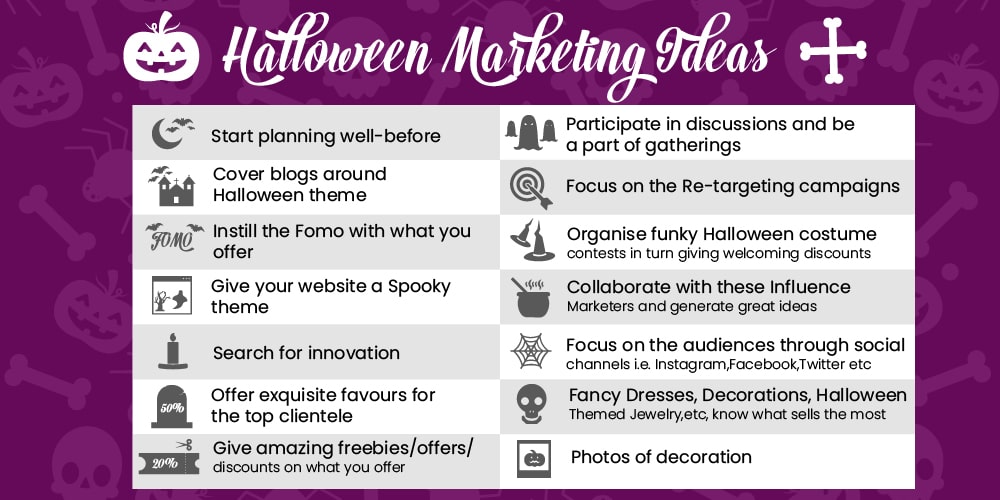 The message sent in communication via the different marketing materials used should render Holiday vibes. Beneficial advertising adhesives, direct mail practices, product brochures, product support manuals, or any conferences, programs, and registrations forms, you just have to build a relationship with the audience being communicated to via these resources. For an effective and visually appealing way to showcase your holiday offerings, consider utilizing a professionally designed brochure template that captures the spirit of the season.
Yes, the pandemic situation should also be displayed effectively, addressing the clarity of the message. Try to tie your business to the spirit of Halloween through your marketing adhesives. Introduce Holiday as a reason you are communicating this manner. Say, for instance..
write a blog post about Halloween,
connect as many prospects as possible via running the best costume or the most spooky costume contest,
attach something spooky with the company logo,
change your forum attributes sticking it to the Halloween theme,
organize a watch party addressing Halloween
try introducing some unique Halloween attributes to your blog posts and adverts
sell some special Halloween versions of what you have in as the best
organize a theme party for your employees and collect it as a memory to show the company culture to your prospects
Yes, it's that time of the year again where your business could capitalize to the fullest, but yes, whatever culture you display, try keeping the message of COVID intact, doing so indirectly.
3)Maximize your customer retention rate by organizing Halloween favours for the top clientele
Maximizing the Customer retention rate needs relentless efforts in the long run. Especially in the B2B industry, where you have to sustain relationships for beneficial future ventures. You have to be top-notch with marketing strategies. Halloween marketing campaigns created in the wake of the global pandemic would serve a great idea to maximize customer retention.
Seeing the circumstances around, this Halloween could be the best time to gather your clientele base via Halloween-themed get-togethers. Good communication rewards, especially when it's the time to fill your customers with the feeling of festivity and positivity. Organizing a meet with the top clients can help you connect better with your customers giving a respite from the already busy schedule that you share with them.
This idea can also be propagated in the form of gifts, goodies, and other Halloween favours that you could send to delight and surprise your customers. This is the best expected Halloween themed marketing campaign build-up for you. And you know what it's always a great build-up when you analyse and monitor the benefits out of your marketing strategies and you have a chance to do this with the upcoming Holiday Marketing season, just have a go with…
Plan a right marketing strategy for your business for Holiday season 2020!
4)Bundle up your product or services in a single unit suiting the Halloween theme
In particular, an eCommerce business needs to keep in mind to bundle up your products or services into a single unit. Facilitating multiple purchases at the very same time from a single resource, the strategy would best suit your Halloween marketing campaigns. You just have to make sure that the products or services being offered are bundled in accordance with the theme of Halloween, keeping in mind the ongoing circumstances. This is by far the best Halloween marketing idea that would attract your customers and increase orders. Various spooky segments can be applied concerning the products' choice to be bundled and their exposure to the target audience.
Here a limited edition Halloween themed product would also work wonders for your Halloween marketing ideas. This idea of pairing a product development with a limited edition theme brings in the mobility concerning your Holiday Marketing campaigns. Advertising this limited edition offer with some creative messaging would favor maximized sales in a limited period.
5)Instill in Fear Of Missing Out(The Marketing Fomo) via your marketing campaigns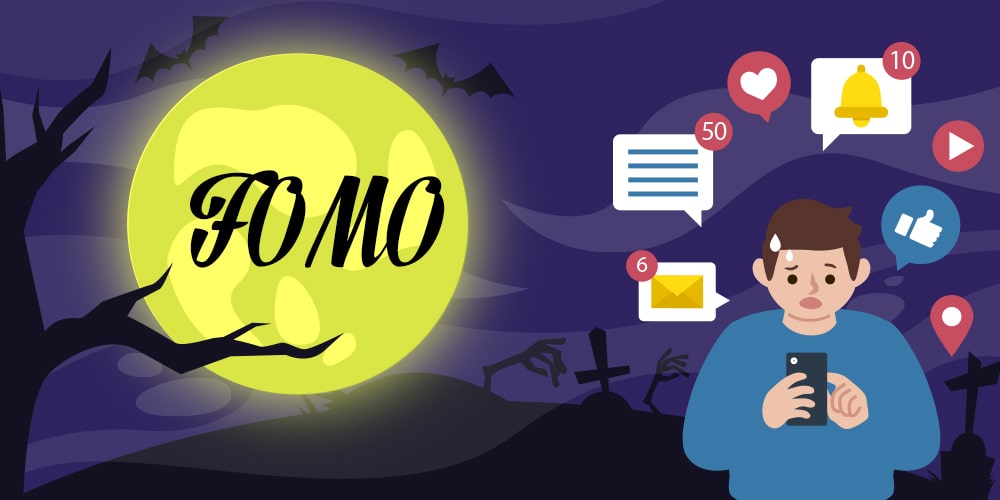 Its Holiday marketing season and instilling in the feeling of "first come, first serve" would target the last-minute shoppers. This is Halloween and seeing the treacherous circumstances around, creating a fear of missing out would target those shoppers who are actually waiting for exclusive offers till the very last minute. That feeling of being "in the know" serves maximum sales, since nobody wants to miss on any persuasive event or offer.
It acts as the very core of your content marketing, social media, and email marketing campaigns as the most receptive phenomenon with respect to your prospects. Developing a sense of fear, excitation, and anxiousness in them makes them grab the offer as quickly as possible. The limited-edition appearance is also a part of the marketing FOMO since it persuades the customers with a push to take advantage of a specific situation that otherwise could not have been possible. Prospects today are smart enough to not be missing any such exclusive deals, but yes, would you miss the opportunity to grow your business and multiply the returns, if you get a chance for a comprehensive, systematic analysis of the business marketing environment. and its very possible now with…
Plan a right marketing strategy for your business for Holiday season 2020!
6)Coordinate with other brands to bring in some competency within your Halloween marketing campaigns
See what your local competitors are placing in with their Halloween marketing campaigns. Keep researching and check for the events and activities that they are performing suiting the circumstances. Find in the loopholes and imbibe them as positives in your Halloween marketing campaigns.
Here you may also play an active role in suggesting some of the Halloween marketing ideas and tips to the other organizations as responsible members of society. You could also invest in organizing a live session on social media channels as your resource to connect with the audiences also while collaborating with the other local businesses and competitors in the long run. Collaborating this manner would help create a robust visionary approach towards making yourself a responsive brand, thereby building credibility with a better brand image.
7)Hashtags are important at this time of the season!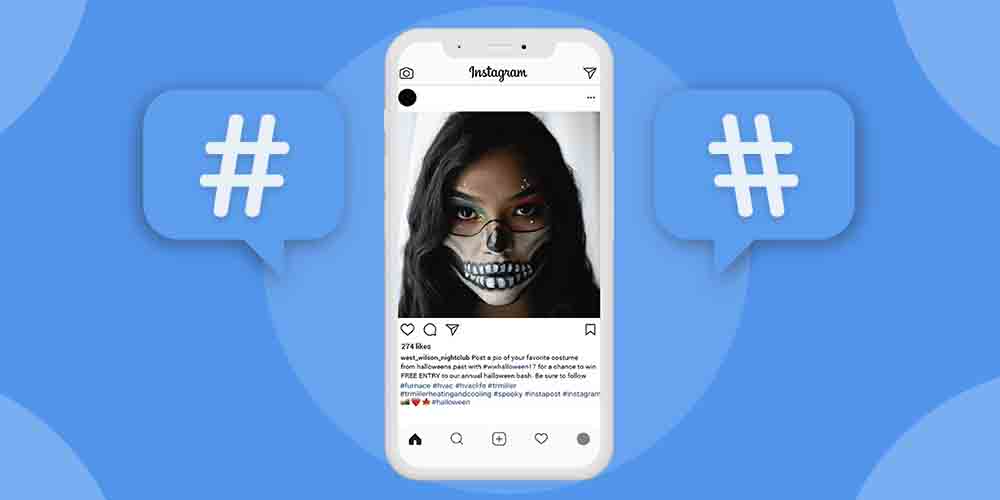 Hashtags connect brilliantly! Connecting what? Well, actually, when it's about the way to connect the social media content to a respective topic, theme, an event or a conversation, hashtags are your find. Halloween is the time when you as a marketer brim with ideas around it. There are various themes aligned and innumerable events taking place in this time of season. You want your posts to get discovered around Halloween-themed specific topics and therefore dabbling into clever and memorable hashtags can make your post trend.
Find a spooky theme and a thematic content alongside, keep searching for relevant and trending hashtags around, find them and add these with that particular social media content you create. Hashtags are really essential for your Halloween tie-ins and help to gather the User Generated Content very easily. Additionally, they increase brand awareness and enhance the reach to a new audience. Remember that unleashing your hashtags with some great additives always work. You could host a hashtag contest, and add some Halloween favours to the same, this helps to get traffic.
So now, let's wrap this up!
For blistering Holiday marketing ideas, especially the Halloween marketing ideas and the campaigns running thereby, you have to imbibe every inch of the festive feeling as your marketing strategy. Graphics, content, photos, videos, quotes, infographics, etc. whatever it takes, you have to showcase that very Halloween theme with every resource you use. Whatever campaign you are running, either social media, content marketing, email marketing, or any other, selecting the theme, the voice, the tone, and the choice should all suit Halloween's very presence. At last, it's quite significant that Halloween marks the deft spot between Back to School and Thanksgiving/Black Friday, which is where you can still find an opportunity to reach your audience and thereby need not necessarily face the fierce level of competition for attention-grabbing that actually hits with the holiday season. So if you have a discount or new customer promotion you can offer, Halloween might just be the best opportunity to fulfill customer traction before the year ends.