Winning Tips to Sell More on Walmart in the Holiday Season 2021
Running short of time? Get PDF of the blog in your mail.

Play Now
Quick Brief –The past year has completely rocked the ecommerce world. Due to the global pandemic, more shoppers now shop online. This has created a tide of new opportunities for sellers to expand to eCommerce. Therefore, it is safe to Predict that 2021 will be a record year for holiday shopping. With sales hitting 97% annual growth in its most recent quarter, the Walmart marketplace has seen incredible growth over the past few years. Online marketplaces gain immense boost during holidays and festive season as people love to shop during the time. Therefore, Ignoring these facts and figures might mean you lose out on many potential customers. Hence, we have created the perfect checklist to help you Sell More on Walmart in the Holiday Season 2021.
Contents:
7 Sureshot ways to help you Sell More on Walmart in the Holiday Season 2021.
Walmart.com is one of the most trusted go-to holiday shopping destinations for shoppers looking for popular products, great value, and an exceptional shopping experience. Therefore, to drive more traffic and convert potential shoppers, ensure your online store is ready with the following keys for success!
Be ready with Sufficient Inventory.
As the holiday season is fast approaching, you need to prepare sufficient inventory for the rush. But it's just as vital to keep systems updated – cancelling orders because you're out of stock is a shopper's nightmare!
Consider the Pricing opportunities.
Pricing defines your competitiveness at the Walmart marketplace. As customers search for the best price, therefore Walmart favours brands based on their competitive numbers. So, be as competitive as possible with product pricing. Ensure your offer prices to be on the top of the competition and lead the Buy Box.
You can maintain competitive pricing by keeping in mind the two major pricing rules of Walmart-
Walmart Price Parity Rule
This rule clarifies that a seller's product will be unpublished from the marketplace if a customer saves big by purchasing the same product of the same seller from a competing website.
'Same product' here can be defined as the product of the same make, kind, and colour. It also includes shipping.
Walmart Price Leadership Rule
The price leadership rule states that a seller's product will be unpublished from the marketplace if a customer saves big by purchasing the identical product from a competing website regardless of the seller.
Here, 'Same Product' can be defined as the product of identical make, kind, and colour.
Note:The price of the product here refers to its Original price + Standard Shipping Charges.
Therefore to win the Buy Box with Best-on-Web Pricing to drive better sales conversions on popular items, always abide by the rules mentioned above of pricing.
Do not forget the Listing quality.
Listings act as a vital piece in the sales conversion puzzle. Optimized customers will never hesitate to search for their goods elsewhere if your listings aren't compelling enough.
Listing quality makes a huge difference in sales conversions as high-quality listings help you in –
Better product visibility
Winning the buy box and enhanced sales
Gaining more marketing opportunities
Also, content-rich listings help you stand out among the sellers. This is so because your product title, description, and other essential features significantly impact your customers' shopping experience at Walmart. They also play a vital role in enhancing the SEO ranking of your products. Use keywords to maximize your searchability.
Also, Read:
Optimize your shipping performance too.
To maximize sales through shipping during the holiday season:
Ship your orders at the earliest possible using the fastest shipping option you can.
Ship within two to three business days wherever possible
Stick to the same-day order processing
Provide free shipping for your entire catalogue
Display only in stock and ready to ship products that you have in your warehouses.
Avail and promote your listings with Free 2-day shipping tags for enhanced product visibility.
Provide exceptional Customer assistance
Always be on your toes to assist customers promptly. Quickly answer any product or shipping-related queries – within 24 hours, or sooner if possible.
Accept Returns Generously
Provide your customers with longer return windows ranging from 60-90 days after purchase. Longer return windows profoundly influence purchase decisions and help develop customers' loyalty. Walmart's Enhanced Returns program enables you to create happy, loyal customers. It supports you with streamlined tools to make sure that your returns settings are configured correctly. It also reviews instructions for your new Returns dashboard.
Manage your SKUs and inventory synchronization
Synchronize your product SKUs with other channels to corroborate smooth inventory flow between all platforms. Integrate with CedCommerce's cutting-edge technology to ensure on-time auto fulfilment of your orders.

9 essentials to check on your list to take off for this holiday season
Being a Walmart seller, you work hard round the clock to provide excellent products and customer services. But, the holiday season can be your time to shine.
The majority of consumers shop at the last minute for the holiday season. But, this won't justify your procrastination for store preparation. This is what We're here to help with! Learn everything about how to stand out and sell more on Walmart in the holiday season 2021.
Create and check your pricing list at least two or three times.
Keep a close eye on pricing and promotions to prepare your catalogue for the holidays.
Competitively price and re-price your items as and when needed to win the Buy Box.
Keep yourself updated with the Pricing Opportunity dashboard to gain insights on winning prices' details.
Enhance your Listing Quality score to shine bright. To Get your listings in sparkling shape for fueling sale –

Check your score regularly in the Listing Quality Dashboard.
Provide clear Titles, Descriptions, Images, and Attributes for your listings.
Make sure to have at least 4 high-resolution, professional photos.
Provide 3-10 Key Features for each Listing.

Learn how to achieve top-performing listings on Walmart.com with CedComerce's Listing Quality guide. Click here to learn more.
Keep yourself updated on the past as well as the upcoming trending categories and bestsellers. Click here to know how?

Give your shoppers the gift of fast shipping. Fast & free delivery is a proven strategy to win more sales. Choose your preferred delivery program from our portfolio of fast-shipping solutions.
Optimise your shipping settings with custom Shipping Templates provided by Walmart. Click here to learn everything about Walmart Shipping Templates.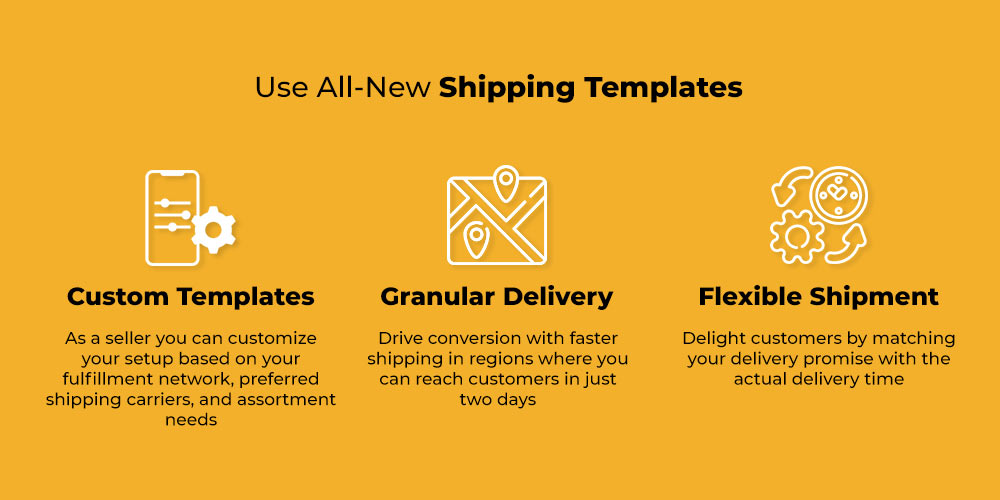 Stay on the 'nice' list by providing the best possible Customer service round the clock during the holiday time of year.
We are here for your success.
As customers expect bumper deals during the festive season, they shop like no other time of the year; hence the traffic is expected to be high. Therefore, to gain more traction for your products and sell more on Walmart in the holiday season 2021, contact CedCommerce's experts to gain insights into enhancing product visibility and sales. Our team of experts also helps you incorporate the aforementioned best practices in your sales strategy to sell better on Walmart this festive season and make phenomenal sales. So, reach out to CedCommerce NOW and get your queries resolved to sell more this holiday season.
We wish you the best of luck this holiday season.