5 Ways To Create A Successful Email Marketing Campaign
Running short of time? Get PDF of the blog in your mail.

Play Now
The sole purpose of setting up a business is to reach customers and get sales, but how to do so? The answer is simple. All you need to focus on is to have a nice, targeted marketing campaign. Incorporating an email marketing campaign into your marketing strategy is one such way that allows the marketer to reach and influence their audience effectively.
What is an Email marketing campaign?
When talking about an Email marketing campaign, it is safe to say that it means sending a marketing message to large numbers of people via Email. There are different communication methods like social media, calls, live chats, and many others, but email is still the king of marketing channels.
As a marketer, you use email marketing when you send out commercial messages to contacts who have subscribed to your email list and given you explicit permission to communicate with them via Email. Email marketing helps the brand in informing, driving sales, and creating a community around the business (e.g., with a newsletter). Instead of mass mailings, modern email marketing focuses on consent, segmentation, and personalization.
What is the
importance of having an email marketing campaign
strategy?
How often does an online store ask for your email address when you make a purchase from them? Every time! Is there a reason for this? Looking at the broader picture, they are making a pretty spectacular and wise move because an email is a great communication technique to convey how serious you are about delivering your services to others.
Implementing an effective Email marketing campaign to your marketing strategy might be helpful due to the following reasons:
Marketers consider email marketing as one of the most cost-effective marketing strategies.

It can be in automated form.

Email Marketing has a high reach among customers at distant locations.

You can measure your email marketing optimizations.

You can use email marketing to collect feedback from your customers and improve your business.
This is what makes email marketing campaign strategy essential for your business.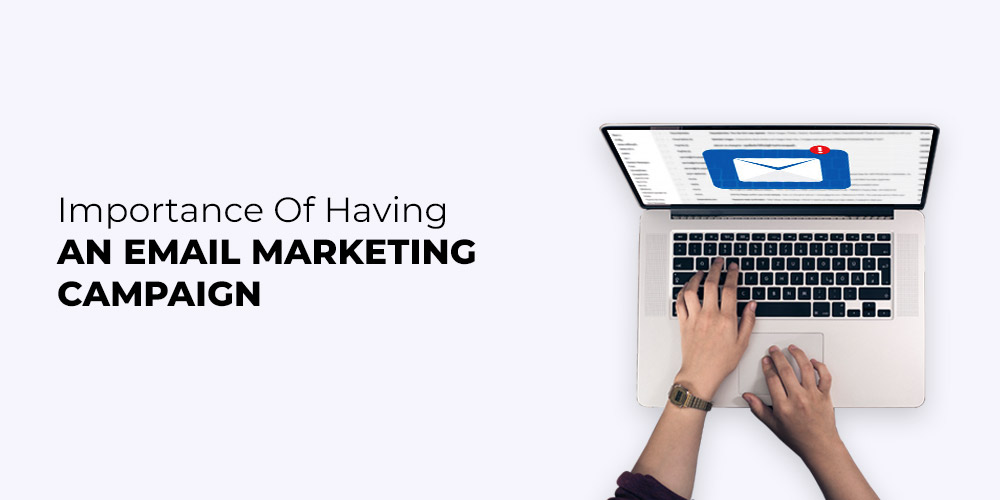 How to run a successful email marketing campaign for your business?
Each industry is unique. A retailer might send emails a few times a week, while a real estate agent might send a bi-weekly round-up of the latest sales and promotions. Staying in front of your customers is a necessity for almost all industries. Once your subscribers have been ignored for a month or so, they'll unsubscribe if you don't reach out to them regularly. If you send them too many emails, they will get irritated because their inbox is clogged. A/B test from there to find out what works best for your audience.
Content should be diverse, ethical, and open to all people and groups on all platforms. According to all indications, the coming years will be marked by social and political divisions on a grand scale. A brand must therefore step carefully when deciding which side to take and how to communicate with customers.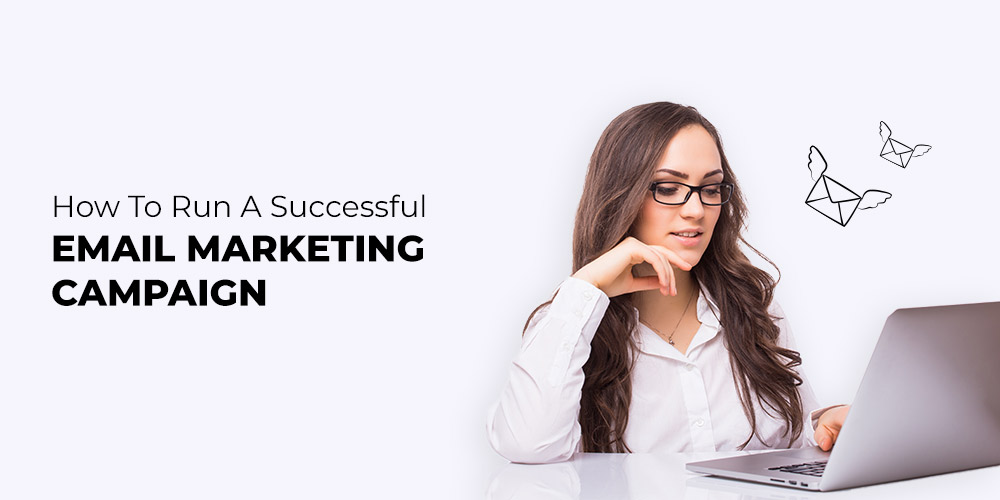 This is a great opportunity for marketers to incorporate

email marketing campaigns

into their marketing strategy and communicate more meaningfully with readers.
Therefore, personalization is more important than ever before.

Ensure that recipients understand what your brand offers them by using plain and straightforward language in your communications.

Keeping in mind the audience's busy schedule and inboxes is essential. Make a copy that is relevant, empathetic, and helpful to them.

Email messages should be limited to 25-150 words to keep readers' attention on a large scale.

Every three months, make an updated plan and send your emails.

In a recent survey, it has been found that around 79% of people feel that having an email marketing campaign is very important for businesses to succeed. Thus, every marketer should try to incorporate it into their marketing campaign. 
Your email's tone and success ratio are also influenced by the factors mentioned above.
Learn:  How To Create a Good Email Subject Line For Your Business Emails
Types of Email Marketing
Newsletters, promos, drip campaigns, and lead nurturing messages are all examples of marketing emails. We will discuss why each of these email kinds contributes to a successful email marketing campaign. Below are the different types of email marketing campaigns that businesses should use to build brand awareness:
You should give new subscribers a welcome series of emails to engage them. By subscribing to your newsletter, a visitor to your site permits you to contact them by email. As a result, you can build a direct personalized connection with the subscriber.
Future emails would increase engagement and response rates. Moreover, by informing them of what to expect from you in the future, a welcome email can assist and educate your subscribers. What your subscribers can expect in the future is absolutely crucial. Please include the following information in your welcome email –
Thank people for subscribing.

Show them what you have to offer.

Include a freebie as an incentive to urge them to engage with your content.
Most organizations consider newsletters as old-fashioned and time-consuming. Perhaps even the recipients themselves believe that newsletters are primarily promotional and provide no value. In email marketing, newsletters are used as a marketing tool. Because of their relevance in branding, a company's growth potential can be limited if not used efficiently. Newsletters are also an excellent approach to establish a relationship with your readership, as well. 
According to your preferences, you can manage the frequency of newsletters you receive on weekly, monthly and quarterly basis. In my opinion, weekly newsletters seem to be the most beneficial of all.
Emails of this nature are perfect for motivating subscribers. What if you want to advertise a product but lack the resources? Due to this, a standalone email is required. Standalone emails are designed to urge subscribers to purchase or engage in some or the other activity. To clinch a transaction, you may not need an entire email campaign. Standalone emails are brief, one-time emails that ask the recipient to take a specified action from the sender, as their name implies.
Almost every marketer recognizes the importance of interacting with their target audience and generating new business. Converting those leads into paying consumers is what one aims for here. As part of the campaign, consumers are informed about the brand's products and services. As a result, brand awareness is raised, and the buyer is persuaded to choose a specific brand over others. 
The link between the lead and the brand is a part of the setup. The use of email is a wonderful way to nurture leads. A lead nurturing automated, personalized email campaign is one of the most effective ways for marketers to influence their customers' buying behaviour. It has been found through research that around 48% of marketers believe that email marketing is one of the most effective strategies to help generate leads online.
Lead nurturing emails do not have to be promotional to be effective. Content that informs and inspires is what smart marketers employ to attract subscribers. As a result, you get more sales. 
Related: How To Get Lead Generation Through Content Marketing: The Ultimate Ways
The subscriber's activities trigger a transactional email. This includes completing a purchase, registering for an event, or interacting with an application, among other things. Instead of sending bulk communications to an extensive email list, it is better to send transactional emails to a single person at a time.
For example, receipts and confirmation, explicit requests, and account-related alerts are a few examples of transactional emails.
You must send emails that your subscribers desire to view to maximize the performance of your email marketing campaign. Asking them is the most excellent approach to figure out what kind of information they want in their inbox. These are the situations where survey emails can be helpful. Subscribers here need to respond to questions about your product, service, or content via survey emails. Your marketing campaign will benefit from the information provided by this email.
Businesses can take advantage of the holiday season to reach out to their customers. Sending holiday greetings will give businesses the opportunity to create additional leads and increase sales. To encourage subscribers to buy your products or services, you can include a call-to-action button in your Christmas emails. It's a great way to stay in touch with clients, as well as boost sales over the Christmas season.
It's rare for companies to send these kinds of communications.  The email drip campaign can include instructions on using and maintaining any product a marketer has sold to their client. The goal of a post-purchase drip email is to establish trust with the customer and improve your relationship with them. You can use it to upsell or cross-sell a product later.
Engaged email recipients are a crucial indicator that affects the reputation of the sender. Inactivity of the subscribers affects the email's deliverability, which reduces its overall engagement.
You can send re-engagement emails to your subscribers if they've stopped connecting with your material. It's because acquiring a new customer is 5 to 25 times more expensive than retaining an existing one.
The strategy of Email Marketing
In order to reach desired marketing goals with email advertising, marketers develop and implement an email marketing strategy, which is a collection of procedures that they identify and follow. To promote their brands, businesses can use this action plan to communicate directly with prospects and customers.
Having a plan is vital for several reasons. These are the most important and essential ones.
A synchronized business plan
Marketers can plan their email advertising process ahead of time when they have an email marketing strategy in place. Others in the company will know what they need to do at any given time, is ensuring that an email campaign is functioning out in sync.
Companies can plan when to send time-based promotional emails or non-promotional emails by using an email marketing strategy. Temporal promos are emails with time-sensitive contents that encourage recipients to act, such as purchasing a discounted product, signing up for an online class, or making an appointment. A three-part email series, consisting of an announcement (ideally two weeks in advance), a reminder (1 week before the event), and the final chance, is a good idea for these promotions (1 or 2 days before the event.)
A company's email marketing strategy lays out all of the objectives it hopes to achieve. Marketing objectives should guide an email marketing strategy. Besides that, email marketing tactics allow companies to measure the efficacy of their email marketing efforts.
A marketer's tactics, in this context, refer to the tricks and tips they use to promote their approach and achieve their aims. Start a cart abandonment program as an example of a method to reduce the number of lost sales.
Here are the measures that every marketer should take to create a successful campaign.
Set email marketing goals
The purpose of these marketing emails is to enhance consumer involvement:
to increase loyalty

return on investment maximization

keep in touch with your customers.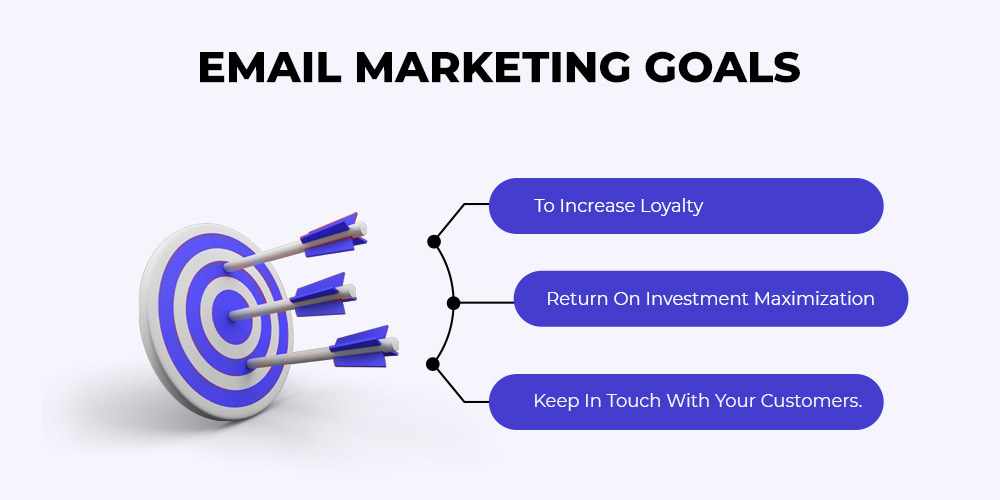 Marketing professionals, therefore, need to produce emails that align with these or other intended objectives. Thus, if you have a business, try to include an email marketing campaign in your marketing strategy. This could help your brand get recognition in your target audience's minds and develop a personalized relationship with them.