15 Christmas Marketing Ideas To Grow Your 2021 Year End Sales
Running short of time? Get PDF of the blog in your mail.

Play Now
Christmas is that time of the year when people get into a festive mood and try bringing smiles to their loved ones. Along with it, people start with their holiday shopping. However, this year it's going to be different due to the effects of COVID-19 on the consumer behavior, making it the right time to prep up with Christmas marketing ideas.
This year, even the celebrations have turned online and so do people's shopping preferences. Christmas sales offer buyers all around the globe a perfect opportunity to go easy on their pockets.
With successful marketing strategies, small businesses can convert their efforts, time, and resources into opportunities to gain customers and make a profit. With effortless Christmas marketing ideas, small business can increase their conversion rate. Statistics predicting e-commerce sales are estimated to increase by 11% to 15%, compared to the 2020 season. According to Salesforce, between November and December, online shoppers will spend $259B in the U.S. and $1.2T globally.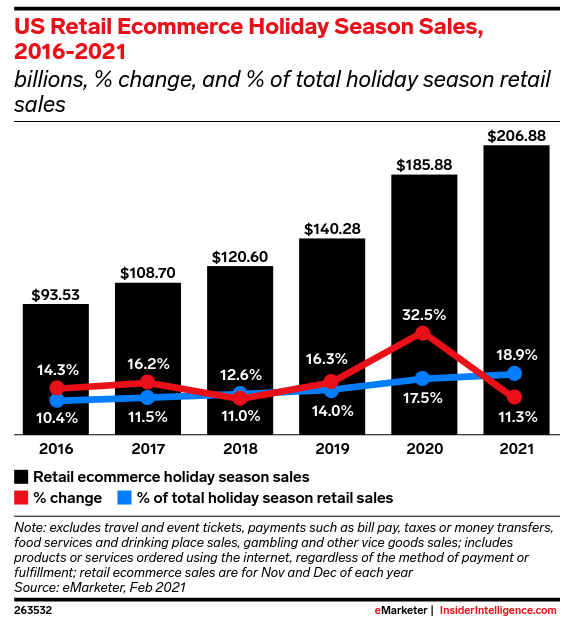 Source: Emarketer
Emarketer forecast that total US holiday retail sales in 2021 will rise 2.7% to $1.093 trillion, while the season's ecommerce sales will rise 11.3% to $206.88 billion.
To help you notch up your Christmas marketing ideas with new fresh insights, here are some working ideas that can be implemented by e-commerce stores this Christmas season.
Decorate Your Site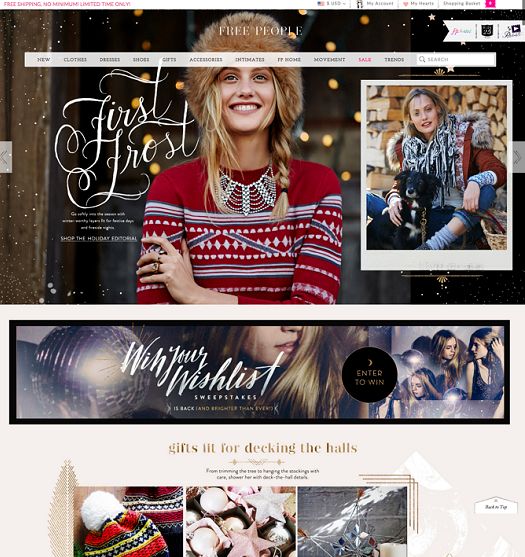 Source: Hubspot
The spirit of Christmas must be felt by visitors when they visit your website. The essence of Christmas can be added by using festive graphics ( such as Christmas trees, snowman, candles) and effects (such as twinkling lights, Reindeer coming with sleigh), change cover image includes a Christmas border, timer, and many other creative ideas that you may like.
You can add Christmas- theme to your social media platforms. This can be regularly changed based on upcoming festivities or vacation. The theme should relate to your current promotional offers and discounts to keep your customers updated.
Provide Gift Wrapping Service
During Christmas, gifts make up 53% of total spending. To offer such service during Christmas is a beautiful idea. Customers that choose to save time and effort will praise such an opportunity. This Christmas marketing idea strategy is constantly used by a lot of famous online stores to provide service to their buyers.
Promotion Of Gift Bundles
The culture of giving gifts is not new. It's been in practice since decades, and how can a business let go of this opportunity.
This festive season offer the buyers attractive gift bundles to ease their shopping experience because Christmas shopping can be a little overwhelming for buyers. And as good deal is liked by everyone – you will end up gaining more interested buyers.
In case such deals resolve the problem of buyers and satisfy consumer needs by making your Christmas Bundles with thoughtful combos, as they will like it even more. This Christmas marketing idea can help your small business increase average order value and save time for buyers in search of surprises.
Initiate Email Marketing Strategy
To push your email marketing Christmas idea strategy this festive season, bring your customers with a focused campaign to highlight specific products and offers, and to share important information relevant to the season.
Try to bring out the most from your email marketing to reach out to customers in their busy schedules and showcase to them the best of your deals and offers based on their previous shopping preferences and taste.
Grab a 15-days free trial of Email Marketing Services for Festive Season 2021!.
The headline of your mails should be eye-catching. This way the customers will not be able to resist themselves from visiting the site and availing the best choices and options. Send your customers and subscribers early emails to update them on upcoming festive season sales.
Your email should provide information regarding the free shipping facility that is being provided, gift wrapping service, Christmas contest to participate in, and a lot more. Make them aware of all the precaution measures you are taking in this COVID-19 pandemic.
For small businesses, the focus should be on presenting differentiated items that are not available from big-box retailers. Make sure that you have sufficient inventory of any stock being promoted.
Create Christmas Gift Landing Page
As Christmas includes exchanging gifts, this Christmas marketing idea is a perfect way to enhance the customer shopping experience, help them count on you for the best gifts by making the search process simple and encouraging purchase.
This can be done by separating categories, where customers can easily find all the necessary items by distinguishing between them. Thus making exploring simple without much mouse clicking.
Create Christmas Packaging
Toblerone in 2016 boosted sales just by replacing the brand name with the words "Ho Ho Ho" on its packaging on Christmas. Considering Toblerone's life altering experience, this marketing strategy for Christmas should be adopted by small businesses.
With Christmas-themed packaging, any product can be converted into a gift. With a free gift-wrapping service for Christmas, you can attract customers with this additional benefit, and they will appreciate it.
Everyone loves to avail of free services. Christmas packaging will give a festive mode to all your products. It will also build chances of upthrust in revenue and sales.
Effective Social Media Marketing
Social media marketing is the best tool to communicate with your visitors, customers, leads, and audiences. It is a good means of promoting your product and services and attracting new buyers and increasing sales. Thus social media becomes a great medium to drive maximum holiday sales for your store.
Use hashtags to uncover your post to more buyers. Restructure your cover page as per the celebration of Christmas, bringing the vibes.
Power Up Your Social Post this Holiday Season 2021.
Maximum shoppers conduct online research, gather information, and take feedback before buying a product. So, to increase your Christmas sales, make use of social media platforms without neglecting them. Use social media campaigns for your products by giving them different ideas about how to style your product for the festive season.
For example, if you are a clothing brand, then you can show different styles in which a denim jacket can be worn and multiple looks that can be taken using a denim jacket. This way, you will create customers for your brand as they may want to try the look for which they will flatter for your product.
Go For Omnichannel Christmas Advertising
Advertise your products through all channels whether online( Facebook, YouTube, Instagram and more) or offline(Brick -and -mortar) where your customers approach and invest their time and include a holiday spirit and mood in your ads.
Multichannel marketing of your product will create brand awareness. When customers come across the same product at every channel that they are on, your products have more chances of gaining customers.
This will increase your chances of moving ahead of your competitors who might not be able to promote their product on all the platforms. Make use of Christmas slogans such as "Carry on and keep Jingling" or "Your wait is over with our Christmas sale".
This will be eye-catching and appealing to buyers. During this time of the year, use all your channels for advertising. Create focus on your seasonal offers and products, to drive sales rather than awareness alone. Design online ads in such a way that they link the audiences directly to the landing pages.
This makes it simple for the customer to quickly buy any product being advertised and remember this an ideal time to promote gift ideas.
Induce a Sense Of Urgency
Christmas is the ideal time to incorporate countdown in your ads. Use countdown for your ads by offering a limited period offer, discount on sales, and others. This method of promoting limited-time offers and sales helps motivate people to make quick decisions and instant purchases. This urgency of last day offers and countdowns cannot resist customers from clicking on the ads and having sight of it.
Host A Local Charity – This Time Online
Christmas is the time of distributing gifts to loved ones. Big businesses have an open-ended social drive that benefits particular charities but for small businesses, it is difficult to invest such hard.
They can certainly try this at a small level by joining a local charity campaign online and promoting their brand awareness. Or you may collaborate and coin a charity offer yourself. These events announce the brand and name of sponsors. So, pay close attention to your local charity events to participate in.
Offer Free Shipping
Small businesses should use free shipping as it attracts more buyers. Eventually, it increases your sales by persuading shoppers to purchase more as customers tend purchase more from stores providing free shipping.
As a business owner or a marketer, this Christmas marketing idea is something that highly works during the holiday period. As this is the time when buyers go gaga over Christmas shopping.
Sell Christmas Gift Cards
Gift cards can become an option for buyers who don't know what to buy as a gift. Help these customers by ensuring that you have gift cards available at your store for purchase.
Gift cards are the simplest to attract more buyers. Offering gift cards at your e-store, you allure customers to spend more that results in increased sales and revenue.
Create Videos With Christmas Vibes
The Pandemic has made people stay home more than usual. And this home-stay has lead people to try out new things and hone their skills. Christmas is the time when people get into the festive mood and prep up their homes. Thus people are upbeat about buying new decorative items and also plan gifts for their loved ones.
Enhance your audience's Christmas shopping experience by sharing videos on how to decorate gifts, or best gifting options, or how to select the right gift for loved ones. This will bring out the joy of the holiday season among the customers. 
This will make them engage more with your brand as they get to learn something they are already looking forward. Such videos create a sense of special festive mood and encourage them to purchase more during the Christmas season. The motive behind these videos is to create brand awareness and target your customers.
Hold A Christmas-Themed Contest
This Christmas marketing idea of hosting a Christmas-themed contest can never go in vain. If executed, your brand awareness will spread like a wildfire.
You may organize a contest asking your customers to share their photos with your brand products or a video of them singing Christmas carols. This will encourage them to engage more with your brand.
This will create excitement among the customers to participate with full enthusiasm. You should try posting such entries on your social media platforms with proper planning following the mood of the season. This will not only drive Christmas sales but also generate free publicity.
Reward Your Customers
Distribute coupons and offers to your customers on this Christmas occasion as it serves as an incentive for your customers. To avail of these coupons, buyers shall certainly come up to shop and win such gifts.
This can be a way to express gratitude to your loyal customers. This Christmas marketing idea strategy leads to an increase in conversion rate and sales.
Let's Wrap it up…
After going through all the above Christmas marketing ideas, you're now ready to ace the Christmas season. Or you can connect with our Digital Marketing Mavericks to help you make most of Holiday Season 2021.
Your Turn to avail of the Digital Marketing Services for Festive Season 2021!
This Christmas we aim to bring a smile on your face amidst the ongoing blow of COVID-19. So, here you go! Let us know in the comments if you want to add more to our list of ideas.