Walmart's New Seller Savings Extended: Sell Commission-Free for 30 days!
Running short of time? Get PDF of the blog in your mail.

Play Now
Walmart's New Seller Savings Program is back. New sellers can once again leverage the opportunity to sell Commission-Free on Walmart for 30 days! By extending the application & onboarding deadline, Walmart aims to ensure that sellers like you can onboard the marketplace quickly and take advantage of its endless benefits.
What is Walmart's New Seller Savings Program?
Launched by Walmart in March of 2021, the New Seller Savings Program promises 30-Days of commission-free selling on the marketplace. With the program, Walmart onboarded countless US-based businesses and helped them expand their Multichannel approach.
Walmart runs on a commission-based model; it does not charge additional fees from sellers listing their products on the marketplace. Sellers pay a small percentage (set according to the category of product sold) of referral fee for the product sold. With the new initiative, Walmart is offering to waive that as well!
With the extended Sellers Saving Campaign, Walmart gives you another chance to publish and sell your products FREE for a month! 30 Days of 0% Referral Fees.
The only caveat? You need to submit the marketplace application before 30th June 2021 and GO LIVE on Walmart.com by 31 July 2021.
What are the Must-Haves to avail the benefits of Walmart's New Seller Savings?
Submit the Marketplace Application by June 30.
Onboard and Go-Live on the marketplace by July 31.
You should be a New Seller to Walmart.
You must fulfill all prerequisites to sell on Walmart.com.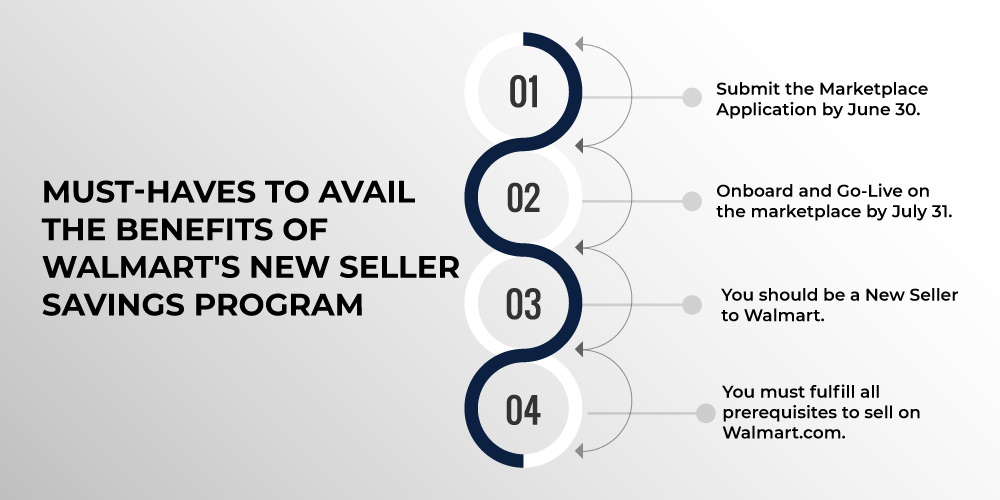 What are the prerequisites to sell on Walmart?
At least a year's experience of excellent performance in the US marketplace.
Be able to provide the GTIN or UPC for each SKU.
Have a warehouse based in the US with a Business Bank account and US Tax ID.
Should be able to receive returns from a warehouse based in the US and ship orders.
Should have dedicated customer service, a competitive pricing strategy, and fast & reliable fulfillment.
Steps to onboard Walmart in 2021
Onboarding Walmart is a simple process. First, you need to fill the marketplace application form, informing Walmart of your interest in selling on the marketplace. Once you get approved, you can complete the following steps to onboard Walmart and start selling your products.
Account Creation– Create a username and password to access your seller account. Try completing the process in one go; else, you'll lose access to the seller center.
Company Registration– This step involves providing all the necessary information regarding your business. This consists of information such as Display name and corporate address.
Taxes (W-9)– In this step, you need to fill out a tax form for essential purposes.
Payment Information– Register with Payoneer or Hyperwallet for all payments as they are Walmart's Payment Partner. Note– *Payoneer is the ONLY tax payment option for sellers with W-8ECI.
Shipping Information– Select price models, regions, and shipping methods for your business. Set your minimum and maximum transit time and price for all your regions.
And finally, you'll be ready to sell at Walmart.
For other necessary information, please go through the following blogs:
How can CedCommerce help you onboard Walmart?
CedCommerce, as an eCommerce solution provider, aims to simplify the entire selling process. Be it onboarding the marketplace or optimizing your listings. With unparalleled features such as bulk upload, auto acknowledgment of orders, near-real-time sync, profiling, and repricing, you can integrate your store with Walmart seamlessly.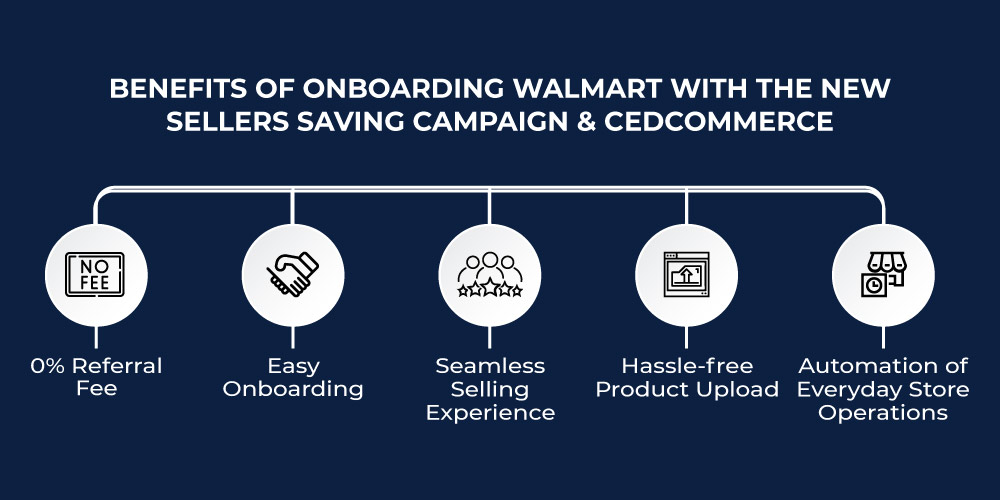 The distinct features allow you to upload your products in minutes, acknowledge your order automatically, and synchronizes the prices between your store and Walmart. This integration helps you manage all your shipments from a single platform with shipping extensions like ShipRush, ShipStation, etc.
Don't miss out!
Even if you missed the last New Seller Savings campaign, this extension is an excellent opportunity to think about onboarding Walmart. Get exposure to Millions of buyers, make enormous profits, and sell at 0% commission. Now, who'd say no to that?!