Top 10 Best Selling Product Categories To Sell On Wish In 2022
Running short of time? Get PDF of the blog in your mail.

Play Now
As you may already know, the eCommerce competition is predicted to get tougher this year. Being able to discover best-selling products on Wish and market them in the right way is crucial to stay ahead of the competition. Having an online business is exciting but deciding what to sell can sometimes be very challenging. Listing top-selling product categories on Wish can be very profitable. If you know what to sell, when to sell, and how to sell, you can monetize your products at the earliest. In other words, knowing best-selling items on Wish will not only increase sales but also increase your client base – all of which are critical to remaining competitive in the future year.
To help you get there faster, we are here for you. How? By providing you with a head start on the hottest and best-selling items to offer on Wish in 2022. We have combed the internet, purchasing statistics, and trending product lists in 2022, to build a list of Best selling products on Wish. The following are some of them:
What To Sell On Wish?
1. Gadgets
Technology is an evergreen industry with a plethora of hot products to offer online that cater to a variety of target demographics. Mobile phones are one of the most extensively used gadgets, and their user base continues to expand. Smartphones are estimated to be used by 7,516 billion people by 2026. Some of the gadgets you can plan to sell and are best selling items on Wish are:
Watch
Phone cases
Power banks
Car phone holders
Bluetooth headphones
2. Hobby
The Wish marketplace is for those who want to buy items that satisfy their interests. Thanks to the customized and curated feed of the Wish shopping app, customers can easily find things that are relevant to their hobbies or that interest them. Wish also actively encourages hobby shoppers by offering relevant bargains and discounts on its website and shopping app. Some of the most popular products in the Hobbies category:
Resistance bands, ab trainers, and portable weights are examples of home workout equipment.
Craft supplies like colouring pencils, cloth, and yarn.
Sports equipment like dartboards, golf nets, and children's games.
3. Home Decor
With a market value of $641.4 billion in 2020, home decor items have strengthened their position. And despite the fact that these products were popular during the pandemic, their demand will increase in near future too. Between 2021 and 2026, the estimate is for the continuous growth of 4,8%. WFH has increased the urge to create a cosy and comfortable environment to work in. And thus the demand for home decor during Covid-19 hyped unexpectedly, but this isn't the only reason right now. Real estate is rapidly recovering, and a large number of new homeowners are looking for this type of belongings every month.
4. Makeup & Beauty Products
Fashion has always appealed to women and men. Especially the ones who care about their looks. Alongside this, it's also a Top wish product category that Wish sellers can capitalize on. As a result, you may find hundreds of trending products to sell online in the fashion and jewellery markets. However, we will provide you with some solid data on the most recent trends in this category. Micro-influencers are boosting online sales, notably in the Makeup & Beauty area, thanks to their expanding popularity. Thousands of would-be influencers are utilizing social media to discuss healthcare regimens, offer cosmetic demos, and conduct product evaluations, all with the goal of improving their own and their audience's purchase behaviour. Furthermore, due to COVID-19 restrictions on salon openings, many consumers are purchasing tools and equipment to do beauty treatments at home.
Know how a apparel and accessory store marked its presence world wide with Wish- Shopify Integration by CedCommerce.
5. Automotive
As brick-and-mortar merchants enter the ecommerce, the online car parts and accessories sales market has exploded in the last five years. According to a McKinsey market survey, this increase will continue at a 3 percent annual rate through 2030. And thus considering to sell automobiles can be very profitable even in the longer run.
6. Phone Upgrades
Despite the ongoing pandemic and the upcoming Delta variant, consumers are continuing to upgrade to better smartphones every year. This ultimately means high sales of its complementary products like phone cases, expandable data storage, power bank, etc. In 2021, phone upgrade products remain the best-selling items on Wish, which will grow even more in 2022. If you are planning to start a new range of products or considering to expand your business on Wish, phone accessories can be a profitable idea. Through the CedCommerce Integration solution, you can expand your Shopify business on Wish in no time. It facilitates easy inventory management, near real-time synchronization, centralized seller panel, and many more.
7. Baby & Kids
Baby care products had a market worth of $67.35 billion in 2020. And it is predicted to reach $88.72 billion by 2026. People are working from home remotely as a result parents spend more time with their children. Baby products like toys, bags, baby carriers assist parents to balance their work and personal life and thus are becoming extremely popular nowadays.
8. Eco-sustainable & Biodegradable Products
Based on recent data, this is a relatively new trend that is expected to endure for at least the next 30 years. If you look at all of the countries in the European Union, for example, they are in the midst of an ecological transition that will last until 2055. Even while the majority of the planned actions are aimed at reducing emissions. And reducing reliance on fossil fuels, the issue of environmental sustainability and biodegradability has never been more vital than it is now. Furthermore, customers are aware of the effects of climate change, and many are seeking out ways to decrease their carbon footprint on their own.
Start your journey on Wish and expand your reach.
9. Personal Health Care
As you may guess, people's interest in self-care and health products grew in 2021. As a result of the pandemic, this trend is expected to continue in 2022. Here are a few examples of healthcare products that will be popular in 2022.
The supplements made from veggies, seaweed, and probiotics that strengthens the immune system.
Vitamins, minerals, and antioxidants supplements.
Personal care products like sanitiser, handwash, masks, etc.
These products' persistent global trend shows that it is a reliable trending product to sell in 2022, especially when people are concerned about their health.
10. Pet Supplies
The pet supply market is one of the most stable markets, thus getting a foothold in this sector can ensure long-term success. Dog and cat kennels, fur care accessories, canned food, and other things for four-legged friends are the top wish product categories. The following are some examples of popular products in this category that you might sell: Different varieties of pet diets are becoming increasingly popular.
Pet Food
Toys and accessories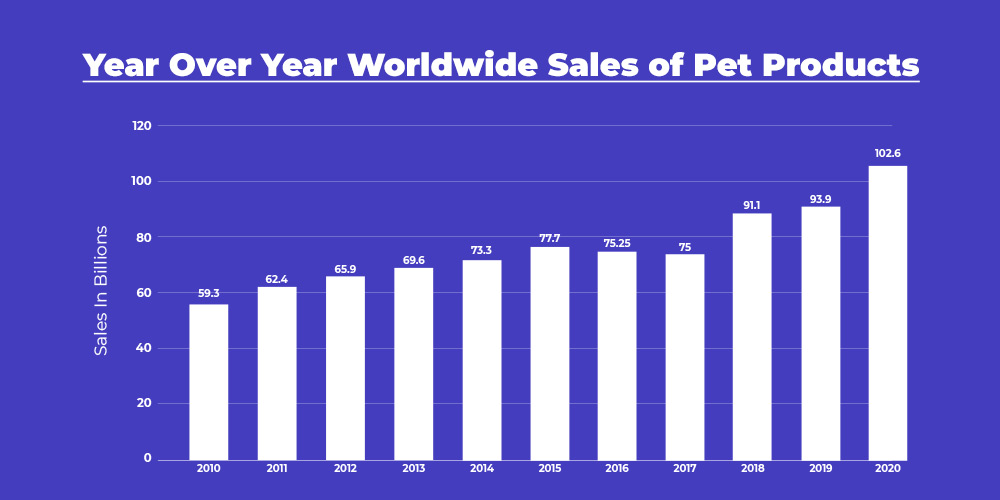 (Source)
Conclusion
We all know that popular things change dramatically from year to year. You've probably already come across some of the goods listed above if you've been seeking ideas for what to provide online in 2022. And that's a good thing: you now have proof that those items are a good choice because they are best-selling products on Wish. Finally, don't limit your sales options to Wish, despite the fact that it is one of the most profitable platforms to sell on. Learn about the best-selling products on other platforms and consider expanding your offerings to other platforms too!