Sell on these European Marketplaces to maximize your sales
Running short of time? Get PDF of the blog in your mail.

Growing popularity of marketplaces have made it more favorable to sell on them. Nowadays, people start their product searches on marketplaces and mostly end up buying once they get their perfect fit. Europe is high potential zone when it comes to ecommerce, and European Marketplaces are doing exceptionally well. Here are few stats that prove.
Revenue of ecommerce market in Europe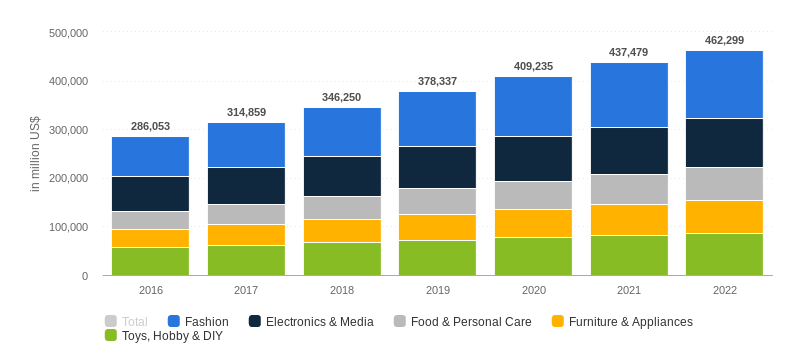 Number of e-commerce users in Europe
Average Revenue Per User for ecommerce in Europe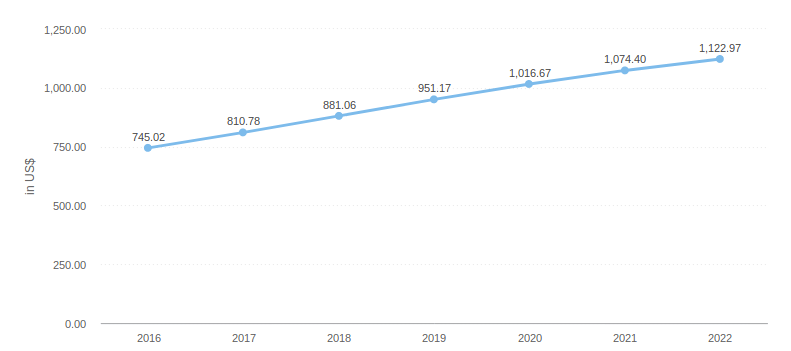 With these numbers we are well assured that e-commerce is on a growth trajectory. We at Cedcommerce are always trying to make selling easier for ecommerce businesses. We have developed Shopify Integrations for selling on marketplaces such as Etsy, Wish, Bonanza, Fruugo, and are in the process of development for Shopify Integrations for all high potential European marketplaces. We have chosen most of leading European marketplaces, to give you an overview of their dynamics, and features.
Etsy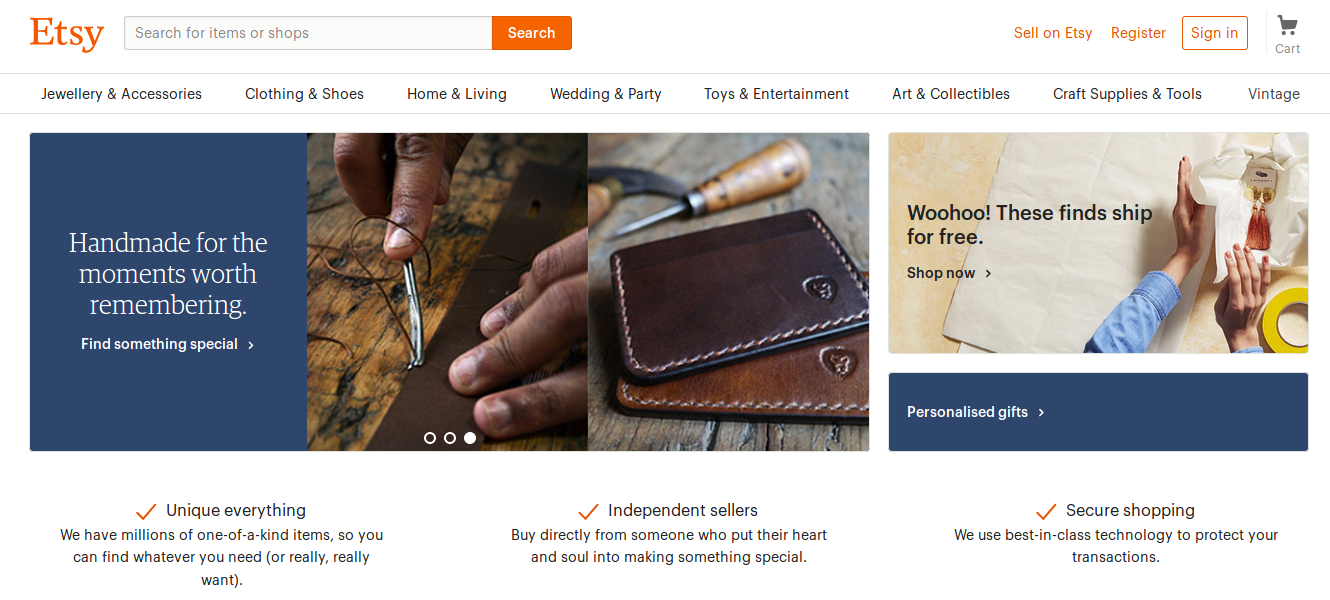 Seller & Buyer Stats and available Product Categories
Etsy is an open marketplace where 31 million buyers flock to buy from 2 million sellers. Product categories found on Etsy are Jewellery and Accessories, Clothing and shoes, Home & living, Wedding & Party, Toys & Entertainment, Arts & Collectibles, Craft Supplies & Tools, and Vintage items.
Top Selling Product categories
Top selling categories on Etsy are Stickers, Kids Clothing, Specialized candies, Party Decorations, Vinyl & Heat transfer supplies, Jewelry, Home Decor Art & collectibles, Vintage Items. Etsy is popular about being marketplace for handmade products.
Buyer Persona
Buyer persona on Etsy is 33%Mens, 67% Womens, 69% Have no children, 50% have ages 18-34.
Selling Fee on Etsy
Selling fee on Etsy compromises of three components.
Listing fee, where you are charged $0.20 USD for listing of each item.
Transaction Fee, when you make a sale from Etsy, you are charged a 3.5% of transaction fee. This fee is charged on listing price of item.
Etsy charges a Payment Processing Fee on each transaction, when shops use Etsy payments to accept certain payments from Etsy.
Reselling on Etsy
Reselling on Etsy is not allowed. Reselling here means, you have listed an item that is handmade, but you were not involved in its making or designing.
Etsy Convos
Etsy allows you to directly communicate with the buyers through Etsy Convos. It strengthens the relationship between buyers and sellers.
Advertising on Etsy
Etsy sellers can opt for two types of paid advertising through Etsy's Advertising Dashboard: Promoted Listings and Google Shopping ads. Etsy allows sellers to promote their listings on third-party shopping engines or Shopping Engine Ads.
Promotions on Etsy
Sellers on Etsy are enabled to offer promotions for their own shops. Etsy currently offers two promotional tools: Sales and Coupons. Etsy also has Targeted Offers that is a paid marketing tool that allows sellers to offer a Coupon to specific audiences of buyers who have interacted with shop in pattern behavior
Checkout Cedcommerce App, to sell on Etsy from Shopify
Sell on Etsy from BigCommerce store
Register on Etsy to start selling
Wish
Buyer & Seller Stats
Wish is an open marketplace with close to 5 million active buyers daily that get a variety to choose from 100,000 sellers. Wish claims that it shows your products to over 300 million consumers in the United States and Europe.
Popularity of Wish
Wish has got the share of 7.4% in the category of most popular mobile shopping app in the United States. Not only this but Wish emerged as the most downloaded shopping app in the USA in 2017. Wish had 32.5 Million downloads in the USA alone, which was much more than other e-commerce giants.
Wish Advertising Budget
Wish is the largest advertiser on Facebook and spends nearly $500 million a year on Facebook ads alone.
Product Categories
Wish has various categories listed for sellers including, Fashion, Baby & Kids, Tops, Home Decor, Accessories, Makeup & Beauty, Wallets & Bags, Gadgets, Watches, Phone Upgrades, Bottoms, Shoes, Underwear, Hobbies.
Buyer Persona
The buyer persona on Wish is Mens(25-65+), Womens(25-35), Technophiles(18-25).
Selling Fee on Wish
Wish has no upfront fee, monthly fee, the registration fee for selling. It charges you when you make a sale. The commission rates are a percentage of the total price and vary from product to product and is dependent on the category of product you are selling.
Register on Wish to start selling
Bonanza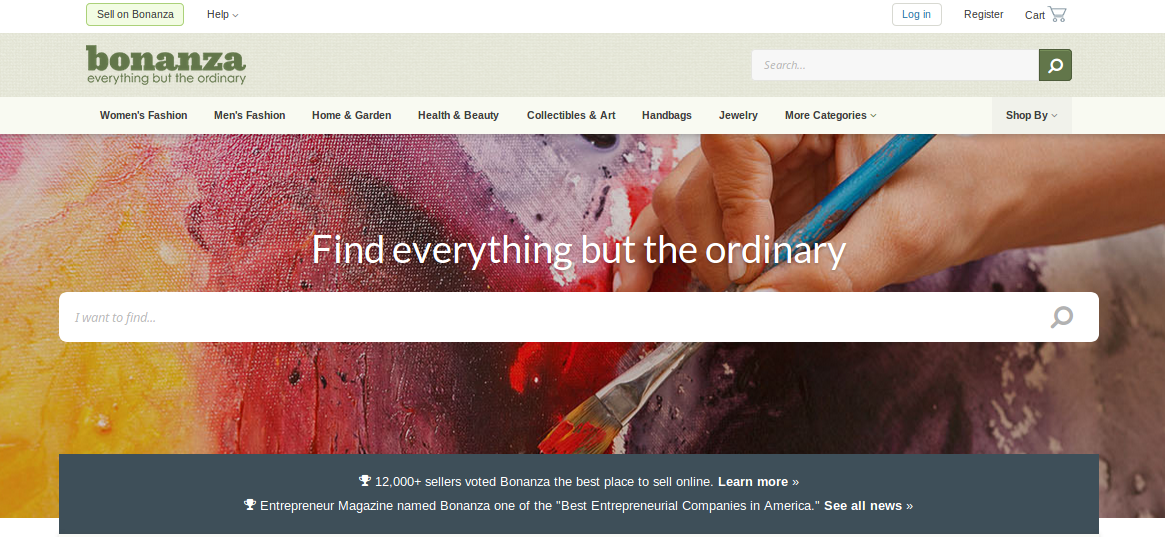 Popularity of Bonanza
Bonanza is a seller centric online marketplace that has been voted as Most recommended marketplace by group of 12,000 online sellers in an independent survey by ECommerceBytes.
Buyer & Seller Stats on Bonanza
Bonanza gets over to 2.2 Million unique visitors per month. Number of unique visitors to sellers is 54. Daily time spent on the website is 4 minutes 48 seconds. Bonanza has close to 20 million products listed on the site, varying from all product categories.
Best Selling Categories on Bonanza
The popular categories on Bonanza are Women's Fashion, Men's Fashion, Home & Garden, Health & Beauty, Collectibles and art, Jewelry, and Handbags etc.
Requirements for Top rated Seller on Bonanza
To be the top rated seller on Bonanza there are some requirements such as
Maintain a minimum of 98% positive feedback;
Active member on Bonanza for at least 90 days;
25+ transactions with US buyers within 1 year;
Minimum of $250 in annual sales;
Refund rate lower than 20%;
and Compliant with all Bonanza policies.
Selling Fee on Bonanza
Selling fee on Bonanza is charged on FOV (Final order value). For FOV under $500 the fee is 3.5% or whatever advertising plan you have selected. For FOV over $500, the commission is 3.5% (or whatever advertising plan you have selected) plus 1.5% on the amount exceeding over 500.
Advertising Plans on Bonanza
There are four advertising plans on Bonanza.
Basic (9% commission) will help you gain access to Google Shopping's powerful shopping engine, Bonanza network of affiliate bloggers, and Bonanza Promotions.
Standard (13% commission) adds distributing to eBay for promoting listings.
Superior (19% commission) will open all Bonanza shopping channels, including BingAds.
Elite (30% commission) includes access to all the shopping channels listed above, plus an even higher ad spend.
Webstores on Bonanza
Apart from the creation of booths on Bonanza, it also has a provision for creation of webstores. These are standalone online store whose back end is controlled by Bonanza. It has zero transaction fee, free themes to choose from, Inventory sync throughout to bonanza, ebay and etsy, and more. Bonanza charges $25/month to host your Webstore.
Sell on Bonanza from BigCommerce
Sell on Bonanza from Shopify
Register on Bonanza for start selling
Fruugo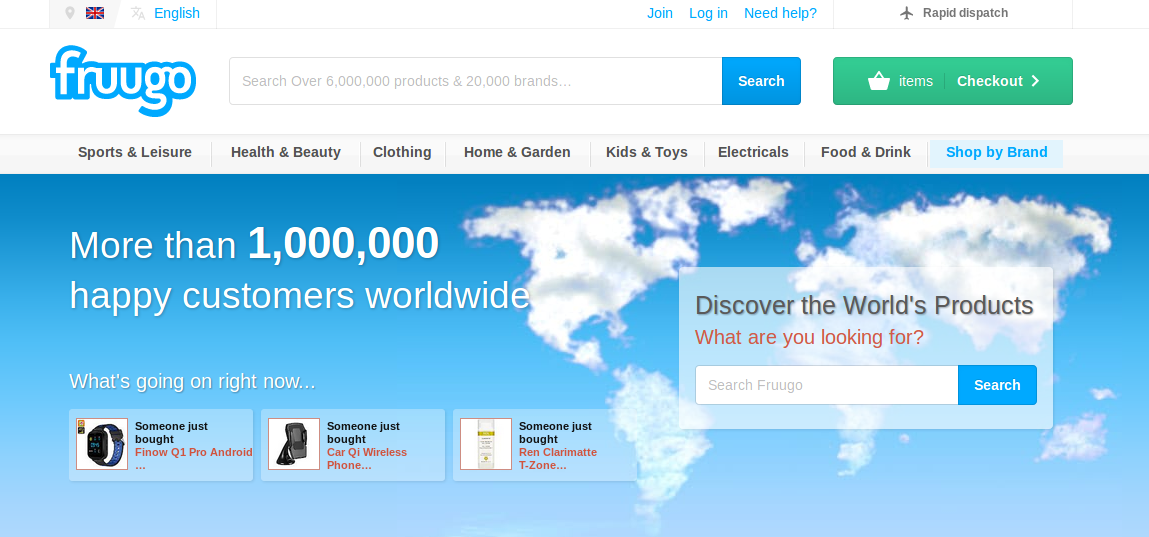 Geographies Fruugo Operates in
Fruugo is the online marketplace that has active presence in Austria, Belgium, Denmark, Finland, France, Germany, Ireland, Italy, Luxembourg, Netherlands, Poland, Portugal, Spain, Sweden, and United Kingdom. Europe (non-EU): Norway, Switzerland, and Russia. Rest of the World: Australia, Canada, New Zealand, South Africa & USA. It is one of the top ecommerce site in Europe. It is the strength of Fruugo that it operates in over 32 countries. It is perfect for cross border sales.
Languages supported on Fruugo
There are 17 languages supported on Fruugo. Which makes it a truly multi lingual experience while shopping on Fruugo. It also gives a local feel while shopping.
Currencies supported on Fruugo
Currently, there are 22 currencies that are supported on Fruugo making life simpler for sellers when doing cross border sales.
Buyer Persona on Fruugo
Buyer persona on Fruugo is Womens(21-40), Mens(18-55), House Wifes(25-40), Kids(under 15), Gamers(Under 25).
Average Order Value & Conversion Rates
Two thirds of all sales are the cross border, with an average order value of €50.00. Conversion rate for visitors to the site is 2 to 3%.
Selling Fee on Fruugo
Selling on Fruugo has no upfront fee. Commission is charged only when you make a sale. Fruugo charges just 15% of the shopper's basket value (ex VAT), plus a funds processing fee (2.35% of transaction value) which contributes towards Fruugo's payment and transaction processing costs (inclusive of any currency and forex charges).
Sell on Fruugo from BigCommerce
Sell on Fruugo from Shopify
Register on Fruugo to start selling
Fnac
Geographies Fnac operates in
Fnac or pronounced as Fernack, is an european marketplace that operates in four countries France, Belgium, Portugal and Spain, is rising fast with growing popularity. It is one of the top ecommerce site in Europe.
Buyer & Seller Stats
It has over 20 million shoppers and boasts over 10 million unique visitors each month. Fnac has stocked over 10 million items including technology, home and garden, books, sports and baby products. An estimate of over 3000 merchants are selling via the marketplace.
Selling Fee on Fnac
The sales commissions applied on Fnac, ranges between between 8% and 14% depending on product category. The subscription fee is of €39.99 per month bags you a VendeurPro account. There is also a management fee ("frais de gestion" in French) of between €0.49 – €1.49 which depends on the price of the item you are selling.
Customer Service on Fnac
Selling on Fnac has a constraint that you should provide customer service in french while selling in France. That you could do easily if you are located in france, or could outsource the work if you are an international seller.
Fulfillment by Fnac
You can fulfill items yourself and or there is a flexibility of using Fnac's network of nearly 200 outlets for click and collect.
Product Images
Fnac emphasises on the importance of decent photography when it comes to showcasing your items through product images.
Register on Fnac to start selling
Zalando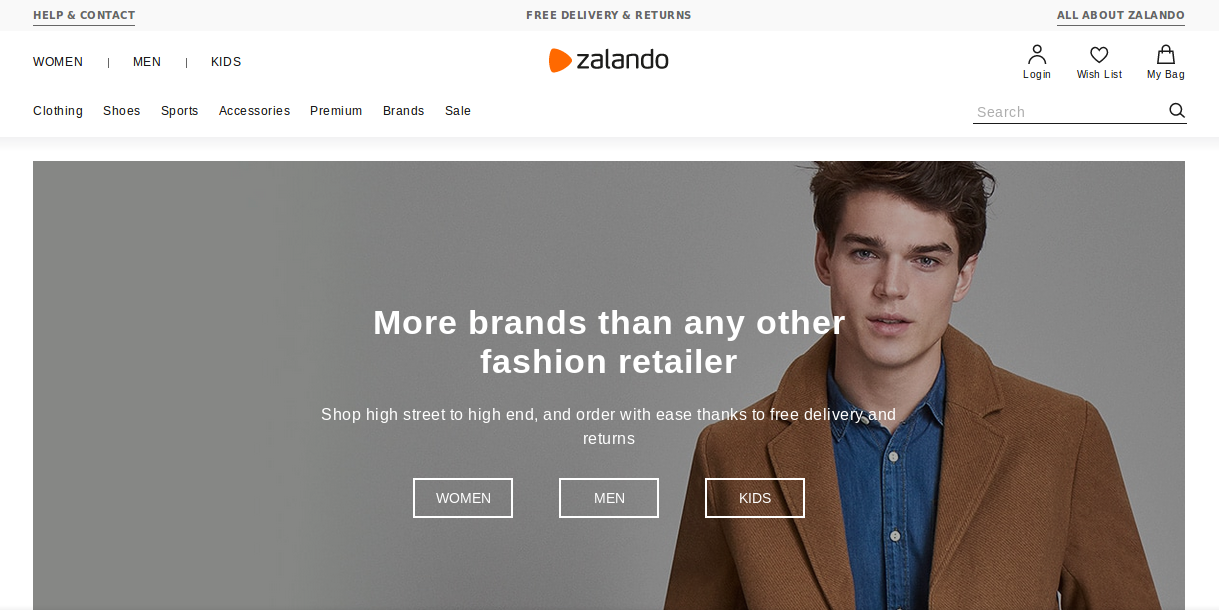 Geographies Zalando operates in
Zalando is a retail phenomenon that is taking Europe by storm. It is one of the top ecommerce site in Europe. It's a prominent marketplace in Germany, where they boast 95% brand awareness amongst adult shoppers. But it is not limited to it, and expanding into other countries in recent years and opened fulfilment centres in Sweden and Belgium in 2017. It's also rising on charts in the UK and elsewhere. They operate in Germany, Austria, Switzerland, France, Belgium, the Netherlands, Italy, Spain, Poland, Sweden, Denmark, Finland, Norway and the UK.
Buyer & Seller Stats
As perthe latest figures which claims that Zalando has 20 million active buyers and a 7.4% share of the Western Europe fashion market that totals $42bn.
Buyer Persona on Zalando
Buyer Persona on Zalando is Above 55+ (20%), 35-54(40%), 15-34(40%). Both Men and Women Include.
USP of Zalando
USP of Zalando is personalisation. They use insights from previous purchases to recommend selections to promote and entice shoppers to return and buy more. Zalando considers customer satisfaction to be critical to their business success. They promote and proudly boasts their mantra: "Free Shipping! Free Returns!"
Partner Program
Zalando claims that under their Partner Program 2500 stores operated by 200 brands are currently live on the site.
Shipping & Returns
Sellers must have a registered office in Germany, and as per their norms and guidelines, you must also offer free shipping and a 100-day free returns guarantee. You'll also need an online store on a standalone website to demonstrate your credentials. Plus Shipping via Hermes is required on Zalando. Zalando also emphasizes on making order tracking transparent to customers.
Rakuten

Buyer & Seller Stats
Rakuten is primarily a Japanese e-commerce company. The Japanese word rakuten means optimism. Global gross transaction value for Rakuten is claimed to be 91 Billion USD by 2016. Rakuten has 44,000 sellers and an average of 40.45 million shoppers per month from a base of 105 million members. This online marketplace does about 17 billion dollars in eCommerce sales per year, placing it third in the world behind Amazon and eBay.
Registration as Seller on Rakuten
Rakuten thoroughly checks and moderate new merchants to comply with Japan's strict policies on fake items. Approval of seller account could also take upto a months time. Though Rakuten sellers are allowed a lot of freedom to design their own stores, but the design must also pass certain standards.
Popularity of European sellers
Rakuten actively seeks new overseas sellers, especially from the UK as British products are quite popular when it comes to demand in Japan.
Selling Fee on Rakuten
To sell on Rakuten there is a monthly fee of $33 which is billed quarterly. Sellers have to pay a commission of .99 per item they sell along with a percentage of the product price. The percentage will vary from 5% to 15% and depends on the category of the product.
Pricing of Products on Rakuten
Rakuten puts emphasis on keeping uniformity of pricing on all sales channels. Means you can't sell cheaper or higher than a price you are selling on some other marketplace or online store. On Rakuten, even on low priced items, retailers put highly detailed specifications, as well as high-quality pictures and videos about the product and its usage.
Geographies Rakuten operates in
The marketplace has expanded its network to 29 other countries.
Communication between Buyers & Sellers
On rakuten buyers can contact sellers both prior to order and after the order. You just need to be logged in.
Prior to order – Under the product image of any item listing, will be the seller's name with a "Ask About This Product" link.
After order – Locate the order you wish to inquire about, and Click on "Contact Seller" located next to the seller name above the status of the order.
Fulfillment by Rakuten
Rakuten also has its own fulfillment service called as Rakuten Super Logistics. It starts with SmartFill account setup and getting your products to the fulfillment centers to be ready for shipment when an order comes. Rakuten claims that its fulfillment centers are able enough to deliver 98% of the United States within 1-2 business days.
Register on Rakuten to start selling
Reverb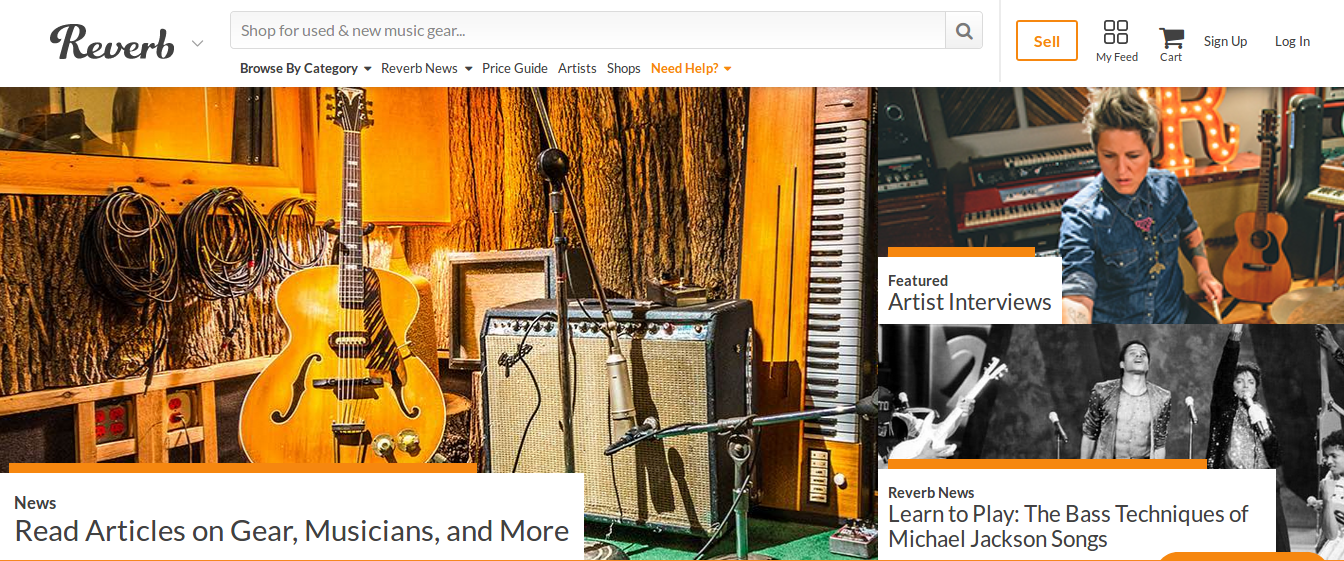 Traffic on Reverb
Reverb is an online marketplace for music gear. It witnesses daily page views of 2,915,969, and 58,319 daily unique visitors.
Selling fee on Reverb
The seller fee on Reverb is divided into two components.
One is transaction fee, As a seller, Reverb charges you 3.5% of the total sale amount (including shipping) after your item has sold. The range of min and max for transaction fee is 0.50$ to $350.
The other is payment processing fee. Reverb offers a built-in payment system called Reverb Payments. The payment processing fee for Reverb Payments is $0.25 plus 2.7% of transaction total. For Reverb Preferred Sellers, the fee is $0.25 plus 2.5% of transaction total. For PayPal payments, the processing fee is  $0.30 plus 2.9%.
Preferred Seller Program on Reverb
Reverb also has a preferred seller program. Its completely free to join. The perks are –
Getting a badge of the preferred seller
Buyers get to chose your distinct image
Lower payment rates
Discount on reverb bump
Dedicated account manager
To become a Reverb Preferred Seller, you must have 10 sales on Reverb with an average feedback rating of 4.5 out of 5. Once enrolled, you must maintain this 90% positive feedback rating average to remain in Program. Also Must maintain a rate of order cancellation below 10%  of total orders.
Reverb Protection
It also has a Reverb protection to strengthen the community of buyers and sellers. The objective is to ensure a positive experience. It provides secure transactions, human interaction in case of any dispute between buyers and sellers, and simple return process. To qualify for Reverb protection, Orders must be carried out directly through the Reverb website or mobile app. This includes the record of both payment and shipment. Disputes must be communicated to Reverb within 7 days of the shipment being received (or within 14 days of the anticipated delivery date in cases of non-delivery).
Advertising program on Reverb – Reverb Bump
Reverb also has Reverb Bump as advertising program to feature your listing. Bumps are calculated by the number of times your item get a featured exposure. One bump is one time getting featured. The pricing for Bumps is very simple, you don't pay for bumps till your listing sells. No monthly fees, no commitments, no surprises. Suppose your budget was for 1000 bumps, but your listing sold after 250 bumps, then you owe only one fourth of amount, that's $1.
Negotiation on Reverb
Reverb also has 'Make an offer' feature. It works like real life negotiating. If you are a buyer, and you think that you dont want to pay the full price of the listed item, you can make an offer by negotiating with a price of your choice to the seller. It is upon the seller to accept it or not.
Register on Reverb to start selling
Sell on Reverb from other e-commerce stores
Overstock

Buyer & Seller Stats and Revenue
Overstock is an online marketplace which sells products from electronics to furniture with a variety of high end and budget brands. In the first three months, Overstock had 1.8 Million $ in sales. Presently it has over 30 million visitors per month. Revenue in 2014 was 1.5 Billion $. Overstock also accepts payment in form of bitcoins. Has its products in more than 46 Million homes.
Buyer Persona on Overstock
The buyer persona on Overstock is Mens(25-64+), Womens(25-50+), Housewifes(25-40+), Adults(16-24).
Selling Fee on Overstock
Listing fee for Overstock is pretty less than other alternatives. The registration is free, and listing fee ranges from 10¢ to $3.15. The final commission fees for overstock stand at 3% for items sold under $25. If items don't sell, you can relist them number of times till they sell.
Upgradation of Listing
Upgrading your listing on Overstock has a price of $1 for bold and $5 for highlighting. Getting your listing featured has price of $13.17. The first picture you upload for an item is free of cost, though you can add up to 6 more at a price of 10¢ each.
Worldstock – the Etsy of Overstock
Overstock is primarily divided into two worlds, Shopping and Worldstock. Worldstock s similar to Etsy and deals in hand crafted items to reach the entire world. Overstock ensures the quality, that there is no child labor associated in making, and the sellers get the most out of selling.
Shipping & Returns
With only some exceptions, Overstock offers free shipping on orders over 45$. It is not limited to this, Overstock also ensures full refunds on orders within 30 days that are unopened and undamaged. All orders on Overstock are shipped on carbon neutral mediums, at no additional costs to reduce carbon emissions.
Overstock Membership program
For buyers that are loyal to Overstock and shop regularly, there is provision to save more and earn cashbacks. It is Club O Gold, Overstock's membership program. The membership cost is $19.95/year and includes free shipping on all orders, money back rewards, over 5% of discount on select restaurants, and the ability to post reviews for 20$ per product. The membership is free for service members and vets, teachers and students, and first responders.
Register on Overstock to start selling
Sell on Overstock from other e-commerce stores
Cdiscount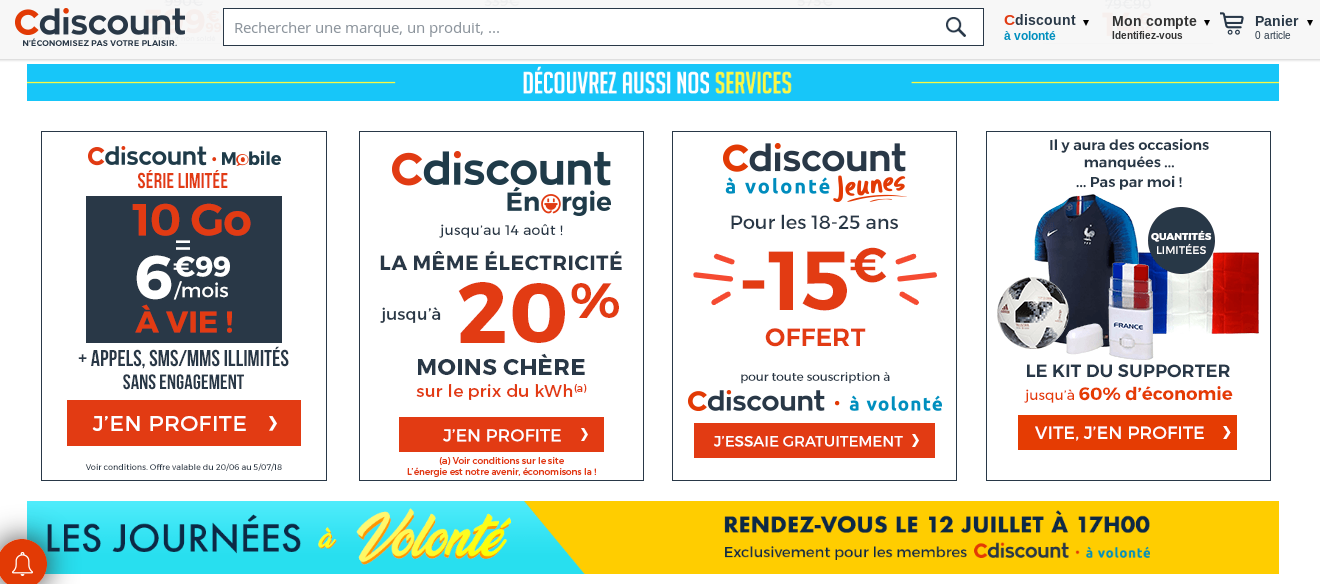 Geographies Cdiscount operates in
Cdiscount is France's largest ecommerce player, with international presence of operation across four continents: South America, Europe, Africa and Asia. It is one of the top ecommerce site in Europe.
Buyer & Seller Stats and Traffic
Cdiscount is now the second most visited website in the country. It has more than 16 million customer and experiences over 11 million unique visitors per month.
Gross Sales Volume and popular product categories
Cdiscount's marketplace, C le Marché, was launched in 2011 and has witnessed growth ever since. Currently, it is home to more than 9,000 sellers and makes up as much as 27.5% of the gross sales volume of Cdiscount.com. Though they sell diverse categories of goods but Cdiscount is overly famous for electronics and tech products and is popular with tech-savvy shoppers searching for reasonable prices.
Selling fee on Cdiscount
To start selling on Cdiscount you must apply at their seller center. There's no registration fee or listing fees. There is a monthly cost of €39.99 for sellers and sales commission is charged that depends on category the seller is selling and will vary between 5 and 20%.
Customer Service
Selling on Cdiscount has a prerequisite that sellers must have French Email customer service (It can be outsourced), though french phone support customer service is not mandatory.
Returns on Cdiscount
For returns, sellers need a local french return address, or they can send prepaid shipping labels for international returns or exchange. Orders on Cdiscount must be processed within 2 days. Cdiscount settles payments three times a month. French buyers enjoy the privilege by law to return goods within 14 days.
Fulfillment by Cdiscount
Cdiscount also provides fulfillment services (Shipped by Cdiscount). Buyers can become become member of special loyalty program by Cdiscount 'Cdiscount à Volonté' and enjoy free shipping on all orders at a mere price of €19 a year. To qualify for free shipping, customers have to have a order of minimum €25.
Register on Cdiscount to start selling
Sell on Cdiscount from Shopify
Sell on Cdiscount from other e-commerce stores
Help us understand you better
By filling out this form help us understand you better. We want to know what European marketplaces you are interested to sell on, so we can tailor our services as per your need.
Here you can fill the form.