Prepare for a Pandemic Holiday Season with New Google Shopping
Running short of time? Get PDF of the blog in your mail.

Play Now
According to the National Retail Federation report, holiday retail sales in 2019 grew 4.1%, amounting to $730.2 billion. Sure the holiday season 2020 will be entirely different but it will be even bigger as more shoppers are constricted to shop online. So, buckle up and prepare your strategy to win this pandemic holiday. In achieving that, the all-new Google Shopping with its amazing new updates will be a great help.
Let the preparations begin for the holiday season with the new Google Shopping.
A brief look at the predictions for this holiday season 2020
Holiday shopping starts early. To help budget better, it is expected that shoppers will get their shopping done early.
Mobile devices will dominate. Purchases through mobile devices dominated in the yesteryear, expect this trend to grow even more this year.
BOPIS and curbside pick-up are growing. Buy Online Pick In-Store has been gaining popularity in the past, and it continues to grow this year so far. The holiday season is expected to see the same growth.
Small businesses and local businesses are trending. Shoppers are supporting the small businesses and local businesses in these hard times and this trend will continue all throughout the holiday season.
The surge in first time online shoppers. Physical stores are closing and this is pushing the consumers to get their holiday shopping done online.
Shoppers are choosing social media for purchases. Social media is going to play an essential role in driving more sales, so keep up your social media strategy.
Holiday season for Google Shopping sellers
2019:
During the 2019 holiday season, Google Shopping was still going through some major updates. Google diminishing the term "Google Express" and making Buy On Google the new marketplace were some of the highlights that marked the entire holiday shopping 2019.
2020: A year of change, when things got interesting!
Google is on top of its game when it comes to eCommerce. Google Shopping is no longer what it was last year with all the updates and amazing opportunities it has expanded to. Starting in April, Google brought some major updates in 2020, let's begin with:
Free listing in Google Shopping tab
At the end of April, Google shook the entire eCommerce industry by making it free to list your products on the Google Shopping tab. As the president, Commerce, Bill Ready defined it: for retailers, it is "free exposure to millions of people who come to Google every day", and for shoppers "more stores are discoverable through the Google Shopping tab." It was initially launched in the US and is expected to roll out globally by the end of 2020.
You can access your free click report through Google Merchant Center, a seller panel to upload and manage product feed. It looks something like this: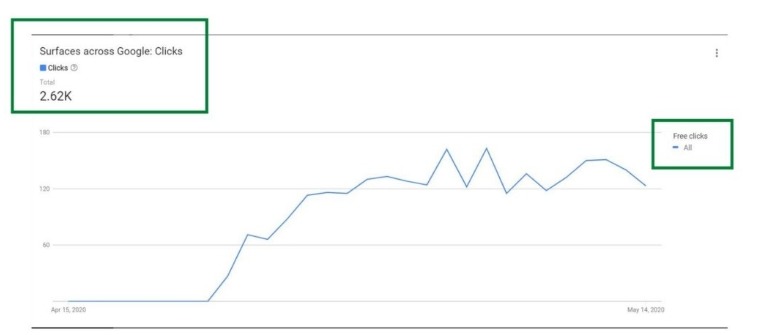 How to leverage this update for the holiday season 2020?
As previously mentioned, there will be a rise of first time online shoppers. So this holiday season, getting your products on Google, where almost 3.5 billion searches occur per day, you can drive a large amount of traffic to your website with the free listings.
Success with free listings requires a good quality product feed. Which is something we are good at. Our team of experts can help you create and manage your feed, let's connect and discuss.
Partnership with PayPal
Back in April 2020, Google also announced a partnership with PayPal that will benefit you directly.
What's the benefit you can leverage this holiday season?
Now you can link your Google Merchant Center accounts with PayPal. This makes the onboarding process quicker for you, as this will enables Google to verify and authenticate your business faster.
Free listing in Google search
Shortly after the first update, Google expanded free listings to the main Google search results on the Product Knowledge Panels in mobile devices across the US.
What's the benefit of the free listing you can leverage this holiday season?
As a seller, you get free visibility for all your products, and free accessibility to promotional tags and promotional pins, and the customers get the ease to compare the different products and get a complete picture of the different products available for them, hence making their shopping experience a breeze.
To achieve success with this new update, you have to combine the power of an optimized Google My Business account, and error-free product feed, and a well-optimized website. CedCommerce can be your one-stop solution, from creating and managing your Google My Business account, generating an error-free product feed to creating a well-optimized landing page, we can do it all! Connect with us today!
New Google Shopping experience: Buy On Google
When Google announced that Google Shopping Actions will be commission-free, it definitely shook up the eCommerce industry once again. "Buy On Google" makes it more accessible for the users to compare.
 'Buy on Google' program in France will be ending on December 7, 2021. For more updates or support, get in touch with the experts at CedCommerce here!
What are the benefits?
Neither do you need a website nor a lot of experience in eCommerce to start your online journey on Buy On Google. Moreover, you get a chance to capture a global audience by listing on GSA at absolutely no cost.
Google also partnered with many eCommerce solution providers such as Shopify, BigCommerce, WooCommerce, etc, to provide a seamless onboarding experience for sellers.
Our Shopify, WooCommerce, BigCommerce, Magento, and Opencart integrations are specially designed to help you manage your Google Shopping store with absolute ease. Now you can also upload your inventory for free with our integrations, check out more details here:
This update was so huge that people now call it the new Google Shopping experience. Check out this webinar to gain more insights into the all-new Google Shopping experience:
Addition of "Shop sales by store" category
As you know discounts play a huge role in holiday sales, this year, the addition of the "Shop sales by the store" filter can enhance the shopping experience for your customers.
How to take advantage of this new feature?
To enable this feature you would require a Google My Business account and a local inventory product feed which includes the discounts you are providing. Learn more about the setup process here!
Also, combining your product feed with discounts or promotions is an effective way to double down your conversion rate. Google Merchant Center has a program called Merchant Promotions, which you can combine with your Shopping Ads and Buy On Google listings. Learn more about it here.
Empowering Brick mortar store owners
According to multiple studies, roughly 81% of all U.S. adults (which makes up 90% of internet users) carry out online research before buying things locally. Google acknowledged that and to help local businesses capture this spectrum of audience, released a Google Merchant Center program called Local Surfaces Across Google especially for Local store owners. It lets the physical store owners surface their products online on the Google Shopping tab.
The launch of this program and the surge of the keyword "Near me" during the lockdown play a positive role for your business. Hence, this holiday season is a perfect time to bring your business online.
Moreover, Local Surfaces Across Google only requires you to fill in your business information and upload your product feed on Google Merchant Center. Yes, it is that simple!
Empowering small business owners
Google introduced a "Small Business" filter that will remove all the listings except the ones from the registered Small Businesses. This makes it easier for customers who want to help and support Small Businesses during tough times.
Also, free tools like Google My Business, Google Trends, Google Alerts, etc will come in handy while strategizing for this holiday season. Learn more about these tools here!
A chance at experiencing a full-blown multichannel experience
This holiday season is all about going online and expanding to as many channels as you can. Here's what multichannel looks like with the new Google Shopping:
Holiday theme makeover is seamless
If you have a website of your own, then using holiday themes for your website to resonate with the shoppers' holiday spirits, will get the shoppers excited for the holiday season, so give your website a holiday theme makeover.
During holidays, shoppers go through a lot of different channels before making the purchase, and to capture all the different kinds of audiences, you need all the help you can get. So it is a good idea to use the free listing to drive traffic to your website. Coupled with the power of Shopping Ads, you can reach an even broader audience subsequently increasing your sales this holiday season.
Listing your products on Buy On Google is not only free but also, you don't need to worry about getting your store holiday-ready. So even if you don't have a website, worry not, Google Shopping offers a personalized shopping experience, and every holiday season Google Shopping gets a holiday theme makeover.
Whatever your need- be it developing a website & giving it a holiday transformation or managing your Google Shopping store, we can do it all! Connect with us today.
Highlight your sales
It is a known fact that discounts influence shoppers to make a purchase. If it is highlighted and easier to find, their shopping experience will be even more seamless. In Google Shopping, you can highlight all your sales on your store.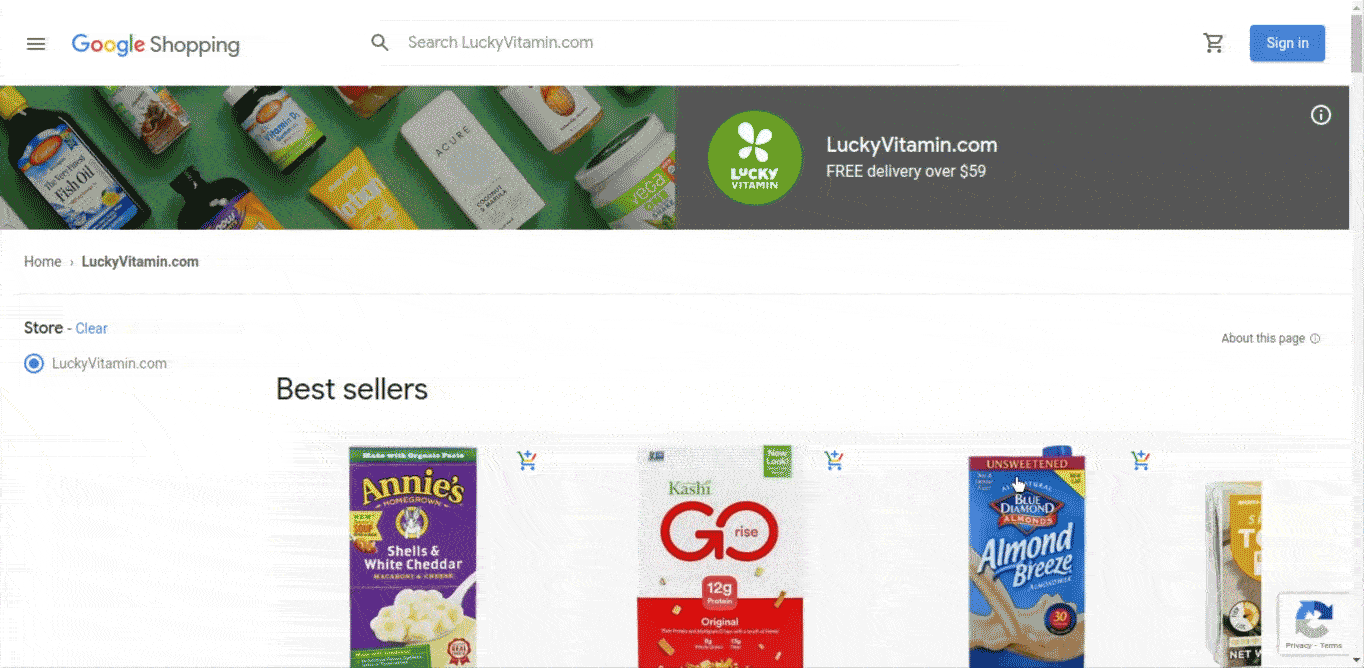 If you list on Shopping Ads or list on Buy On Google, you can use Merchant Promotions to highlight the discounts you are offering.
Uploading product feed is no more complex
The messiest parts of using multiple channels are that you have to upload different kinds of product feeds to different marketplaces. With Google Shopping, you don't need a different product feed for any of the programs mentioned(Buy On Google, Shopping Ads, Free Listing) separately. However, if you want, then you can tweak the product attributes to better suit the program you are opting for.
Google has made it easier to upload product feeds on Merchant Center in the format used while uploading Feed on Amazon. The feeds once uploaded will be mapped automatically without much action required manually, subsequently increasing efficiency.
Be present at every customer touchpoint
Once you decide to sell on Google Shopping, there are a lot of doors that open for you. Your products will also show up on the Google Images search results which further enhances your chances to convert. Moreover, you can also surface your products on YouTube.
Going online this holiday season is effortless
This holiday season is said to witness a sharp decrease in foot traffic to physical stores, but this doesn't mean a brick and mortar store owner can not have their share of sales. With the new Google Shopping, there are plenty of opportunities waiting to tap in.
Walmart announced in July 2020 that it will close its physical stores on Thanksgiving to help give its staff time to spend it with their family. If you are also planning to keep your stores close on particular days, through your Google My Business account you can keep the users updated about the opening hours along with the details for curbside pickup.
With local surfaces across Google and local inventory ads, you can further your chances of making more sales.
Conclusion
Ready to experience the multichannel experience? Now you can! But it might get overwhelming. Being an official Google Channel partner, we can help you by assigning a dedicated account manager that manages it all at once.
Want to add anything? Comment down and let us know, we'll get back to you as soon as possible!