Halloween -ify Your Holiday Season Sales With Facebook Shops
Running short of time? Get PDF of the blog in your mail.

Play Now
The Halloween season is near. It is a season of opportunities where businesses worldwide can grow and drive incremental profit. How about getting your business across Facebook Shops that connect, entertain, inspires people; and create personalized discovery experiences? Throughout this blog, you'll know the in-out of Facebook Shops and what you can do this Halloween to get the best results out of your business. So, if you still haven't prepared yourself for the upcoming Halloween day, it's high time you get started with the planning and preparations.
Discovery Commerce Across Facebook Shops
Because of the increase in online shopping, Discovery Commerce has recently taken clear form and came to life in a big way. It anticipates customer needs and matches products with the audience that is most likely to be interested in them.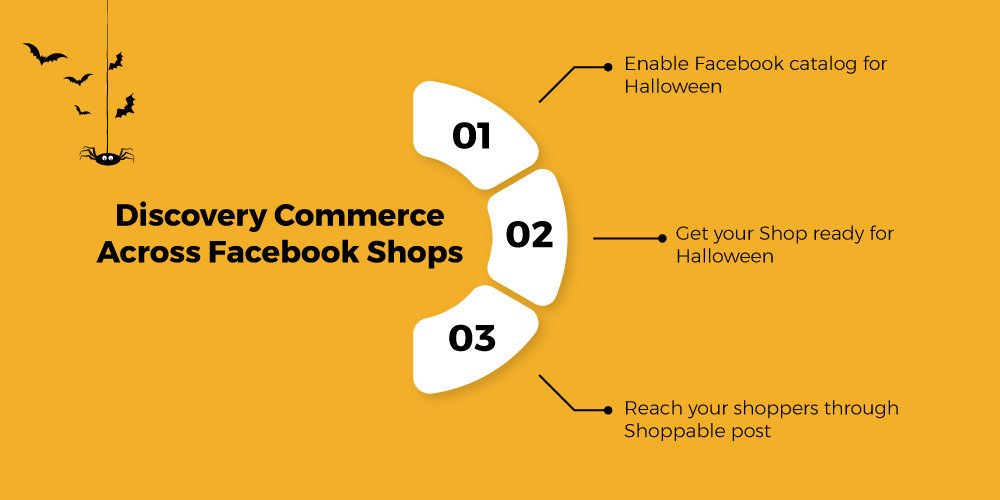 Having said so, for customers, it's serendipitous. While for marketers like you, it's the key to turning discovery into demand and grow your business. Think of it this way. You visited a store. You stroll through it without the pre-defined intention to buy a product. But you came across a product you loved, and you purchased it. Here you found something unexpected and wonderful that compelled you to shop. That was your 'discovery.' This is what Discovery Commerce translates into the same customer experience in the online space.
Building A Strong Foundation This Halloween With Facebook Catalog
As we approach Halloween, businesses have an opportunity to reach shoppers where they're already shopping. On average, 83% of people discovered new brands or products across Facebook platforms. Therefore to make your products more discoverable, you can build your Facebook catalog with trending products and items. A good quality catalog not only improves placement in search results. But also drives conversion by providing customers with the information they need to make a purchase. Here are a few tips to enhance your catalog quality:
Here's our guide to set up a Facebook product catalog. Read more to know.
Get Your Facebook Shop Ready for Halloween
A great way to build your brand story this Halloween is by adding some holiday flair to your Facebook Shop. To do so, you can customize your collections according to Halloween's theme. Besides, use eye-catching imagery and designs for your Facebook Shop. This will help you in building your unique brand identity and get shoppers in the holiday spirit.
Here's our ultimate guide to setting up your Facebook Shop.
Reach Your Customers Through Shoppable Posts`
Product tags allow your followers to surface your items to your targeted audience. And make people easily go from discovery to purchase. For a business to be successful, you need to use the tags frequently with your products. Some of the most popular tags are: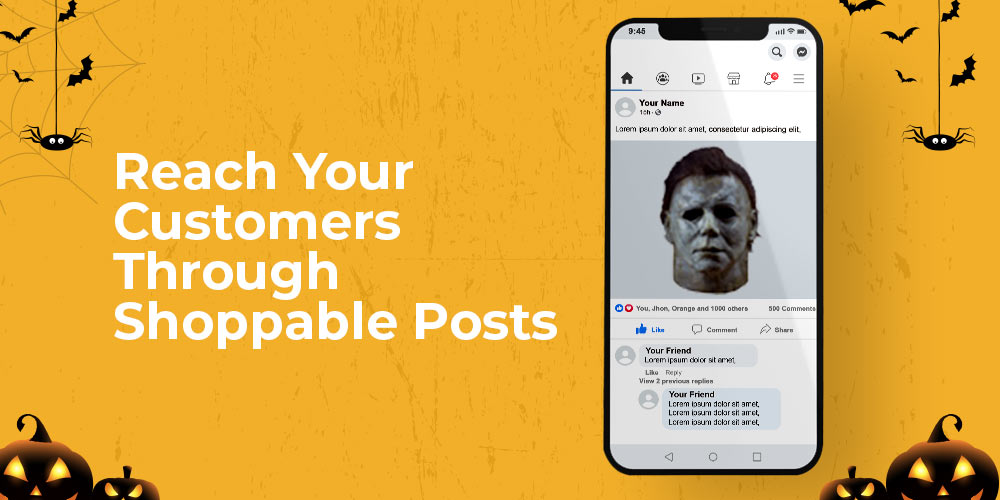 In-feed: Facebook & Instagram algorithm keeps track of the user's interest. Thus, there are high chances of your product ranking in the customers' newsfeeds who are most likely to be interested in your brand or product.
In stories: Using product stickers can help make your Facebook Stories more engaging. During Halloween day preparation, Facebook launches spooky stickers and themes. You can use these features to get across to your consumers.
In videos: Facebook videos are the best way to do storytelling around your products, collections, and brand. For this, you can tag your products on Facebook Watch, and Videos.
Accelerate Social Discovery
The acceleration of the digital market has changed the way of shopping. People have moved from offline stores to online shopping. That said, the internet is increasingly becoming a place for turning imagination into reality. With the driving force of social commerce, people are focusing more on interest-based shopping and intent-based shopping.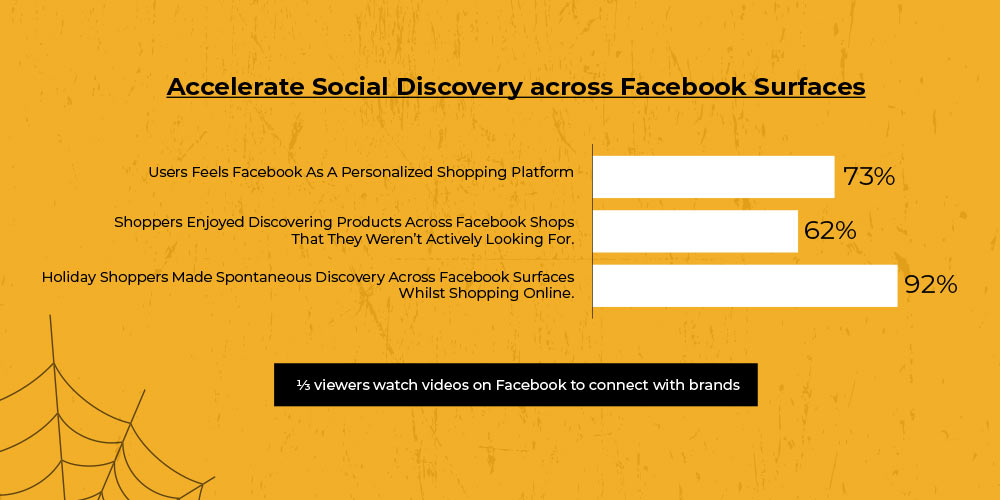 With different choices present for the shoppers to shop, Facebook brings people inspiring, personalized shopping experiences. Helping your products find the right customers; Facebook Shops connects your products to people. Thus, displaying products to shoppers who have expressed an interest in your brand.
Create An Atmosphere Of Shoppertainment
As the world continues to struggle with the long-lasting effects of the pandemic. The online market has been undergoing a series of changes; adapting rapidly to changing consumer behaviors.
There's a growing craze for online holiday shopping this Halloween. Shoppers are finding entertainment in live shopping events during sale days and beyond. Many leading global eCommerce sites have been implementing entertainment with shopping (shoppertainment).
Keeping the concept of Shoppertainment in mind, marketers should work to integrate entertainment into content and commerce through their Facebook Shop this Halloween. To succeed, you can experiment with your Facebook Shop by:
Creating Immersive Shopping Behavior Through Stories
Attract shoppers' attention and create immersive experiences with Facebook Stories. Stories are engaging and feature images or videos that appear at the top of users' Facebook newsfeeds. It is an excellent tool for humanizing your brand. And show your customers what's behind the curtain when it comes to your business.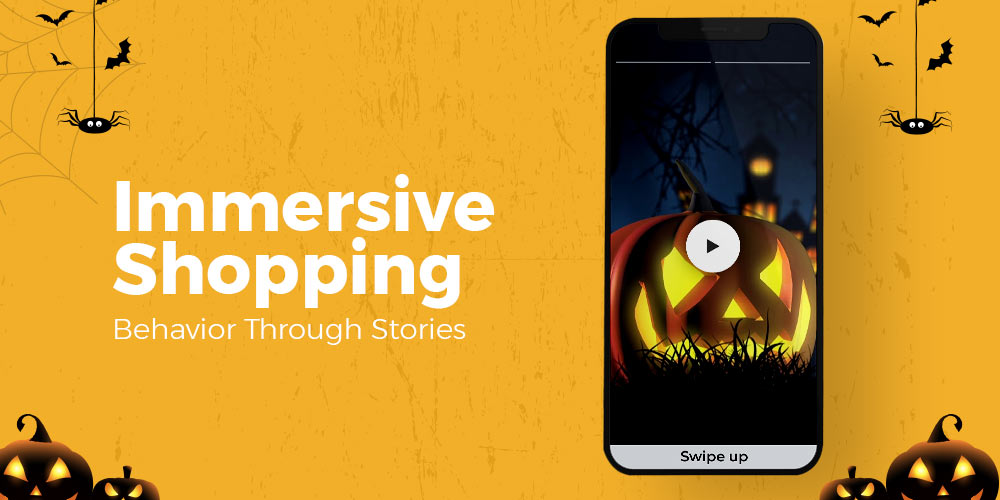 That said, you can use Facebook Stories this Halloween to showcase your brand's personality along with the products you offer. On average, about 52% of consumers say they want to watch Stories that are brief and easy to understand. Thus, it is recommended to focus on promoting your most trending products on Facebook.
Using Videos To Connect With The Brands
During the Halloween season, businesses tend to use video marketing as a source to retain their customers' attention to their brand. It is assumed that video views grew more than 50% during the festive season. With the combination of sight, sound, and motion, video tends to create experiences that are, at their best, memorable, moving, and inspiring. Through Facebook videos, you can drive essential metrics, including awareness, consideration, and sales, to your Shop.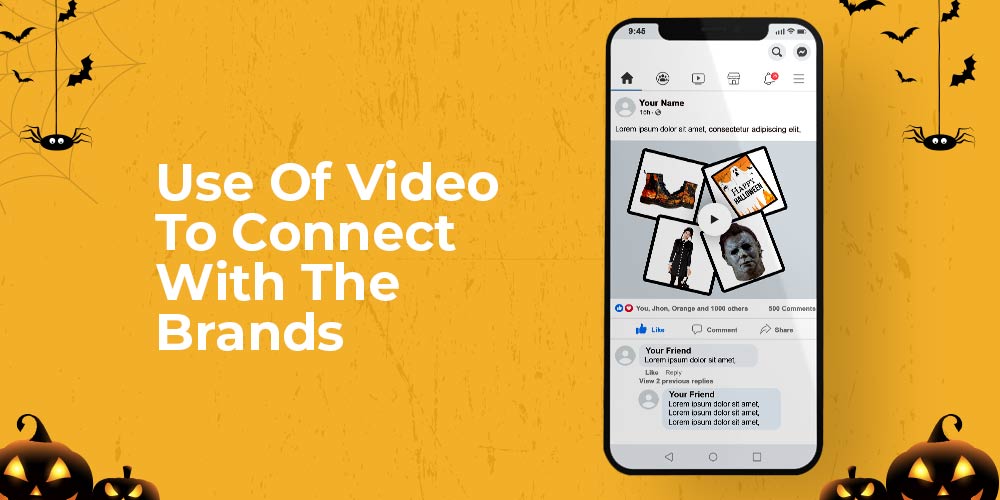 Moreover, you can use Facebook Live Shopping this Halloween to bring the best of the store online. By launching products, offering product demos, and retailtainment.
Make The Selling Process Seamless This Halloween Through Checkout On Facebook
If you are a business based in the US, you can allow your shoppers to make a seamless purchase right from the place of discovery. With checkout, Facebook and Instagram have unleashed an all-new opportunity to strengthen their role as an eCommerce platforms. Due to checkout, the shoppers no longer have to navigate to the browser to make a purchase. With the protected payment information in one place; people can shop right after finding their products. Without having to add the information multiple times. Through this feature, businesses like you can:
Checkout reduces the fiction of making purchases. People can purchase the product right from your Shop without having to leave the app.
Through checkout, you can access other shopping features like shopping with influencers, live shopping, product launches, and much more.
Through checkout, all your information is secured. You need not enter the payment details again. You can easily purchase after entering your information once.
To know more about the features and benefits of checkout on Facebook Commerce, explore our blog.
Besides if you have a Shopify and WooCommerce store. You can integrate your business with Facebook & Instagram Shopping and Social Commerce. And leverage the checkout services.
Retarget Your Customers Who Have Browsed Your Facebook Shop
There are times when a customer visits your profile, but they leave without making a purchase. In that case, retargeting customers can be a turning factor for your marketing strategy and business growth. So, here are some of the most effective techniques you can use this Halloween to retarget your customers on your Facebook Shop.
Run Halloween's Theme Social Promotions
As Halloween is approaching, people are talking about the festive season. That said, Halloween day is an excellent opportunity for multichannel selling. You can capitalize on this trend by offering a giveaway of must-have fall items or your own products that you've customized for fall. Besides, you can ask your customers to upload photos with a special hashtag for your brand. This would increase your product visibility and let you get incremental profit to your Facebook Shop this Halloween.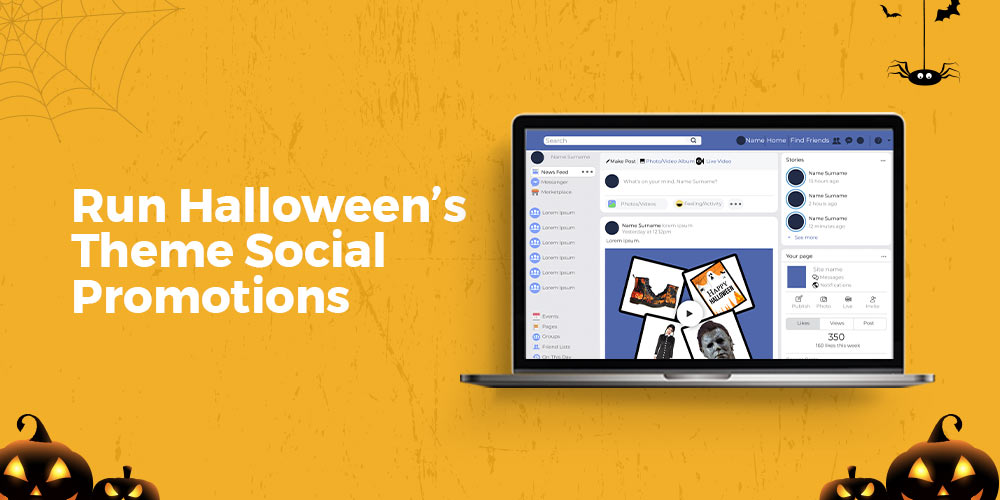 Create A Spooky Look This Halloween For Your Facebook Shop
Let's say you are selling on Facebook, and you are planning to keep it festive by creating a spooky look for your Shop. To do so, you can add collections and choose how your products will appear to your customers; all through from the Shops tab of Commerce Manager. Some of the additional options that you have when customizing your Facebook Shop for Halloween are:
Add your featured collections of products to your Facebook Shop for Halloween.
Choose a collection to feature at the top of your Facebook Shop.
Preview the look of your Facebook Shop for Halloween.
Add a catchy Halloween image and captivating message on your Facebook Shop.
Additional Tips And Tricks To Renovate Your Facebook Shop For This Halloween
While October is full of fun and interesting events, the day of 31st October gets all the attention. There's going to be a surge in online shopping during this Halloween season. So, you must take this chance to boost your sales and prepare for the incoming festive season. There are several ways to use Halloween to spike your sales and attract more customers to your Facebook Shop.
Focus on selling top products on Halloween on your Facebook Shops. Some of the trending items are Halloween costumes, Masks, Kitchen supplies and tools, Decorative items, baskets, greeting cards, and much more.
Send promotional emails about your Halloween deals and offers to your customers. This will help in engaging your audience to your Facebook Shop.
Launch Ad Campaigns to promote your Halloween special products like Halloween Masks, Costumes, items used for decoration such as lanterns.
Ensure you deliver your products on time. Besides, offer various discounts, promotions, vouchers, and gift cards.
Get instant feedback and review from your customers to improve your selling process. And provide better customer support services to your shoppers.
Share inspirational messages behind-the-scenes videos on your Facebook Shop. This will ignite the craze for Halloween within your customers.
Use hashtags like #Halloween, #Halloweensales, #Halloweenshopping, #Halloweenfestivities to get your customer's attention to your business.
What Can You Expect During Halloween 2021?
The occasion of Halloween marks the start of the festive season calendar. So, most shopping enthusiasts are in search of products that reflect festival celebrations. It is that time of the year when shoppers buy products in abundance and celebrates the feeling of holidays. So, as a business, you need to prepare your Facebook Shop accordingly.
That said, successful holiday campaigns are built on good planning, and it is recommended that you start preparing your Facebook Shop for Halloween. But if you still haven't started yet, no worries. Connect with Facebook Business Partners, and make your selling process hassle-free.