Etsy Year Review: A Thriving Landscape for Creative Businesses in 2021
Running short of time? Get PDF of the blog in your mail.

Play Now
The year 2020 has been a roller coaster ride for all, impacting all human actions adversely. The case was no different for the creative capital Etsy. Every other day presented a new challenge for small and home-based businesses with changing trends in product demands. In a year when people were facing financial setbacks, handmade and creative goods were the least required items for a regular shopper. But Etsy sellers rose above all the challenges with their creativity and quick response to the rising demands. Hand-made face masks, home-baked goods, and personalized gifts became the most sold products on the Etsy marketplace last year. Not stopping at this, Etsy also recorded its highest gross merchandise sales of all time in 2020, and the growth trends have not declined ever since. Let's have a look at Etsy year review 2020.
Etsy Year Review: Major Events
Apart from the existing merchants, thousands of new sellers joined the platform. While the community-made persistent efforts to come out winning, Etsy was bustling with regular updates on the platform supporting businesses of all sizes. Now that we're already in 2021, we'll look into how the Etsy marketplace grew bigger than ever and what all is going to happen next on the platform in 2021!
More shoppers than ever before
By the end of 2019, Etsy had about 46 million active buyers. The numbers drastically increased in 2020. Due to the lockdown, many sellers were relying more on their Etsy business for income. Offline handmade businesses were also forced to come online in order to continue selling. To help the seller community, Etsy stepped up and invested more than ever before in bringing more buyers to the marketplace.
In 2020, Etsy decided to attract more buyers through strategic actions. Today, the marketplace has more than 70 million active buyers on the platform. Major factors responsible for this are discussed below:
Etsy helped sellers reach more audience through Offsite Ads
The award for the most-discussed Etsy update-2020 goes to- Offsite Ads. Let me tell you why. Prior to this update, sellers could choose to advertise their listings by setting up a daily budget for Etsy Ads. These Ads were displayed on the Etsy marketplace as well as on Google.
After the update in 2020, now Etsy marketplace has two types of advertisement programs that a seller can opt for. First, Etsy Ads, which are dependent on your daily budget and display your listings on the Etsy marketplace only. And the second, Offsite Ads, which are basically the promotions of your listings on high traffic platforms like Google, Facebook, Instagram, Pinterest, and Bing. Offsite ads are free until you make a purchase. If a seller makes a purchase through the placed Offsite Ads, then he or she pays 15% of their selling price to Etsy.
This was a big investment that small businesses could not afford. To help businesses in challenging times, Etsy offered Offsite Ads free of commission initially, investing $8 million credits to the advertising program.
By the end of the third quarter, 98% of the sellers were recorded to be a part of Offsite Ads, suggesting that the majority of sellers were happy to get their products discovered even more on various sites.
More sellers offered Free-Shipping
In a letter addressed to sellers, Etsy CEO Josh Silverman pointed out the importance of offering 'free shipping' to buyers. He quoted, "These days, online shoppers expect free shipping everywhere they go. Etsy is no exception."
Later, Etsy updated the factors that influence the ranking of listings in search results. According to the update, it gave priority placements to the products that offered free shipping. Initially, many sellers were skeptical of this new demand from Etsy but later on, they adjusted their prices as per the new norms. This helped sellers rank higher in search results and reach more buyers. Buyers find free shipping as a motivation to complete their transactions more quickly. Hence the marketplace successfully managed to enhance its customer experience and acquired more first-time shoppers. A clear win-win!
Enhanced Advertising
Etsy takes the holiday season very seriously. Last year, Etsy launched TV commercials that were focused on attracting holiday shoppers. The campaign promoted Etsy as a go-to marketplace for the holiday season shopping, selling everything, from decorative items to personalized gifts and fancy home furnishing items!
In 2020 as well, Etsy released TV commercials right before Q4, attracting more and more holiday shoppers to buy meaningful gifts for their loved ones while social distancing. The campaign was named Gift It Like You Mean It, sharing stories of regular holiday shoppers.
In addition to TV commercials, the marketplace also invested in paid social campaigns to build a strong social presence and attract even more buyers.The campaigns served a good purpose by reaching a vast audience at the right time.
Effects of the COVID-19
Last year, trends were changing rapidly, and everyday essentials were quite distinct from what we were familiar with. Sellers were constantly looking for ways to meet the demands with their creativity. Let's have a look at the major events on Etsy during COVID-19.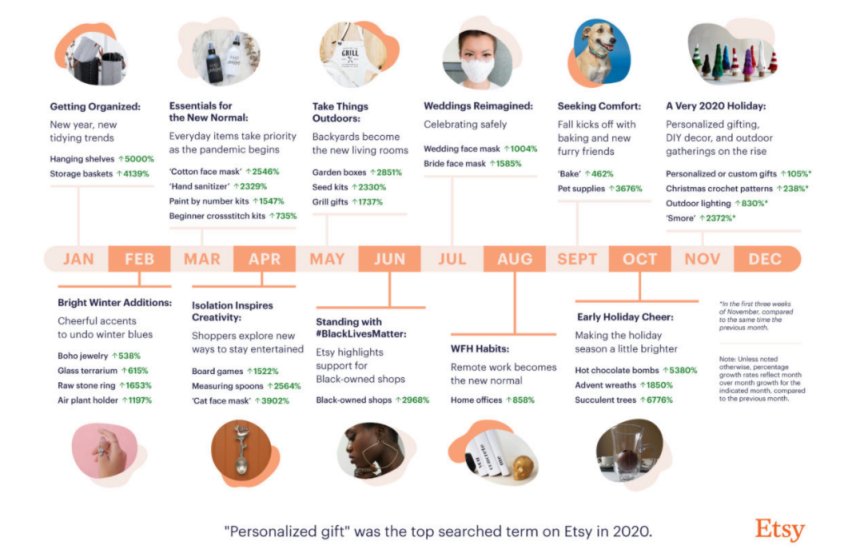 The boom in mask sales
Face mask has not only been the hero in saving lives but also in making Etsy sellers expand their inventories in the time of a global pandemic.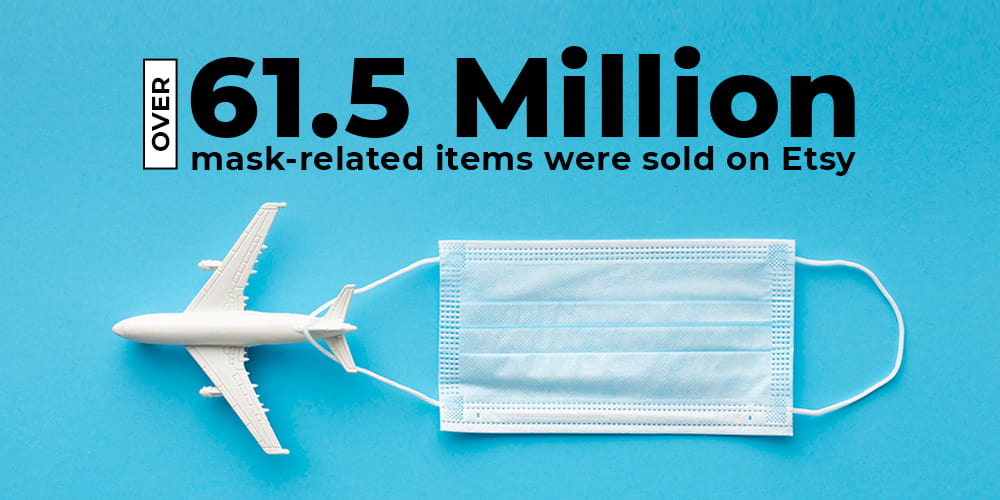 Etsy was one of the first platforms to ask its sellers to create and sell face-masks. As people were practicing social-distancing inside their homes, Etsy sellers were busy making masks to meet the surging demands. During the first quarter only, Etsy became a prominent destination for fabric face masks.
In the words of Etsy- April was extraordinary! Nearly 2 million searches related to face masks were recorded in the first week of April. With agile actions, Etsy sellers managed to meet the demand, selling about 12 million face masks in April only. This contributed $133 million USD to the GMS.
In the second quarter, nearly 112k sellers made one or more mask sales on the marketplace, adding about $346 million USD to the GMS!
Check out Etsy's guidelines to make face masks and face covers for Etsy.
Record-breaking sales in Q2
The year-over-year growth trends for quarterly revenue varied between 30-40% till Q1-2020. The second quarterly results were more than surprising for all, as Etsy generated a revenue of $429 million USD, surpassing the growth of 137% in a single quarter. This was a huge deal for the marketplace. Q3 results did not disappoint as well. In Q3 also, Etsy reported a high increase of 128% y/y in revenue.
Apart from face masks, home furnishing items, home-baked goods, and meaningful gifts were among the most demanded products on Etsy during the pandemic. Etsy sellers found an opportunity in disguise. They met the increased demands with appreciable agility and creativity.
Check out the top-selling product trends on Etsy in 2021.

Changes in top-selling product trends
The way the COVID-19 pandemic forced people to stay indoors and practice social distancing, has been a major factor responsible for changing the day to day needs and demands of people across the world. We saw similar trends on Etsy as well.
This year's best-performing categories include Homeware and Furnishing Jewelry and Accessories, Craft Supply, Party and Paper Supply, Beauty and Personal Care.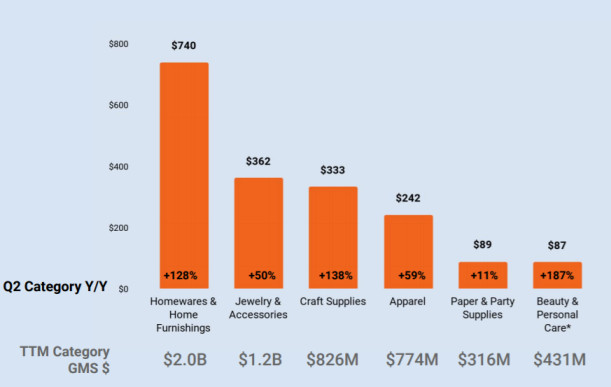 From staying more at home and working from home to engaging in new hobbies and longing for comfortable clothing. People were looking for new essentials every day throughout the year.
Enhanced listing features
Etsy has been focussing on helping out its sellers in as many areas as possible. The two main updates that were introduced on Etsy to improve listings' quality were mainly, variant photos and listing videos.
Recently, Etsy allowed sellers to add photos of each variant that the product comes in. This gives a clearer picture of the product to the shopper and helps in building trust in the buyer. Similarly, listing videos are now available for all sellers to add to their product listings. Videos have more potential to show the minute details of handmade and creative items. By the end of 2020, nearly 3.3 million videos were added to Etsy listings.
These updates were not just beneficial for the sellers as they helped to build confidence in the shopper about the purchase but also helped in delivering a great customer experience. The improved listing features will continue to help sellers create visually appealing listings and make more sales in 2021.
Made payments easy for sellers and buyers
When thinking about an online purchase, one of the major concerns of buyers is a safe payment option. To ensure the same, and enhance its customer experience, Etsy came up with some major updates. Let's have a look at those:
Expansion of Etsy payments
Looking at the growing interest in the handmade industry from creators around the world, Etsy decided to expand Etsy payments in many countries including Indonesia, Israel, Malaysia, Mexico, Morocco, Philippines, South Africa, Turkey, Vietnam. The expansion was a good move since now more sellers worldwide will be able to
Avail extra protection that Etsy Payments offers. Sales processed through Etsy Payments are eligible for Etsy's seller protection policy.
Enhance customer experience by increasing the number of ways a shopper can make payments with.
Simply payments for sellers, as the finances can be managed from a single platform.
Etsy Payments is the primary way to get paid on Etsy and offers several payment options to shoppers on Etsy. With Etsy Payments, sellers can manage their shop's finances in one place.
EMI options for US shoppers
Right before the holiday season, the marketplace announced that the buyers in the United States will be able to choose Klarna at checkout and split their payments into multiple installments.
Etsy said- "Instalments make it even easier for buyers to shop on Etsy and they're super helpful when shoppers are thinking about big, celebratory investments, like jewelry to celebrate an anniversary or furniture for their new house."
This was again a great move in making it easier for the shopper to make a purchase decision, especially around the holiday festivities!
Community driven campaigns
Social media isn't just about finding friends anymore, it has become one of the major marketing platforms for every industry today. Etsy has been putting in efforts to make its social media presence more visible. After running several successful campaigns over all major social media platforms last year, Etsy made the most of many opportunities and engaged millions of sellers, buyers, and handmade lovers across the world! Our favorite campaigns by Etsy last year are discussed below: 
Stand With Small
The majority of Etsy shops are small businesses run by a single person. According to a 2018 survey, about 85% of Etsy sellers are women and more than 90% of Etsy sellers are businesses of one run from home.
When Covid-19 hit the world, putting up the business online became a major source of income for the majority of sellers. Even around the globe, small businesses were the most affected and derived immense support through the masses with the help of social media campaigns and awareness programs.
Similarly, Etsy started the StandWithSmall campaign around April 2020 to promote its sellers on major social media channels and through TV commercials. Many Etsy sellers today thank Etsy for not only saving their businesses in the adverse situation but also for the increased sales and traffic on their shops than ever before!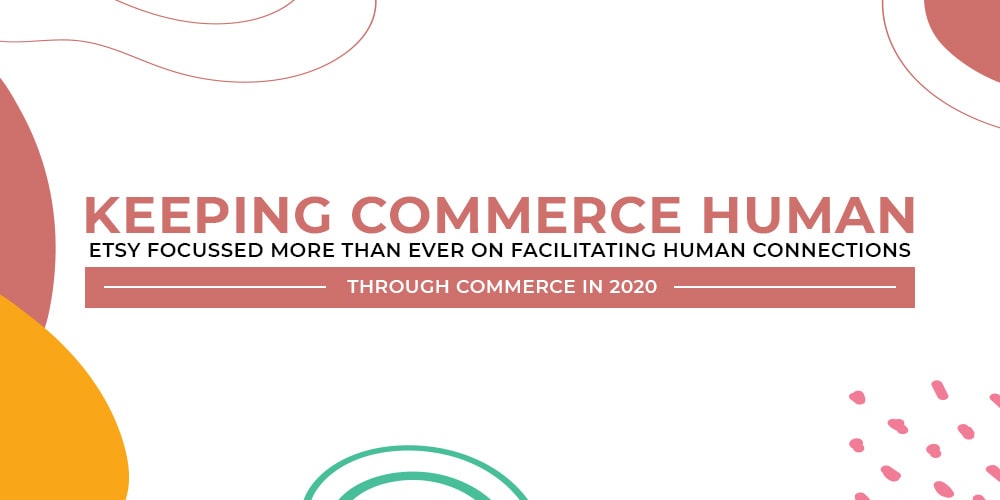 Make It Meaningful
The social media campaign- MakeItMeaningful was launched before the holiday/Christmas shopping season. Since most shoppers were actively supporting small businesses by this time, it was a great move by Etsy.
Because of the physical distancing around the globe, people were looking for gifts that were more personal and held some meaning to them. Shoppers were more attracted to handwritten and handmade items to share with their loved ones during the holiday season. Etsy offered just that!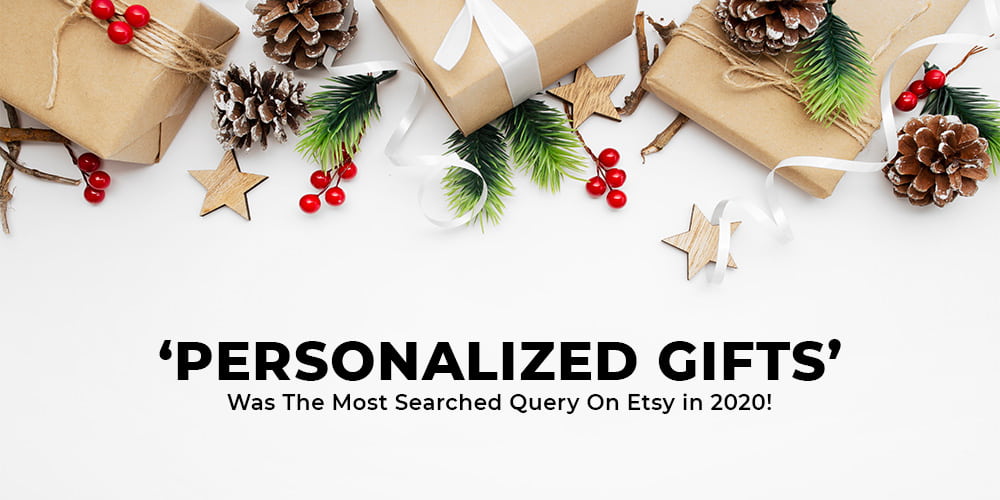 We are sure 2021 will be having more such seller focussed campaigns driving more traffic on the platform. Etsy also supports its sellers by releasing trends from time to time to make sure the listings are updated with recent trends across the globe.
How multi-channel selling helped handmade businesses?
Sellers across the world have also tried other selling channels for their business. More selling channels means more exposure and increased traffic. Many Etsy businesses took a step forward and created their own standalone stores. A great move in the direction of building a brand. While many businesses started selling on Etsy to showcase their products to a massive 70+ million actively buying audience! There are different sets of advantages of having a webstore and selling on a marketplace. Many sellers choose both at the same time to expand their business strategically.
Etsy or Shopify? Learn which one is best for your business!
What's next in 2021?
2021 may have become a symbol of hope and change, but the needs remain similar. The items that will continue to be in demand are furniture for working from home, supplies for virtual classrooms, face masks, cozy layers for socializing outdoors, and gifts for sending love from afar.
Challenges are not going away anytime soon, but the year is also filled with new opportunities to attract buyers and keep going!
Etsy has become an epitome of unique handmade collections. Recently this happened-
I kinda love Etsy

— Elon Musk (@elonmusk) January 26, 2021
Tesla CEO and the world's richest man, Elon Musk praised Etsy after buying a gift for his dog.
In 2021, people will be trying to compensate for all that was missed last year. This will make every celebration a special one. The recent ones to start updating your shops for are Valentine's Day and Mother's day. Let's not forget that shoppers will continue to support small businesses in 2021, opening a realm of opportunities for all Etsy businesses.