Etsy Holiday Trends [2023] | The Ultimate Guide To The Etsy Holiday Season
Running short of time? Get PDF of the blog in your mail.

Play Now
It's that time of the year again when Sellers on Etsy make the biggest chunk of their income. Yes! The Etsy Holiday Season is almost upon us, and this is the best time to sell seasonal and occasion-specific products to make the most out of the shopping frenzy that is about to be unleashed by shoppers worldwide. In this detailed blog, we've dedicated a substantial amount of time and resources in compiling these comprehensive insights and valuable tips to help you thrive during this holiday season. We hope you find it both enjoyable to read and incredibly beneficial as you prepare to make the most of this shopping extravaganza. Make sure to leave a comment if you enjoyed it. Let's dive in and unlock the secrets to a successful holiday season on Etsy! 
Just a small heads up: this blog is majorly divided into 4 parts – WHY, WHAT, WHEN & HOW. The WHY part explains the significance along past statistics, WHAT part explains the previous, ongoing & upcoming trends, the WHEN part highlights the key occasions along with the best time to list items, and the HOW part elaborates on the best practices and ways to make the most from this Etsy Season 2023. 
Index:
But before we dive into the different Etsy trends in 2023, let's talk a bit about the importance of Marketplace Integration for managing stores, especially during the holiday sales season.
The ever-evolving shopping patterns and customer behavior have made selling via Marketplace Integration the single most important aspect of the success of your online retail business. You can no longer afford to sell on just a single channel if you want to gain an edge over your competitors. However, when you start manually handling multiple channels like your website and a marketplace store, it can quickly become a complex and time-consuming problem.
For example – you may have your own Shopify store and simultaneously be selling (or want to sell) on Etsy. The challenge of keeping product listings, inventory, and pricing consistent across various platforms is something that can never be effectively addressed manually. Still, it requires a robust & centralized Marketplace Integration solution like CedCommerce.
If you fall under the same category, Check out our CedCommerce ‑ Etsy Integration App! With over 20k users, 1600+ reviews on the Shopify App store, and an average rating of 4.8/5. It is one of the best Shopify Etsy Integration apps out there and will definitely boost your productivity during the festive season.

With that out of the way, let's get to the heart of the matter.
The Holiday Season Sales
Whether it's Back To School or Halloween, Thanksgiving day or Christmas Eve, Black Friday or Cyber Monday, it's high time to start stocking up your Shop with essential seasonal items to make sure you don't fall behind your competitors who are going to be more prepared than ever this Holiday Season.
It's the best time for you to build a special and meaningful connection with both your old and new customers by offering them what they are looking for. This is exactly why we've written this Ultimate Etsy Holiday Season Planning Guide for 2023 so that you can be best prepared for the coming few months filled with special occasions.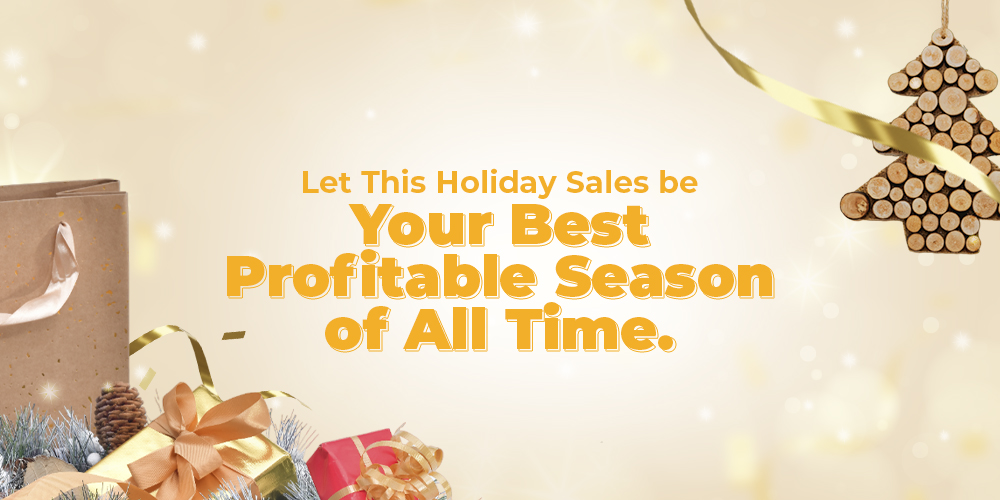 We say that because we expect an increase in the Holiday Season sales figures compared to last year in 2022. More and more people are starting to get used to the old normal when large gatherings and exchanging gifts were commonplace during festivals and holidays.
In order to understand the potential possibilities that the Holiday Season brings for Etsy sellers, we have to go through the previous statistics.
Here they are.
2022 Etsy Holiday Season (Q4) Sales Statistics And Opportunities For 2023
2022 Holiday Season Stats
In the final quarter of 2021, which was the peak of the Holiday Season, Etsy reported a 12.6% increase in the Consolidated Revenue, with the take rate increasing to 20%. In terms of tax dollars, this amounts to a whopping $3.7 billion Marketplace GMS.
Speaking of buyers, Etsy has successfully acquired approximately 9.5 million new buyers in the fourth quarter.
Josh Silverman, the CEO of Etsy, Inc. had this to say about the record-breaking 2022 Holiday Season – "Despite significant macroeconomic headwinds, we maintained the vast majority of our pandemic gains and delivered double-digit revenue growth and excellent profitability for the year. We believe our strong and steady performance proves the relevancy of our "Right to Win" strategy, the focus and investment discipline of our teams, and the resiliency of our business model. Etsy truly stands for something different."
In the Full Year 2022 Results, Etsy's Chief Financial Officer Rachel Glaser mentioned, and we quote, "The Etsy marketplace's strong holiday performance and accelerating year-over-three-year GMS in the fourth quarter enabled us to end the year on a high note."
Some major highlights of the 2022 Etsy Holiday Season
Many holiday records were set, including 2K+ checkouts per minute during Cyber Week.
A Double-digit increase in Sellers participating in Etsy Cyber sales events (Y/Y).
9.5M new buyers joined Etsy in Q4 22, which is up 51% sequentially.
8.6M lapsed buyers on Etsy reactivated their accounts in Q4, which is the highest number yet.
Regular shoppers on Etsy, people with 6 or more purchase days and more than $200 in purchases in the last 12 months, has grown 194% since December 31, 2019.
Initiatives by Etsy in 2022 to help their sellers grow their business
Etsy is implementing new ways to celebrate seller stories by continuing to put sellers front and center of their marketing & advertising efforts.
More Ad insights for sellers to better understand shoppers' intent and make smarter decisions on how to use marketing budget & expand reach.
Etsy launched multiple new tools like Visual Search to improve item discovery and enhance shopping experiences that highlight the maximum number of products available.
Etsy encouraged its customers for early holiday shopping by promoting holidays that it didn't use to promote in the past, like Diwali, Singles Day, Advent, etc. They also introduced on-site features like 'Seller Spotlights' to highlight their close connections with creative entrepreneurs worldwide.
Etsy is working to protect what makes Etsy, Etsy. By investing heavily in trust and safety to protect the Etsy community's creativity & keep this marketplace special, unique, and safe for sellers.
There is a ton of more data that Etsy released in their Annual report, but we think we have made our point. Etsy is doing everything it can to encourage and help Sellers like you to participate in the Holiday Season Sales.
Opportunities for the 2023 Holiday Season
By now, you must have realized that Etsy has been growing consistently year by year, especially during the Holiday Season, and 2023 will be no exception.
We expect the same level of growth in GMS as in previous years, if not more. And we don't even need to go very far to make that prediction; all we need to do is to see the 2023 Q1 and Q2 stats to predict that this Etsy Holiday Season will see even more people shopping compared to last year, and Sellers will make more money than an any other Holiday Season in the past.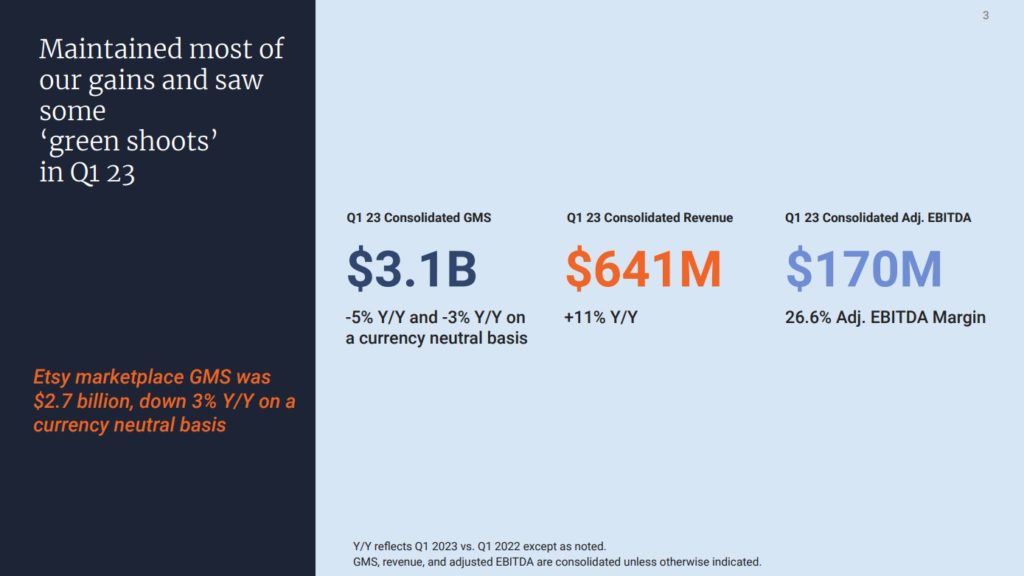 Source – Etsy's Official Quarterly results

Source – Etsy's Official Quarterly results
Note – We'll update this article with 2023 Q3 stats as soon as Etsy releases it.
Now that you know WHY you should prepare your Etsy Shop for this Holiday Season, let's discuss the WHAT.
The Emerging Etsy Trends 2023
During the Holiday Season, you must not forget that the Etsy trends that have emerged in 2022 will still stay in full swing, so if you've not yet caught on to those trends and introduced products that serve them, this section will outline all the things that are trending on Etsy in 2023.
Fall & Holiday Trends 2023 (% growth compared to 2022):
comparing search volume on Etsy from June through July 2023 to the same period of 2022 –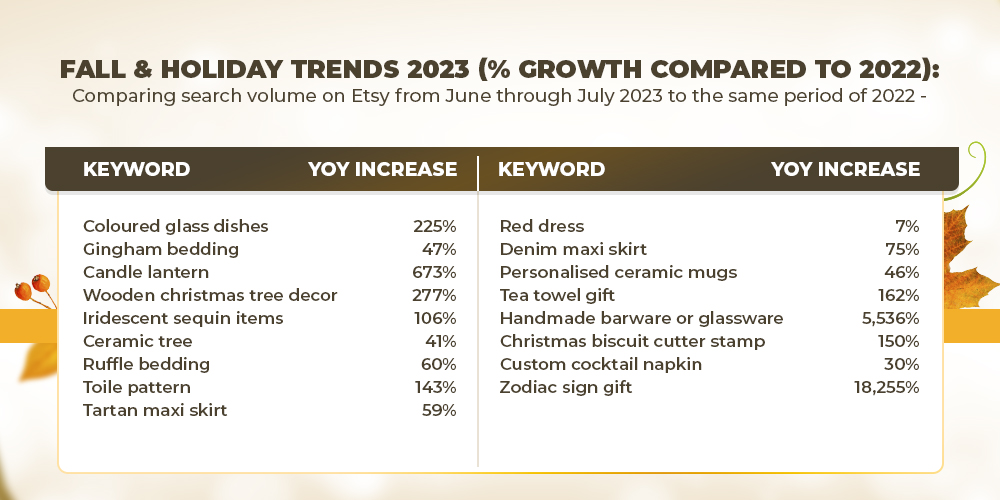 coloured glass dishes – 225% YoY increase
gingham bedding – 47% YoY increase
candle lantern – 673% YoY increase
wooden christmas tree decor – 277% YoY increase
iridescent sequin items – 106% YoY increase
ceramic tree – 41% YoY increase
ruffle bedding – 60% YoY increase
toile pattern – 143% YoY increase
tartan maxi skirt – 59% YoY increase
red dress – 7% YoY increase
denim maxi skirt – 75% YoY increase
personalised ceramic mugs – 46% YoY increase
tea towel gift – 162% YoY increase
handmade barware or glassware – 5,536% YoY increase
christmas biscuit cutter stamp – 150% YoY increase
custom cocktail napkin – 30% YoY increase
zodiac sign gift – 18,255% YoY increase
Autumn 2023 Etsy Trends (% growth compared to 2022):
The following keywords have been searched more extensively from January 2023 through March 2023 compared to the same period of 2022 –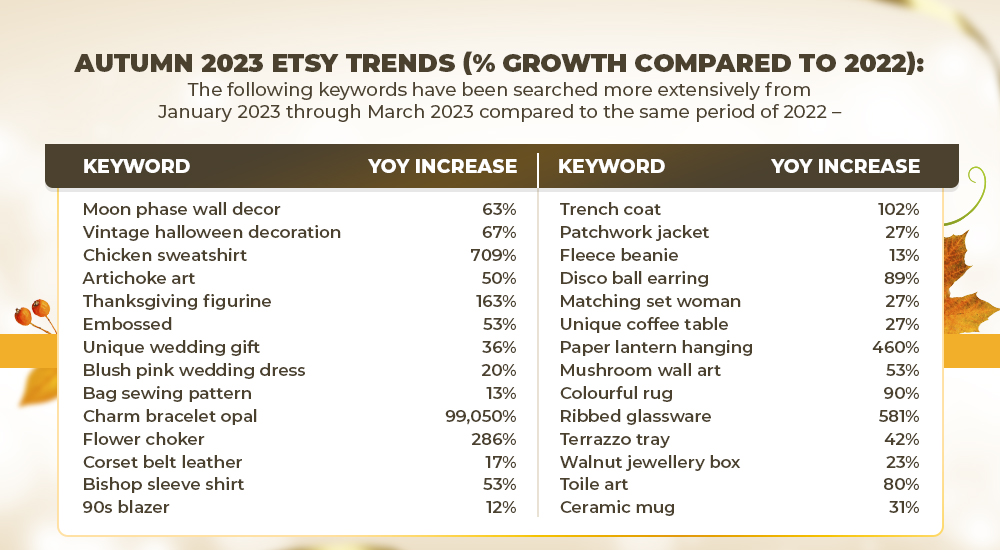 moon phase wall decor – 63% YoY increase
vintage halloween decoration – 67% YoY increase
chicken sweatshirt – 709% YoY increase
artichoke art – 50% YoY increase
thanksgiving figurine – 163% YoY increase
embossed – 53% YoY increase
unique wedding gift – 36% YoY increase
blush pink wedding dress – 20% YoY increase
bag sewing pattern – 13% YoY increase
charm bracelet opal – 99,050% YoY increase
flower choker – 286% YoY increase
corset belt leather – 17% YoY increase
bishop sleeve shirt – 53% YoY increase
90s blazer – 12% YoY increase
trench coat – 102% YoY increase
patchwork jacket – 27% YoY increase
fleece beanie – 13% YoY increase
disco ball earring – 89% YoY increase
matching set woman – 27% YoY increase
unique coffee table – 27% YoY increase
paper lantern hanging – 460% YoY increase
mushroom wall art – 53% YoY increase
colourful rug – 90% YoY increase
ribbed glassware – 581% YoY increase
terrazzo tray – 42% YoY increase
walnut jewellery box – 23% YoY increase
toile art – 80% YoY increase
ceramic mug – 31% YoY increase
Early 2023 Etsy Trends (% growth compared to 2022)
The following keywords have been searched more extensively this year compared to 2022 –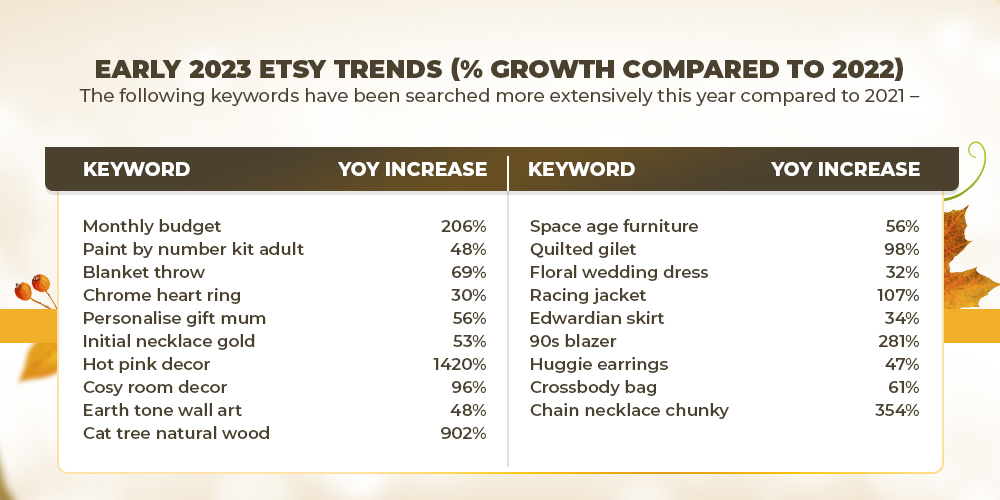 monthly budget – 206% YoY increase
paint by number kit adult – 48% YoY increase
blanket throw – 69% YoY increase
chrome heart ring – 30% YoY increase
personalise gift mum – 56% YoY increase
initial necklace gold – 53% YoY increase
hot pink decor – 1420% YoY increase
cosy room decor – 96% YoY increase
earth tone wall art – 48% YoY increase
cat tree natural wood – 902% YoY increase
space age furniture – 56% YoY increase
quilted gilet – 98% YoY increase
floral wedding dress – 32% YoY increase
racing jacket – 107% YoY increase
Edwardian skirt – 34% YoY increase
90s blazer – 281% YoY increase
huggie earrings – 47% YoY increase
crossbody bag – 61% YoY increase
chain necklace chunky – 354% YoY increase

The above list will be very useful while planning for and determining the trends in the Etsy Early Holiday Sales events.
Source – This data has been collected from the Etsy Seller Handbook Report – Early 2023 Trends and 2023 Autumn Trends.
The trends that have grown significantly in 2022 will carry over into the early months of 2023 as well, so preparing your Shop for these trends will give you benefits for at least the coming 6 months and even beyond that.
Even though the Holiday Occasions remain the same, the shopping behavior changes a little every year. The best way to understand this change in behavior is to keep up with the yearly Etsy Trends report because  Etsy has shared all the user data at its disposal to analyze what is trending at any given time.
So, we are giving you the Etsy trends analysis so that you don't have to spend a ton of time doing research. You can refer back to these trends anytime you want during the Etsy Holiday Season.
And remember the fact that trends don't just disappear into thin air, so you can still use some of the popular trends from 2022 to come up with new product ideas.
Tip: Shoppers spend the majority of their budget on decorating their homes for the Holiday season, which makes Home Decor the most sought product category on Etsy during the last few months of the year. You should be prepared with all sorts of decorative home items to target as many shoppers as you can.
Most Trending Items on Etsy this Holiday Season 2023
As per the Holiday Insights provided by Etsy in the seller handbook, there are 3 broad categories that are going to be in major trend this Holiday Season 2023:
Decor
Gifting
Style
Let us learn what items are predicted to be the most trending items on Etsy this Holiday Season 2023:
Decor Trends:
Cozy Kitsch: Items with Blended nostalgic details and styles for whimsical decor.
Eclectic Dining: Mixed patterns (new + vintage) and glassware for creative table settings.
Rural Charm: Products displaying aesthetic settings with gingham, natural woods, and dried flowers.
Mantle Focus: Vases, fauna, candles Highlighting mantles for impactful displays.
Evergreen Decor: Items offering seasonless options with minimalist trees and earth tones.
Flocked Reindeer: Decors with Velvet-like reindeer capturing retro charm.
Faux Delights: Items displaying inedible fruit and bakery items in the form of a platter, mantle, or hung-on.
Country Classics: Tablecloths and runners, cloth napkins, cushion covers, bedding with tartan, poinsettias, and toile patterns. 
Gifting Trends:
Vintage Flair: Gifting items Mixing festive details from different eras.
Practical Presents: Routine items like mugs, napkins, hats, and cushion cases with luxury materials.
Host Gifts: Creative & thoughtful host gifts such as festive wine bottle bags, sculptural candles, or linen tea towels.
Entertaining Essentials: Unique kitchen and serving items with handmade and vintage styles.
Creative Activities: Supply materials for holiday baking and crafts like engraved rolling pins, custom biscuit cutters, sugar stencils, measuring cup sets, etc.
Hyper-Personalized Gifts: Customize products with unique touches.
Zodiac-Themed: Personalized gifts tapping into astrological beliefs and zodiac themes of customers.
Style/Fashion Trends:
Fairytale Fashion: Items combining rustic and luxe elements such as oversized bows, Over-the-knee socks, Patterned tights with Rich textures, Cosy knits & Soft velvets
High-Contrast Duo: Clothing and accessories embracing the classic black-and-white fashion.
Rich Earth Tones: Items Showcasing versatility with brown and beige hues.
Bold in Red: Large clothing pieces like a coat or dress using bold red hues in statement pieces.
Winter Pops: Various fashion items with added playful colors.
Metallic Shine: Dresses with texture for bronzes, silvers, and golds or texture in the form of reptile-inspired embossing.
Maxi Trend: Floor-grazing skirts with utilitarian details in pockets & zips; made out of sturdy fabrics.
Poncho Chic: Capelets and blanket shawls in tartan, brights, or earth tones.
'50s Revival: Full skirts, tapered waist, and polka dots are very likely to be back this Festive Season.
Source – This data has been collected from the Etsy Seller Handbook Report – Festive Trends 2023.
Now that you know WHAT trends you need to follow to prepare your Etsy Shop for this Holiday Season, let's discuss the WHEN.
Key Fall And Holiday Occasions In 2023
For an Etsy Seller, the Holiday season practically starts in September when Fall approaches. Although a majority of sellers start prepping when October Ends, well, you'll be sorry to hear that, but if you start that late, you'll barely scratch the surface. On the bright side, if you begin your preparations a couple of months early, you'll dig deep into your holiday preparations and maximize your chances for a successful season.
Here's a list of all the major occasions that you should be focussing on this Fall and Holiday Season –
Global Holiday Occasions:
23 November: Thanksgiving 
24 November: Black Friday
25 November: Small Business Saturday
3–24 December: Advent
27 November: Cyber Monday
28 November: Giving Tuesday
7–15 December: Hanukkah
21 December: Winter Solstice
24 December: Christmas Eve
25 December: Christmas Day
26 December – 1 January: Kwanzaa
31 December: New Year's Eve
Regional Holiday Occasions:
9 October: Canadian Thanksgiving (CA)
1 November: All Saints (FR)
11 November: Singles Day (CH)
11 November: Armistice (FR)
6 December: St. Nicholas Day (Europe)
8 December: Christmas Jumper Day (UK)
26 December: Boxing Day (UK, CA, AU)
However, you can also look at the complete Holiday Season Calendar to see if we missed an occasion that could be significant for you.
Tune into this podcast to see what sells most on Etsy throughout the year –
Key Timings To List Items This Holiday Season
As important as it is to prepare your Etsy Shop for the coming Holiday season with items that shoppers are looking for, it is also equally important to know when to list those products to take maximum advantage of the first wave of shoppers.
Here is the list of Timings To List Your Products For Major Holiday Occasions
Halloween

Traffic – Begins around August 1, peaks around October 3, and dies off around October 31.
When to List your items – Last week of July

Thanksgiving

Traffic – Begins around September 1, peaks around November 4, and dies off around November 28.
When to List your items – Last week of August

Christmas Day

Traffic – Begins around September 1, peaks around November 28, and dies off around January 2.
When to List your items – Last week of August

Advent

Traffic – Begins around September 15, peaks around October 15, and dies off around December 25.
When to List your items – End of the first week of September

Christmas Jumper Day (UK)

Traffic – Begins around October 1, peaks around December 5, and dies off around December 25.
When to List your items – Last week of September

Hanukkah

Traffic – Begins around October 10, peaks around November 9, and dies off around December 10.
When to List your items – First week of October.
Source – This data has been collected from the Etsy Seller Handbook Report – August Shop Checklist and Holiday Calendar.
This shall give you a general idea of when the first wave of shoppers starts looking for occasion-specific items on Etsy. It's usually 3 to 4 months before the actual Holiday. The bigger the occasion, the earlier the traffic kicks in.
Therefore, your goal should be to list your items at least a week before that. You can even list them 2 weeks before the 3 to 4 months period if you want to give Etsy's search algorithm even more time to index your product listings.
Tip: You must always participate in the Etsy early holiday sales events because even if you fail to make the most from it, you'll learn what amends are required in your shop or selling campaign that'll generate the desired output for the remaining events.
Now that you know WHEN you should prepare your Etsy Shop for this Holiday Season, let's discuss the most important topic: HOW.
How To Market Your Holiday Season Products
Recognizing which products to sell this holiday season and listing those products early at the start of the season is only half of the job done. The worst thing that you can do is to just sit in the hope of getting sales. Remember that failing to plan is the same as planning to fail.
Deliberate and strategic marketing efforts are the difference between average revenue gains and massive revenue gains. Here's a list of 7 marketing tips and strategies you can use this Etsy Holiday season to up your game.
Leverage the power of social media
Run Etsy Ads Campaign
Participate in Etsy-wide sale events
Create a Thank You Coupon code for your customers
Use your email list to reach out to customers
Create gifting guides to build and/or grow your email list
Perform listing Optimisation & SEO
Let's learn each of them in detail:
Leverage the power of social media
This is the most obvious of all marketing tips. But what's not obvious is the fact that you need to create the Holiday and Winter season vibe when sharing your product photos on social media platforms like Instagram, Facebook, Pinterest, etc.
The key is to showcase the gifting prospect of your products or have them sit in a snowy background to elicit Holiday emotions in your buyers. Take a look at this Instagram image from tinkandreu, for example; it creates a perfect Christmas gift vibe instantly.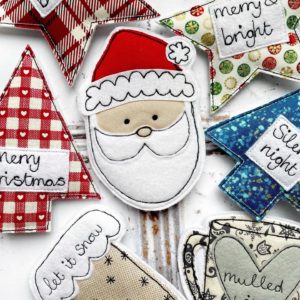 The second bit of social media marketing tip is to research and find trending hashtags and use them with your captions and/or in the comments as well. Some of the most popular and obvious ones are – #holidaygifts #holidaygiftguide #holidaygiftideas #holidaygifting.
The idea here is to use hashtags with a wide range of the number of posts. You need to use hashtags in three categories – ones having a large number of posts (around a million or more), ones with a medium number of posts (around 250k – 500k posts), and one with a low number of posts (around 5k – 50k posts).
The final social media marketing tip we have is to use the Facebook and Instagram Live features to go Live and give your customers the opportunity to see your products before they can buy them. Check out this 2021 Facebook stream from 'Artform Hair Spa' to get an idea of how to go Live and showcase your products.
Pro-Tip – Study the social accounts of some of the most successful sellers in your niche and try to figure out what strategies they are using to generate user engagement and drive sales. Incorporate these strategies into your own marketing plans.
Run Etsy Ads Campaign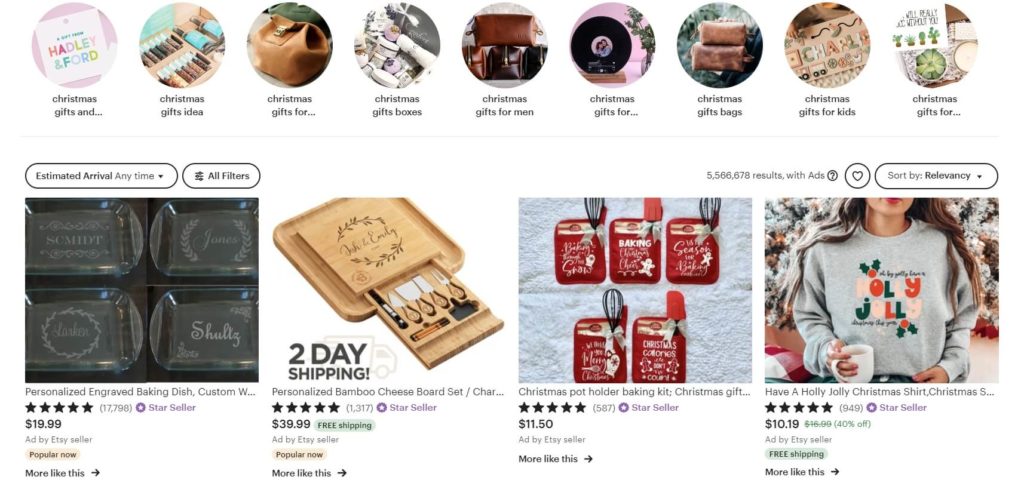 It's no secret that Ads are the fastest way to get traffic to anything, and it's not different with Etsy Ads. Promote your listings to appear in the first few pages of the Etsy Search results. The best part about it is that once you set your budget and run the campaign, Etsy will automatically optimize how your budget is spent for efficiency.

Participate in Etsy-wide sale events
Participating in Etsy-wide sale events will give your products the best chance to be seen by a large number of shoppers who are looking to buy stuff in your niche. Check out this article by Etsy to learn everything about how to run a sale on Etsy.
Make sure to share the details of your sale on your social media accounts to reach even more potential customers.
Create a Thank You Coupon code for your customers
Sending a Thank You coupon to your customers is always appreciated, and it increases their likelihood of shopping with you again in the near future. All you need to do is set up a coupon code using the inbuilt sales and coupons tool on Etsy while also enabling the "Send as thank you" option, and Etsy will automatically send that coupon to your customers 24 hours after you mark their orders as complete.
Use your email list to reach out to customers
If you have an email list, you can use it to update your customers on all the products you are offering for each Holiday occasion. Remember that even in 2022, Email Marketing is still one of the highest ROI-generating strategies, and you should not miss out on it.
We're sharing an example product update email to inspire you to create your own.
Create gifting guides to build and/or grow your email list
If you've not already built an email list, you are missing out on one of the biggest ROI-generating channels, as we just mentioned above.
Building an email list is not as intimidating as you might think. Just create a couple of Gifting Guides for products in your niche and offer them in exchange for an email. It's one of the easiest and super effective ways to build an email list in practically any industry you can think of.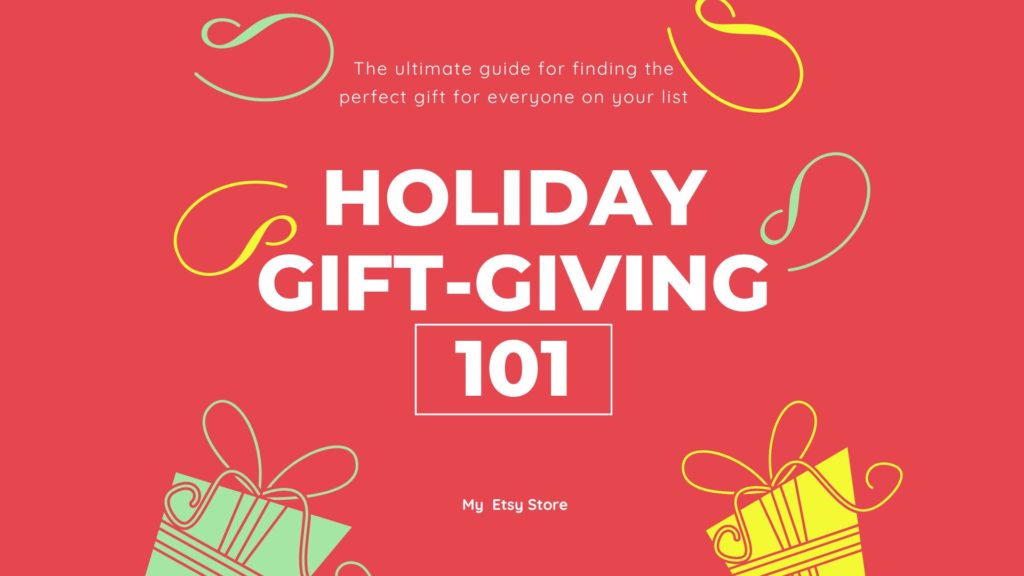 Create campaigns to run on social media, blogs, ads, or anywhere else you connect with your customers to promote your gifting guides. Put the link to the guides in your Shop Announcement section as well. All you need to do is create a simple landing page where people can give their emails in exchange for the guide.
Don't lose your listing SEO momentum
The risk of your products going out of stock unnoticed by you is the highest during the Holiday Season. Once your product goes out of stock Etsy will deactivate the listing, meaning that Etsy's algorithm will no longer have the listing indexed, resulting in the loss of all the SEO momentum it gathered since it was listed.
Make sure you are always monitoring your stock during the Etsy Holiday Season to keep your listings from going out of stock.
We hope you are enjoying our Etsy Holiday Guide. Now, let us move on to a topic that'll provide you with cheat codes to make the most from the Etsy Holiday sales 2023.
5 Quick Tips To Make The Most Of This Holiday Season on Etsy
Focus On 2 – 3 Key Holiday Occasions
Let's be practical, there are literally more than 20 Holiday occasions between now and New Year's Eve, and if you had to target every single one of them, the truth is that you won't be able to maximize on any of them. Unless, of course, you had a big team to back you up, but we're not taking that into account here.
You should simply pick 2 to 3 major occasions, a maximum of 4 maybe, and try to nail down every single aspect of what we told you in this ultimate guide to the Etsy holiday season. Doing that will allow you to be laser-focused on one thing at a time rather than being occupied with 20 different ideas, which is a recipe for disaster anyway.
Don't rely on just one one two products
Yes, you may think that you can create just a couple of products and rule the Holiday season, but the truth is that more products mean more chances to appear in the search results, which gives you more sales, which gets you to rank higher in searches, and the cycle continues.
The other major factor is that people love buying product bundles on Etsy during the Holiday season for gifting, decoration, and all sorts of purposes. So creating product bundles also gives you the opportunity to sell more and make more money.
Draft your product listings in advance
This is more of a precautionary tip rather than a selling tip. By drafting your listings, we mean that you should have your titles, descriptions, tags, and attributes figured out way before you are going to actually list the products.
The major benefit of doing this is that you will get time to improve your drafts as you keep learning more and more about the ongoing trends as you analyze your competitors and understand buyer behavior.
Tease your products in the Shop Announcement section
Let's say you are going to list some new products in a week's time; you can give a preview of your products to customers by teasing the products in the Shop Announcement section by writing something along the lines of "New Product Coming Soon."
This will build anticipation within your customers and make them come back again and again to keep track of when the product is actually coming. This gives you the opportunity to showcase your whole product line one by one.
Focus On Your Shop Visuals To Stand Out From The Crowd
The theme and the visual look and feel of your Etsy Shop during the Holiday Season have been proven to influence the buying decision of shoppers. It's the perfect way to both build your brand and build connections with new shoppers who might find your Shop for the first time this season.
When you update the look and feel of your Shop based on certain occasions, people start to notice and realize that you are a true professional and you pay attention to little details, and the same would be true for your products as well.
And honestly, you don't have to do a lot to update your Shop visuals. Just change your Shop banner, and order receipt banner, and if you wanna go a little further, you can incorporate a few visual elements in your Shop icon too, and that's all you got to do.
For example, for Halloween, you could change your banners to something like these –
You're selling on Etsy, so we're counting on your creativity to come up with something that is right for your brand.
Well, this wraps up all the main sections of our Etsy Holiday Guide. We've prepared an infographic containing a checklist that'll surely help you during the Etsy Holiday sales 2023.
The Ultimate 2023 Etsy Holiday Season Checklist
We're putting down all the tips, tricks, and strategies we've given you in a neat little infographic that you can download and use as you go through the process of preparing your Shop for the 2022 Etsy Holiday Season.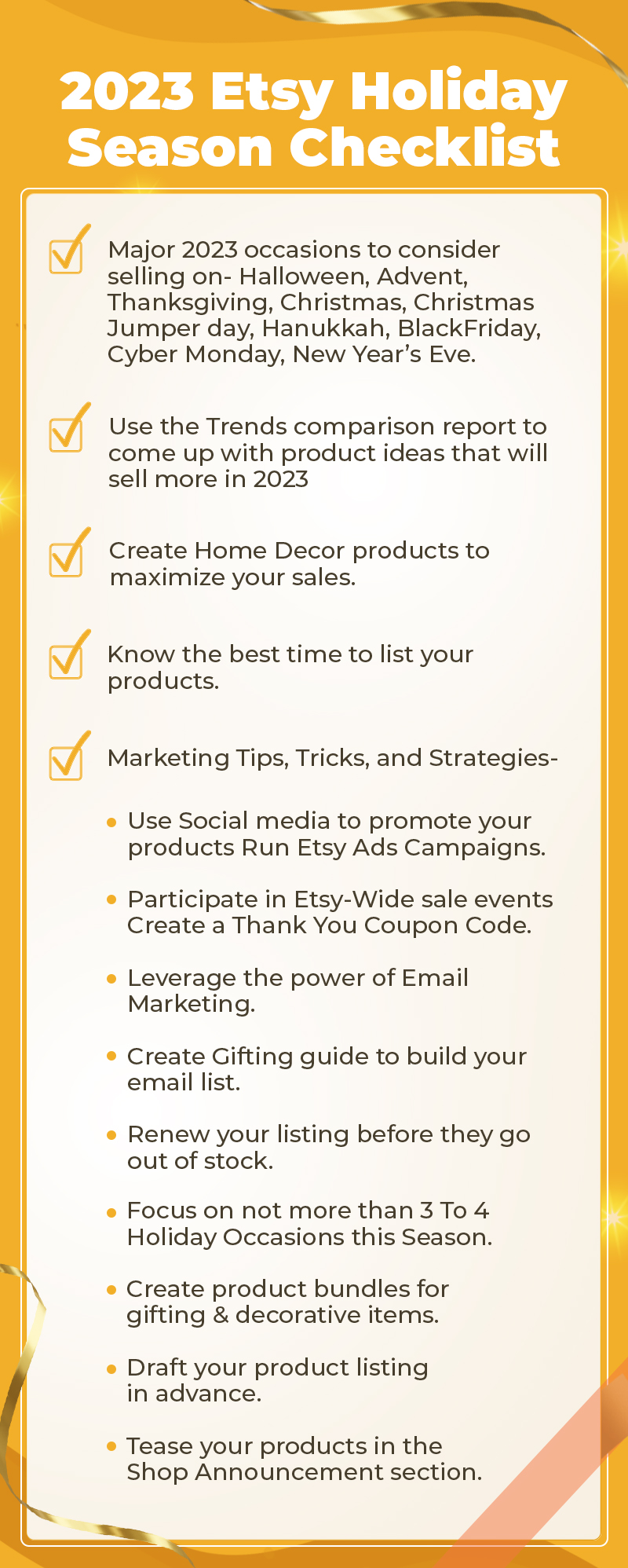 Click here to download the Checklist.
Conclusion
To sum it all up, the 2023 Holiday Season on Etsy is bringing along with it a huge opportunity to prep your shop and enjoy selling as the number of shoppers goes up. Therefore prepping your shop should include the following –
Understanding the 2023 Etsy trends and bringing in new products to cater to those trends
Listing your products at the optimum time to target the first wave of holiday shoppers
Marketing your products on different platforms like social media, email, blogs, ads, etc.
Make your shop stand out from the rest by updating your shop visuals based on the occasion you are targeting.