Common Mistakes Made in Product Listing for Walmart
Running short of time? Get PDF of the blog in your mail.

Play Now
While creating a Product Listing for Walmart, several issues may lead to product publishing either getting delayed or not happening at all. These are the times that can cause immense frustration and disappointment in the sellers. While the listing is not all that much of a difficult task in itself, it can be a bit of a hassle due to a few avoidable errors without proper tools in place. In this blog, you'll find more on Common Mistakes Made in Product Listing for Walmart.
If you find yourself wondering what a good listing looks like or how to list products on Walmart without an issue, this post will answer all your qualms.
Just follow the Walmart Product Content Policy and stay away from the products that Walmart has kept under the list of prohibited products, keep yourself on the safe side, and publish your Walmart products successfully by avoiding the mistakes mentioned below.
Common Walmart Product Listing mistakes
Incorrect pricing
Incorrect Category and Sub-Category
Incorrect Product Name or Title
Incorrect Product Description
Incorrect Product Features
Incorrect Images
Missing SKU
Invalid Product Identifier
Duplicate Listings
Listing Prohibited Products
Setting up Refurbished Items incorrectly
Product ID and Product mismatch
Let's go through each of them:
Incorrect pricing
One of the worst mistakes you can make while listing your products is pricing them incorrectly. Walmart removes product listings with drastically high prices from the marketplace. These drastically-priced listings disappoint the customers and negatively impact their shopping experience. To keep your products published on Walmart and stay on the safer side, carefully go through Walmart pricing rules.
Incorrect Category mapping
First and foremost, skipping or not doing the Category Mapping appropriately can cause product listing impossible. Category Mapping is an essential part of selling your products on Walmart. It tells Walmart which product on your store belongs to which existing category on Walmart. Hence, until the categories are mapped correctly, that particular Product Type products won't get listed on Walmart.com.

Additionally, if the mapping occurs incorrectly, the product can go under the wrong category. This would further lead to the product not appearing under the search filters and listing in the correct category. Thus, sales will take a hit since customers will not see the product at the right spot.
Incorrect Product Name or Product Title
Writing the name of the product in the required format is necessary. It helps the product to appear in the relevant searches. Use 50-75 characters in the product name or product title.
Write a clear, specific product title that customers easily understand. Use the following format to write product name:
Brand + Item Name + Model Name (if any) + Style (if any) + Key Attribute + Pack Count (if any) + Size (if any).
Include keywords in the Key attributes that are likely to be used in searching for the product. If customers are likely to search for the product's color, include this in the product title.

Source: Walmart
Incorrect Product Description
Write product description including the Product Name, Brand, and keywords describing the item's features and benefits. Include related words that customers are likely to use when they search for that product.
Example: If you are selling a "desktop," use synonyms like "personal computer" in the description. Avoid repeating these words.
Write at least one paragraph with a minimum of 150 words. You can use more than 150 words in the description. The description should be helpful, relevant, and easy for customers to understand. If your product has different variants, include all of them in the product description.
Incorrect Product Features
When describing features of the product, use short phrases or keywords in bullet points format only. Don't use more than 80 characters (including spaces) in each bullet point. Include 3-10 of your product's most essential features and benefits, and start with the most critical features.

Source: Walmart
Incorrect Images
Walmart's product content policy entails guidelines for Product Images. The rules discourage sellers from using watermark images for their products' Images. Thus, if your images have the watermark printed on them, then most probably your products won't be put on Walmart for sale. Apart from this, there are Image Quality Standards that require compliance. They regulate sizes, quality, format, number, etc. as follows:
Upload a minimum of 4 images (if applicable) for each listing with a Seamless White background. The images should be in JPEG, JPG, PNG, or BMG format. The color Format should be RGB. The size of images should not be more than 5MB. The minimum image size should be 1000 x 1000, but an image size of 2000 x 2000 or higher is recommended. Do not upload pictures with accessories that are not included with the product.
Source: Walmart
Missing SKU
Missing SKU in Product Listing is the most common product listing mistake on Walmart. If SKU is not defined for a product initially, it won't go live per the Walmart product content policy. Furthermore, SKU is essential as it is a Unique identifier based on which you receive orders from Walmart.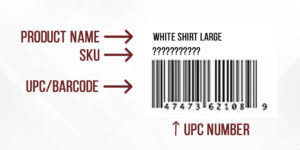 Source: Walmart
Invalid Product Identifier
The Sellers make one more mistake while doing product listing for Walmart using the appropriate Walmart product identifier. Walmart Product Identifier is exclusively unique for each product that is available for selling and trading. Thus, this unique identifier makes sure that Walmart recognizes the product appropriately. These numbers clear up the product's correct association to the sellers, manufacturer, and the item itself. Since more than one seller sells the same product, the product identifier matches the same product listings with different sellers. Without the correct product identifier, Walmart will reject the product listing for Walmart.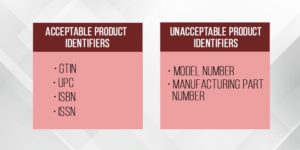 Duplicate Listings
When the same product is listed using different product IDs, it results in duplicate listings. These duplicate listings lead to a poor shopping experience for the customers as they find repeated listings of the same products. Work very carefully to avoid this listing error for Walmart products, directly affecting Walmart's shopping experience. If duplicate listings occur, Walmart may unpublish the items.
Listing Prohibited Products
Before doing product listings for Walmart, go through the prohibited products policy of Walmart. Ensure that you do not list any product that Walmart does not permit. If you list any product that Walmart has banned, Walmart will remove your listing.
Besides, Walmart reserves the right to suspend or even terminate your Walmart Seller Account in such cases.
To find the prohibited Walmart products list, click here.
Setting up Refurbished Items incorrectly
Walmart expects you to Set up refurbished items correctly and per Walmart Standards. Always include the word Refurbished in the product name and description and make it look like a new product. Use a Walmart Product Identifier and SKU for the Refurbished Item that is different from its new variant.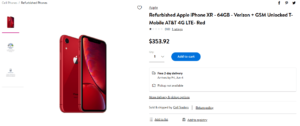 Source: Walmart
Product ID and Product mismatch
When there is a mismatch between product and Product ID, the wrong items may get merged on the same item page. When this mismatch occurs, the product name, images, description, etc., may merge and display incorrect information to customers on Walmart.
In the following example, the seller is selling a Camera with the GTIN of a Smartwatch. The camera's photo is merged with the Smartwatch in Walmart's listing, which creates a negative customer experience.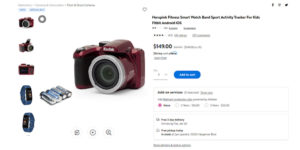 To Sum Up
Selling on Walmart is an easy money maker, given that Walmart's guidelines are strictly is followed. This also applies to Walmart's Product Content Policy. Moreover, Product Listing for Walmart strictly requires the fulfillment of more than just policies. It will help if you avoid these common mistakes made in Product Listing for Walmart. Nonetheless, if something goes amiss, you can always go back and modify the listings or let experts sort all of these for you.