Know about Amazon Sponsored Products and Related Best Practices
Running short of time? Get PDF of the blog in your mail.

Play Now
The very first thing as a seller you strive to achieve is your brand authority and product visibility on the marketplace among your prospective customers. Isn't that so? Well, all the marketplaces are aware of this need for their potential sellers. One such giant amongst hundreds of marketplaces, that efficiently manage your advertising and promotional need is Amazon through its Amazon Sponsored Products.
Read this blog to know how you can capitalize on Amazon's advertising program to reach out to your niche target audience and accelerate revenue generation.
Before you proceed, look at some of the amazing facts about the success of Amazon advertising total revenue generation –
The majority of Ad revenue that Amazon generates from search-based ads for sponsored products is 88 percent.
According to Hubspot, Amazon has created a benchmark by generating 250% more revenue from advertising in 2018 compared to 2017.
It is expected to compete on number third in Advertising after Google and Facebook. Amazon is a global marketplace giant and the most preferred online shopping site with 89% of buyers more likely to buy from Amazon than any other site.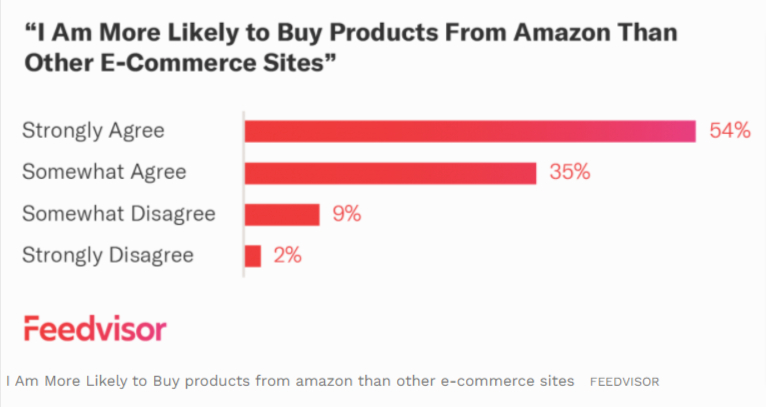 Not only this, Nanigans, a performance marketing agency predicted a huge shift of businesses inclination towards Amazon than Facebook and Google.
Feedvisor, which surveyed over 500 brands for its 'Brands and Amazon' Reports found that brands are shifting towards Amazon for Advertisements because of the loyal and huge customers available on Amazon.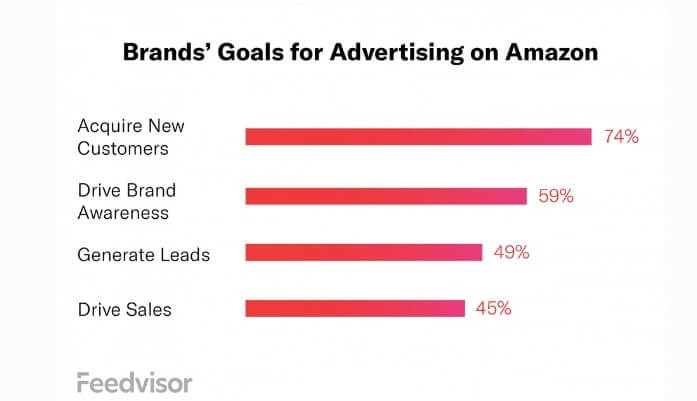 Now let's get started with one of the most opted Amazon Advertising Suite –
What is Amazon Sponsored Product?
The term is self-explanatory, which means that Amazon will sponsor your products on their website. In other words, it means that under this advertising program, your products will be displayed on the result page of Amazon as soon as a visitor searches for something that you sell.
The program runs on a bidding module where you select the product you want to advertise, and assign keywords for it so that when a visitor enters the relevant keywords, your product is displayed. The program allows you to pay only for the ads clicked by the visitor. As soon as the visitor clicks on the page, he is directed to the page where your offer is listed.
Know about Amazon Ad Types and Best Practices For A Campaign Set Up
When should you use Amazon Sponsored Product Ad Program?
As a seller you know which of your products are competent in the market to absorb a huge customer base. Advertise those products and generate revenue.
Offers and discounts are some of the strategies you apply for your products to increase furthermore sales. This is the time when you should increase the visibility of those products amongst your potential customers.
Protip – Buyers, globally, are price sensitive. Being a seller you must utilize this tendency of your target audience and hit the iron when it is hot by advertising your products with offers or discounts to your target customers at the right time.
What are the advantages of registering under Amazon Sponsored Products?
The basic reason why a seller would advertise the product is to reach the eyes of its audience first and stand out among a million other sellers. Promotions and advertising always give better results to those potential sellers who succeed to establish brand authority in the online marketplace.
Few major benefits of Amazon Sponsored Products are –
Higher visibility on the first page of Amazon's search result page.
You can reach your target audience across all devices from PC to smartphones.
Getting free impressions and paying only when the visitor clicks on your product ad
Facility to analyze and measure the results in real-time in Seller Central.
 Merchants and brands that sell directly to Amazon's customers are registered under Seller Central. Flexible Logistics options, quick payment terms, control over messaging of products are some of the obvious benefits enjoyed by merchants and vendors registered under Seller Central.
Boost your sales by adding the Amazon Top Selling Products to your Inventory.
Am I eligible for registering under Amazon Sponsored Products?
As mentioned earlier, Amazon offers advertising facilities only to its potential sellers, brands, and vendors. This means that the offers listed on the detail page will be shown only if your offer has won a Buy Box.
Buy Box

It is a privilege given to the most competent seller under which the seller's products can directly be added to the cart by the customer. This gives advantage to the winning seller over others. Winning a Buy Box isn't a child's play rather it demands a chain of outstanding performance as a seller. Some of the performance-based requirements are –Defect rate, customer shopping experience, status as a reputed seller and time and experience on Amazon marketplace.
What is the registration process under the Amazon Sponsored Advertising Program?
First of all, log in to the seller central account on Amazon.
Select the option Advertising and then select Campaign Manager.
A seller, who is creating a campaign for the first time should click on "Create campaign" and then move forward to fill in details like

Name of your campaign
Your daily Budget
Start Date and End date




Targeting (Manual or Automatic)*

Set a Bid (you can change it as per your needs)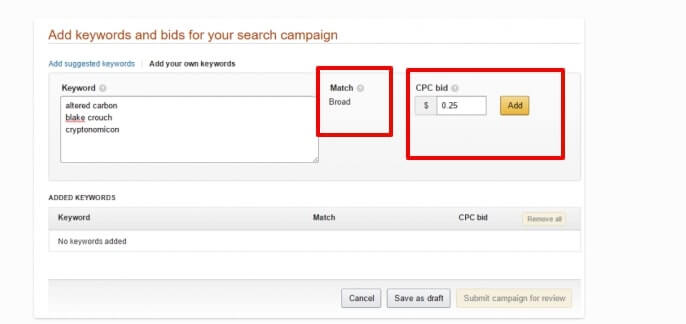 Click on "save" and "finish."
(As soon as you click on "save" and "finish" the campaign is created. It takes about an hour for a campaign to get activated on Amazon).
If you have already done some previous campaigns before, you can look at its progress by analyzing your expenditure, sales, Cost of acquisition, impressions, the status of your campaign, targeting (manual or automatic), and daily budget.
*Note –
In the stage of targeting, there are two options available to you to choose from.
Automatic Targeting –
Automatic targeting allows you to leave all the processes of keyword-setting and product selection for advertising as per the target audience on Amazon. Amazon will take care of all this cumbersome process.
Manual Targeting –
This option allows you to arrange everything on your own. You can choose your products and align the target keywords for each of them. There are some recommended keywords to choose from and apart from that, you can add keywords of your own also. There are three types of keywords that you must take into consideration to hit the right audience –
Broad Keywords – These are the keywords you can choose when you feel to add specific attributes in your product description. You can use these words before and after your target keywords.
Phrase Keywords – These are the keywords that change the context and emphasis of your product according to the sequence of the words used by you.
Exact keywords – Keywords that are not followed by any before or after assistant keywords are your exact keywords. These keywords specifically indicate the product that you are selling. For example- If you choose the exact target keyword 'Toys' then the visitor will see a whole lot collection of toys and not specifically the toy let's suppose Teddy bear that he is looking for.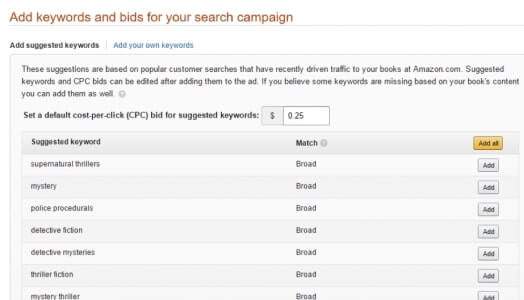 Are there restrictions on the products and categories under this program?
Since Amazon is a global online marketplace, there are a set of rules and restrictions in the export and import of products of every country that a seller must strictly follow.
At this time, the list of restricted items is as follows-
Adult products
Alcohol and related products
Drugs and Drugs Paraphernalia
Weapons
Prenatal gender determination products
Human parts and burial artifacts etc.
Read these tips to optimise product listing with Amazon A+ Content.
The categories that you can advertise your products are –
Car and Motorbike
Computer and accessories
Health and personal care
Toys and Games
Beauty and cosmetics
Kitchen and Home
Large Appliances
PC and Video Games
Stationery and Office Supplies
Garden and Outdoor items
Pricing of Sponsored Products
Sponsored products use a Cost per Click, auction-based pricing model. It means that you can choose the items that you want Amazon to sponsor and set the cost that you are ready to pay when a customer clicks on your ad. Amazon gets this money only when a customer clicks on the ad and not before that.
Don't get confused with the auction model. When you create your advertising campaign on Amazon and select the products you want to advertise, at that time you also have to put the minimum or maximum amount (as per your budget) that you want to pay to Amazon when a customer clicks on your product. It is an auction because if another seller who created this advertisement campaign for the same product you chose and fixes more amount on Cost per Click, then Amazon will first show the ad of his product and not yours.
Nevertheless, you can always increase this amount based upon the budget and sales that the campaign has derived for you.
Basic Amazon Sponsored Product Strategy and Best Practices
A mere understanding of how an advertisement works is not enough. You must know how to strategize and follow best practices to get the maximum benefit out of it. We have therefore aligned some basic Amazon Sponsored Product  Strategies and Practices that you can adhere to and see the result yourself.
Amazon Sponsored Product Strategy
Fix a goal for your advertisement campaign –
The first and foremost thing is to decide your goal. The quest for Product Visibility can be for two purposes –
You choose what is your current goal. As mentioned above you can analyze the metrics related to the Cost of sales and increase or decrease your budget and duration of the campaign, if your goals drive sales. On the other hand, you should consider impressions as your metrics to plan your campaign if your goal is just brand awareness.
Choose the most competitive product –
You know your products better than anyone else.  Choose those very products that can generate a huge customer base. Fix the competitive price of the product and advertise it to make potential customers realize what they are missing. Always go with the products that are high in demand, unique, relevant (to occasions, festivals, etc.)
Choose special days and occasions –
Try to play with the relevance of your product. For example, if you sell jewelry, the best time for you to capitalize on the advertising campaign will be Mother's Day, Valentine's Day, Daughter's day, etc. The more relevant your product is, the more is the probability of people buying your products.
Make your product as attractive as possible –
Work on product description with the right keywords, add high-quality product images, feed relevant and accurate descriptions of the product. Highlight offers and discounts to attract customers in one go.
Amazon Sponsored Product Best Practices
Choose Automatic Targeting Option –
If you are a new seller or creating a campaign for the first time, you can opt for an automatic Targeting option wherein Amazon will do the keyword setting for your relevant products to the right target audience using its metrics. Choosing automatic targeting is a good option to start with.
Choose Right Ad Group –
Categorize your products and separate them based on their nature and attributes under different add groups within a campaign. For example – If you choose a product Campaign for Women's Shoes, you can create different ad groups based on different types of women's shoes-
Product Campaign 1 Women's Shoes
Ad group 1- Women's Running shoes
Ad group 2- Women's flats and heels etc.
Assign Most Appropriate Keywords to Each Ad Group –
For each ad group, mention the right keywords. Make keywords more specific to make your products visible to the target audience. Avoiding Negative keywords is also very important. These are the keywords that have a low conversion rate. Amazon gives you a space to feed the negative keywords for which you don't want the marketplace to display your products.
There are two types of Negative Keywords –
Negative Exact – This means that if a visitor types the exact negative keywords as fed by you then, Amazon will not display your products.
Negative Phrase – It means that any negative words matching your negative keywords within the phrase or a sentence fed by the visitor, will prohibit your product ad.
Keep Adjusting PPC By analyzing metrics –
As already discussed before, you can keep increasing or decreasing your Pay Per Click by looking into the specific products that are doing well and ones that aren't. You remove the products with the lowest results and invest in making your bid more competitive for the highest yielding products.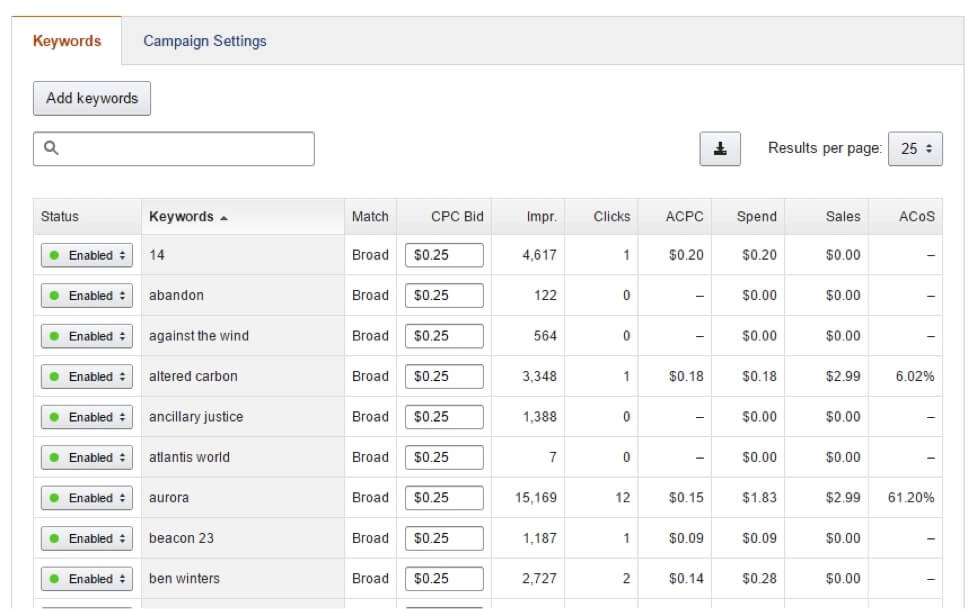 Make New keywords More Competitive –
When opting for manual targeting, you have the freedom to add new keywords. These keywords have no prehistory for the metric calculation by Amazon, so to make it active to get some impressions, clicks, or sales, bid a little higher price for Amazon to give it sufficient preference over others. Once you get the results over a period of time, you can change the bid as per its market value.
Conclusion
Amazon offers a wide range of advertising plans and campaigns for sellers to choose from like Amazon Sponsored Ads, Amazon Headline Search Ads,  Amazon Product Display Ads, Amazon Native Ads, etc. Based on what you want people to know you for, you can choose the most suitable advertising tools on Amazon.
Comment below your queries about selling on Amazon and our experts will reach out to you soon.