6 Tips to help you decide what to sell on the Walmart marketplace
Running short of time? Get PDF of the blog in your mail.

Play Now
Planning to boost your online visibility by onboarding the Walmart marketplace is the right step forward. But what you should sell on Walmart out of the never-ending list of products is what you must be thinking of. To get added to the list of thousands of successful sellers on Walmart, you must have a proper and carefully researched plan on what to sell on Walmart. Explore further to discover more about the aspects you should consider before finalizing what to sell on the Walmart marketplace.
Which products does Walmart sell?
Walmart sells products that it has categorized into 37 product categories. From apparel to electronics, appliances to apparel, computers to watches, customers find almost anything they need.
What are Walmart's Best-Selling Items?
The list of top-selling items on Walmart is dynamic and may change from time to time. The sale of some products peaks during the festive season, whereas for others, it peaks seasonally. But in general, the evergreen top-selling products on Walmart are the ones listed below:
Personal care products
Fitness essentials
Pet supplies
Home products
Kitchenware
Health care/Babycare
Electronic accessories
Cleaning supplies
Toys & games
Women's clothing
Important numbers to know about Walmart
Walmart's revenue reached $573 billion worldwide in the fiscal year ended January 2022. This is a 7% increase from a year back figures.
Walmart is now a selling platform for more than 105,000 sellers.
Walmart receives around 100 million unique visitors a month.
More than 52 million SKUs are now there on Walmart.
Non-US sellers are also now selling on the Walmart marketplace.
Category-wise Revenue Split of Walmart
The below table represents the category-wise revenue of Walmart for the year 2021. It shows that the products in the electronics & media category top in terms of revenue in 2021, followed by furniture & appliances, toys, hobby & DIY, food & personal care, and at last, fashion.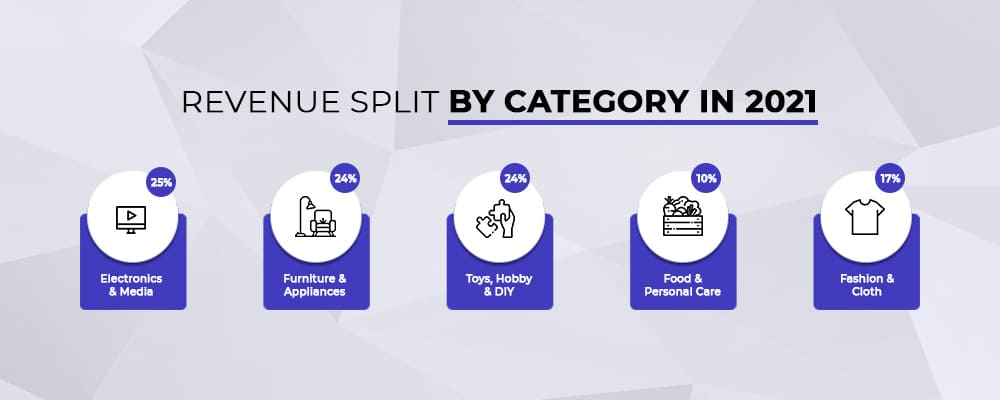 Source: ecommercedb.com
How to know the top sellers on Walmart?
Instead of blindly listing products on Walmart, it's good to have an idea of the best-sellers on Walmart before performing new listings. And for that, simply follow the steps given below:
Go to Walmart.com.
Type best sellers in the search bar.
Click Shop all in the top-right corner, and you will be presented with the best selling products on Walmart, as shown below:
Source: Walmart.com
This page shows products belonging to various categories on Walmart. To find out category-specific data on the top sellers on Walmart, follow these steps:
Go to Walmart.com.
Select your target category under the Departments.
Source: Walmart.com
All this will help you identify the top-selling products on the Walmart marketplace.
Pro tips for deciding which products to sell on Walmart
The below tips will help you decide what to sell on the Walmart marketplace to benefit in the long run:
Understand your capabilities first
Knowing your capabilities is first and foremost to consider before entering the Walmart ecosystem. Put in your time and decide what you can sell best and what you cannot. From the available 37 product categories, research and decide which category of products you can sell well and are profitable to sell on the Walmart marketplace.
Know your Walmart customers
Knowing your customers is the key to success on the Walmart marketplace. A proper understanding of your customers will help you cater to different personas better. A survey done on Walmart customers revealed that they value product pricing, return policies, reviews, and many more aspects before shopping on the Walmart marketplace. Getting answers to the questions like their preferences, buying patterns, factors considered before purchasing, etc., will help you align your marketing and sales as per the customer's habits.
Look who else sells the products you are targeting
Whichever products you target, look who else sells the same products on Walmart. This will help you understand the competition and the number of sellers listing the products you are interested in selling. If performing a search query leads to many results for a product, it means many sellers are selling it. So the competition may be tough and at the same time, it may also mean that it is a product that sells well on the marketplace.
Work on everything: Shipping, reviews, pro seller badge, etc.
Carefully work on each aspect that can help you enhance customers' shopping experience at the Walmart marketplace. One key aspect of customer satisfaction is the timely shipping of the products. For that, register under the TwoDay Shipping program. With this program, TwoDay delivery tags get applied to your products. It helps to enhance the visibility of your products, and so your conversions boost.
Since many customers look for product reviews before online shopping, deliver exceptional service on Walmart so that customers leave positive reviews about you.
Additionally, the importance of a Pro Seller Badge cannot be ignored. When you fulfill some set eligibility criteria, Walmart applies a Pro Seller Badge to the qualified products. It works as a Trust Badge of delivering a quality product from a trusted seller on Walmart. Work hard to fulfill the eligibility criteria so as to earn the Pro Seller Badge on the marketplace.
Forecast your sales potential
Instead of just onboarding the Walmart marketplace seeing the potential because of millions of shoppers, it's good to understand your sales potential first. Know the costs involved and determine the profits expected from your Walmart sales.
As Walmart charges nothing in the name of listing fees or monthly fees, understand the percentage-wise referral fees that you will be paying to Walmart.
Considering all your sales expenses and the referral fees, you need to pay to Walmart, roughly forecast your profits.
Analyze what sells best on competitors' sites
Know what's trending on the sites of competitors, like Amazon. This will help you finalize what product options you have.
To Sum Up
Success on the Walmart marketplace relies on smartly selecting the products. A proper understanding of the pointers listed above will help you work upon the aspects that can help you sell better on the Walmart marketplace by picking up the right products out of available infinite options. And hence pave a path of success at Walmart.
Another crucial thing you need to keep in mind before performing Walmart listings is to avoid listing the prohibited products on Walmart. There is a predefined list of products that Walmart doesn't permit listing on the marketplace. If you happen to list any such item, Walmart removes the listings or may suspend your account.
However, for any help on selling on the Walmart marketplace or performing listings the way Walmart accepts, connect with subject experts from CedCommerce. From onboarding the Walmart marketplace to performing SEO-friendly listings, everything will be made frictionless for you. Try out the seamless integration solution that CedCommerce offers, and see how frictionless your Walmart selling experience will be.