How much is the Walmart marketplace fee and how are sellers paid?
Running short of time? Get PDF of the blog in your mail.

Play Now
Are you planning to expand your online presence via the lucrative marketplace of the US, i.e., Walmart, but you don't know the fees and costs associated with selling? If you need answers to the questions, how much does it cost to sell on Walmart? What is the Walmart marketplace fee for sellers? How does Walmart pay its sellers when a product gets sold? This is the right place. This write-up will answer all your questions about the selling costs on the Walmart marketplace. So let's begin!
What is the cost to sell on the Walmart marketplace?
There is no listing, item setup, or monthly fee to sell on the Walmart marketplace. Walmart only charges a referral fee(commission fee) based on the category to which your product belongs. And you only have to pay Walmart marketplace fee when you make a sale.
The following table represents the category wise referral fees on Walmart: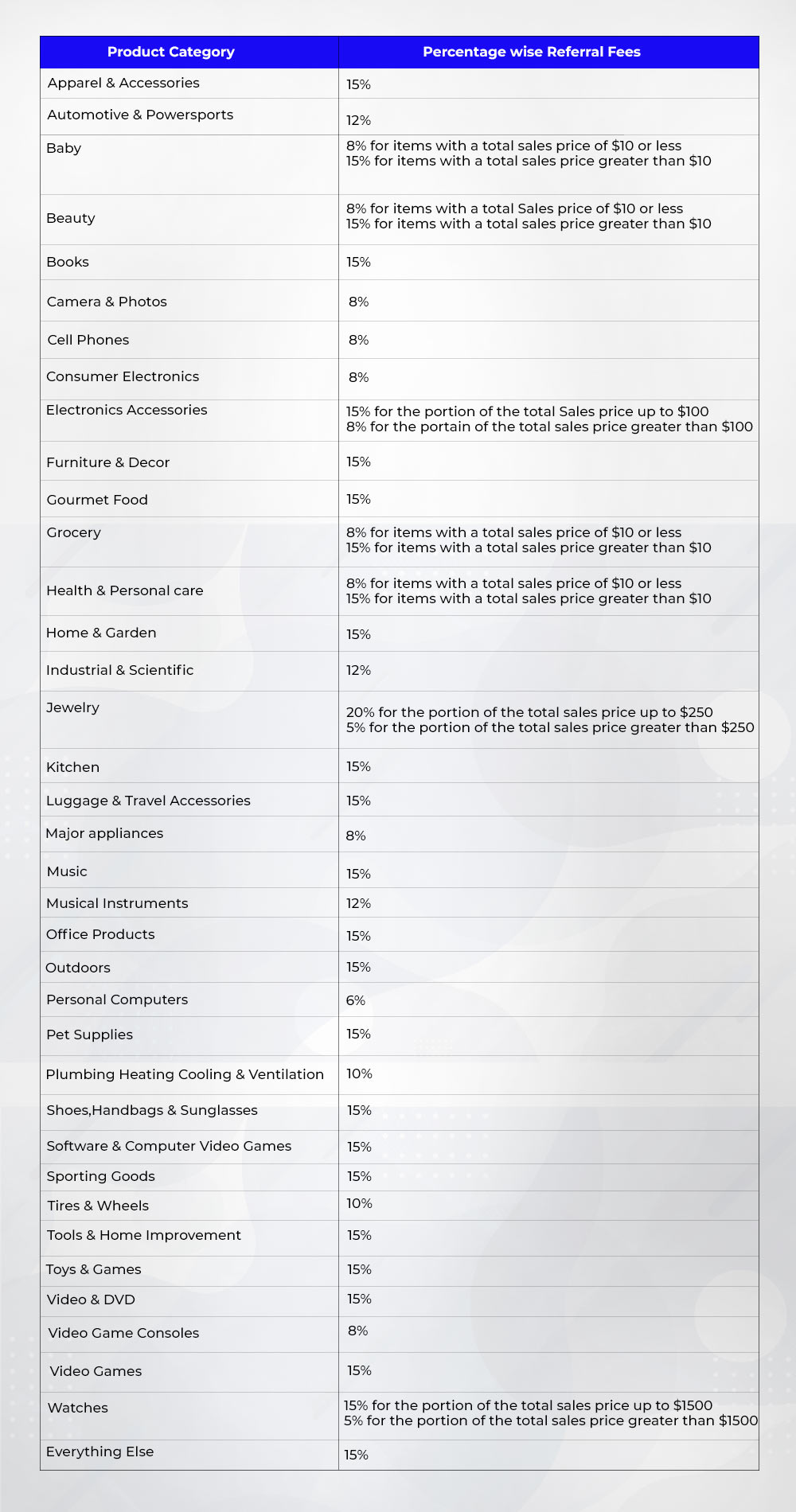 Source: Walmart knowledgebase
The product categories based on which Walmart charges referral fees are not the Item Setup categories. Instead, they are the ones that Walmart reflects in your Payment Report. If you see that Walmart has charged a wrong referral fee for the sale of your products, you can create a Case for Partner Support by selecting Disputes > Commission Rate disputes. And while creating the case, don't forget to include the Item ID and category.
How much are the Walmart Marketplace Referral Fees?
The percentage-wise referral fee that Walmart charges on the product's sale is based on the category to which the product belongs. The above table presents the category wise Walmart referral fees(Walmart marketplace fee) that you need to pay when your product undergoes a sale on Walmart.com.

From the table above, it's clear that if you sell a book for $10, then you need to pay 15% of this cost as the selling fee on Walmart, and if you are selling cell phones, then you need to pay only 8% as the commission fee to Walmart. The total amount that you receive on the sale of Walmart products equals your total sales minus the referral fees that Walmart charges.
Total amount received = Total sales – Walmart Referral fee
When does Walmart pay its sellers?
The payment frequency is generally bi-weekly (every 14 days).
Walmart posts the payments on the first Tuesday after the cut-off of the settlement cycle, and the next morning, i.e., Wednesday, sellers receive their sales amount. Walmart pays via Hyperwallet or Payoneer 14 days after the seller's order gets shipped.
If you are a new Walmart seller, your payment may get on hold for 14 days. Factors such as high return rates or selling illegal items may further delay payment.
When can a seller's payment get suspended?
Walmart can temporarily suspend seller's payments. The following can be the reasons for payment suspension: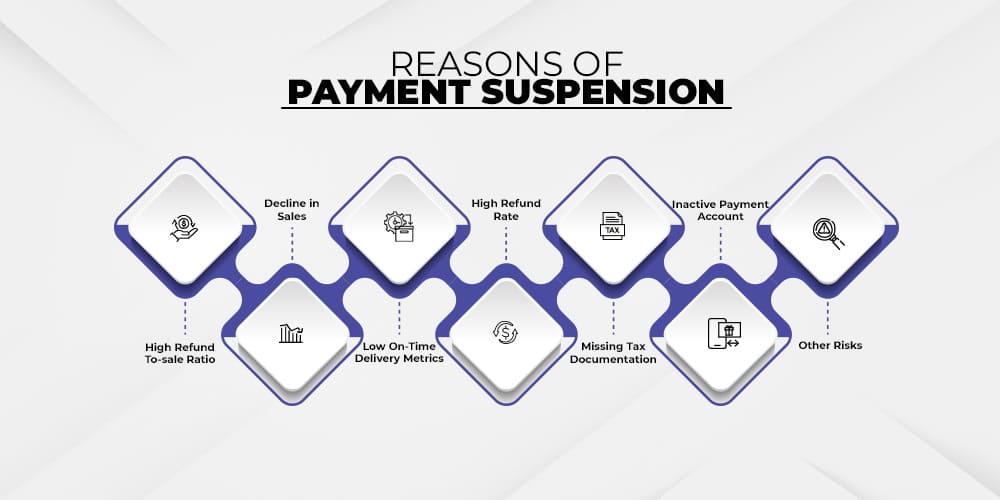 High refund-to-sale ratio: The seller's current refunds are higher than their current Walmart sales.
A decline in sales: The seller's present Walmart sales are lower when compared to previous sales figures.
Low On-Time Delivery metrics: Sellers deliver a low percentage of orders on or before the expected delivery date(EDD).
High refund rate: Customers returned a high percentage of orders in the last 14-30 days.
Missing tax documentation: Sellers have not provided the tax documents to Walmart.
The payment processor account is inactive: The payment processor account that sellers provided for receiving payments is inactive.
Other Risks: Walmart identifies some other risks associated with the seller's account.
How to avoid payment suspensions?
Sellers must comply with the following standards to remove a payment suspension from their account.
Refund Rate: The refund rate must be below 10% for at least 30 days.
Performance Metrics: Strictly adhere to the Seller Performance Standards.
Tax Documentation: To avoid payment delays, deliver accurate tax documentation.
Payment Processor Account: Be sure that the payment processor account is Active.
How to sell on Walmart?
Once you fulfill the requirements to sell on Walmart, follow the steps below to become a seller on Walmart:
1. Fill up the marketplace application form.
Walmart's onboarding process begins with an application for approval/account creation. For this, firstly fill out the Walmart marketplace application form, and wait for an approval email from Walmart.
2. Complete Registration
Secondly comes the Registration process, which consists of 5 sub-steps, including Account Creation, Walmart Retailer Agreement, Company Registration, Taxes (W-9), Payment Info, and Shipping Info.
3. Finish Partner Profile
Thirdly, you need to complete your partner profile which includes providing details of your Company, Customer Service, Contacts, Shipping, Return Policy, Privacy Policy, and Tax Info.
4. Set up items and Upload inventory
This is a critical step and needs to be completed carefully since, at this step, you need to set up your items and upload inventory from your store to the Walmart marketplace. Due care and attention from your end are needed here.
Now the question is- how to set up items and upload inventory on Walmart? For the same, you can do it on your own or opt-in for an integration solution. But choosing an integration solution is a wise decision as it comes packed with the following prominent features that will make it easy for you to sell on Walmart:
The integration helps you perform time-taking tasks in seconds. With the bulk upload feature, you can select many products and upload them to Walmart in one go. And so, it helps you save on your time.
It helps with the auto acknowledgment of orders. So you don't need to monitor incoming orders all the time. The app does it all for you.
You can seamlessly manage Walmart orders from your store itself. The integration app also notifies you about all orders so that you don't miss out on any orders.
It also presents the same inventory across both fronts(your store and Walmart marketplace) by synchronizing your store with the Walmart marketplace in near real-time.
With the integration, you can also set up threshold inventory levels to avoid running out of stock on Walmart.
The integration comes backed with 24/7 support services. Therefore, selling on Walmart from your store will no more be a big task for you, as someone will always be there to help you out when needed.
5. Launch your account
Now the last step is to launch your account as a Walmart Seller. Click Ready to launch, and then clicking Confirm will notify Walmart about your marketplace application. The Walmart team evaluates your application form and will notify you about your application status.
"Pro Tip: Once your Walmart marketplace application gets approved, it's recommended that you quickly install the Walmart Integration app. You must be wondering why? Well! When you install the app, a dedicated account manager will be aligned with you from CedCommerce to make your onboarding process seamless. The account manager will guide you on all the onboarding steps and will simplify the remaining steps for you. If you get stuck at any time while selling on the Walmart marketplace and need an expert's help, he will be there to help you out."