5 ways to increase sales on Labor Day with Google smart shopping 2021
Running short of time? Get PDF of the blog in your mail.

Play Now
Google smart shopping 2021! Are you ready to make the most out of this summer's end? 
As surreal as it may sound, summer's coming to an end. This is your last chance to get in those speedos and hit the beach! Invite your friends and family for a BBQ event or even go on a road trip!
Apart from this seasonal bliss, we are almost into the Labor day weekend. Undoubtedly, it will mark the beginning of retailers' most busy quarter. This is due to a lineup of plenty of holidays, one after the other. With CedCommerce, you'll have an assured aid for support and business management.
Labor day holiday aims to provide a 'break' from work, to all employees around the world. This celebration of the worker class is also known as May day.
Labor day is a popular holiday, especially due to shoppers' love for offers! A study suggests more than 88% shoppers proactively wait for labor day deals to shop.

Why to sell during a Holiday season?
Let's look at some of the retailer benefits that would come out of a Labor day-centric sales approach:
Hike in sales
Holiday seasons are considered to be one of the busiest times in a year. It includes all kinds of shoppers. The ones who make an early purchase, ones during the holiday and the late ones!
A report confirms that most sold products during the labor weekend are clothes and school supplies (Back-to-school season).

Brand awareness
An increase in sales leads to popularity! Shoppers might start seeing your name, frequently, everywhere. This kind of recognition improves a brand's image and awareness in the market.

During Labor Day weekend, retailers with unique offers and deals might attract the majority of traffic and conversions!
Google smart shopping 2021, too, helps in brand awareness.
Google's seller ratings
Once your brand becomes popular, few shoppers tend to further associate themselves with the brand!
Market credibility is generated via online reviews' exposure and seller ratings. Writing online reviews on retailers' products might improve its visibility, on both organic and inorganic platforms.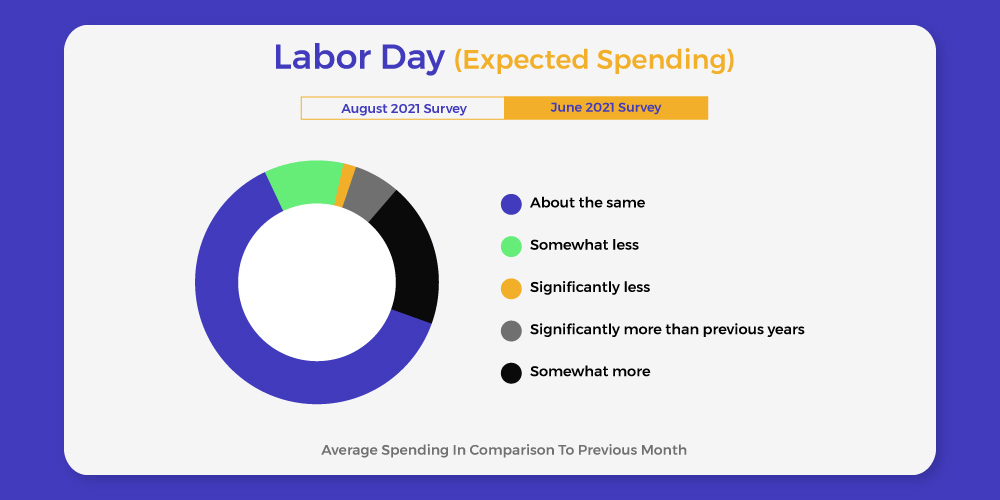 Holiday sales are mostly profitable for all kinds of retailers, new or old. You can also utilize this time to experiment with various selling platforms like Google.
Buy on Google is its official marketplace. Google smart shopping 2021 might bring in exciting possibilities for retailers!
You now know the benefits of selling during holidays. Let's move on.
How to sell better during Labor Day week?
Now let's talk about a few strategies that might help retailers produce profitable results. 
Provide 'FOMO' offers and deals
Put out deals that can't be ignored! A sales announcement should be such that it resonates with the shoppers. Offering a one-time 'super discount' is one such example. The idea of missing out on things in life is of major concern these days, especially amidst a pandemic.
Retailers can use this idea to create a constructive strategy, helping sales and shoppers. Labor day brings in many offers and discounts on various items. You just need to find what your target audience prefers and provide such deals to them.

According to Numerator, just eight percent of Americans expect Labor Day 2021 to be significantly impacted by COVID-19, while 44 percent believe it will have no impact at all.

Retentive focus on big prospects
No retailer likes to lose important prospects of their businesses. A study suggests more than 40% of ecommerce revenue comes from 8% of retained or 'repeat' customers.
A focussed approach to keep the existing shoppers is moderately difficult. This is because better the products, higher the shoppers' expectations.
Labor Day might give out different opportunities to the retailers. Google smart shopping actions 2021 can help with it. They can also allocate 'special discounts' to their loyal shoppers.
This might induce an instant outflow of inventory items. 
Personalized announcement strategies/CTAs
These days, websites with few or less CTAs are considered to be less promising than others. Especially, while promoting or announcing a product or a service.
Hence, multiple CTAs will make shoppers take a prompt decision.
A personalized CTA, for instance, can be more prone to click-on action to a viewer (asking their age or gender) than a general one.
Labor Day deals announcement should be appealing to a general and individual target shopper base. Their account can be scrutinized. Based on their shopping history, personalised emails and pop-ups can be arranged.
E-buyers have had a change in their shopping pattern.
So, this kind of customised approach just might help and bring in more sales!
Decisive buying process
Google smart shopping 2021 can help ease up this overwhelming holiday season selling. Once a shopper is on a website to shop, the whole process should be easy. A seamless user experience is the ultimate retailer goal.
Labor Day is all about good deals on items from a shopper's 'bucket list'.
The product buy steps should be direct and simple. It should also have a varied flexible payment method for every monetary medium. 
Holiday focussed products' theme
Retailers should keep up the holiday spirit! In a brick and mortar store a sale, generally, can cause a sudden footfall of buyers. The purpose of sale, roughly, is for inventory discharge. An uninterested traffic would just increase your bounce rate.
As Labor Day approaches, retailers might sell their products focussed on the holiday. This might bring in an interested set of audience and a predictable traffic rate (low bounce rate).

Special labor day discounts on products like clothes, electronics and furniture might bring in more shoppers.

Capitalization of the holiday season may reap more benefits than other methods.

Conclusion

Labor Day selling sure can be challenging. With various competitors in the market, the key is to stand out!
Selling unique products can be one of the ways to do that. CedCommerce can help you get there too!
They provide different types of ecommerce retail and other solutions. Those solutions might make your business successful.
Be it creating an online store to manage your labor day sales, optimization of your store or requirement of integration solutions. You can choose the ones meant for your business.
Sell on Google Shopping Actions Now!
Learn more about Labor day's strategic tools and techniques from CedCommerce. 
Ask an expert now!