Walmart Canada Integration: Features And Updates To Look For!
Running short of time? Get PDF of the blog in your mail.

Play Now
Walmart Canada enables sellers to market their products to over 1.5 million Canadians daily. To make it easy for sellers to sell their merchandise and leverage this vast customer base for their benefit, CedCommerce has brought up numerous updates in its Walmart Canada Integration app in 2021. The updates brought in make it more convenient to sell on Walmart Canada. The profiling and template, grid customization, partial orders creation, and currency converter are some of the many enhancements that help in a seamless connection between Shopify store and Walmart Canada. The app has all the features you need to connect your store with Walmart Canada seamlessly.
With Walmart Canada Integration, you can also get yourself registered as a Walmart Canada seller if you are not yet one. From managing your store's and Walmart Canada sales to the products' shipping, the app helps manage all the sales aspects.
With several enhancements in the app, multi-channel selling from Shopify to Walmart Canada is no more a big task. Here's what a seller has to say about the integration app-
Important Features and Updates of Walmart Canada Integration
CedCommerce brought up multiple enhancements and upgrades in the Walmart Canada Integration app in 2021. Let's learn about the critical advancements and features of the Walmart Canada Integration app: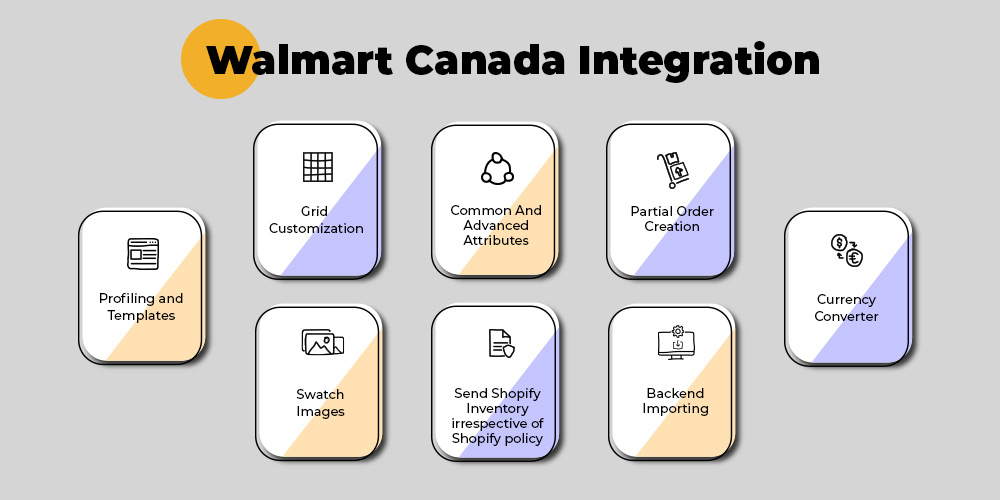 Profiling and Templates
The app's profiling feature makes it easy to map the products of your Shopify store with Walmart. Earlier, to map products from Shopify to Walmart, it was necessary to have product types defined on Shopify. Now with the profiling feature, this compulsion is removed. This profiling feature eases mapping products of Shopify with Walmart, based on category, vendor, product type, product name, and based on other fields.
Also, the price template makes it easy for you to sell your product at different prices on Shopify and Walmart Ca. You can increase or decrease your product prices by a fixed value or percentage for your Walmart products. The inventory templates make it easy to manage inventory between Shopify and Walmart. With inventory templates, you can define the maximum Shopify inventory you want to sell on Walmart and also set a threshold limit for your inventory.
Grid Customization
Now you can customize the app's grid as per your needs. Tick the Checkbox for the parameters or attributes you want to see on the grid. And customize it as per your needs whenever you want. This grid customization helps you effortlessly gather the information you want.
Common and Advanced Attributes
Common and advanced attributes are segregated in the Walmart Canada Integration app to easily list and understand your Shopify products' mandatory and optional attributes. The common ones are mandatory, whereas the advanced attributes are optional, but they help to rank your products based on SEO. The update in the Walmart Canada Integration app has made the bulk updation of common and advanced attributes possible, and thus, it saves your time and effort.
Partial Order Creation
Walmart Canada Integration has now made it possible to create partial orders. So now accept those orders too, in which SKUs do not match with Shopify SKU.
For example: If a customer places an order for two products and you have one product out of stock, then the app's partial orders creation helps to create in-stock products and cancel the out-of-stock items. So no more loss on revenue due to some out-of-stock products. Now create partial orders for the stock you have.
Currency Converter
Now ease the selling processes by conversion of currency in USD or CAD. Therefore, using this feature, you can conduct business in your preferred currency(USD or CAD).
Swatch Images
You can easily assign swatch images for products from the app to view your product in different colors. This helps your customers view the product and buy it for their desired color.
Send Shopify Inventory irrespective of Shopify policy
This feature helps you send your Shopify inventory to Walmart irrespective of the Shopify policy. You can either continue or deny Shopify policy. And if you deny Shopify policy, you cannot create orders when the product is Out of Stock. Similarly, if you set the Inventory Policy Continue on your Shopify, you will receive orders even when you have 0 stock for that product without any hurdles.
Backend Importing
Backend importing helps you import Shopify products to the app in the backend. So, with this critical update, you can perform other tasks, and Shopify products will keep importing to the integration app in the backend.
About CedCommerce
CedCommerce is one of the top eCommerce solutions providers. Over the years, CedCommerce has helped numerous sellers with its tailored eCommerce solutions that streamline online selling. CedCommerce's eCommerce solutions help you effortlessly sell on the leading marketplaces like Walmart US, Walmart Canada, Fruugo, Newegg, OnBuy, etc. Additionally, Industry expertise and round o'clock support have made CedCommerce a perfect destination for sellers looking to simplify their eCommerce businesses.
To Sum Up
The enhancements made in the Walmart Canada Integration app's features help you sell on Walmart Canada like never before. These upgrades have paved a smoother path to enter multi-channel selling from Shopify to Walmart Canada.
Also, backed by expert support from CedCommerce, you no longer need to worry about the technicalities involved. Team CedCommerce is available 24/7 to help you sell on Walmart Canada like a pro.