Top 4 Marketplaces Extending Best Selling Opportunities to Look Out in 2022 and Beyond
Running short of time? Get PDF of the blog in your mail.

Play Now
Selling on multiple marketplaces has become an emerging trend like never before. Forecasters have predicted Multichannel selling platforms to make 46% of total eCommerce sales by 2023.
These online marketplace behemoths are not just aware of this future eCommerce surge but are also capitalizing heavily on incentives and tools to attract big and small businesses alike.
2021 has been full of such tools, updates, and programs on Amazon, Walmart, eBay, and Facebook (now Meta). Enthusiastic sellers have made tremendous strides in capturing the best of their leads and the future only seems brighter.
If you are one of those potential sellers who is looking out for what new these marketplaces have to offer in 2022, you are at the right place.
Let's dive in:
Leading Online Marketplaces with best Seller-centric Updates to Lookout in 2022
Amazon
Amazon has never failed to hold the first position when it comes to eCommerce revenue and market capitalization. Growing from 346 billion dollars in 2019 to 468 billion dollars (estimated) in 2021, Amazon delivered the best online business ecosystem to its users globally.
Considering the facts above, here are prominent updates and tools that Amazon has recently added to level up the bar for the 2022 eCommerce world.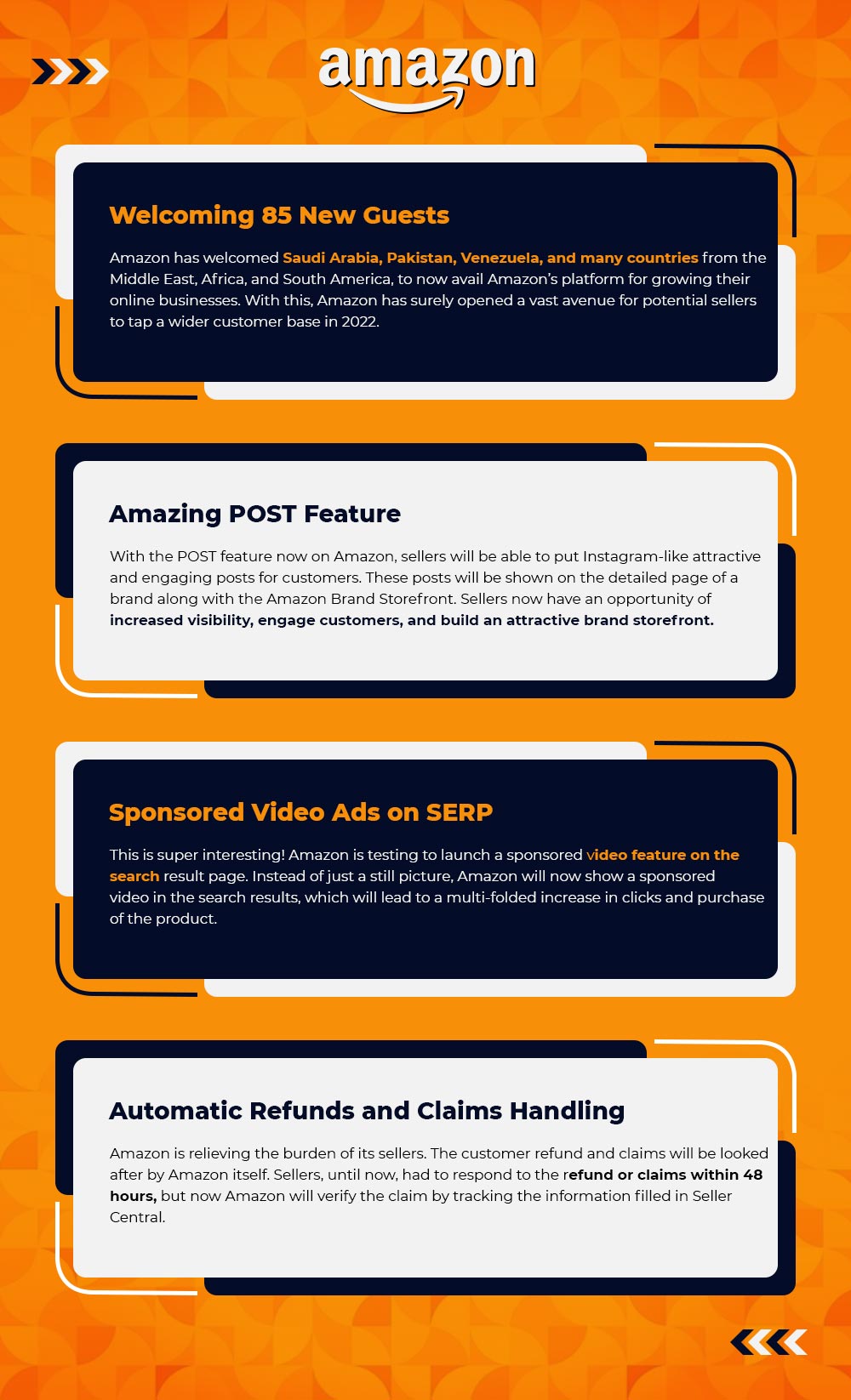 eBay
The bidding and buying system has always been unique to this marketplace. eBay saw positive growth of 11% in revenue than the previous year in its Q3 reports 2021. Aimed at growing rapidly, eBay has launched many new features for sellers to facilitate shipping, payment methods, increased visibility, a full power-packed feature for 2022.
Let's explore them here,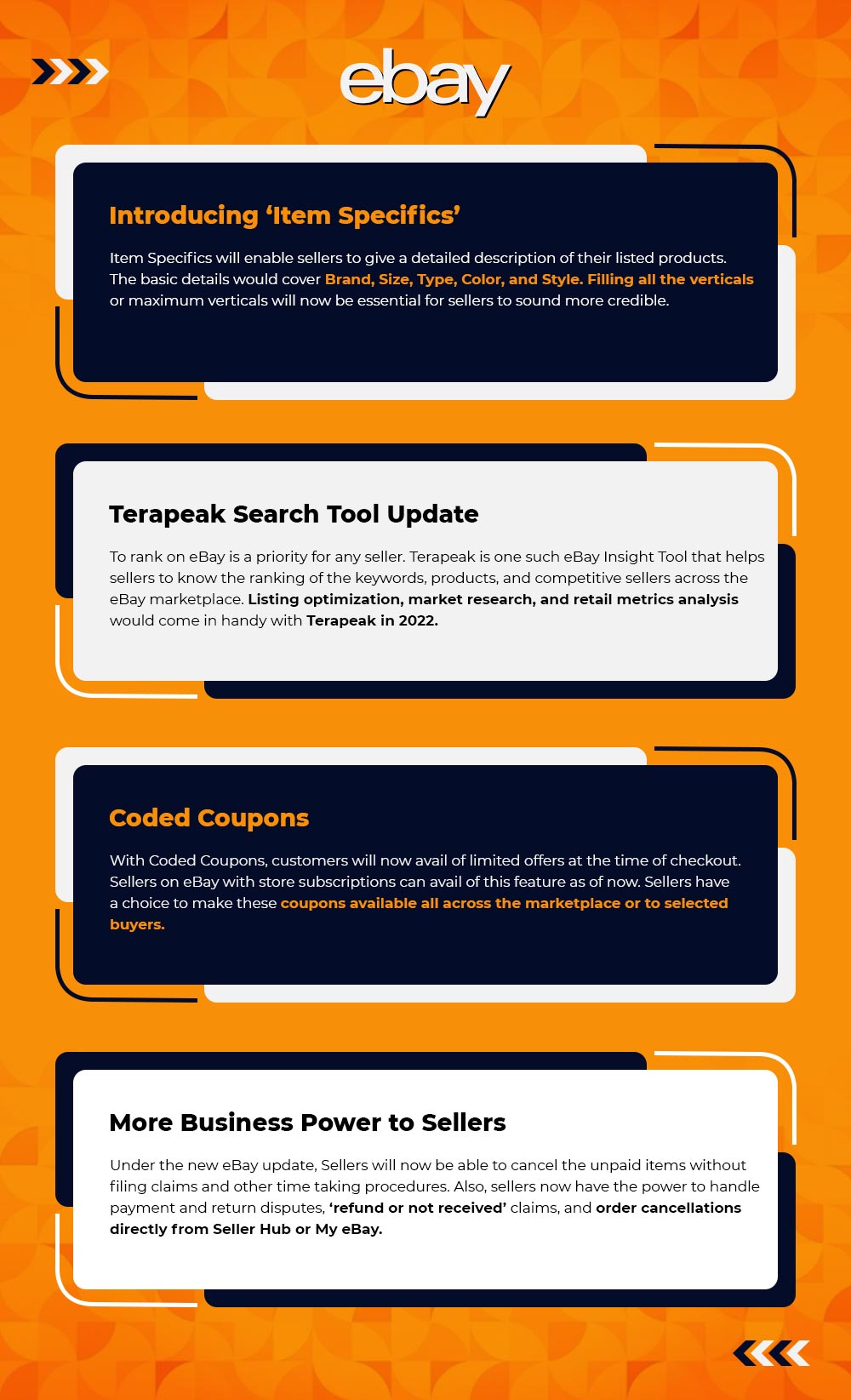 Walmart
Walmart, the leading US retailer, is all set to expand itself and revolutionize the delivery system in the US through Drone services. Don't believe this? With an 8% revenue increase in the US alone, Walmart is endeavoring hard to solve delivery and shipment problems for better sellers and customer services. Let's see what else Walmart has to offer in 2022.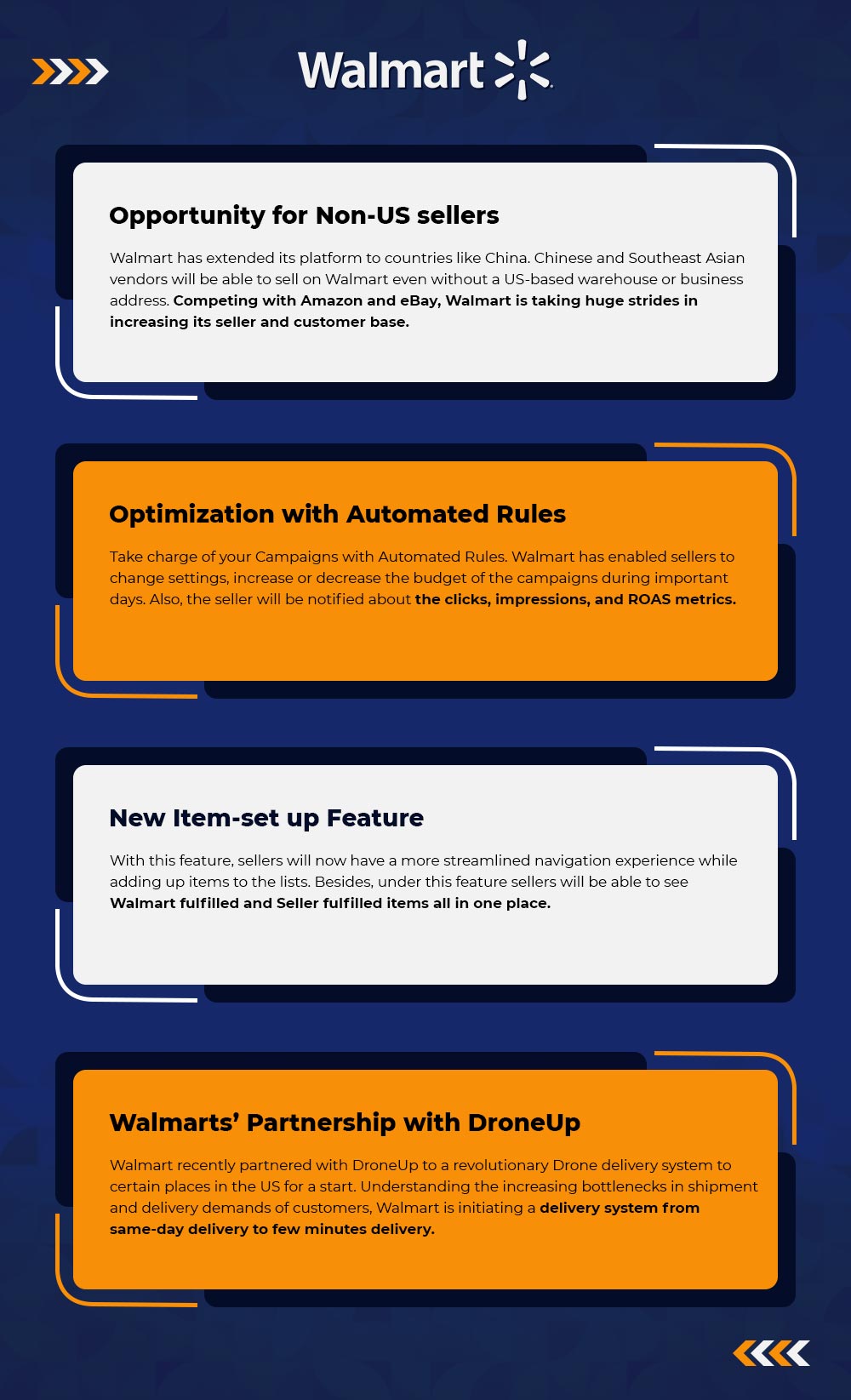 Facebook
Facebook has been in the news for quite a reason now. New updates, shops, reels, ads, campaigns, and above all its rebranding from Facebook to Meta. Facebook surely seems to have great eCommerce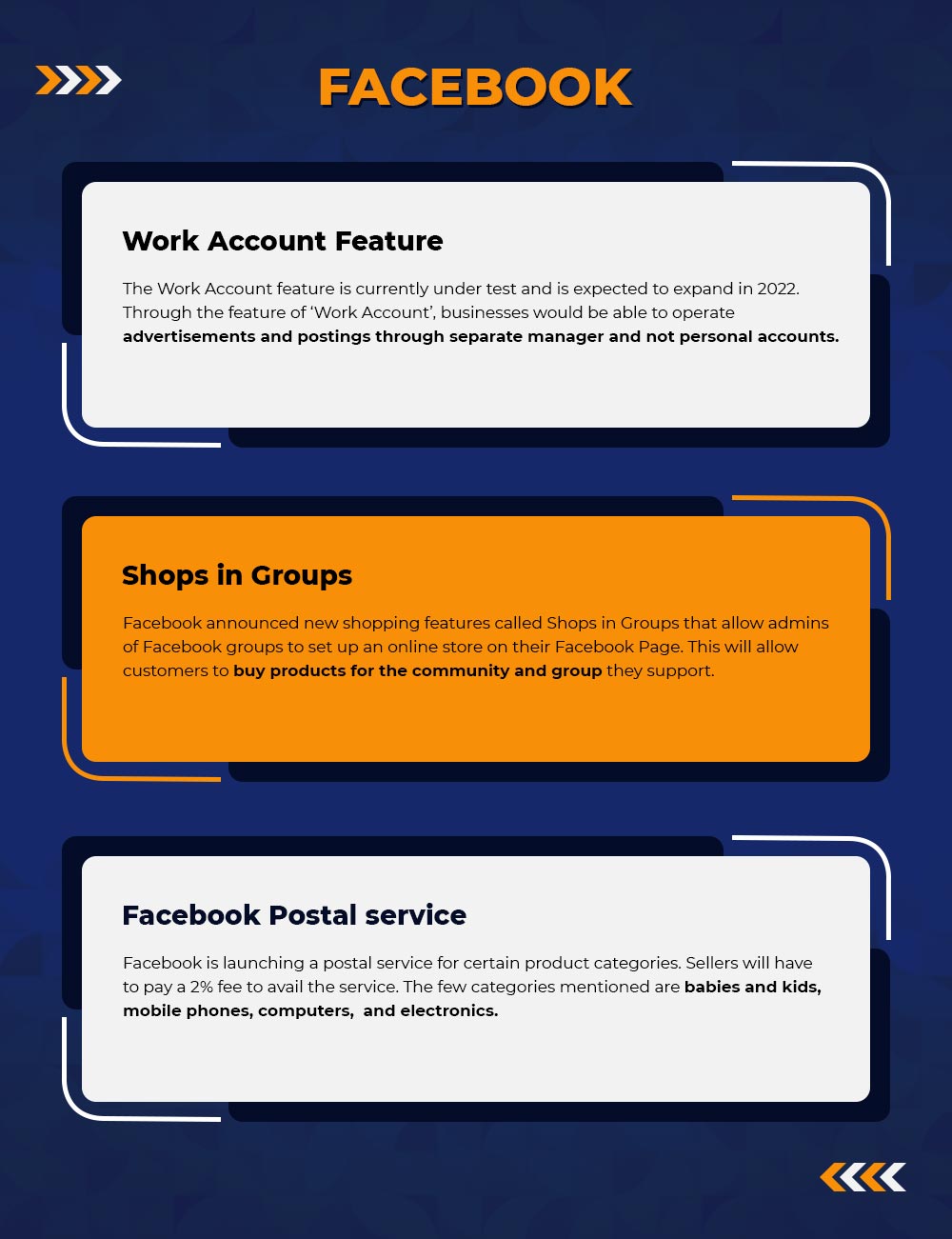 potential in 2022 and beyond. Let's see some prominent tools that would help sellers grow exponentially in the coming years.
Why prioritizing multichannel selling platforms should be your concern in 2o22?
Here are the major reasons as to why capitalizing on multichannel selling platforms should be your top priority in coming 2022 and ahead:
190% More Revenue Generation
Sellers with multi-folded business approaches have always tapped better opportunities for revenue generation. Multichannel doesn't just mean limiting to online marketplaces but exploring digital devices and m-commerce as well.
As much as 190% more revenue is generated if capital and selling strategies are directed towards the right eCommerce solutions like fast and responsive mobile apps, online marketplace integrations, marketing automation, and digital marketing.
Delivering an Omnichannel Experience
Omnichannel is not new to the ones who know how to hook and create a fence around potential customers. Cross-connectivity in brand visibility, product marketing, and the ability to generate demand on multiple platforms certainly bring those potential customers to you.
Not to mention, Omnichannel helps build continuous visibility, increased impression rates, and brand awareness. What you can show more is what you can sell more.
Tapping into Gen Z Shoppers
You need to understand who your current and future customers will be. It is the understanding of their demands and wants, that makes you know what you need to sell.
When 47% of Gen Z search a product on YouTube first; 61% follow the brands they like on social media and 58% of Gen Z shoppers buy because of influencers, you know exactly where you have to channelize all your selling capacity.
Back up for future Uncertainties
The eCommerce world is uncertain. Certainly, just confining or trusting one online platform to sell may end up in a scary dream. In the coming years, Multichannel will be a major selling workout for sellers globally.
And not just that even if one platform stops giving you the desired result, you still have many doors open to welcome potential customers. Said that what most of the sellers find challenging is maintaining listings, inventory, shipping, order updates, and so on. However, with good multichannel integrations and marketing solutions, all of your laborious tasks can be converted into a smooth profitable venture.
All you need to do is find your Solution partner to walk you through the hectic multichannel selling process. So why not start now?
Multichannel Selling Software will be your saviors for the next 5 Years
Understanding the eCommerce realm landscape for 2022 and years beyond; CedCommerce envisions making online selling as smooth as possible for the sellers. Selling on multiple marketplaces like Amazon, eBay, Facebook or Walmart together is complex and time-consuming. With CedCommerce multichannel solutions, sellers can skillfully manage listings, shipping, orders, and delivery updates along with Payment solutions for delivering a great customer experience.
Additionally, being in a remarkable partnership with top marketplaces and eCommerce platforms, CedCommerce rules dynamic verticals. From store building, store customization, website development, App development, custom designing to multivendor solutions over multiple frameworks.
Helping hundreds of sellers globally, CedCommerce has stood tests of the time during and post-pandemic.
To know more about us and our services feel free to reach out to us on Skype or WhatsApp. We are looking forward to helping you in the best manner we can.
Final Words
Today, shoppers have numerous options to get what they want. Continuously switching between options, websites, brands, and products, it is YOU who has to see where you can tap their shopping tendencies. Multichannel selling is undoubtedly one good option to strive for. For a much easier and profitable journey, settling for good integrations will always be a wise decision.
So why not leverage this golden opportunity and make 2022 a remarkable selling year?