The Only Multichannel Marketing guide Walmart sellers need in 2021
Running short of time? Get PDF of the blog in your mail.

Play Now
Quick Brief: Increasing competition at Walmart is strangling basic marketing strategies and demanding sellers to develop innovative ways to attract buyer attention. This 'Walmart Marketing Strategy 2021' guide touches on various topics related to increasing visibility and growth opportunities for Walmart sellers. These include- multichannel marketing tips for Walmart sellers, advertising with Walmart, Social Media as a marketing tool, and Social Commerce.
What is Multichannel Marketing?
Multichannel Marketing is one of the most popular marketing methods to stay relevant and visible in this competitive market. It involves marketing simultaneously on several major platforms. By ensuring that a brand is visible on various platforms, a seller reminds people of their need for the product.
This approach towards marketing advocates utilizing traditional as well as non-traditional platforms. Thus maximizing brand visibility, allowing for reminders without pestering the customer, and assuring engagement.
Example: The Starbucks Loyalty Program
Now we all know that Starbucks is the king of marketing. Although Holiday-Special minty lattes practically sell themselves, Starbucks has been known to keep a tight leash on its marketing approach.
Their Loyalty Program is probably the most written about and talked of when discussing the Multichannel Marketing approach.
Other rewards programs (at-most) have a card or probably an app that reflects a customer's loyalty points. However, Starbucks allows its customers to check and reload loyalty points through their by phone, on the Starbucks website, in-app, and in-store.
Not just that, the process is synchronized across all platforms and is so fast that reward points reload while people wait in line to place their orders!
Also Read:
Walmart Marketing Strategy 2021- The right step towards success!
The e-commerce industry is evolving rapidly. With competition increasing every day, it has become essential for sellers to go above and beyond to get noticed. Especially on a marketplace as competitive as Walmart, where sellers continuously need to be on their toes. Hence, building a cohesive multi-channel marketing strategy becomes crucial for those who want to beat the competition.

As new marketing platforms take over the constantly changing digital world, sellers need to advertise with Walmart while actively advertising on contemporary platforms.
What verticals to go for?
Advertising with Walmart
Although most sellers go for Walmart's in-house marketing and advertisement team, some still consider it optional. Investing in Walmart Media will give your products the right push. It will also help show your products to the right audience.
Google
Google Ads is undoubtedly the best way to promote your listing. Anyone who's looking for "anything" will Google it first. And in that lies Google's inherent power. As the most popular search engine globally, a slight push from Google can take your product listing to a massive audience.
OTT services
Streaming platforms and OTT services have become major marketing platforms. OTT platforms are the newest "IN" thing that cannot be ignored as they have an indisputably large audience base and specific target groups. Sellers can utilize these to advertise to the right set of people.
YouTube Ads
YouTube has many credibilities, not just as a streaming service but also as a social platform where people share their opinions and engage. Roping YouTube in your overall marketing strategy can make a vital difference in your brand visibility.
How to advertise on Walmart?
Walmart Sponsored Ads increases #productvisibility, thereby, driving targeted traffic to the promoted listings. With Walmart Sponsored Ads, get your brand noticed and drive incremental revenue!
Read more: https://t.co/Jl9bRgIjIP#walmartsellers #ads pic.twitter.com/bO5w1pz1av

— CedCommerce ? (@cedcommerce) February 27, 2020
Social Media
No-one can ignore social media today, mostly when we talk about marketing. Social media has the potential to take your brand from being a small indie or local thing to being a cult favorite. Plus, if you can manage to rope in influencers, your profits will increase many-fold.
Review Blogs/Influencer Marketing
If you're interested in expanding your brand, a gentle push from influencers can be the making of your success story. Have a popular blogger write about your product, link to your website, or have a vlogger add your product link on their social page. No matter what it is, make sure to invest in a resource that sits well with your target audience.
Podcast
Podcasts are the new radio. It's that simple. Millions of people tune-into podcasts every day, be it while commuting to work, cooking, or as a background to their desk job- podcasts are everywhere. Utilize their organic reach in helping your brand grow while you sit back and enjoy the profits.
Email
"If it ain't broke, don't fix it." Email marketing has worked for ages and still does! Email marketing is one of the most common ways to interacting with your customers directly, making them aware of new products and getting their feedback. It is an essential component of a robust Multichannel Marketing strategy.
Social Media as a tool for a successful Multichannel Marketing Strategy
There's no hiding from social media in the current times where everything is either a meem, a reel, or a trend. This especially holds significance when we speak of Marketing. There is no better way to increase your brand visibility and cult following than to have a strong social media presence or strategy.
Your presence on social media should aim to build a consistent customer base and a platform with a possibility of two-way communication. A place for you to showcase your products and services, find what your customers respond to, and build a loyal base.
Social Commerce is another excellent aspect of creating a social presence. Social Commerce allows you to directly target your buyer base and sell your products/services via the platform itself!
What to keep in mind when Marketing on Social Platforms:
Understand how each social media site is different and what kind of content works there. Each platform has a different specialization and way of engaging the audience, so the presence of the brand in the digital space should not be limited to only one mode of communication.
Be useful, engaging, and up to date. Remember to offer your customers exciting, fun, or helpful content in addition to occasional discounts and competitions.
Think Mobile First. Create creative multimedia content explicitly dedicated to this type of device. Use large vertical photos that fill the entire screen on the user's smartphone.
Video rules! And it is still one of the most effective elements of a digital marketing strategy. On average, recipients remember 95% of the message presented in video form and only 10% if delivered as text.
Social Commerce: What and How?
What: Social Commerce is the fastest way of connecting with your customers and selling your products at the same time! Several reports suggest that the pandemic saw an increase in time spent on social media by 51% of U.S. adults, which lead to a 44.5% boom in retail sales in Q2 alone.
For established and new sellers, social commerce can prove to be a great, cost-effective way to expand channels and improve visibility. Almost 40% of internet users in the U.S. say that social networks inform most of their product choices, while 70% of shoppers in the U.S. admit they turn to Instagram when looking to discover products.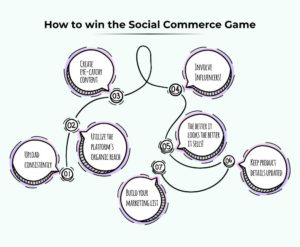 How:
To take advantage of any social platform's organic reach, first make sure you're consistent in your approach.
Make sure your product details are up-top scratch. Name, image, category, and price should be aptly matched.
Use good quality images. The more attractive your post, the better chances of your product being clicked on.
Most people don't visit social media explicitly looking for products; they buy something because it caught their eye. So run promos and showcase sale items.
Involve influencers. People are more likely to buy your product when someone they know/trust, i.e., the Influencer, praises your products.
Let people sign in or sign up and cultivate your email marketing list.
What we're saying is:
Walmart sellers need to think beyond the platform when it comes to advertising their products- as the world of e-commerce is cutthroat and the competition fierce. A multichannel marketing strategy thus, helps you stay relevant and reach more customers. Want help with your multichannel marketing? Get in touch with our seasoned digital marketing team and watch your business grow!
Contact Form: