Singles Day 2021: Gear Up For Event Synonymous With Record Breaking Sales
Running short of time? Get PDF of the blog in your mail.

Play Now
Singles day is the world's biggest shopping day that falls on 11th November and attracts customers and sellers alike. It has witnessed double-digit YoY growth every year since the start of its journey.
Hence, opportunity and competition both rise to an epic level.
The mega shopping event that originated in China has now gripped the entire globe with a shopping spree. Singles day 2021 will see record-breaking sales surpassing the previously set benchmark of $74.1 billion.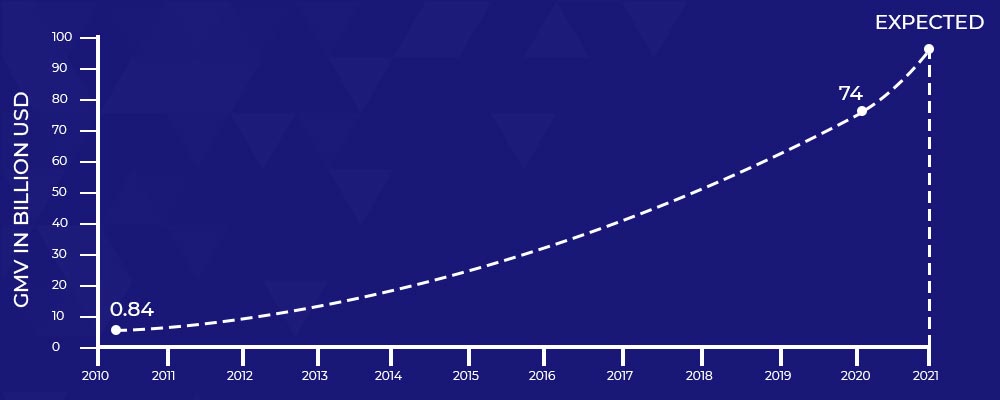 As a pro merchant, a question in your mind would be about how I can increase my store sales during Singles day 2021.
With that said, here we take a deeper dive into key areas that need to focus on attracting customers and boosting conversion rates.
Best Marketplaces To Sell During Single's Day 2021 – And Here's Why
Lazada
It is Probably the best marketplace to sell your products during Singles day. Their strategy last year to connect sellers and buyers during the mega shopping event resulted in 40 million visitors and 1 million items getting sold in the first hour of the sale.
The total count of transactions on Lazada for Singles day 2020 was a whopping 400,000. Moreover, Lazada CEO Pierre Poignant confirms that Lazada's customer base is the largest in Southeast Asia and is still keen on taking it to over 300 million consumers.
I know you might be eager to sell on lazada and explore nitty-gritty details on enhancing product visibility among the buyers.
Shopee
Another popular marketplace of Southeast Asia that cannot be forgotten during singles day 2021. Last year it sold 200 million products which was 185% more than those sold during the singles day in 2019.
These figures indicate that popularity and ease of shopping on Shopee are on an unprecedented rise.
With that said, you have an opportunity to achieve high sales by selling on Shopee in a hassle-free manner.
Taobao 
During Singles day 2021, Taobao successfully convinced 492.79 million people to visit for shopping.
Another reason that makes it the perfect platform to sell is US$7.5 billion transactions that happened in mere first 30 minutes of the Taobao presale campaign.
Tmall 
A Chinese B2C platform that witnessed 583,000 orders in a matter of one second during the peak of Singles day last year. Getting your items listed on Tmall lays the foundation for an incredible amount of sales.
Top Products Categories to Lure Customers During Single's Day 2021
Singles Day 2021 will be the 12th version of the world 's biggest ecommerce shopping event. Customers have loved it for a decade. On 11 11 singles day, the festive fervour will kick in, putting shoppers on a shopping spree.
The immense joy of shopping can drive them to buy products they are crazy about or have been craving for really long but waiting to buy at an attractive price.
Here's a comprehensive list of products that will attract customers to your store during the singles day.
Mobile phones and related accessories (headphone, earbuds, and speakers) being a staple for today's lifestyle are most sought after during single's day.
Home and lifestyle items come next on the list. Shoppers are aware of the fast-approaching new year, and fantastic deals on these items make it an ideal time for purchase.
Christmas gifts are also highly sought after items. The high demand is due to only a month and a few days left to prepare for Christmas.
Clothing and fashion products are evergreen items, but they tend to appear super attractive when available at a discount. After all, fashion never goes out of fashion.
Beauty and cosmetic items are attractive enough to capture buyers' attention. Partnering with a local pop star will take it to the next level by boosting the traffic and sales of your store.
A thing to remember, nobody other than a bachelor will relish the day. Moreover, feeling connected with the theme of the singles day, they will look for items to celebrate the singlehood.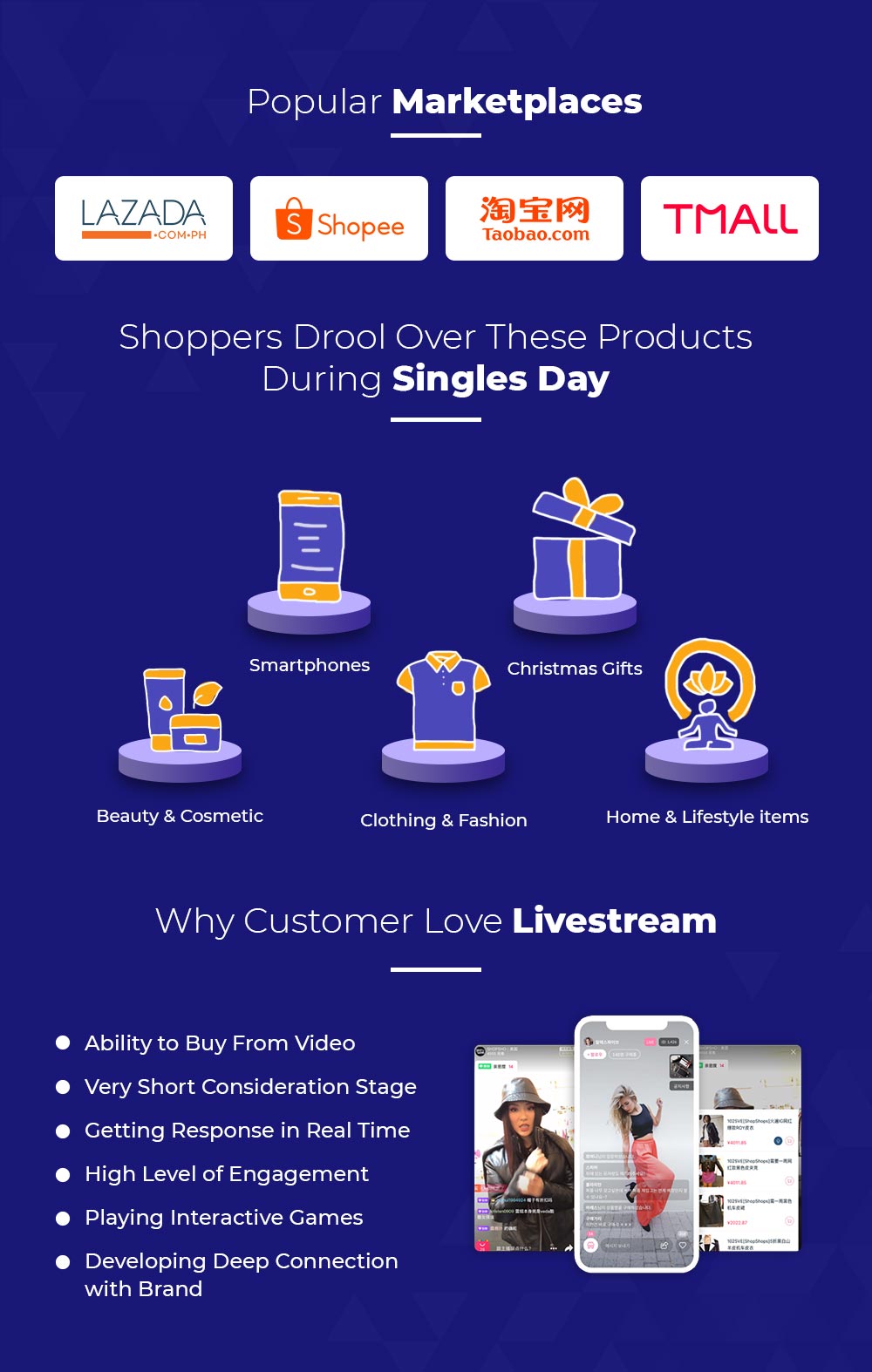 Live Streaming The Fresh And Fast Flourishing Trend
Yes, the reason behind USD 6 Billion in revenue during last year's single's day was live streaming. Leveraging the huge potential of live streaming can be a game-changer. After all, it is one of the most effective methods available that will keep more customers hooked on your website by extending the visibility of the products.
The USP of live streaming is that customers can buy from the video without leaving the live stream.
During Livestream, create a sense of urgency. It keeps customers on their toes and ready to make purchases.
Allocate some time for discussion with the audience. Make shoppers feel they are an integral part of the brand, and their feedback is highly valued.
Popshop Live, Smartzer, Bambuser, Whatnot are popular Livestream platforms that allow connecting with loads of shoppers eager to buy.
Live Streaming is a Mega-Trend That Seller Shouldn't Resist And Jump In Without Delay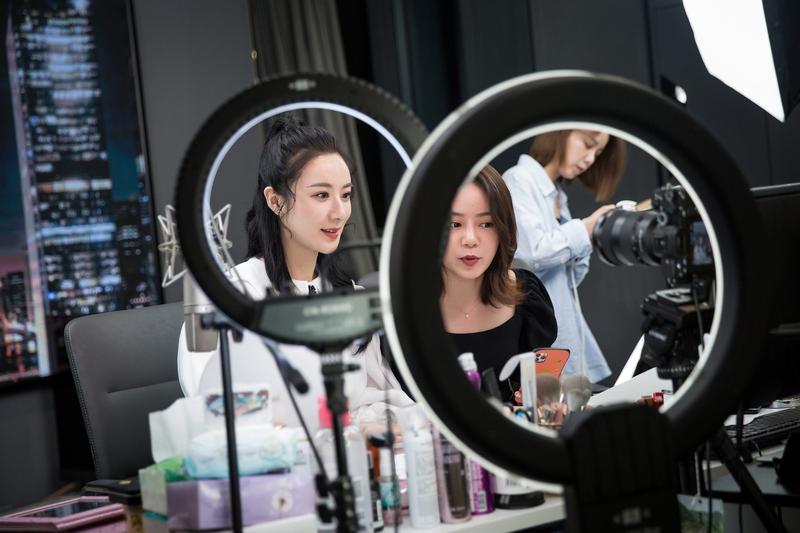 Image credit: chinadailyhk.com
Choose a location that is suitable for ensuring good audio and video quality. Background noise and poor lighting will decrease the likelihood that the livestreamer will appear and sound and clear enough.
Generate FOMO by featuring trendy or unique items that on which condition like limited edition or time-bound discount is applied.
Discussing the most common myths, controversies, and product education will fetch you maximum likes and engagement from the viewers.
During Singles Day – Let There Not Be Anytime For Website Downtime ~ Be Proactive .
Website downtime can cost you an unimaginable amount of loss. It will sink your ship despite having lucrative deals and listing best-in-class products. Here's how to deal with a traffic tsunami during Singles day 2021.
Using CDN (content distribution network) optimize the type of content delivery by rightly distributing loads on all servers. Therefore, reducing the chance of any website downtime.
Remove unnecessary plugins, and those useful ones should be updated for best performance.
Upgrade hosting plan capacity. It enhances the site's ability to handle vast amounts of traffic during peak hours.
After all, there can be an increase of up to 20x in terms of traffic during a massive shopping festival like Singles day.
Some Good To Know Points To Make Most Out of Single's Day
Page load time that is beyond 3 seconds will fail to hold buyers on your site. After all, shoppers in a festive mood won't wait too long. They are well aware products are being sold at sky-rocket speed during the singles day, and a second delay means missing out on lucrative deals.
An irresistible subject line for singles day email campaigns is the need of the hour. As the holiday season inches closer, the inbox gets flooded with loads of marketing emails. Subject lines that stand out can save your offer getting trashed.
Single's Day is a Global Phenomenon – Think Outside China
Southeast Asia is another region known for high enthusiasm among buyers for Singles Day. Therefore, do not miss out on the nitty-gritty facts that decode the ecommerce behavior of shoppers from the region.
Germans in Europe are among the most aware shoppers about the significance of Singles day. They prefer to purchase the below products from foreign sellers.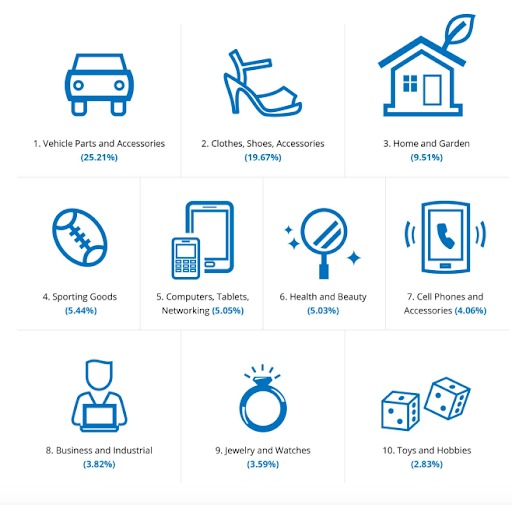 image credit: bigcommerce.com
Hence, it's the right time to reach out to them with the above items (of course, with lucrative offers, so they pay heed and you easily lure them) can make the deal happen.
Dutch and Britons are next to Germans in their understanding of Singles day. They are likely to give it a shot once approached, and all you need is to be prepared to serve.
It's fantastic you have lucrative offers. It becomes effective when the offer is conveyed to the target audience at the earliest. After all, when customers are ready to buy, it's no time for merchants to relax.
Hiring a local influencer (whose audience falls into your target audience) can get your message across tens of thousands of buyers.
Offering cashback is the most effective strategy to lure shoppers. Stores with cashback offers must be prepared to manage a massive traffic surge as soon as the Singles day sales go live.
9 in 10 transactions take place on smartphones during singles' day. Optimizing the store for mobile commerce is a must to amplify the sales graph. Mobile optimized sites elevate the shopping experience in the following ways.

CTA button is easy to locate.
Page loads within 3 seconds.
High conversion rates.
Better SERP ranking.
Experience Hassle-Free Selling with Power of Automation
Let The E-commerce Experts Empower Your Store For Seamless Selling this Singles Day
Singles Day Grew Over 949,000% and There Ain't Any Stopping
11 11 singles day is the biggest of all shopping festivals in many aspects. It has the potential to fetch customers in a quantity that can beat visitors on Black Friday, Cyber Monday, and Amazon Prime Day combined.
Preparing for singles day by adhering to aforementioned tips means gaining surprisingly high product visibility and serving customers with seamless shopping experience that results in customer loyalty.