Sell on Lazada in Minutes with Step by Step Guide
Running short of time? Get PDF of the blog in your mail.

Play Now
Eager to sell on Lazada? Well, Lazada is a lucrative marketplace. It is the dream of every online seller to gain the highest possible sales. Above all, Lazada gives you ample opportunity to fulfill your dream.
Don't be left behind! It is the right time to take your business online!

Lazada received 183.4 million customers in 4 months during the last quarter of 2018.
Therefore, selling on Lazada will let your products get millions of visitors every month.
Giving more power to WooCommerce Sellers, CedCommerce enables retailers to outreach their products' in the SEA market.
WooCommerce Lazada Integration is now live on Official WooCommerce Marketplace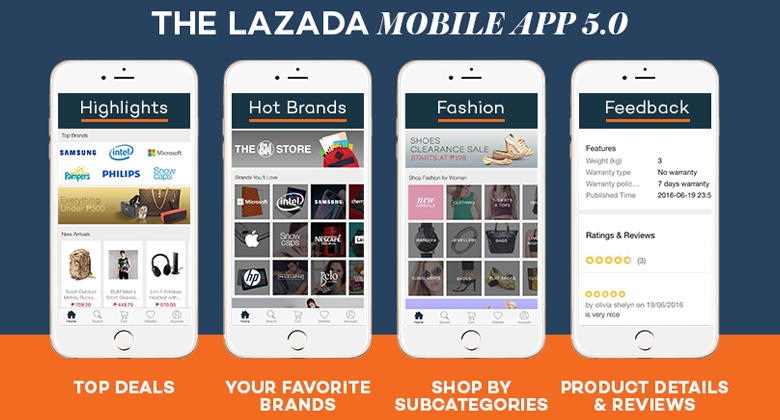 Image credit – Gadgets Magazine
Lazada's ability to smoothly & smartly integrate every opportunity of the online purchase from the website, the app, the back-end development, to merchants training makes it most lucrative E-commerce marketplace  in ASEAN countries ~ ClickZ
How to Sell Online on Lazada?
Step #1 Registration and Document Submission
Account creation followed by registration is the first step to sell on Lazada. The seller can sell the product on Lazada from anywhere but as a registered company, not individual. A seller must fulfill the below criterion at any cost.
You must own a business license.
Email id and phone number to register with the account.
Some selling experience on other marketplaces like Shopee, eBay, Etsy, AliExpress, Amazon, or more.
You must own a Payoneer card or p-card that is registered as an enterprise.
Seller Registration
a.) It is an easy process. Visit the official Lazada website and click on "SIGNUP". Find it highlighted in the below screenshot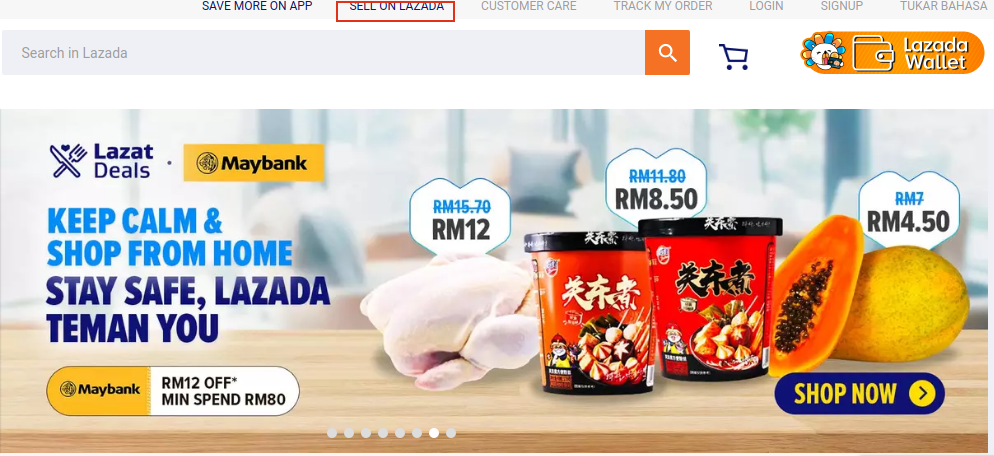 Image credit: lazada.com.my
b.) You will be redirected to a page where you need to input mandatory details like Phone number, Password, Full name, Birthday. After entering the phone number slide "Slide to get SMS Code" option. This will generate verification code to verify your contact number.
Finally, click on the "SIGN UP" button. You can also choose "Sign up with Email". In either way, you will be able to complete the signup process.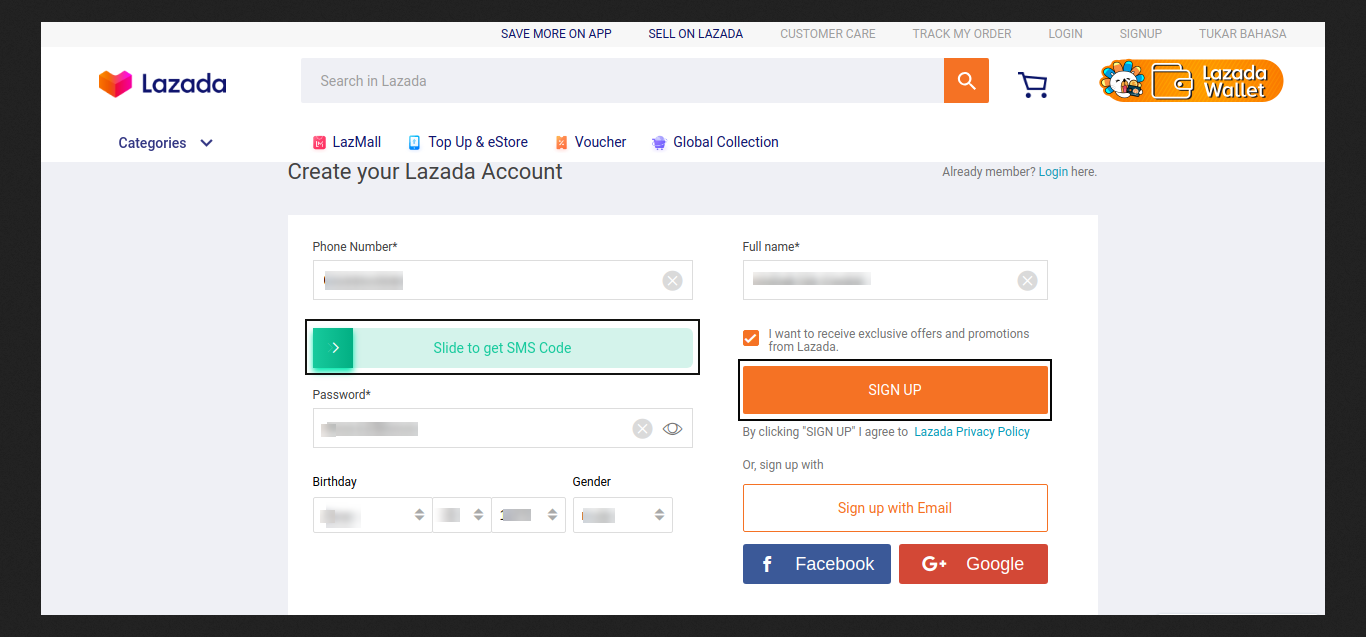 Image credit: lazada.com.my
c.)After the signup process next is the registration step. Here you will fill your Business information and Billing address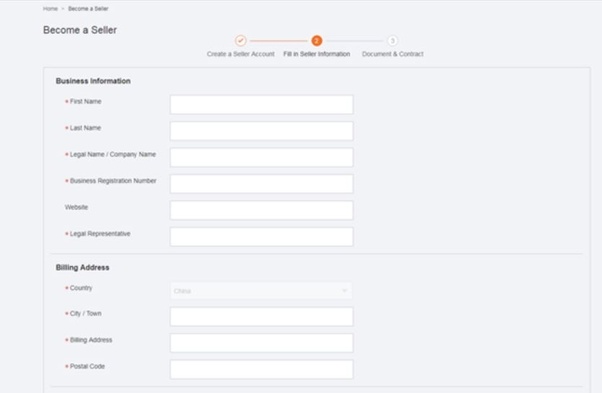 Image credit: Quora
d.) Submit all important documentation pertaining to your business registration and bank account details (if you own local business license then register with local Lazada)
Step #2 The Training Session
Lazada provides free and proper training to help and ease your journey to sell on Lazada. Therefore, you will be well versed with ins and outs of using Lazada for your best interest.
You will find the answer to all your queries be it basic or advanced. Above all, you can operate the seller dashboard with full ease.
You will benefit from the training session in the following manner
Weekly session to implement sales promotion. Therefore, you will register maximum sales.
Weekly session to optimize product content to experience more customers in the store.
Special session to train you on how to handle huge traffic that is inevitable during the holiday season.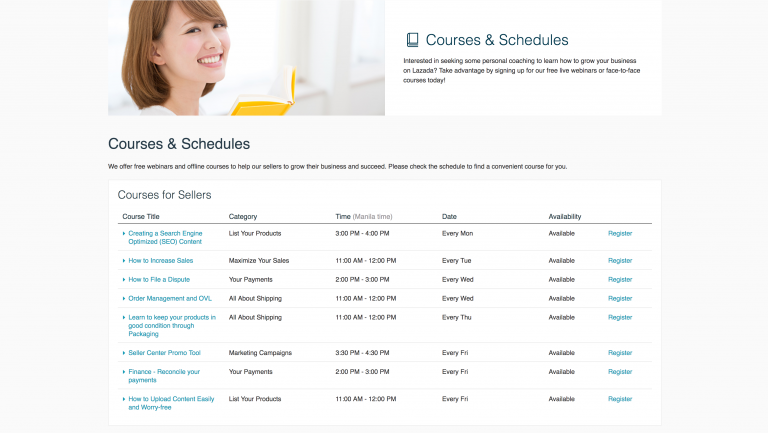 Image credit: Unbox PH
These training sessions by Lazada are beneficial and must-attend for every seller. It will provide you in-depth information about to develop a deep understanding of the subject.
During the training session, you learn from top Lazada sellers about Assortment, Operations, Marketing, and Tools.
Step #3 Get Account Activated
Now search your inbox to find an email from Lazada. Follow the steps mentioned in email to verify your account. You are officially eligible to manage the Lazada seller account. Therefore, you can sell on Lazada.
Step #4 Do the Product Listing
The last step is the product listing. It is an important step and it is mandatory to upload at least 5 products. Hence, you can start selling on Lazada. It is recommended to provide important details like product description, price, color, weight, dimension, and a high definition image.
Congratulations! You are ready to sell on Lazada but selling can be made easy with the right integration solution.
I am ready to sell on Lazada but, What am I allowed to sell?
Sell everything except a few prohibited items else your account will be deactivated.
Pirated software
Telecommunication devices
Fake or second-hand products
Food products that violate food regulation standards.
Liquids with volume more than 20CL
Any type of vulgar images
Products bigger than 300 cm (Length+Width+Height)
Alltype of weapons, toxic items, or chemicals
I am ready to sell on Lazada but, What should I sell for high sales?
For Lazada Malaysia
Mother and kid products
Home products
Phone accessories
For Lazada Thailand
Food and beverages
Baby products
Sports equipment
Clothes
For Lazada Singapore
For Lazada Philippines
Beauty products
Weightloss items
For Lazada Indonesia
Necklaces
Earrings
Bracelets
Pins
I am ready to sell on Lazada but, Which countries to target?
The best part about Lazada is it allows the seller to sell in the majority of countries in Southeast Asia. You sell your products in those geographic locations where the $100bn e-commerce economy of today will be threefold itself by 2025.
Lazada is the most sought after marketplace to tap the unlimited e-commerce potential of Southeast Asia
Target countries should be China, Thailand, Vietnam, Philippines, HongKong, Singapore, Indonesia, and Malaysia.
I am ready to sell on Lazada but, How much does it charge?
You will be happy to know that there is no fixed fee, no setup fee, and no hidden cost. They will charge you commission based on your order (to be precise it is between 1% – 4%).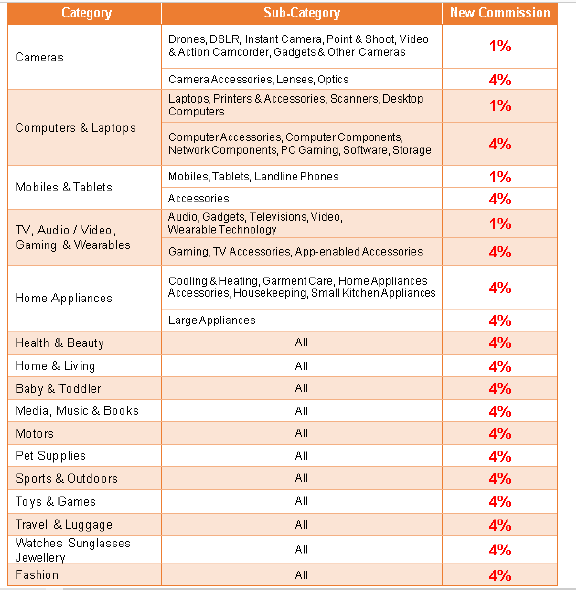 Image credit: dropshipmme
Lazada Seller Commission Fee = Selling Fee+Payment Fee
I am ready to sell on Lazada but, any secret to selling more than others?
Well, to be honest, no secret will help you sell more always but, not repeating the mistake will always work in your favor. Keeping your product name highly irrelevant or technical result in customer confusion. Surprisingly, it is done by the majority of Lazada sellers.
Technical product names like XYZ Bluetooth speaker E1234 will hardly rank at the top for common search queries by the majority of customers. You can leverage it as an opportunity and use keywords used by customers during product search. Therefore, simply avoid it to make your products appear at the top of search result on Lazada.
I am ready to sell on Lazada but, What if my seller account gets deactivated?
Account deactivation is possible if your Lazada account does not comply with 48 non-compliance points. 48 is the maximum limit but only 12 points are sufficient to result in deactivation.
Simply know the Non-Compliance points system and you won't face account deactivation.


Image credit: Nasi Lemak Tech
 The comprehensive list of do's and don't by experts to help you sell products on Lazada!
The Important Do's

 – How to Increase Sales on Lazada
Do an in-depth analysis of keywords used by the competitors in the product description. It is also important to ensure the product image is more appealing than competitors for the same products. If the image is still not appealing, rework on it. I personally find these as an important parameter that differentiates someone interested in only how to be a seller on Lazada from someone very keen about how to be a top seller on Lazada. 
Listen to our Spotify Podcast for emerging trends shaping the eCommerce in 2020!

Do the management of customer feedback as early as possible it is foremost skill expected from a passionate online seller who is keen on how to sell online on Lazada for maximum sales. Feedback act as the backbone of running a successful e-commerce store. Regularly checking feedback and improvising on its behalf is a good idea to provide the highest level of customer service.
 Feedback is the breakfast of champions. – Ken Blancha
Do increase the rate of product sales by providing discounts during the product launch. Due to zero reviews and sales records at the beginning of the online store, the discount will drive huge traffic and give you a chance to make customers trust the product. Trust building with the customer plays a key role in how to sell online on Lazada.
Inventory Management
Do keep an eye on your inventory as an updated inventory will never let you bother about running out of stock on products. This is one of the major reasons many talented online sellers missing on opportunities to be a top seller on Lazada.
Do consider different channels to market your products. Some popular and fruitful options to help you how increase selling online on Lazada include
Paid advertising (Fb and Google)

Blog Posting

Social Media Posting
Do keep a tab on product rankings for keywords receiving maximum search volume. This is important as well as basic for sellers eager on how to increase sales and be a top seller on Lazada.
Do the proper optimization of the product listing for a good impression of the product. Always ensure every product description is well optimized in the form of readable bullet points. The inclusion of keywords in a natural manner within the title boosts the chances of the product appearing at the top upon search. This will increase your chance for how to be a seller on Lazada. 
Order Management
Do opt for an order management software application. An order management software is an ideal choice to sell not only one but over several marketplaces. In this manner, various tasks like order fulfillment, billing & payment, returning product, and the refund management will be easy.
Another advantage upon opting for order management software is the elimination of manual error elements. Zero manual involvement means data is very secure. An advanced order management system will also equip an online merchant with centralized data information.
Geo-locations
As the business grows so will the demand from various geographic locations. This will call for the need of storing products across different warehouses spread over different locations. Advanced order management software will help e-commerce store owner to assign a suitable warehouse for product pickup and delivery based on quantity ordered and shipping address.
Do leverage Lazada seller picks (efficient tool for product promotion) to boost the chances of product sales by boosting product visibility.
Do submit the SKUs through Lazada seller center on the Chinese new year, Lazada birthday campaign, 11/11, and 12/12 to make most of these big sales opportunities.
Always think like a customer. It is very important and there's is no alternative to it that could fetch as many benefits as stepping into shoes of the customer.
Diverse Array of Product 
Do include a wide range of products in your online store to ensure your regular visitors are not getting bored by looking at those same items whenever they visit the store. It is a natural customer behavior to choose from a huge number of products. This way buyers feel they have made the best choice.
When an online merchant will add diverse products to his e-commerce store then it will increase the number of sales. The poor number of product sales is often on account of a small inventory of products  by online sellers. They also tend to differentiate their store for being most affordable but, by doing this they, unfortunately, hurt their profit margin by a significant amount.  
The idea behind uploading more products to be specific products that are diverse on account of important features like color, size, style, usage and more parameters that actually affect customers buying decision is creating a good user experience.
The Important Don'ts – How to be Top Seller on Lazada
Don't  convince a Lazada customer to shop from your website as Lazada will never entertain it on any ground rather, upon identification of such activity the account of the merchant will face suspension. This gesture doesn't suit those who want to sell online on Lazada.
Don't add any products from the list of prohibited items as it will lead to account suspension immediately. It is highly recommended to avoid these at every cost as it won't increase sales on Lazada.
Item Prohibited from Lazada are:
Duplicate or malicious software

Gambling & Gaming Products

Chemicals/Toxic/Acid

Telecommunication devices

Food items that violate guidelines set by the Food Regulation Authority

Anything related to vulgarity

Any sort of weapons

Counterfeit products/ unauthorized replicas of original

Second-hand stuff

Specific religious or political items

Liquid items with volume over 20 cl

Products with very huge size (larger than 300 cm (L + W + H))
Don't let your stress or anger get reflected on the customer or on the Lazada seller profile. This will hamper product sales chances as no customer likes to interact with an angry merchant. It leaves a very negative impression about you not being well versed with how to sell on Lazada in a customer friendly manner.
Don't believe that your product needs no more improvement once it is uploaded on Lazada.  Improve it for the best user experience based on product stats revealed on a timely basis. This will stem from your passion to increase sales on Lazada
Don't complain about the issue faced during online selling to your friends rather bring it to the focus of Lazada support.
Don't sell a wide array of products spawning over several industry verticals. It is rather recommended and easy to be niche specific and merge all your marketing efforts to overcome competition for selling more and more.
Refrain from Tech jargons 
Don't keep the name of the product too technical to guess the purpose of the product. If a layman struggles to connect with the product then he will definitely neither buy nor recommend the product to anyone else. This means you are not putting sufficient efforts to increase sales on Lazada.
There ain't any benefit of using code like E-4105CR in the product name (you will find it at the end of the product name). This way you are also making it difficult for a product to appear on the Lazada search.
Don't miss on using keywords from customer search queries in the product title. The more details conveyed in a product name the more are the chances it will get displayed on the Lazada search bar. There ain't any alternative to it if you want to be a pro in how to sell on Lazada
Beginner on Lazada
If you are starting out on Lazada as a seller then apart from keeping in mind the above point to help you expertise the art of how to sell on Lazada, it is also likely to know about most sold products. Upon adding these products on your Lazada store, you will witness a sharp rise in the form of traffic and conversion rates. These products are among customers most favorite products that are purchased more often hence these will increase the sales on Lazada
These products that will be your best bet for how to be a top seller on Lazada include
USB drive & Power Bank

– The exponential growth in technology leads to the constant need to remain connected. It has increased demand for portable devices multifold times.

Watches –

Customer favorite brands include SMAEL, Yuero, Sanda, Michael Kors, SKMEI and more

Apparel

– Focus especially over cufflinks, scarves, bow ties, and pocket squares

Woodcraft

– Wooden products like wooden kitchen utensils, Malay style engraved panels, twisted walking sticks, and similar wooden craft designed for decoration.

Earthenware

– Despite the uber lifestyle, the charm of pottery decoration is still warm and vibrant.

To leverage it in the form of sales, start selling below items.

Belanga

Labu Soyang

Terenang
More is always better! whether you want to begin or even if you are already selling in Southeast Asia, you can go multichannel and sell your products on different affluent marketplaces of Southeast Asia in a more centralized way.
The Conclusion
I hope after going through these points how to sell on Lazada will seem quite easy.  No one is an expert and knows ins and outs about how to sell on Lazada right from day 1st but, to become one it is necessary to adhere to the above important do's and don'ts.
These important points are based on the experience of online merchants who opted for the Lazada marketplace to launch their products and are well versed with the science behind how to increase sales on Lazada.
Let me know your query or anything else you want to share regarding how to be a seller on Lazada.
Follow these religiously before your competitor occupies your spot, grabs your share and becomes a top seller on Lazada.
 
  Hope it Helps online sellers interested in How to Sell on Lazada!!
You might be interested in below: