Lazada Seller Center : Seamless Selling and High Conversions Not An Uphill Task
Running short of time? Get PDF of the blog in your mail.

Play Now
Lazada seller center is a reliable, all-in-one tool for Lazada sellers. It is feature-rich, intuitive, and capable of equipping the seller with a bird's eye view of various what's, how's and why's related lazada store. Therefore, knowing the ins and outs of the lazada seller puts the seller in an advantageous position.
What Is Lazada Seller Center
Lazada seller center is a centralized dashboard with numerous options to manage selling products on Lazada effectively. Hence, lazada sellers find it helpful with the below
Creating new products
Product pricing
Orders
Shipping
Return
It is aimed to enable sellers to scale the business without making it a complex affair irrespective of the number of products.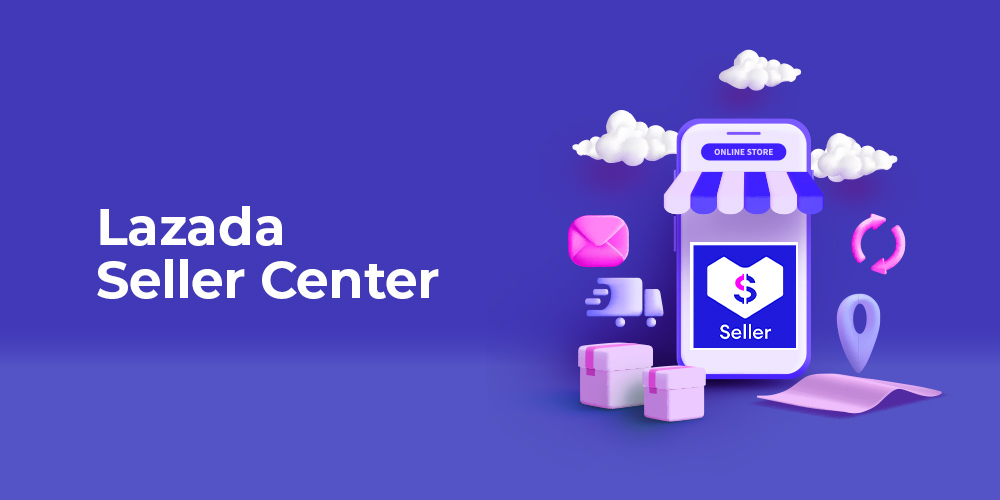 Importance of Lazada Seller Center
Having in-depth information about the Lazada seller Center is vital to know what is to be done and how to best optimize your product for high conversion rate and what to avoid to not get product delisted from Lazada marketplace.
It will help you achieve high sales and good customer ratings. As a result, you build customer trust. Hence, the lazada seller center is of utmost importance for lazada sellers.
Let's take a deep dive into how to use the lazada seller center.
How To Use Lazada Seller Center For High Sales
Better product visibility among the target audience is always the key to boosting sales. Therefore, your first step is to manage products like a pro using the lazada seller center.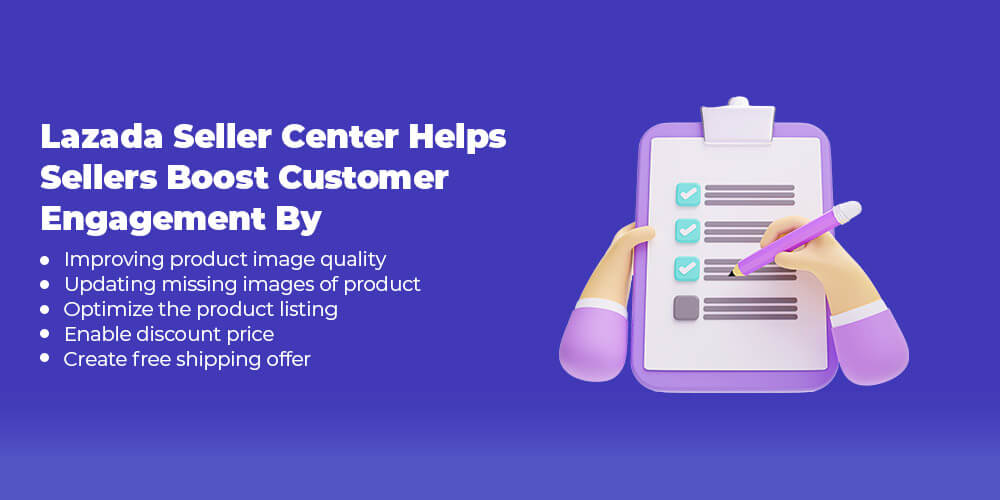 How To Add Product In Lazada Seller Center
Once you login into lazada seller center, navigate to the left side menu and choose the Manage Product option under Products, as visible in the below screenshot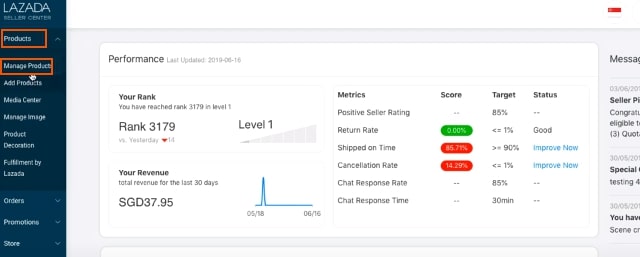 Image credit – Split Dragon
It will redirect you to the Product Overview page. It is an important page where you can find products without images. Missing images are something every merchant must take on a serious note and fix without delay.

Image credit – Split Dragon
Few other options reveal product status in terms of
Availability on store
Poor Quality
Sold Out
Inactive
Policy Violation
Improve Your Product Image Quality
It is of utmost importance to replace blur images with high-quality images. After all, visually appealing images are among the factors that highly influence sellers to complete the purchase.
Click on the Poor Quality option. It will reveal details about
Reason for image rejection
Quality control comment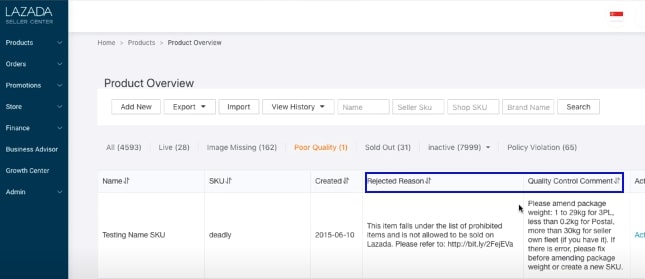 Image credit – Split Dragon
Under these you get detailed information on what is wrong with images and steps to improve it as visible in the above screenshot of lazada seller center.
How To Fix Poor Image Quality
Follow the below steps
Navigate to the Product Overview page.
Search for the product (with poor image quality) using the search feature.
Click on the Edit Details option.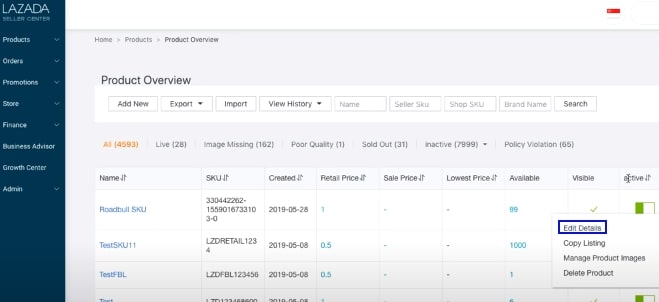 Image credit – Split Dragon
Why You Can't Overlook Fixing Image Quality Of Products
Product image is undoubtedly a decisive factor to achieve a high conversion rate. Even the best in class products but with blurred images will decrease shoppers interest in completing the purchase.
It makes a good first impression.
Customers tend to consider products with spectacular images as high value and genuine.
Images appeal to customers' emotion
Relevant images clears doubt regarding is it the right product.
We can conclude that optimizing product images significantly eliminates customer chances of switching to your competitor store.
Similarly, you can solve other issues as well.
How To Add Product in Lazada Seller Center
In the left-side menu bar, choose Add Products under the Products section.

Image credit – Split Dragon
Now there are two ways to add products.
Choose the Batch Upload option to upload multiple products at once. Here you need to upload an excel file with product details. A really useful feature to upload hundreds of products and save time.
Opt for Add Product to upload products one by one. Enter the product name and choose the category that appropriately describes the product

Image credit – Split Dragon
Choosing the right category strengthens your chance to sell the product by 20%. 2 in 10 customers (who end up buying) reach the product page by navigating through the categories page
Other important fields that are required to fill are as in the below image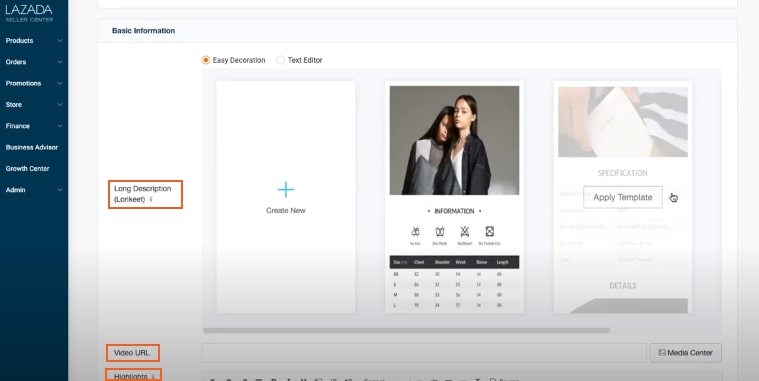 Image credit – Split Dragon
Long Description

This field helps you craft a compelling product description. Try to explain product features as benefits customers will get upon using it. It will increase the likelihood of product purchase.
Click on Create New icon to add the description.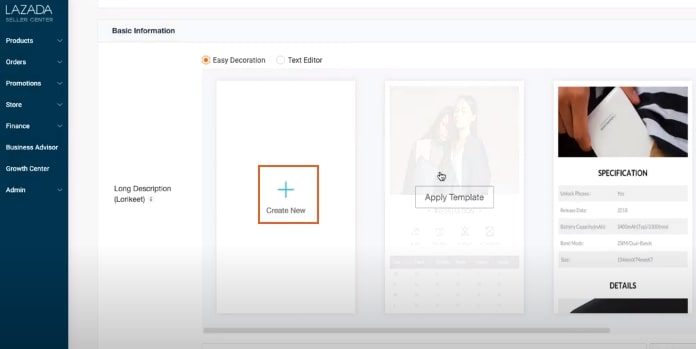 Image credit – Split Dragon
Here you have to add the below particulars

Image credit – Split Dragon
Video URL

Click over Media Center to add a short and crisp video answering various product-related how's and why's. Letting the buyer look closer at the product is essential to increase buyers' purchase intent.
As a result, you get an edge over many other Lazada sellers.

Image credit – Split Dragon
is another important field for product upload in the lazada seller center. One of the best practices is to list major pointers (bullet points) about the products that best describe the product.
It provides a quick and complete product overview. Therefore, it is perfect for capturing attention even if a customer is in a hurry.

Image credit – Split Dragon
The Pro Tip: Adding search terms used by buyers in the highlights section boosts the chances of the product appearing at the top for that keyword.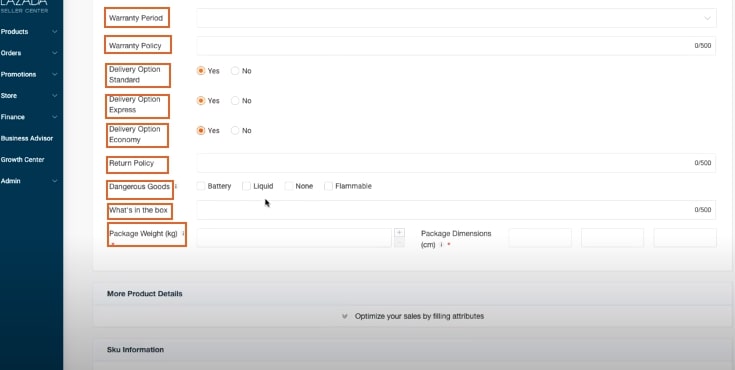 Image credit – Split Dragon
Fill the right response in the above fields.
Under the Return Policy field, mention the important terms and conditions for product return. The remaining fields are self-explanatory.

Image credit – Split Dragon
Input the details in these fields if it is applicable.
Scrolling down further in the lazada seller center, you will find the various fields to update the SKU information.

Image credit – Split Dragon
Availability: It is to be chosen to show product availability.
Color Family: Mention the color of the product
Quantity: Fill in the number of SKUs you have that are ready to be shipped.
Price: The price that is to be paid by the customer, including the tax.
Coming Soon: A field that is applicable if you plan to launch a product in the future.
Special Price: It is highly recommended to add a special price. Customers build the perception you are offering an awesome discount offer. It will appear as below on your product page.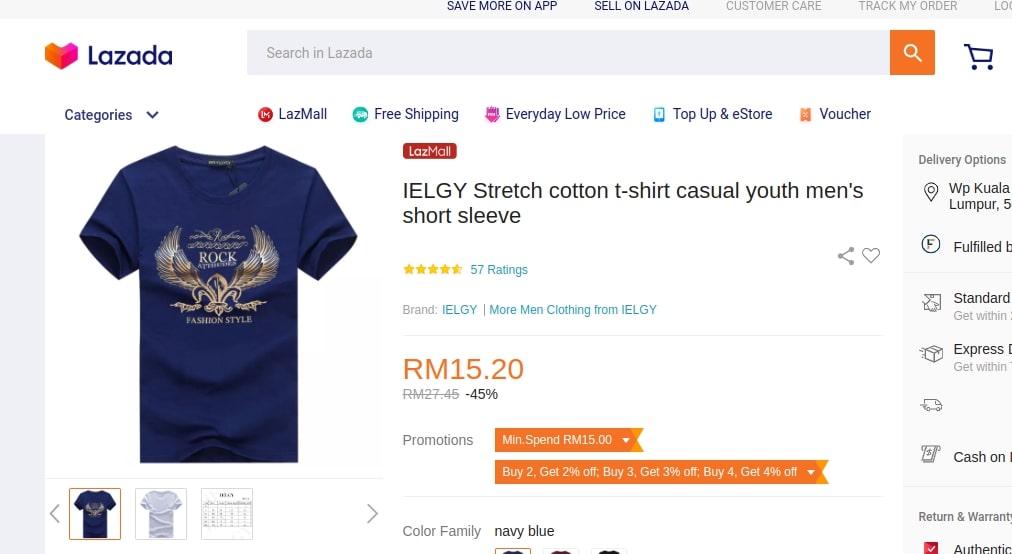 The special price trick makes the product too alluring to resist. As a result, it will influence buyers to complete the purchase.
How To Add Discount Price on My Product Page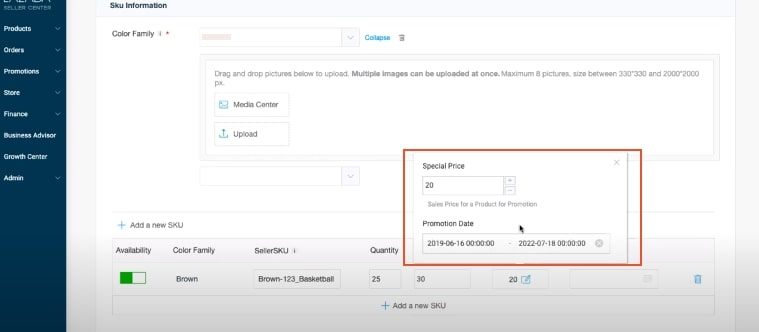 Image credit – Split Dragon
It is a simple and short step. Add the price and choose the date for the discount offer period using the calendar above.
As you have completed all the steps, click on the Publish button.

Image credit: Split Dragon
Your product will be live in the Lazada store.
How to Enable Free Shipping With Lazada Seller Center
Free Shipping is undoubtedly the most decisive factor and deserves utmost attention from sellers eyeing huge sales. 9 out of 10 customers prefer products with free Shipping over anything else.
Also, 53% of customers buy more if they discover items with free shipping. Hence, nothing works this effectively to easily influence the customer to complete the purchase and purchase more.
Hence another key feature to improve sales is using the lazada seller center.
Here is Step by Step Walkthrough To Enable Free Shipping Promotions on Lazada Seller Center

Image credit: Split Dragon
Firstly, click on the Free Shipping option on the left side menu under the Promotions. as a result, it will redirect you to the Buyer Free Shipping page as below.

Image credit: Split Dragon
Click on the Rate Card (as highlighted in the above image) to find the cost for different shipping options. It varies based on the location.

Image credit – Split Dragon
Now click on the Create New Promotion button to initiate the process. It will open up the Free Shipping Promotion Detail page.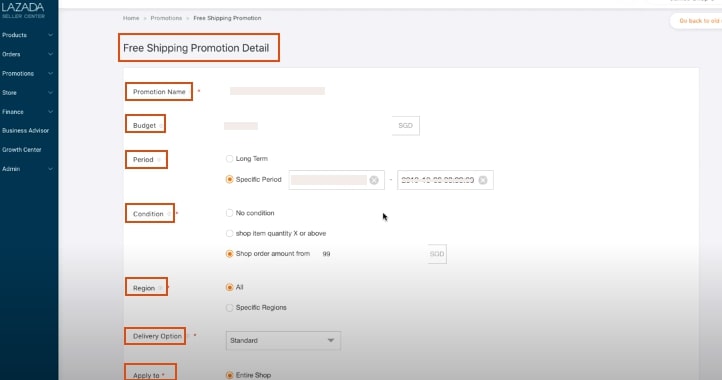 Image credit – Split Dragon
Fill in the below details.
Promotion Name – Add a name for the promotion. It will help you differentiate it from others.
Budget – How much do you feel is the appropriate amount (to be paid by the customer) to avail free shipping.
Period – The time during which you want the offer to be applicable,
Condition – Choose under what condition you plan to enable the free shipping option.
Region – Is there any particular geo-location where you want the offer to be applicable Delivery
Option – Opt from either of the two options, Standard or Saver.
Apply To – Mention here will the free shipping be applicable on all the products or just a few. If you opt for Specific products, add those products by clicking on the +Add Product button right below it. Refer to the below screenshot

Image credit – Split Dragon
It will create your products for free shipping promotion in the lazada seller center. It will also be visible on your Lazada store.
Don't Forget To Spread The Words About Free Shipping
Navigate to the Free Shipping page under the Promotions and click on the Share To Facebook option.

Image credit – Split Dragon
It will notify your followers about the offer.
Free shipping must be shared among the target audience. It will help them with the option to save money and no customer wants to miss that opportunity.
How To Deactivate Lazada Seller Center
The lazada seller center account deactivation process is short and quick. Visit the link to raise the request. Lazada's partner's support will take care of it.
As a result of account deactivation
The store will no longer be available on the Lazada marketplace.
Once used, the phone number, email address, and store name for seller account registration cannot be used to apply for lazada seller center account creation in the future.
How To Contact Lazada Seller Center
Lazada is well versed with seller needs and problems. Sellers can find a lot of information on their frequently asked queries page. Still, you can reach customer service support if something is bothering you.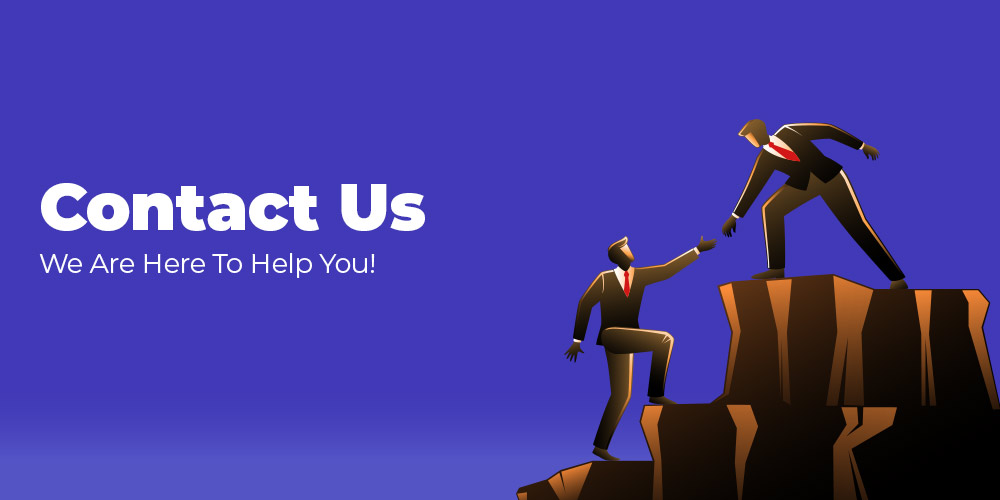 Summing It Up – Lazada Seller Center Promises Hassle Free Selling and High Sales
Lazada seller center is equipped with feature that enable merchants to manage all the items in less time and with full accuracy. Therefore, adhering to above practices to optimize the selling process broadens the opportunity to position products for higher visibility. As a result, making it lucrative to customers.