Holiday Season 2021: Buckle Up For The New Shopping Behavior (Southeast Asia Version)
Running short of time? Get PDF of the blog in your mail.

Play Now
The holiday season is the time to buckle up and get the gears turning with a rock-solid strategy. Shoppers in Southeast Asia consider shopping as their happy habit. After all, the region's deep internet penetration (above the global average) and growing economy resulted in the emergence of the internet as the preferred platform for shopping.
If you are eager to leverage the holiday season but not sure about where to begin. This post will take you through the ins and outs of consumer mindset and vital stats. With the holiday season around the corner, it's the best time to decode the Stats shaping up ecommerce in the southeast.
Here's What You Should be Knowing, and Why is it So?
A comprehensive analysis of consumer sentiments in Southeast Asia will unfold who the target audience is and why they will buy which items.
All those nitty-gritty facts (considering post COVID paradigm shift in shopping pattern) will help you reshape and rejuvenate holiday sales strategy for consumers in Southeast Asia. Hence you equip your store to deliver a pleasing shopping experience. It's an integral part with no alternative to it.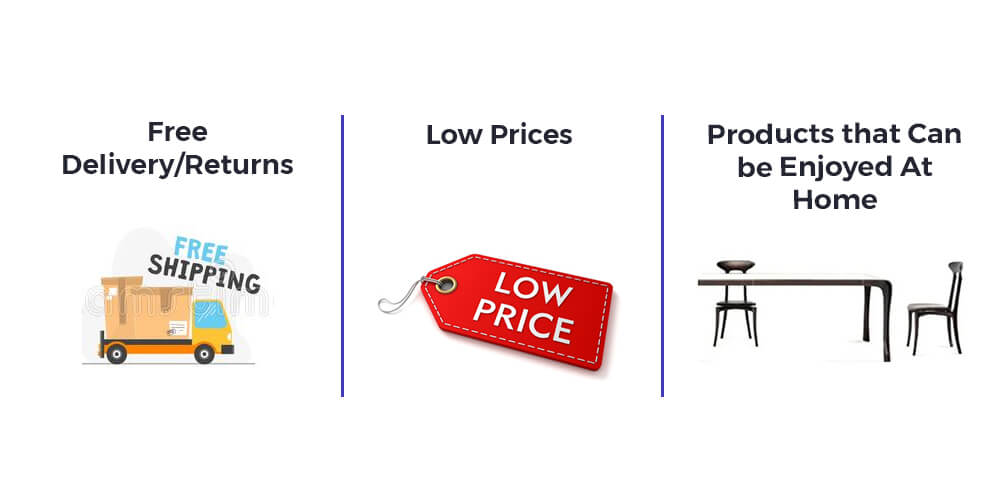 A relief for newbie sellers is upto 77% of shoppers during holiday sales prefer to purchase a product at lower price than opting for a brand.
Free delivery/ return is an impressive and effective approach that will convince both regular and first-time buyers. After all, free delivery and return ensure they can buy more products than they expected.
Long periods of lockdown resulted in gained interest in products that can be enjoyed inside home.
Southeast Asian Shoppers Shopping Behavior is Diverse
Southeast Asia is a diverse demographic with varied cultures and shopping preferences. It is wise to have a country specific approach. It will be helpful to connect and convince millions of shopping enthusiasts in the region. Above all, one should not ignore the fastest-growing region at all.
The Best Marketplace to Attract Maximum Customers Are – Lazada and Shopee. Here you can find millions of active buyers from Southeast Asian countries.
Singapore Shopper Sentiment and Current Trends Singaporeans prefer to buy items via credit cards in all scenarios. They have the most considerable average shopping basket size ($91) in Southeast Asia.
Did you know, the majority (upto 66%) of Singaporeans who indulge in online shopping are from the age group (18-34). Hence, the core of your target audience is tech-savvy millennials and Gen Z.
Now, the big question is how to craft a compelling holiday marketing and sales strategy to get millennials and Gen Z eyes glued to your products.
Focus on their Online Shopping Behaviour
They love to interact with favorite brands over social media and never skip any announcement over there. Firstly, join these groups and start sharing your expertise to earn trust. Once they trust you, it's time to introduce (avoid selling tone) them to your products as something that will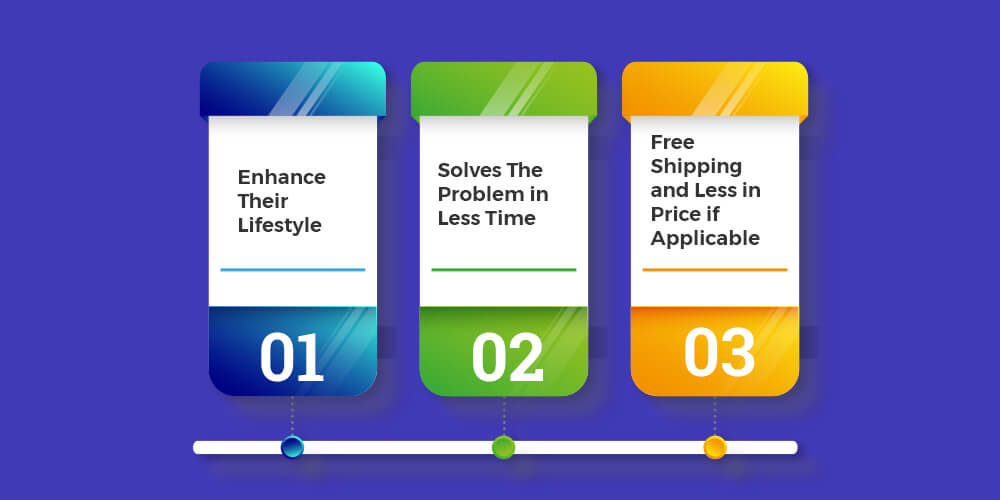 Another good strategy will be to lure them with overseas products. After all, 73% of items bought by Singaporeans are from foreign countries. The fascination for foreign brands compelled 14% to visit international ecommerce sites for products that drove them crazy.
Yes, they are online to shop for products from international brands that aren't usually available in brick-and-mortar shops.
Hence, one can leverage it to increase the conversion rate by selling below products (foreign brands).
Consumer Electronics
People in Singapore spend 12 hours a day on average glued to smartphones and other digital devices. These guys are among the most tech-savvy citizens. Therefore, the demand for consumer electronics is always high.
Therefore, it will be easy to convince them to buy gadgets that will add the next level of comfort to their lifestyle. Few fantastic items that top the list are a Bluetooth speaker, wireless charger, air-purifying fan, wireless earpieces, wireless VR device, multi-rotor drone (ones use for recreational purposes).
Fashion and Beauty
Topwears: Most millennials (the prime target for this category) are involved in the WFH job. These guys are interested in putting on their best top wear. Therefore, they are eagerly looking for items like cool tops and makeup products to enhance their outlook
Anything worn above the waist by customers aged 25-34 will witness high demand during this holiday season in Southeast Asia.
Sportswear: Pandemic instilled the sense of keeping up healthy. Therefore, more people are active in indoor gym activities. Sportswear and athleisure make the workout a comfortable affair.
Toys, DIY, and Hobbies
Among Singaporeans, pet toys demand has surged to its maximum level in the last five years. This demand is highest in Southeast Asia. Pawrents ( a term for pet owners) enjoy their company and are willing to pay even $12,000 for a pet dog.
Above all, they are keen on introducing pets to the fun and comfort of life. Hence, despite being less talked about in the category and often overlooked by other sellers, it has enormous potential and comparatively less competition.
Above categories products are the most sought after ones in Singapore. Selling them will fetch you loads of target audience.
Lazada, Shopee and Qoo10 are marketplaces to opt for selling products. Stats reveal their active customers base monthly visits is in millions. Hence, it will maximize your ROI as well introduce your brand to loads of new customers.
Malaysian Customers Sentiment and Current Trends
Some of the exciting insights of the Malaysian buyer persona and best practices to leverage it for a successful holiday season 2021.
Malaysians tend to trust desktop over smartphone for online shopping. Average order value wise tablet users are spending maximum on online shopping. Both a shopping app and a website are required to cater to them.

Smartphone – RM314 (55 USD)
Desktop -RM284 (67 USD)
Tablet – RM339 (80 USD)

51% of shoppers belong to the age group 25-34 years. Consider the takeaways mentioned above for targeting millennials.
Second largest group of Malaysian shoppers are Gen Z, with 24%.
Women and men's percentage in online shopping is 58% and 42%, respectively.
June and January are months that witness high spending by Malaysians. Therefore, listing seasonal products will fetch you high product visibility.
Malaysian shoppers prefer weekends over other days for online shopping. Ensure your server is technically stable to handle unexpected hikes in traffic
Food items, travel accessories, apparels, sports equipment, and beauty products are high in the list of favorite online products. Don't ignore these categories.
November and December are the maximum transaction months accounting for 21.6% of sales in the year. Yes, Malaysians eagerly wait for the holiday season. Hence, be ready with sufficient stock during the year end.
Evening till late at night is the best time to sell products in Malaysia. Hence, aligning your discount and deals accordingly will maximize the ROI.
Impact of Pandemic Malaysian Buying Behaviour and How to Leverage It
Online grocery shopping is now loved more than traditional grocery shopping. After all, there is no need to waste time in queues.
Post pandemic, 7 in 10 Malaysians seem to have happily adopted the new normal and want to continue it. They are satisfied with the value, convenience, and benefits of online shopping. Also, ready to pay 5% extra to get it.
Indonesian Customers Sentiment and Current Trends
One hundred seventy-one million internet users and still growing signals a tremendous opportunity. But the major challenge is enabling timely order delivery in a country spread over 6000 inhabited islands.
The solution is to have access to multiple warehouses in critical strategic locations or avoid listing perishable products that might not be good for consumption after a few days.
Cash on delivery is the preferred mode to pay for household items. Remember to incorporate it as a mode of payment in your store.
Despite reduced income due to the pandemic there is a remarkable increase of 50% in online shopping.
Indonesian spend at least 13 percent of their monthly income on packaged and fresh food. Adding a food item category to your store and targeting consumers in Indonesia will not disappoint you.
Around 40% of product search is done over search engines and social media. PPC Ads, Google Ads, and youtube campaigns will help you stay ahead by assisting customers to reach you before your competitors.
Unlike their neighbors, Indonesians find smartphones better suited for online shopping. Get a mobile app developed for your store. As a result, you can having profound impact inside the comfort zone is much easier.
Impact of Pandemic on Indonesian Buying Behaviour and How to Leverage It
The fear of pandemic has penetrated deep in Indonesia. As a result, three-quarters of shoppers panicked and bought products in bulk. Hence, selling items in bulk and revising prices for those products will not go unnoticed by Indonesian buyers.
60% of buyers want to continue with online shopping as a preferred channel despite the slowdown in a pandemic. This trend will be notably more visible in medicine, snacks, and groceries category items.
Affordable products (mainly a cheaper alternative) are high on shopping lists of around 53% of users. The reason being extra efforts to save money. After all, the pandemic adversely affected them on the financial front.
Validating the above reason, 56% are aggressively looking for ways to save on cost while shopping. Therefore, products with free shipping & return and steep discounts will be the driver behind high ROI.
Groceries and household goods emerged as high-demand categories. As a result, you can have more profound and convincing inside the comfort zone is much easier.
6 in 10 Indonesians consider value and convenience as prime factors and will switch to a new website to seek it. It sounds like an excellent chance to attract new shoppers and gain high product visibility.
Gain a Competitive Edge with Best Do' During Holiday Season
Adhere to marketplace service level agreements (SLAs) to get recognized as a genuine seller and access to attractive promotion activities.
Flexible return policies and responsive after-sale customer service. You make the list of a few top online merchants.
Keep the product data updated on your store. Customers won't bother to wait if a product is out of stock. Hence, don't let it happen due to a lack of sufficient data.
Enable live order tracking for customers. Moreover, not letting them know where the product is, like spoiling the festive shopping mood.
Philippines Customers Sentiment and Current Trends
In the age group (25-34) years, Filipinos are the most active consumer group percentage-wise in online shopping.
They don't stick to single channels, and instead, an omnichannel approach will work better to keep them engaged with your products.
Products serving dual or multiple purposes are emerging to be their favorites. Explaining product purpose, with examples will engage shoppers from the Philippines.
Multiple payment gateways are one of the primary factors that push them for online shopping. Therefore, ensuring it will see a surge in your sales.
Another shift is buying branded food products and balancing the spending by opting for laundry and bathroom items available at affordable prices. Now you know what price will be best to convince Filipinos for which type of products.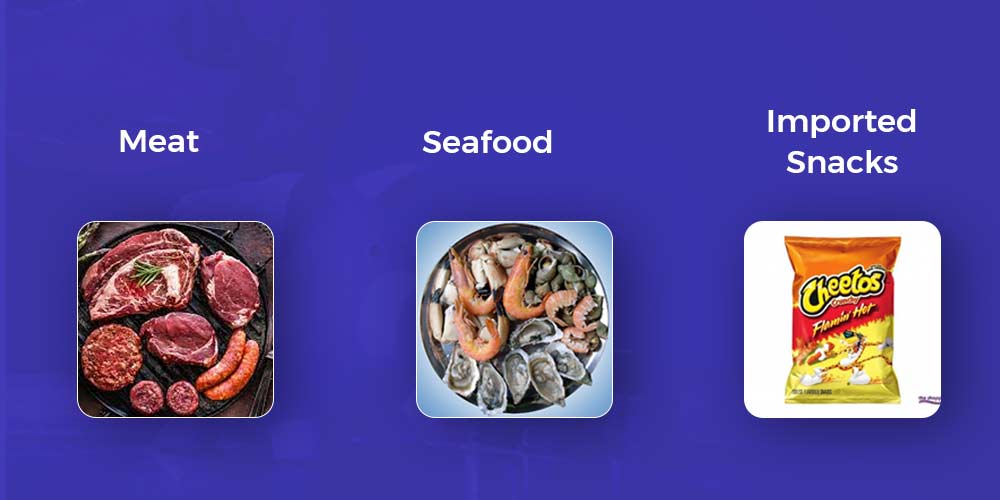 Expensive products are still lingering low on the shopping list and might be there for quite some time. It could be due to factors unfavorable for the nation's economy. Hence, these might not be perfect stuff for the holiday season and rather be avoided.
Impact of Pandemic on Filipino Buying Behaviour and How to Leverage It
Surprisingly, the 35 to 44 year age group showed full enthusiasm to shop online while the world was reeling with pandemic and ahead.
The age groups 25-34 years and 45-54 years among Filipinos emerged as the second-largest consumer group to opt for online shopping.
Beauty products saw a massive dip in sales as the Philippines went into nationwide lockdown. But, no longer the pandemic fear fades away, the demand for cosmetics will shoot up due to 4.8% CAGR .

As a result, the vibrant youth and growing middle class will come back with a massive list of beauty items. Selling Korean beauty products will help you convince them as they love it (at least 6 in 10 Filipino womens) for excellent results.
Even other non-essential products will see a surge in demands on a generic note, and listing those items will significantly enhance your product visibility.

8 in 10 consumers are concerned about value for money instead of splurge shopping. The pandemic has battered their financial freedom.
Building immunity and exercise is the primary focus among 83% Filipino buyers. A whopping 98% of them agree to maintain it. No doubt, healthy lifestyle products will be the first to grab attention this holiday season.
Thailand Customer Sentiment and Current Trends
Thai people have witnessed continuous improvement in their standard of living in the last few decades. The particularly affluent and middle-income class have seen a steady increase in income. As a result, Thailand's share in e-commerce will increase.
Unlike their Southeast Asian counterparts, they are not okay with switching brands for cheaper alternatives. Loyalty towards brands among Thai consumers is the driving force behind the willingness to pay extra.
Thai people exhibit an outstanding level of enthusiasm during holiday season sales. 78% of them are eager to explore new products during this time than any other period of the year.
Smartphones, fashion items, and beauty products are the three most popular among Thai consumers. These categories collectively contribute 51.3% of total sales.
Now,
If your store is ready to compete (optimized for success), then better sell items in popular categories like smartphones, fashion items, and beauty products.
Else, focus on the products below. After all, very few merchants will pay heed to it or consider it important very late. Hence can be leveraged as an opportunity due to low competition.

Health & wellness stuff
Lifestyle products
Toys
Baby items
Automotives
Sports and Gym
Thai women are comparatively better off and tech-savvy than neighboring countries. Their high disposable income will bring them to stores with loads of beauty products. Offering a massive range of beauty products will keep them hooked on your store and eventually make the purchase.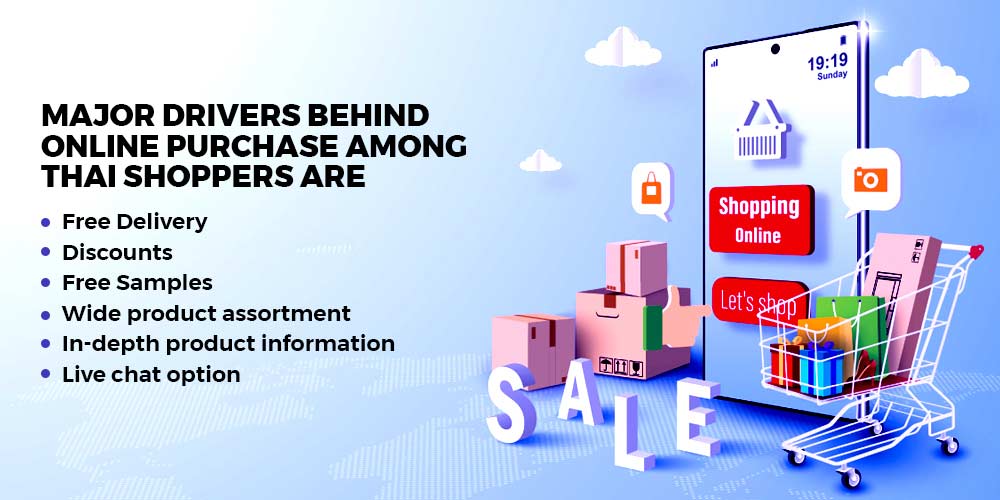 Win The Trust of Thai Customers
Gain the trust of Thai consumers by working on parameters that discourage them from making an online purchase. These are the following.
Can't Touch The Product – It can be solved to some extent by offering products images that showcase a 360-degree view of the product. This level enhancement will give a close to the real-time experience.
Scam Fear – Make your website look legit with a custom user interface in line with holiday season sales and secure it with HTTPS.
Long Ordering Process – One step secure checkout process will simplify the buying process. As a result, customers will prefer your store for future purchases.
The Pro Tip: More than 50% of Shoppers are looking forward to making online purchases on stores that will provide contactless shopping.
Social Media Traffic Increase by 73% in Holiday Season
Another vital statistic is Southeast Asia 90% of internet users are active over social media as well. Here's how to grab a fair share of attention towards your products
Local Influencer
Hiring local influencers and getting product review videos (for new launches) is an effective approach. It validates product worth and answers different product-related What, Which, and, How.
After all, the product description has a character limit. So, let customers know more about the product over social media. Moreover, they will raise queries that unfold product expectations.
Ads Campaigns
Once you gather data on interested users, it is easier to target them with ads. Planning ads campaigns targeting demographics to which these users belong will be a fruitful approach.
A prominent call to action button on Ads will derive shopping enthusiasts from social media to your store.
Brand Building
Be active on social media and initiate hashtag campaigns. Wisely choose the hashtag that makes users feel connected. Hence, they will not hesitate to spread it further.
Never delay responding to user queries. Quick and cordial responses impress them and are tiny steps towards customer loyalty.
The Pro Tip: Social media reviews are more often read by customers in Southeast Asia than posts about products on any website.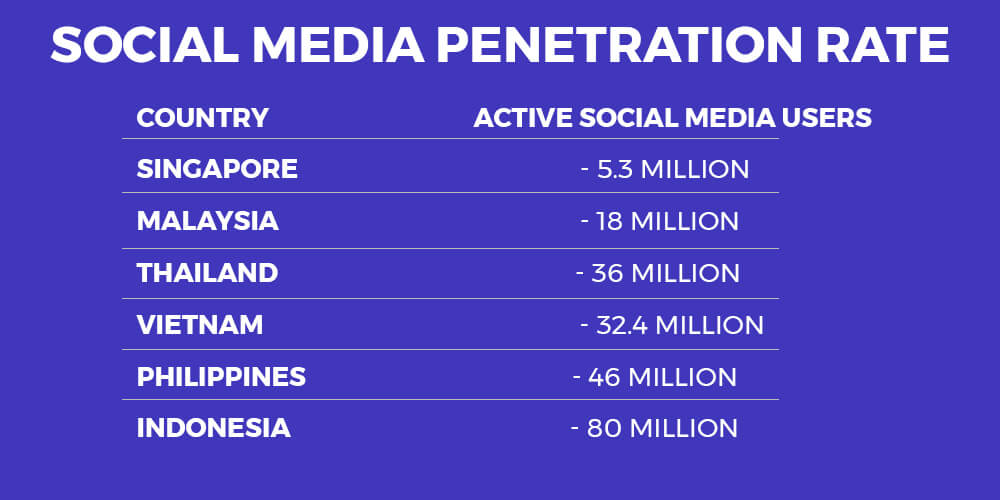 Free Shipping and Fast Shipping Will Keeps You Miles Ahead of Competition
Yes, nothing makes a product more lucrative than free shipping that is unexpectedly fastest. The combined potential of these two decisive factors will win the customer's heart.
An intelligent way to offer free shipping without cutting corners on profit margin is to let customers avail it on items worth a specific price. Also, offering free shipping for items on which competitors are charging high shipping costs will fetch you new customers. Hence you broaden the customer base.
Free Shipping offers must be highlighted at top on the home page and landing page (if you plan to run an ads campaign). Never let free shipping go unnoticed. After all, It is the final trigger for many shoppers to go for a purchase and they can't resist.
Fast delivery is what will segregate you from competitors offering just free shipping. Customers will not think twice to prefer products from your store over others selling at a similar price and free shipping.
Women Shoppers Have A Strong Say in Southeast Asia
Fast delivery is what will segregate you from competitors offering just free shipping. Customers will not think twice to prefer products from your store over others selling at a similar price and free shipping.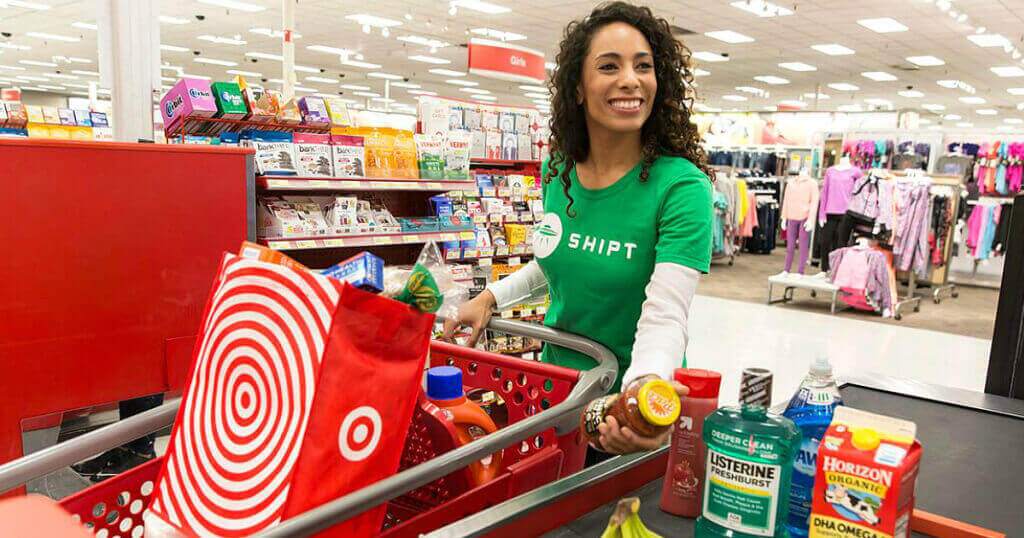 image credit: Hip2Save
Here's how to convince them for purchasing during the holiday season of 2021
They write a lot of reviews and read a good amount of them before finalizing the purchase. Request your loyal customers to share in-depth experiences in the form of a review. Use discounts and cashback to encourage them to do so.
Shopping for women is not limited to product and price. They aspire to enjoy it. Here's what will ensure overall shopping is a delightful affair for women
Social sharing option
Live chat
Detailed descriptions
Video reviews
Product filter
Mobile app for on the go shopping
Product availability reminder
Loyalty programs
Single click payment
Adding images that reflect women's roles and importance will get them hooked
Focus on elevating sensory experience with the aesthetically pleasing user interface. It is an integral part of shopping for women.
Middle Class Must Be High In Your Priority
The middle-class income group in Southeast Asia is on a rapid rise, and so is their income. Millions more will be added to it, taking the total upto 350 million by the end of 2022. Moreover, in three years, the collective disposable income of the middle class in Southeast Asia will stand firm at $300 billion.
These guys will throng online stores during holiday season sales. Here's how to engage them and make them buy the stuff.
High-quality products in home & personal care and food & beverage products. Because middle-class spending habits are more sophisticated with an increase in income.
Womens play a vital role in the middle class customer group of Southeast Asia. Understand them to convince them with ease
The brand conscious cosmopolitan women with comparatively higher than average salary. Don't target them with affordable alternatives. They will buy high-quality branded products without compromise. Ads tend to have a high impact on their purchase and are a source to keep them updated.
Smart and careful women are price conscious but don't rely only on ads. Instead, they do rigorous market research both online and offline. Moreover, they don't fall prey to ads; instead, they go after value for money.
Fickle trendies is another category. Women shoppers are prone to impulsive purchases, so not necessarily go after brands or think twice about the price. As a result, are highly inclined to try new products without hesitation.
Pandemic Impact on Online Shopping That Will Continue for Long and Good
Products that ensure good health and promote well-being will experience consistently high demand for a long time.
With work from home, getting mainstream emerges as an ample opportunity for sales of productivity-enhancing products.
Customers will have more options considering new players (earlier confined to offline stores) entering the e-commerce arena. Therefore, value for money products will get more customers irrespective of the segment.
The fascination for value for money and increase in disposable income means low price products will no longer guarantee more sales. After all, a good percentage of consumers (now with more spare money) will prefer high-quality stuff that upgrades lifestyle.
Competition bar set higher means merchants with better-equipped storefronts will survive the fierce competition. After all, automating repetitive tasks lessens the burden, eliminates the chance of manual error, and saves from overselling and underselling.
Hence, it can be rightly said automation is vital for amplifying sales by simplifying the selling.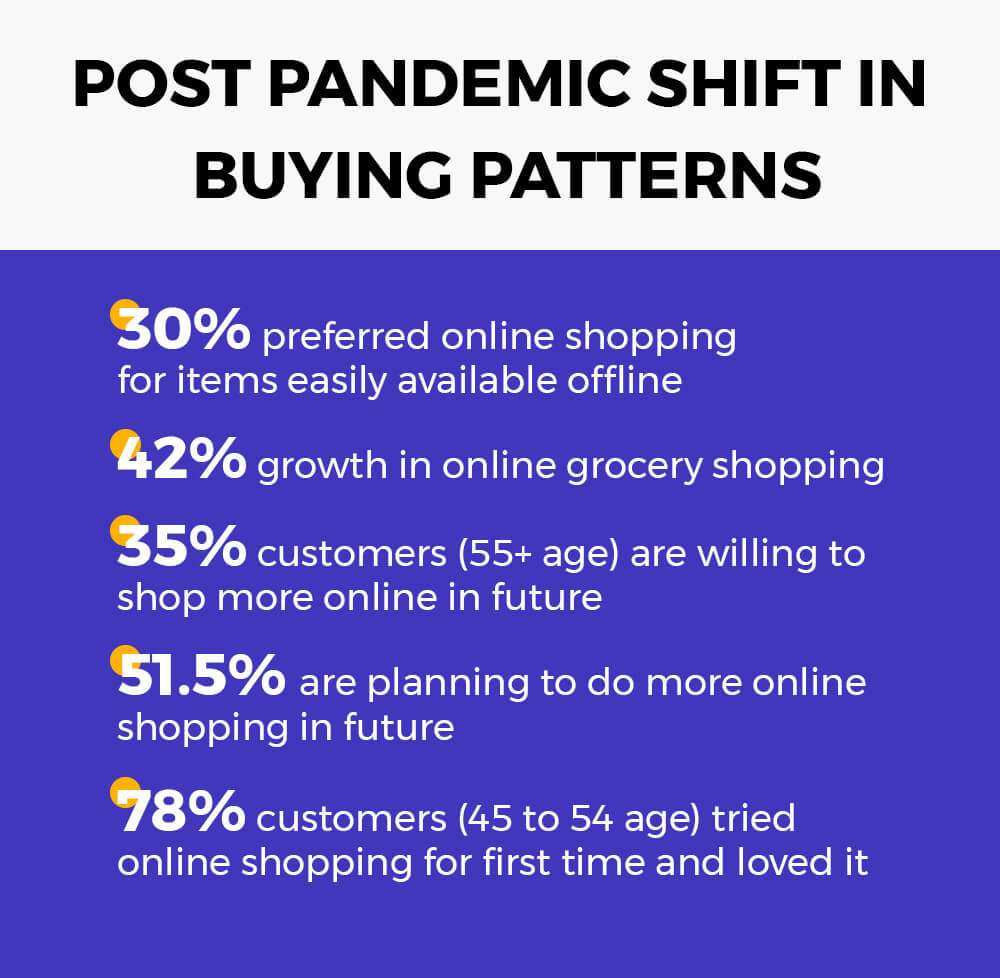 Stats credit: bain.com
Mobile Apps is Vital for Business Success For Holiday Season in Southeast Asia
Southeast Asian customers are particularly more fascinated with the convenience of shopping using smartphones. It is their primary device to get connected with the web. Not finding your store app might push them away towards competitors' stores.
You must have an optimized mobile app ahead of the holiday season 2021
They also love to try new apps (more than anything) for a hassle-free shopping experience. The recent pandemic pushed it to the next level, with 7 in 8 users happy to continue with the new apps they came across during covid -19.
The enthusiasm towards m-commerce seems to be an unprecedented move. An intelligent merchant will capture it by developing (or get developed) a mobile app for the store. He must take into account the below parameters to deliver an impeccable shopping experience.
Login and registration need to be a cakewalk
Implement virtual reality to deliver a close to the real-time shopping experience.
Allow customers to add shipping addresses easily.
Keep Navigation minimum and simple.
Push notification to keep the customer aware of deals and discounts.
Single-step checkout process.
Multi payment currency and payment support
The Pro Tip: Make the app rank high in the app store by optimizing it for holiday-related keywords. After all, there isn't an equally acceptable alternative to it.
Always remember that the group of customers with a recent increase in income is comparatively easy to convince for purchase and multiple purchases. Because high disposable income results in an aggressive rise in shopping activities among such consumer groups.
The holiday season is approaching fast. Instead of starting from scratch, sell on leading Southeast Asian marketplaces. Hence you get a competitive advantage and enjoy high traffic from millions of shopping freak visitors.
Let SEA E-commerce Experts Explain it and Set it Up For You
Conclusion – Gain Better Understanding To Increase Your Gains This Holiday Season
The pandemic and its chaos will gradually disappear, but the shift in Southeast Asia consumer sentiments will shape a new shopping character. Hence, it is better to take a cue and be ready with new strategies. Moreover, adhering to the pointers mentioned above will take you closer to customers and find you before the competitors.
Online shopping popularity is rising exponentially among shoppers in Southeast Asia as a result of the recent pandemic. Hence, people want to get rid of pandemic scars with loads of shopping.
Therefore, the holiday season 2021 is best suited to amplify sales by targeting new and existing customers and expanding business to the next level.