Shoptalk Europe 2022: All You Need to Know (A CedCommerce Recap)
Running short of time? Get PDF of the blog in your mail.

Play Now
Team CedCommerce couldn't be more delighted to be flying International after two challenging years of uncertainty. Moreover, there couldn't be a better reason than to attend the continent's greatest retail event of the year, a.k.a. Shoptalk Europe.
Our CEO and co-founders, Mr. Abhishek Jaiswal and Mr. Himanshu Rauthan, were all set to fly to London and rejoice at their new home, i.e., booth #E25 from 6th to 8th of June at ExCel, London.
We cannot get over the thoughts of the most magical days; the energy in the arena hits differently. It was great connecting and collaborating with retailers, brands, and partners in real life and exchanging thoughts around multichannel capabilities, social commerce growth, D2C goals, commerce advertisement, and everything eCommerce.
To say it is such a great initiative by Shoptalk will be an understatement. Meeting such brilliant minds and exchanging such fruitful ideas brought another level of contentment.
Oh, and we also took some Indian goodies to the show, which turned out to be a show-stopper, and we spotted our statue of Buddha on the reception table.
To sum it all up in a phrase, it was MESMERIZING.
Further in this post, we will be sharing the best of the event highlights, the key takeaways, CedCommerce's vision for the future, and much more.
Before that, here's a little brief about the continent's largest event: Shoptalk Europe is the continent's largest retail event and unites the European retail ecosystem by bringing together 3,000+ decision-makers from retailers and brands to startups, tech firms, construction consultants, and investors. This three-day mega event is a perfect opportunity to talk about everything eCommerce, retail landscape, digital transformations, disruptors, marketing strategies, life, friends, and more.
Stick around; the best is yet to come.
Notable CedCommerce eCommerce initiatives at Shoptalk Europe
At CedCommerce, we always sought ways to simplify eCommerce and make it easily accessible for brands and merchants of all sizes.
As a progressive step towards redefining the commerce capabilities, our CEO and co-founders announced the launch of our new range of eCommerce initiatives, including:
Unveiling CedCommerce Experts
Owing to the growing number of Shopify merchants needing help scaling and improving their businesses, we are launching a dedicated Shopify Experts agency named CedCommerce Experts to assist users better. Spot CedCommerce Experts at Shoptalk Europe 2022!
Here are the services to help you scale your Shopify venture:
App configuration, customization, and installation
Custom store and theme development
Digital marketing and promotions
Strategizing business administration and more
Enhancing Our Facebook & Instagram Shopping App With New Features
If you use Shopify in any measure, there is a high probability that you would have come across CedCommerce's Facebook & Instagram Shopping App on the Shopify App Store.
We are adding a new feature, Ads Feature Release, to this comprehensive app that will enable Shopify merchants to directly create and manage their Facebook ads within the app.
Some important functionalities enabled due to this feature addition are:-
Unified and expedited Onboarding on Meta commerce surfaces and ads accounts
Dynamic and flexible ad targeting based on demographics, and behavioral aspects for personalization
Measuring real-time ads analytics through Conversion API and Pixel support
No cost ad optimization with ad campaign set-up, management, and optimization
CedCommerce-Coupang Partnership
Coupang is one of the largest South Korean marketplaces, and CedCommerce has gone the extra mile to help Coupang sellers. We have developed the Coupang Integration for WooCommerce that helps in:-
Quick and hassle-free Onboarding
Easy and optimized bulk catalog
Automated Inventory and critical data syncing
The inflow of orders placed on Coupang into WooCommerce
Our latest eCommerce initiatives take us a step closer to helping businesses and entrepreneurs expand their visibility in the online world and help create great e-commerce experiences for merchants and eCommerce platforms and marketplaces.All this and much more is included in the next section, but we want to start by sharing a big THANK YOU and SHOUT-OUT to the organizers for welcoming us and keeping everything neat and detailed.
The CedCommerce and Shoptalk bond
Hundreds of sponsors celebrate Shoptalk collectively; this year, CedCommerce had to be there too.
But why?
The pandemic has been hard on everyone, and we know it. Now that the International borders are open, we had to meet our favorite people in person.
With over 100+ robust eCommerce integration solutions supporting marketplaces, 800+ tailor-made products for specific needs of merchants, and 30000+ successfully catered business ventures, CedCommerce is the biggest hub of retailer solutions and growth. Many merchants look up to us for breakthrough ideas to help their cause.
Considering Shoptalk a bridge connecting the world's biggest retailers and brands, we just had to be there and give our two cents. We also had to share our future vision in retail concerning the current global business landscape.
Shoptalk Europe's agenda was disruption-focused and liberating, allowing a free flow of conscious thoughts and conversations.
CedCommerce was at Shoptalk with some goals:
Forecasting the future of retail
Building connections and meeting new, intriguing people
Sharing the role of multichannel eCommerce in business growth, and
Clicking pictures with some awesome partners, merchants, and old mates
Fortunately, we accomplished our goals and are willing to share our learnings. Conversing on multichannel commerce and its potential to change how we perceive business growth was our favorite part.
Couldn't make it to Shoptalk Europe 2022?

No problems, we got you covered. Connect with us to explore all synergies.
Day 1 Happenings: Shoptalk Europe 2022
The first shades of anything and everything always finds a way into our hearts; Shoptalk's first day wasn't any different. We arrived at ExCel after almost 2 years of no in-person event interactions and were looking forward to what was in store for us next.
You won't believe how wonderfully well Shoptalk lived up to our expectations!
Things kickstarted with Krystina Gustafson(Senior Vice President of Content at Shoptalk and Groceryshop), Bartosz Jesse(Partner, McKinsey & Company), Holden Bale(Head of Commerce, Huge Inc.), and Chehab Wahby(Partner, EY-Parthenon) leading the charge in the first track of the event's first session. The discussion was about analyzing the different factors impacting future retail, like adopting new retail technologies and channel shifts, and we enjoyed it thoroughly.
This was followed by other tracks that set the tone and ambiance for the rest of the event.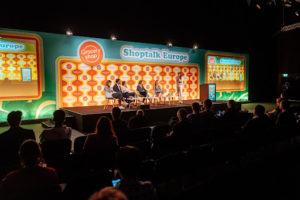 Building up to the keynotes for day one, we had this great opportunity to meet, greet, and socialize with some fellow partners and industry experts, including Alan Small from Wish, Lisa Powell from TheMarket, and Akhil C from Zoho.
Opening Remarks
Just after the sessions and before the keynotes, we saw Krystina Gustafson and Rebecca Bemhena from the Shoptalk team deliver a great opening remark to set the stage for the keynote speakers.
This is how we Shoptalk Europe!

Shop-tastic opening remarks from our very own Krystina Gustafson and Rebecca Bemhena!#shoptalkeurope pic.twitter.com/x2sY142YY4

— Shoptalk (@shoptalk) June 6, 2022
One of the most intriguing and moving remarks we experienced in a long, long time!
Main Keynotes
Tim Steiner, OBE CEO and Co-founder of Ocado Group, conversed on how to become a leader in the online grocery revolution in his keynote speech – Leading the Revolution in Online Grocery.
Tim Steiner OBE, @OcadoGroup 's CEO & Co-Founder is on Shoptalk Europe's main stage RIGHT NOW discussing how to be a leader in the revolution of online grocery! pic.twitter.com/TJayuo8iwC

— Shoptalk (@shoptalk) June 6, 2022
Key Takeaway
From what transpired, cost domination proved to be the pivotal factor in the online grocery market. Large order volumes, discounted prices, and faster deliveries influence the buyer's decision. On the other hand, this is quite tough to achieve unless and until you segment the market and charge a premium for the same. Customer experience is still indispensable even if you haven't been able to provide everything in one go. Empathy and retention are both crucial.
Sian Keane, Chief People Officer, FARFETCH, and Fiona Tan, Chief Technology Officer, Wayfair, teamed up to share real-life experiences that helped them become strong leaders in their keynote speech – Becoming a Great Leader.
Fiona Tan, CTO at @Wayfair talks us through how her life experiences have helped her to develop into a strong leader 💪 pic.twitter.com/o078rOWZOV

— Shoptalk (@shoptalk) June 6, 2022
Key Takeaway
Strong leaders aren't always born strong, but the circumstances and experiences they churn through make them the group leader. Our diversifying career roles are a helping hand in developing leadership qualities that subsequently put us to the test and bring out our best in everything.
Day 2 Happenings: Shoptalk Europe 2022
Our second day at Shoptalk Europe was arguably the most productive one. This was due to the following reasons:-
We met and networked with a lot of good old friends and new potential partners
The keynotes blew us away
Shoptalk & Groceryshop Europe Party
For starters, we crossed paths with Shelley Boyle, our partner representing ManoMano, and our beloved friend, Roi Elizondo.
It was refreshing to have great conversations with these people and build rapport like never before.
Next up, we had this wonderful opportunity to connect with some more thought leaders and friends from the industry, including Alastair Hardie from Tiktok, the Cdiscount team, and the Mirakl team.
The free flow of thoughts amongst us was a testament to Shoptalk's successful networking campaign. Our comfort level was at an all-time high, and we enjoyed it greatly.
Main Keynotes
Frans Muller, CEO of Ahold Delhaize, summarized all important pointers needed to build an apt consumer ecosystem in his keynote speech – In Search of the Best Customer Ecosystem.
Frans Muller, CEO of @AholdDelhaize discusses the search for the best possible customer ecosystem on the Shoptalk Europe main stage #shoptalkeurope pic.twitter.com/3iUT2z341j

— Shoptalk (@shoptalk) June 7, 2022
Key Takeaway
Frans talked a lot about the only surviving marketing strategy in the future of retail, i.e., an omnichannel approach. Considering the recent changes in consumer behavior (including the COVID impact), be assured that omnichannel is the only way forward. Constantly changing customer needs and expectations ought to be addressed at the earliest.
The future of supermarkets was once prophesied to be very fuzzy, but it was only through omnichannel that a complete customer ecosystem was built.
Quoting Frans,
How can we make the business for customers more reliable, more efficient, more relevant, and more convenient? The answer is omnichannel.
In his keynote speech, Roland Palmer, GM UK, Belgium, Netherlands & Nordics, Alibaba Group, shared his knowledge on how future tech will shape a new retail ecosystem – Unlocking Innovation: The Technologies and Trends Shaping Retail's Digital Future.
Roland Palmer, GM UK, Belgium, Netherlands & Nordics at @AlibabaGroup steps onto the Shoptalk Europe main stage to discuss the technologies and trends that are shaping retail's digital future 🤖 #shoptalkeurope pic.twitter.com/X2lkVG88y4

— Shoptalk (@shoptalk) June 7, 2022
Key Takeaway
This was inarguably our favorite keynote from the whole event, not because we are being biased towards Alibaba's grasp on retail, but how well did Roland explain the upcoming changes.
Logistics is a big cog in the eCommerce wheel. In logistics, a lot depends on the last mile to be covered by delivery agents, hoping they find the buyer at their place. But this doesn't turn out to be true every single time. According to Roland, the last mile in logistics for some companies costs approximately 28% of the total logistics cost, and this is a big number.
The solution?
Autonomous robots.
So is this tech yet to be tested? No.
Alibaba already tested and delivered 10 million packages via these bots last year as a part of their research.
Another use case of these bots can be understood by considering the example of China. China might run out of delivery agents for sending packages due to an insane and growing amount of packages, currently sitting at 830 billion.
We surely need these robots to work for us and retail. Fingers crossed!
Shoptalk & Groceryshop Europe Party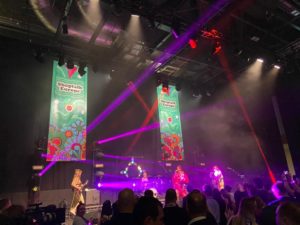 All international events do consider your recreation while planning the whole blockbuster. In the case of Shoptalk, the organizers surely went the extra mile to entertain all of us, attendees and speakers.
The afterparty had thrilling performances by Kate Nash, Basement Jaxx, and The Feeling. The scenes were lit, and we couldn't stop ourselves from getting in the groove.
Apart from the scintillating party and delicious food, we indulged ourselves in some good networking again and gelled well with our top, trusted partners and new connections as listed below:-
Day 3 Happenings: Shoptalk Europe 2022
The third day at Shoptalk Europe 2022 was no less enlightening than the other days, but yes, we do admit that there was a rush to complete all unfinished talks and meetings.
If we talk about knowledge and insight sharing, the last day was filled with scholarly sessions throughout the day.
Main Keynotes
Daniel Gebler, Co-Founder & Chief Technology Officer, Picnic, delivered actionable insights on staying ahead in the online grocery market in his keynote speech – Shaping the Future of Online Grocery Shopping.
Daniel Gebler, Co-Founder & Chief Technology Officer at @picnic joined us on the main stage at Shoptalk Europe to discuss how Picnic are using technology to help shape the future of online grocery shopping 🖥️ #shoptalkeurope pic.twitter.com/4DRPix9ftb

— Shoptalk (@shoptalk) June 8, 2022
Key Takeaway
There was a clear emphasis on building and growing one's tech stack from the inside out if the online grocery market had to be disrupted. Daniel talked about scaling the tech stack internally and growing with the traditional companies working in tandem with the new retail brands.
This is a direct connection between sustainable growth in the industry and how it should be dispersed throughout the network of retail brands.
Dr. Karsten Wildberger, CEO of Ceconomy, revealed all the processes that worked for their brand after the pandemic in his keynote speech – How to Emerge from 'Retail Winter.'
Join Dr. Karsten Wildberger, CEO at Ceconomy on the main stage at Shoptalk Europe as he talks us through the processes that have been implemented to enable Ceconomy to fulfill their 29 minute collection promise to customers #shoptalkeurope pic.twitter.com/PL1sm05pcD

— Shoptalk (@shoptalk) June 8, 2022
Key Takeaway
Click and Collect. Click-to-Collect. Click & Collect.
We may refer to the hybrid eCommerce model by any term, but one thing is very adamant: this model is here to stay and probably dominate in the future too. When Dr. Karsten addressed the Shoptalk audience in his keynote, he was of the same view too. People nowadays want to shop for their favorite products while sitting in their homes and then collect these goods from a physical outlet of the same brand later.
This phenomenon leads the retail industry towards a new era of more profits, new levels of personalized shopping, and stellar customer experiences. All retail brands should adopt this model at the earliest and make further improvisations in the whole process.
Conclusion
If you are still with us reading this, we congratulate you for finishing this comprehensive flow of events at Shoptalk Europe 2022. The Shoptalk event was all things marvelous, and above all, it was an eye-opening experience for our co-founders and the whole team.
All the sessions, interactions, talks, and gatherings made us way too wiser than what we were going into Shoptalk 2022. The takeaways from each session are actionable, and we should try and implement them in our business ecosystem with whatever tweaks are required.
Using autonomous robots as delivery agents as a future retail tech takes the cake!
A big thank you from our CedCommerce team if you visited our booth or experienced the event in any other way.
We cannot conclude this post without thanking our dear co-founders, Mr. Abhishek Jaiswal and Mr. Himanshu Rauthan, for making the best of the event and their early tips.
What do you think is going to be the most impactful future technology helping retail? Do you agree with all speaker insights and takeaways? Why not? Which actionable takeaway are you willing to implement for your business?
Please have your say. We are all ears.