Shopping in Reels: The Fresh eCommerce push from Instagram. Learn Everything
Running short of time? Get PDF of the blog in your mail.

Play Now
With over 1 billion monthly active users, Instagram allows brands to connect with their potential shoppers, build relationships, and grow loyal followers. With shopping in reels, creators and businesses have now got even more ways of leveraging eCommerce from within the app. Now it has become way easier for your potential buyers to purchase while watching a video. Wondering how? Read on to learn more about Instagram Shopping in reels and use it for your business.
Benefits of creating Instagram Shopping in Reels
Shopping in reels is a new way to share your favorite products, get discovered, and reach new audiences with short videos that entertain and inspire. Shopping in Reels was first launched in December 2020. With the latest update, now, when people play the reels, they can tap onto the option of "View Products" and get the details of the listed products tagged in the video. Thus, helping them to buy, save and learn more about the featured products.
Simultaneously, Shopping Reels on Instagram provides you with listed benefits: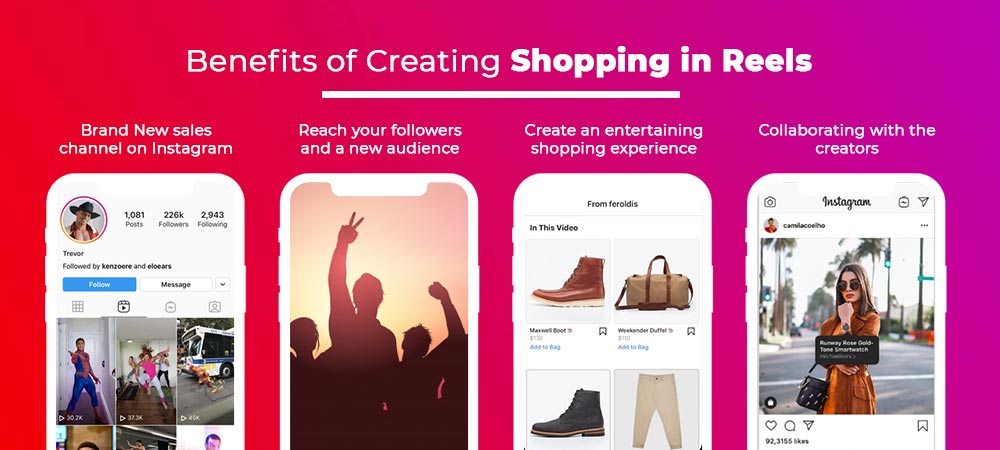 Brand New sales channel on Instagram: With the launch of Shopping in Reels, Instagram has opened its sales channel to grow your business through the medium of IGTV videos and Reels.
Reach your followers and a new audience: Reels can help you reach your targeted audience and grow your customer base. The products featured in the reels are viewable by the audience through the Explore and Reels of Instagram.
Create an entertaining shopping experience: With music in your Instagram reels, you can provide an engaging and entertaining video shopping experience to your customers.
Collaborate with the creators: Since March 2020, 21% of consumers have made purchases from influencers for the first time. Instagram, being home for discoveries, allows you to collaborate with creators and make your selling process more effective.
Types of videos you can create for your business on Instagram
As a merchant, Instagram offers you various options to use Reels and increase your business reach across the platform. Some of the most popular types of Instagram reels are:

IGTV Videos
The IGTV videos help you see more from your favorite creator or business. Brands like you can use this opportunity to create a long-form immersive video, tell your brand story, connect with your audience, and reach more potential customers on Instagram. The IGTV Videos make it easy for people to discover your brands and business through search and explore.
"How to" products
Use your Instagram reels to showcase how a product can be used in different ways, its benefits, and much more. Such content allows customers to visualize the various uses of a single product and makes them eager to purchase the product. How-to products are a great way to introduce your brand to new audiences.
Launching new products
Do you have a new campaign coming up, or do you want to launch a new product? In this case, you can release a product teaser to let people have a glimpse of your product. Besides, Instagram reels could be used to give a 15 second peek into your new product. With teasers, you can captivate a new audience to your profile and inform them about the product or campaign better.
Behind the reel scene
Give your customers insight into your products by creating 'behind the scene' Reels. Also, use your behind the scene video to show how you came up with the idea of the product, the inspiration behind it, and even show how they are made. This helps in generating curiosity in your customer's mind and makes your product relatable.
How to activate reels in Shopping for your business?
To be eligible for Shopping in reels, you first need to set up Instagram Shopping. Once you successfully set up Shopping, only then you can tag your products while creating your shopping reels. Additionally, you can also feature specific products, explain how the product is used, create entertaining, inspiring, and educational videos to grab your audience's interest.
To create shopping in reels, you have to:
Tap "+" to select the Reels or swipe to the Instagram camera and tap Reels.
Create your Instagram Reel. You can record the reel or upload an existing reel.
Select the cover image and add the caption. Tap Cover and slide the image to the bottom of the screen.
Select on "Tag products" and select the products you want to feature.
Tap Done after you complete the tagging and publish your reel.
Shopping in Instagram reels is only available in the countries where Instagram Shopping is applicable.
What are some editing tools that can help you create your reels more efficiently?
Creating your Instagram reels can sometimes look complex, but with the different editing tools, you can master the art of creating reels and generate magic out of your Reels. So., here are some of the editing tools that can help you develop reels more efficiently:
Audio: Add a voice-over or music to your Shopping reel to make it more effective.
Effects: Add filters and AR effects to transform your video and bring your creative ideas to life.
Align: If you are focusing on a specific product or creating separate clips; use the align tool while shooting to align the product in the frame.
How can your customers discover your Instagram Shopping reels?
Your customers can discover your Instagram reels through your Instagram feed, your profile, explore, or through the Reels tab. In order to find the reels, the buyers have to:
Tap on the Shopping bag icon at the bottom of the screen to access your product list.
They can select the product and add them to the bag.
After choosing their preferred products, buyers can be redirected to the seller's website or can directly can checkout on Instagram.
Checkout on Instagram is currently available to US merchants
How can you make an impact with your Shopping reels?
As you can now shop through Instagram reels, creators and brands like you can leverage the power of shopping through videos. Some of the ways to make an impact with your Shopping reels are: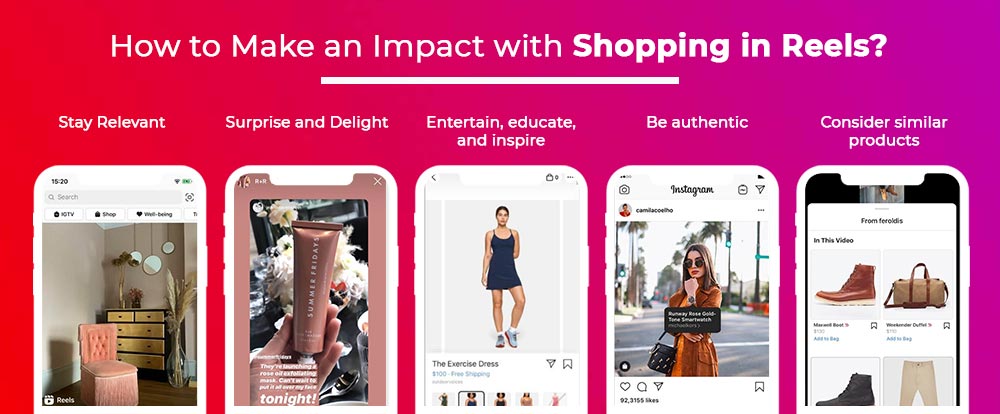 Stay relevant: Reels are all about what is trending and new. When creating your Reel, try to focus on the trending topics, themes, and cultural moments that will resonate with your audience.
Surprise and delight: Add content to your Reels that surprise your customers and bring delight to them.
Entertain, educate, and inspire: Make your Shopping reels in a way that entertains, educates your audience about your products, and encourages them to make a purchase.
Be authentic: Don't be overly commercial. Add your product tags in your Instagram reels in an appropriate place.
Consider similar products: Try listing the similar types of products in one reel. For example, if a person is interested in buying clothes, they might also want to look after the accessories involved.
Get Started With Reels to Increase Your business reach on Instagram.
With Instagram's growing user base, it's essential for eCommerce businesses like you to keep an eye on all the new Instagram features and use it from the get-go to make your content shoppable. And Instagram Shopping Reels provides you with the added advantage to boost your profile to a new set of audiences.
Now over to you: Have you tried tagging products in your Instagram Shopping reels? If not! In order to be applicable for Shopping reels, onboard to Instagram Shopping now! If you are a brand based on all or any one of: Shopify, WooCommerce, and Magento, you can now schedule the meeting with our experts to have a hassle-free selling experience.