Most Profitable Way to Sell on Walmart This Black Friday Season [2022]
Running short of time? Get PDF of the blog in your mail.

Play Now
Do you know that every third person in the US is a Walmart customer?
Well, there can be no denying the fact that the much-awaited holiday shopping season is about to start. Black Friday is on our doorsteps with infinite possibilities for sellers all around the globe.
So, what's the best way to grasp each and every opportunity that will provide numerous benefits for retailers and online sellers?
The answer is – by joining hands with the fastest growing E-commerce marketplace in the world, Walmart.
The Walmart Black Friday Sale 2022, this year begins soon.
For a seller, this is a really big opportunity to capitalize as much as possible from this Holiday shopping carnival.
Also Read: Walmart has Updated its Item Spec API to Improve Product Discoverability
When to Start Black Friday Sales on Walmart?
Walmart starts Black Friday Sales early on the online platform. So this year, the Black Friday online sale is expected to start on Monday, 21st November 2022 whereas the in-store Walmart sales will start on the day of Black Friday, 25th November 2022. However, this marketplace runs different sales events throughout the month of November.
For example, last year's first Black Friday sales event started online on Nov 3 (Nov 5 in-store). Then, the second event started on Nov 10 (Nov 12 in-store). Finally, the third sales event started on Nov 22 (Nov 26 in-store). These dates vary every year and the best buy Black Friday hours are yet to be announced for 2022.
If you haven't tried this marketplace yet, you have enough time right now to list your products on Walmart so you are all prepared when Black Friday sales begin.
Why is Walmart the best destination for Sellers on Black Friday?
Walmart has been popular for its ability to shake the share market by boosting sales during the holiday season. The Fortune report concluded that Last year, 29% spike in the online sale of Walmart was reported, which was greater than any other online marketplace in the world. Also, Walmart took 8.8% of online transactions last year on Black Friday Sales.
Here are some of last year's Black Friday stats:
88 million buyers shopped during Black Friday 2021 sales
Over 41% of Black Friday shoppers made their online purchase from Walmart
8.5% share of consumer retail was recorded on this platform
59% of Black Friday consumers shopped by visiting Walmart's retail store
Walmart has a share of over 19% sales of overall food and beverage sales
This massive number proves that Walmart really has the potential for aggressive expansion, which in turn provides benefits to its sellers worldwide.
To-Do List to Prepare for Walmart Black Friday 2022: 
Follow the following tips & strategies to make the most from Walmart black Friday sales 2022.
Latest Trend Analysis:
This is the time when you do a complete market analysis pertaining to the products you are selling.
Watch out for all the latest trends by looking from a customer's perspective
There is a big holiday season coming so don't stick to black Friday and plan ahead for festivals like new year and Christmas too.
Upgrade your selling campaign:
Just selling is old school, this Black Friday season Aim for Upselling.
Try and increase the range of your selling campaign by opting for an efficient selling tool.
This Black Friday and holiday season, Ensure to connect your e-store using Walmart Integration.
Optimize your store/website:
This is what online sellers don't account for and end up losing potential customers.
Due to a sudden increase in traffic during the black friday sales the website often gets crashed.
Use tool like Google insights and other website analytics tools to asses the performance & capability.
Social media and email marketing:
Catch your customers by promoting your Black Friday deals on social platforms like Facebook, Twitter, Instagram, etc.
Work on a targeted campaign instead of a generic one to improve the engagement and conversion rate.
Make a list of all your previous or potential customers and send them an email newsletter informing them about the special Black Friday offer
Create urgency by informing that it's just a limited-time offer.
Make sure to add some sort of discount token like a promotional code and give them a reason to buy from you.
Up-to-date delivery and transportation
You have made a successful purchase, now it's your responsibility to deliver it successfully at your customers' doorsteps.
Ensure that you have an up to date delivery and logistic service, if not hire for one.
This is to be noted that during this time of year, customers wish to get the product delivered as soon as possible.
Hire additional staff to take care of the increased demand:
The availability of worker/labor during the time of Black Friday is really a challenge for retailers and online sellers.
You can loose a bunch of potential customers due to the understaffing issue.
As a seller, it becomes your responsibility to hire additional staff just for this holiday season.
Convince your staff to stretch their working hours by giving them appreciation and bonuses (if needed).
Be prepared for the worst:
You can plan as much as you want, but there will be some or other crisis every now and then.
Nobody knows your selling campaign better than you, so be prepared with every course of action.
This is the biggest opportunity for both old & new Walmart sellers to capitalize so don't miss out on anything.
Also Read: How To Make The Most Out Of Black Friday Shopping 2022
Best Product Categories to Sell on Walmart During Black Friday Sale
Walmart Black Friday sales cover almost all product categories. So, consumers usually find prices down on Apple products from its watches to iPads & Airpods. Also, the top tv models like Samsung & Roku, toys, gaming consoles, clothing, kitchen essentials, etc. are also on sale during this festive season.
Here are the top product categories to sell on Walmart this Black Friday 2022:
Clothing
Gaming consoles
Musical instruments
Shoes
Consumer electronics
Personal care
Kitchenware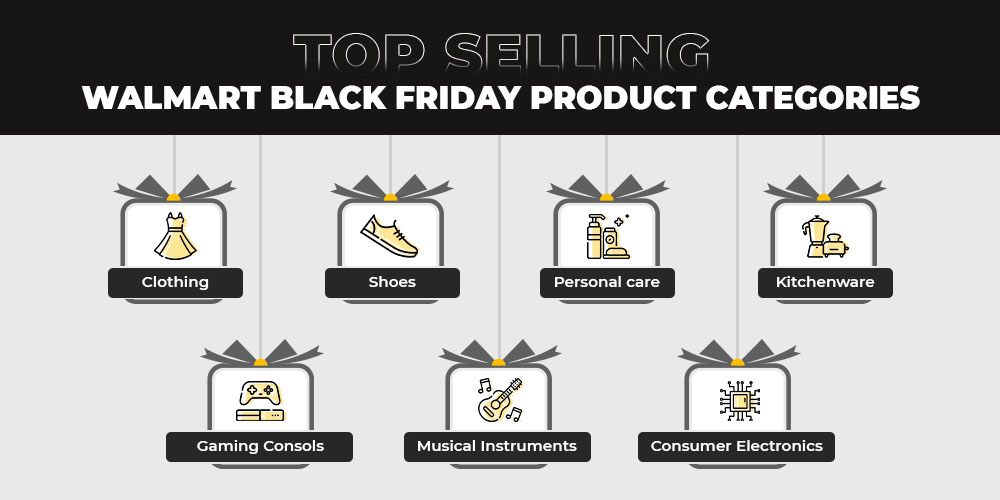 Opportunities for New Sellers During Walmart Black Friday
For a seller who is seeking to build and expand an e-commerce business, Walmart is one of the most suitable platforms, to begin with.
A few key points to support my statement are enlisted below:
Excellent Growth Potential:
In an attempt to be the dominant marketplace in the world, Walmart is willing to go to any lengths possible.
There is one thing I can say with absolute certainty that Walmart will never disappoint its seller, as they are the ones who are helping to build an empire.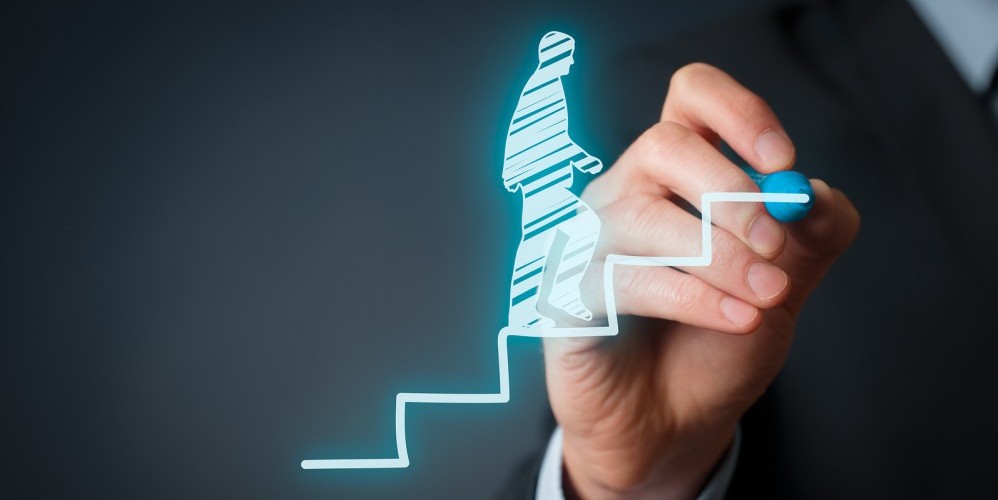 A Survey from last year's Feedvisor report concludes that Walmart is the fastest-growing marketplace in the world. So if you are looking to diversify your brand, then Walmart is the best alternative you have.
No Initial Setup Charges
To create a seller's account on Walmart is free of cost.
You can do it in just a few clicks. Go to the Walmart Seller Registration and fill all the required details.
You just need to prove that you are a certified seller and after necessary verifications, you are good to go.
Start selling and earning from day one.
No Hidden Charges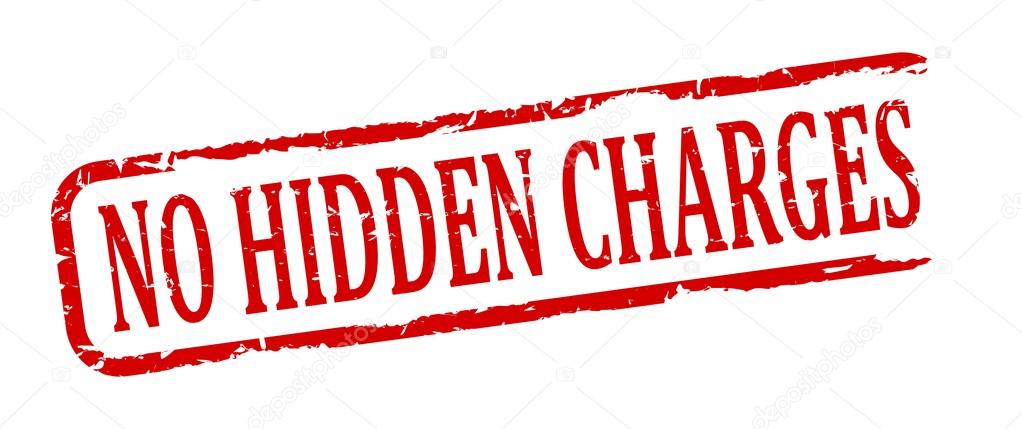 Walmart doesn't have any hidden or extra charges that you have to give monthly. Walmart only charges a referral fee which is determined by the product category.
Grow your Business Overseas:
Although joining the online party a little later than other marketplaces like Amazon and eBay, Walmart has spread its reach in various countries like Canada, Mexico, Brazil, UK, and various South Asian regions.
So, if you need to sell your product overseas, Walmart is compatible with doing so. All you need to create a seller's account for that specific country and you are good to go. The delivery and packaging are all taken care of by Walmart only.
So, what would be a much better time to grow your business overseas than this Black Friday?
A Wide Variety and Categories Of Products:
You must be aware that during festive seasons like Thanksgiving & Black Friday, there is a demand for a variety of products.
There are various restrictions on other marketplaces, but Walmart sells everything from A to Z. It can be anything ranging from Electronics, Books, Clothing, Food, Pharmacy, or Automobile.
Walmart even allows you to sell Refurbished products. This is a very handy tool for clearing the inventory.
So, if you wish not to miss any such opportunities this Black Friday, then selling on Walmart is the Best option.
Automated Repricing:
Walmart comes with an inbuilt feature of Automated repricing that focuses on providing you with the best benefits over time. It strategically alters the price of your product according to the market demands.
To make things clear let's take an example: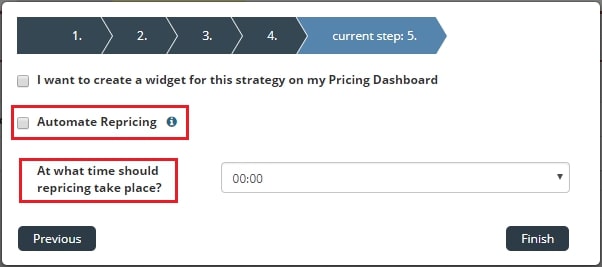 You are selling an I-phone on Walmart.  You have decided the price 760$. Another seller in the hope of winning the buy box starts selling it for 750$. The automatic repricing feature will analyze various categories and if you have a margin it will automatically trim down your price to 749.99$. Like this, you remain at the top of your competitor and sell more.
The advantage of this feature is that it keeps your product's prices competitive at all times.
Low Margins But High Benefits :
Walmart is an evolving marketplace and is trying to gather as much as new customers as possible. In the hopes of doing so the seller's margin on the selling price of a product is reduced.
But when looking at a bigger picture, higher sales volume is generated as compared to other marketplaces.
This all boils down to being an overall profit for a seller.
Just imagine the amount of sales you might be receiving on Black Friday, which will in turn upsurge the profit.
Brand Awareness & Development:
Walmart when combined with Black Friday Sales is the perfect recipe for Your Brand Awareness.
Your Brand is exposed to such a big platform where potential customers will be gathered around like bees.
You would be surprised to know that Walmart has the maximum number of unique visitors last year. This is a clear indication that new customers are eager to be a part of Walmart.
Just be sure to make the most of this amazing opportunity.
Additional Benefits:
Walmart offers a very unique opportunity to make more money apart from sales.
In case you have your own warehouse or a shipping operation, Walmart offers you to perform the shipping and delivery process by yourself.
You can adjust the shipping price, add the delivery charges according to your own convenience
No delay in payments:
Walmart has a very strict policy of keeping its sellers happy. This policy features weekly payments without any delay.
So, Don't worry if you have invested too much in Black Friday Shopping because you'll be receiving the reward very soon.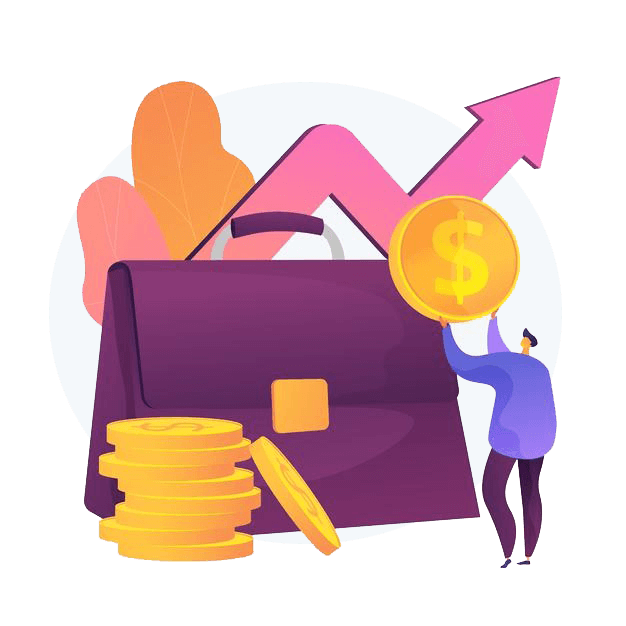 Make More Sales on Walmart Black Friday!
If you are a Magento seller, connect your store with Walmart Magento Integration to enhance selling processes
Conclusion:
I hope that until now you have a much clear perception of how significant is Black Friday sales for Walmart sellers.
Grow your brand along with Walmart and gain high-end benefits, brand awareness, and development.
Even if you are selling on some other marketplace, still you are missing a lot of benefits that you could easily gain. An event like Black Friday is the best time to capitalize as much as you can.
So, are you ready to earn the highest profit from your Walmart store this Black Friday sale?