Introduction of 3 New ManoMano API Release to Improve the Selling Experience
Running short of time? Get PDF of the blog in your mail.

Play Now
This Blog covers the Introduction of 3 new APIs for ManoMano Seller & What it Means for 3rd Party Integration Users.
These days there is an ongoing trend for Marketplaces to perfect their API and upgrade as per the latest REST API. In the past couple of months, we have witnessed major marketplaces doing so including the bigger names such as Amazon, Shopee, Walmart, Etsy, etc. And as per the rituals of eCommerce, once the conglomerates start taking up a trend, how can the regional marketplace skip it?
So living up to the same, the UK-based marketplace ManoMano has taken a huge leap towards perfecting its API Ecosystem with the introduction of 3 new APIs. This release of new APIs will directly impact the 3rd party extensions like Integrations in terms of working, functionalities and performance. Let's find out how.
What is the Major ManoMano API Update?
ManoMano has released 2 brand new APIs and is planning to release the third one soon:
MF Product Stock API
Offers API
Orders API (coming soon)
What is the Reason for these updates?
Increase selling efficiency,
Reduce labor requirements,
Improve response time to customers,
Improve the catalog management process
Enhanced Security
Aim to improve order management process
This is a piece of good news for Businesses using Integrations based on the ManoMano API Ecosystem. Now, they can more easily grow businesses with improved customer experience and enhanced functionalities.
Important Dates to Remember regarding the new ManoMano API Update
12/09/2022 – The Launch of MF Product and Offer API
18/10/2022 – The Launch of order API (Beta Version)
07/11/2022 – Release of New Extension – ManoMano Integration 2.0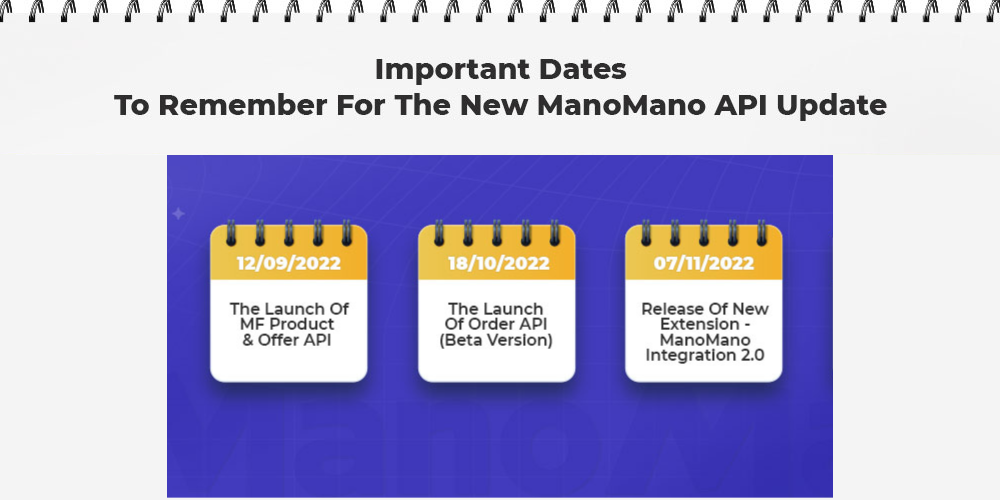 What New Changes will 3rd Party Integration Users observe?
The Feature of Real-Time Inventory Syncing between the store and marketplace is present
Speed of data transfer will increase since the Dependency on feeds is removed which caused a bit of delay the in previous version
New functionality of Mass action will be introduced for syncing of inventory figures & pricing between the store and ManoMano
There will be a massive improvement in UI making it more convenient to access multiple functionalities.
Proper records of product change & syncing will now be maintained and can be accessed with simple filters.
In other words, the overall performance of Integrations using the ManoMano API Ecosystem will improve multi folds.
Don't Stay OutDated – Stay Upgraded

If you are using an old version of ManoMano API based Integration, its better to upgrade to the new version 2.4.5 and give additional functionalities boost to your store. Connect with us on Whatsapp, Skype.
Now let's discuss each of the newly introduced APIs in detail
BreakDown of ManoMano Newly Launched (Updated) APIs
Find the detailed description of the 2 newly introduced and 1 upcoming API of ManoMano:
(1) MF Product Stock API
This API is purely dedicated to the ManoFulfillment (MF) sellers. The introduction of this Product Stock API has further opened door to new possibilities in streamlining the product & inventory management process.
It also gives the possibility to GET the stock information of any ManoFulfilment sellers.
Through this new API update of ManoMano, you will be able to retrieve:
Units available for sale
References that are offline
Units unfulfillable and the exact reason
Read Full detail about ManoMano Product Stock API
(2) Offers API
Well, that has been something that was missing and desperately desired by ManoMano sellers. So, the introduction of Offers API now gives sellers the freedom to GET offer-related information for specific SKUs and seller contracts (price, stock, shipping).
ManoMano sellers can now easily PUSH a list of specific SKUs with price, stock, or both information to update for one or multiple contracts.
Cool, isn't it?
Read Full detail about ManoMano Offer API
These are the 2 released ManoMano API updates. Now let's discuss the upcoming one.
(3) Orders API
This upcoming Orders API will surely be a massive performance boost for the ManoMano selling community. Currently, ManoMano has released a Beta version of this API which is available for testing purpose.
Through this API upgrade, ManoMano is planning to introduced a massive buff to the functionality current XML API hence making it:
More lightweight format,
Enhanced security,
Standardized error messages, and
An improved performance.
Read Full detail about ManoMano Order API
The Orders API also brings good news for Integration users as by this your current integration will be easier and faster, and it will allow you to streamline the whole order management process at ManoMano.
Conclusion
The much needed advanced API update for ManoMano is now here. If you are using a 3rd party extension that's still on an older version of API, now is the best time to upgrade.