Step-by-Step Seller's Guide to Start Selling on ManoMano Marketplace – With CedCommerce
Running short of time? Get PDF of the blog in your mail.

Play Now
Are you a DIY product seller? Amongst the hub of the marketplaces in the continually growing e-commerce world, do you want to reach out to your customers who're DIY enthusiasts and make their lives easier? We are here to help you! For the DIY dealers, CedCommerce is here to tell you today the steps for selling on ManoMano – one of the most wanted online DIY marketplaces.
This step-by-step guide will let you discover the complete process to start selling on ManoMano by easily featuring your products on this online DIY marketplace. But, before you start selling on ManoMano, let's have a closer look at this pioneer marketplace.
A brief on ManoMano Marketplace:
Renowned amongst the major economies of the world, this online DIY store has been the primary choice of DIY enthusiasts around the world.
ManoMano marketplace came into existence in the year 2013 and since then it has become a full-fledged platform.
Offering the most affordable tools for Home improvement, gardening, and similar DIY tools.
ManoMano operates in the United Kingdom, France, Belgium, Spain, Italy, and Germany.
France is the major region where this marketplace dominates and it represents 60% of the company's sales volume.
ManoMano is a growing marketplace and last year's sales figure shows it all-it ended the year 2020 with a sales turnover of 1.2 Billion Euros.
ManoMano also maintains its B2C category with a vast catalog of more than 3 million products, out of which 200,000 products are on sale in the UK alone.
As per retailgazette, the UK, the Co-founder of ManoMano, Christian Raisson, said, " Price, choice, advice: A very simple mantra but so different to other traditional bricks-and-mortar actors, who have several thousand expensive products with hardly any online advice."
With extraordinarily rapid growth, ManoMano is amongst the top 10 companies in Google's Scale-Up Programme.
ManoMano offers full-fledged Fulfilment and Delivery services to help merchants sell better.
3 Point to consider before you start selling on ManoMano Marketplace:
Choose the appropriate products category:
Since ManoMano is an online DIY marketplace that deals in home improvement and gardening tools. The seller needs to sell under the categories mentioned in the image below: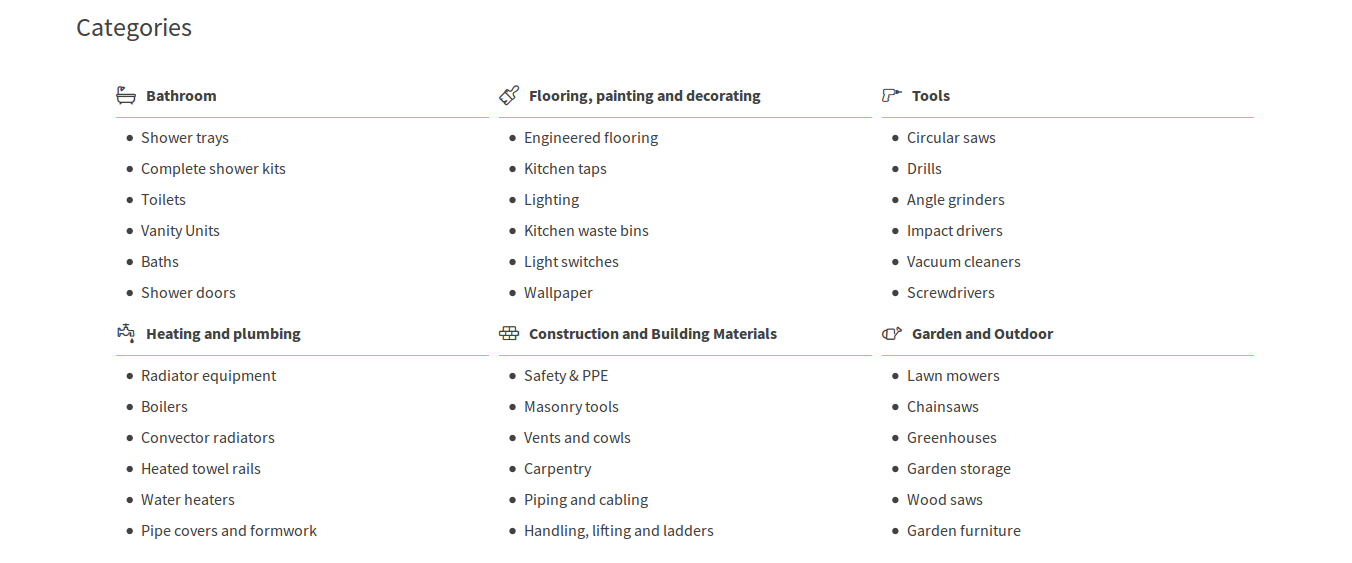 Opt For Competitive Pricing:
The price of the products that a seller is selling on ManoMano must be competitive and something that's light on end-users pockets to cater to their needs with convenience.
Ensure the Quality of Products:
The quality of the product that a seller is selling on ManoMano must be reasonable, and then only will ManoMano allow the seller to feature its products on ManoMano.
Steps to Start Selling on ManoMano:
Now before knowing how to start selling on ManoMano, you need to know that you may do the selling on ManoMano using CedCommerce's Multiple Integration Extensions. As ManoMano allows you to sell on it using the XML file that contains all the listings that you will be selling on ManoMano, you need to use the panel from which you may upload the product listing for selling on ManoMano. Follow the below-mentioned steps to sell on ManoMano:
Step 1: Contact ManoMano and Introduce Yourself
ManoMano follows a high standard for products that it features. It won't let sellers sell on ManoMano without knowing in detail about the seller's business and products. Therefore, it follows a screening process. If you wish to start selling on ManoMano, you need to send a mail to ManoMano introducing its company.

As shown in the figure above, you can send a mail to seller.services@manomano.co.uk. ManoMano has set up different addresses to contact sellers from different countries. For many countries, ManoMano allows you to fill an online form mentioned under becoming a seller option for many countries.
Here are the contact emails for various countries
Once accepted by ManoMano, you can move to the next step.
Step 2: Upload your products to the CedCommerce Extension's Admin Panel
On receiving confirmation from ManoMano, a seller (you) may take the next step to start uploading the inventory for selling on ManoMano. To maintain your order inventory in a proper arrangement, upload it to the admin panel of the extension that you have got from CedCommerce. Using our extension, you may:
1. Identify Inventory Information Requirements: Using CedCommerce's extension, you may identify and determine the data that you need to enter to make your listing more accessible in the e-comm world. If you incorporate the file with the data such as accurate titles, descriptions, prices, and other relevant details, you may procure more exceptional results.
2. Create Variations: You may create product variations to feature your listing on ManoMano in a more specific way, giving the users a more detailed description of the products.
3. Add Images: Adding appropriate images to the product listing can make your products stand out, and hence, it is imperative that you can do using our extension.
Step 3: Map the Inventory
Like many other marketplaces, ManoMano needs the sellers who want to start selling on ManoMano to map their product information to that of ManoMano product's fields.
With our extensions' easy-to-use feature, you need to choose the attributes from a column and map them to the ManoMano product details.
Step 4: Export your Product Listing to ManoMano
After product mapping, a seller may start sending the listings on ManoMano. The integration creates a link between your panel and the ManoMano marketplace. The products can quickly be shipped to the ManoMano marketplace and get featured on it.
Step 5: Purchasing of Product
The next and crucial step in the process comes when the customers purchase your products on ManoMano. There is no doubt to the fact that ManoMano efficiently handles the customers' payments and takes necessary steps for the finances. It also takes care of payment processing and prevention from fraud.
Step 6: Order Management
After an order is placed for a product that you are selling on ManoMano, the order is imported to your CedCommerce extension's admin panel. Now from here you may fulfill and manage the orders.
Step 7: Shipment
After you have fulfilled an order, the shipping confirmation is sent to the online DIY marketplace.
How much is ManoMano Selling Fee?
If you're wondering how much does it cost for selling on ManoMano, you don't need to worry. There is NO application fee for selling on ManoMano. You read that, right! ManoMano's selling fee is nothing, but there is a monthly subscription EUR 100.00 to start selling on the ManoMano marketplace (as per Channel Engine). Apart from that, you also need to pay commissions on each sale, which is included in your ManoMano selling fee. The sale commissions vary on products sold, considering their category.
Does ManoMano Offer Fulfilment and Delivery Services?
Yes, Mano Mano Offers fully reliable fulfillment services through which sellers can deliver their products to customers hassle-free. This delivery and fulfillment service is currently operational in the UK and all across the continent of Europe. ManoMano has collaborated with OneStock to carry up the ManoMano Fulfilment logistics.
Mathieu Bousquet, the Delivery Manager at ManoMano expresses that – "To become the online leader in DIY, home and garden retail in Europe, we must provide high-quality services to our merchants and customers. OneStock's technology matches our values of ingenuity and agility and will support the evolution of our business needs."
Why Selling on ManoMano with CedCommerce is beneficial?
CedCommerce extensions enable the sellers to import products they want to sell on ManoMano quickly. They also synchronize the product inventory and automate the selling. The core benefits that you get by selling with CedCommerce are as follows:
Order Management — Gives a grip on ManoMano orders from Magento.
Error Notification — Updates the sellers of errors that are present while uploading the products.
Status Notification — Informs about the Live/ Under Review status of the products.
Updates Information — Changes made on Magento get reflected on ManoMano.
Inventory Update — Changes in inventory are updated automatically.
Bulk Upload — Uploading the products in bulk gets easier.
Automates Orders — Orders may be fulfilled from the Magento admin panel, effortlessly.
Click here to start selling on ManoMano and embark on your selling journey!
Closing Remarks:
Summing it up-Selling on Manomano can turn out to be the most availing step towards global expansion. I hope this piece of content will make your online selling journey smooth to make the most. So now, when you know how to sell on ManoMano, don't just wait and read, sell on ManoMano TODAY! Get in touch if you have any queries, and please comment below to have a one-to-one conversation with our e-commerce experts.