How to sell on Qoo10? A Step-by-Step illustration
Running short of time? Get PDF of the blog in your mail.

Play Now
Setting up an e-commerce business has various approaches each of them has its own prominence in their own way, and that's something everyone who is new or already a seller should consider when selecting their preferred e-commerce startup. One of the emerging eCommerce platforms in Southeast Asia, Qoo10 could be the right place for you to enhance your business. eCommerce in today's world is having a huge potential in every region, including Southeast Asia, Japan, and China. Well, this article is all about "How to sell on Qoo10?"
Don't be left behind! It is the right time to take your business online!
Stay with us to know all the steps required on how to create your store and register yourself as a Qoo10 seller.
Did you know? Qoo10 marketplace has over 10 Million daily visitors and more than 3 million registered users.
Why sell on Qoo10?
Established in 2010, Qoo10 is an Asian eCommerce platform. Operating in 7 local marketplaces in 5 countries namely Indonesia, Malaysia, Hong Kong, Singapore, and China.
Qoo10 provides various perks to its seller, such as:
Free Product listing
No product listing fee is required while selling on Qoo10. This is gonna save a lot of bucks for you.
Qoo10 Q-cash 
Q-cash is a virtual currency used on Qoo10 platform. It is used to purchase advertising opportunities on its website. In other words, you need to use Q-cash to promote your items.
Fast delivery
Quick delivery as compared to other eCommerce platforms. For quick deliveries, you can buy the QXpress CS coupons for $4.5 for same-day delivery.
Customer support
The Live 10 messaging app of Qoo10 helps sellers chat and connect with buyers for free. This creates a sense of personal connection between the buyers and the sellers.
Seller portal
The Qoo10 Sales Manager (QSM) helps in tracking all orders, product listing, and shipping.
Even though Qoo10 is a choice of buyers over various regions. but, the majority of 83.97% web traffic of Qoo10 comes from Singapore.
Today's technology is just adding icing to the cake making the process so easier for sellers out there to create and register themselves as a seller. You just need some basic computer skills to start your own eCommerce business in the topmost marketplace of the Southeast Asian region.
The selling process on Qoo10 is quite simple, the steps involved are:
Create an account
Create a product listing
Sell items
Customer pays for the items
Ship the purchased items
Confirm order delivery
Receive the profits
There are many ways to start an e-commerce store. So you'll have to decide which way you prefer to start with. Choosing the right way will allow you to achieve e-commerce success faster.
How to register as a seller on Qoo10?
The Seller registration process of Qoo10 is quite easy. We have created a step by step illustration for you to ease it down even more.
1. Go to Qoo10.com to start with the registration process
If you want to sell on Qoo10, please go to Qoo10.com and scroll down to the bottom to find the list of regions, click on your preferred region to begin the process.
On the redirected page scroll down to find the link "Seller Register", click on it and start the Seller registration process.
Once you click on the Seller Register link. You will be redirected to a page. Well, you are starting fresh so click on "Create Qoo10 Account.
2. Provide some basic information
On step 2 you have to provide some basic information like:
Your Email for your verification
Your name (must match with the name provided in the documents)
Date of birth
Gender
After providing these details just fill the Captcha image and check Terms and Condition Box.
Now you are good to go to the next step,
3. Confirm your account via email
You will receive a confirmation email on the provided mail id. Click on "Confirm and go next".
Then you will be redirected to a page that required some additional information. fill it up and click on "Seller Register".
4. Fill the seller registration form and that's it!
Now, this is the most important step for you to become a seller. The form is quite lengthy so fill it carefully and provide the details accordingly.
Fill all the required details as per the instructions provided. Otherwise, your account will not be approved.
On the Q-Cash Purchase part, select the "Default Seller Registration (No Qstore)."
You are all set to create and list your products on Qoo10. Start selling to more than 10 million buyers.
How to list your Products?
You can manage your store and list your products through QSM (Qoo10 Sales Manager) which is Qoo10's very own seller portal.
But one by one product upload and manual listing is a bit of a hectic process, isn't it?
Our 2 outstanding products namely "WooCommerce Qoo10 integration" and "Magento Qoo10 Integration" will provide you with all the necessary help that you need to upload your products with ease on Qoo10.
Whether you own a WooCommerce store or a Magento based store you can easily integrate, list and bulk upload all your products at once and manage both your stores from a centralized spot.
Is there any listing fees?
Fortunately, there is no listing fees. But various seller fees are: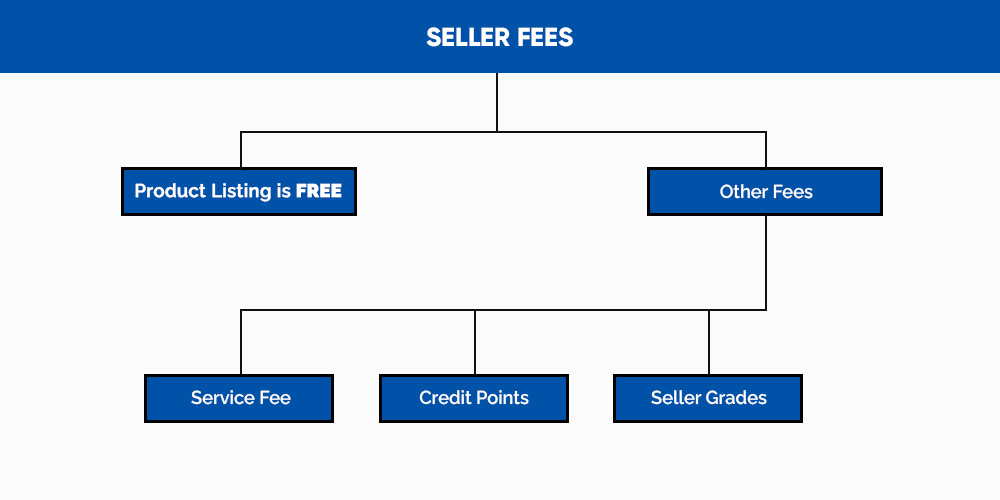 What Are the Conditions Required To Sell on Qoo10
Every eCommerce platform has its own rules and regulation. For you to sell on Qoo10, you must adhere to the following terms and conditions.
You must buy 1,000 Q-cash
You must be a Qoo10 member before you can be allowed to register as a seller
identification documents like passports and bank statements
You have to provide them with personal information like NRIC, email address, bank accounts for identity and account verification
You must also provide your business certificates information as you sign for the Qoo10 seller account
Top selling product categories on Qoo10
Following are the top-selling products on Qoo10: 
Cosmetics
Computer and games
Kids fashion
Mobile accessories
Women's clothing
Bag and wallet
Watches
Furniture and Deo
Cameras and Recorder
Automotive & industry
Prohibited items on Qoo10
The following items are prohibited and you can't sell on Qoo10. Selling any of these items could result in account suspension or Criminal charges.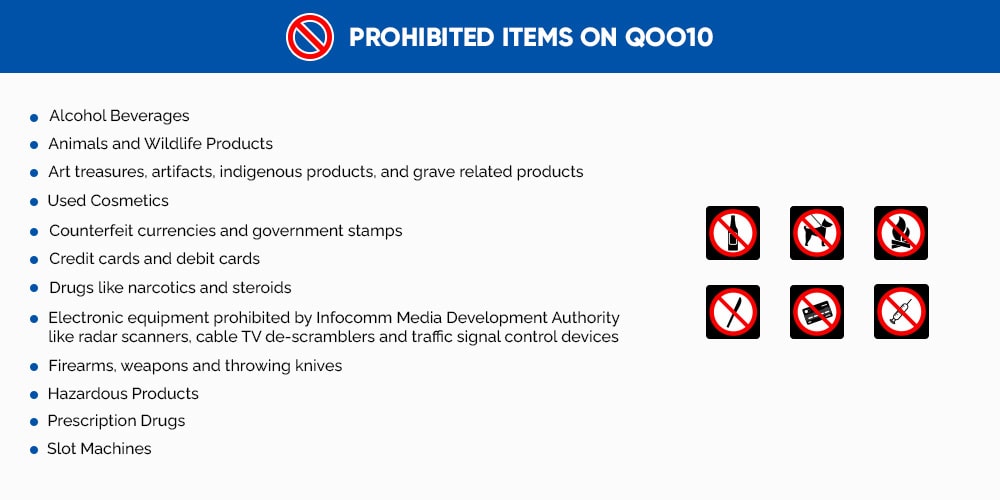 Alcohol beverages
Animals and wildlife products
Art treasures, artifacts, indigenous products, and grave related products
Used cosmetics
Counterfeit currencies and government stamps
Credit cards and debit cards
Drugs like narcotics and steroids
Electronic equipment prohibited by Infocomm Media Development Authority like radar scanners, cable TV de-scramblers and traffic signal control devices
Firearms, weapons and throwing knives
Hazardous products
Prescription drugs
Slot machines
Conclusion
With the emergence of Qoo10 in the Southeast Asia eCommerce market. It is almost impossible to ignore its impact on today's retail. Selling on Qoo10 could be a great way to expand your business and multiply your sales.
All things considered, now that you are aware of each and every step that is required to set up your seller account. Its time to sell on Qoo10 and give your business a lift in sales and grow its brand reach.
Got all your answers? If no, Do let us know in the comment section below.
(Images are sourced from Qoo10.sg)
Other Relevant Reads:
Listen to our Spotify Podcast for emerging trends shaping the eCommerce in 2020!