How does WFS Prep Services simplify order fulfillment at Walmart?
Running short of time? Get PDF of the blog in your mail.

Play Now
Preparing items in a shipment-ready state is a big task. As Walmart considers following the standard procedures for item labeling and printing a must, doing it yourself is not so easy. This sometimes proves challenging when a huge influx of orders arrives, especially during the festive rush. So how to make this mundane task easy? To answer this question, Walmart has launched a new service, WFS Prep Services. The Walmart Fulfillment Services Prep Services or WFS Prep Services help you deal with this aspect of preparing and labeling WFS items smartly.
So, if you are a Walmart seller and fulfill some or all of your items using WFS, this blog guides you on an easy way of preparing WFS items using WFS prep Services.
What are WFS Prep Services
WFS Prep Services is a program that helps you overcome the shipment preparation of your Walmart fulfilled items (aka WFS items). This program eases the task of getting your WFS inventory in a ready-to-ship state. With this program, you can outsource the inventory preparation of WFS items to Walmart.
If you don't want to indulge in the inventory preparation of WFS items and want to save time and money, this program is there for you.
What is Unplanned Inventory Prep
When delivering items to customers, certain predefined standards must be followed. The items must be delivered to customers in the format Walmart wants. If you send your items to the WFS facility with incorrect labeling, boxing, etc., Walmart corrects and prepares them in the standard format. Walmart puts up a proper 12 digits UPC label on it and makes it ready to be delivered to the customers. And for each such unit, Walmart takes $0.65 as a prep charge.

How to Add a Prep Service
Follow the below process to add a Prep Service for your desired Walmart products: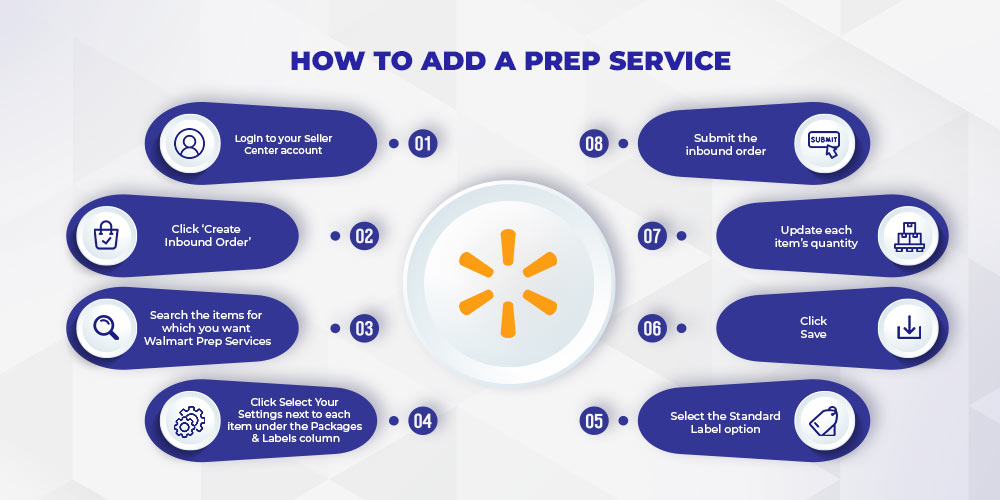 Login to your Seller Center account using your credentials
Click 'Create Inbound Order'
For the items for which you want Walmart Prep Services to avail, search them
Click the Select Your Settings link next to each item under the Packages & Labels column
Select the Standard Label option
Click Save
Update each item's quantity
Submit the inbound order
How WFS Prep Services Work
The below process helps you understand the working of the WFS Prep Services:
Go to the Packages & Labels column in the Seller Center
Choose Prep Service
Walmart Fulfillment Center gets notified of your request
When your items reach the Walmart fulfillment center, they are prepared and ready to be shipped.
What is WFS (Walmart fulfillment services)
Walmart fulfillment Services(aka WFS) is a fulfillment program from Walmart that helps you simplify the fulfillment of your products at Walmart. Register for the program and send your inventory to the WFS facility, and Walmart will handle the rest for you. From storing to picking, from packing to the item's end delivery to the customer, Walmart takes care of everything. In addition, if the need for product return arises, Walmart handles that too.
About CedCommerce
CedCommerce is a leading eCommerce company that makes selling on 160+ marketplaces quick and easy. With CedCommerce's advanced solutions and high-end support services, online selling has become so easy that you can sell on multiple platforms simultaneously. Choose CedCommerce and connect with the experts to sell effortlessly on the marketplaces like Walmart, Amazon, eBay, Fruugo, Etsy, Cdiscount, and many more, and hail your online sales.
To Sum Up
Fulfilling items through WFS eases your task of fulfilling Walmart products. But Walmart has laid down certain item labeling and packing standards that each seller must follow to make the fulfillment of WFS items real quick. This WFS Prep Service helps you with the task of labeling Walmart orders in the standard format. Choose the WFS Prep Service for one or all of your WFS inventory and sell like a pro.