5 Tips to create great Product Description that increases sales
Running short of time? Get PDF of the blog in your mail.

With increased online product purchasing each passing day more and more vendors are taking it to online to offer their products. First, they used to sell through their online store. And, now as the multi-channel selling concept is maturing, the online sellers are increasingly tending the shelters of the big-fat online marketplace to tap their potential customers.
Although some have been massively benefited from this exercise others have ended up wanting more. Why there is that some are getting huge orders while others are not? Why there is so much disparity prevalent among the seller's earnings. Do major marketplaces are biased?
For sure the marketplaces are not inclined towards any individual seller, it is the efforts of these individuals that they put in to create a compelling product copy differentiates themselves from their competitors. Yes, the content can be a make-and-break factor for your success.
What not to do?
Before we delve deep into the factors what to do, it is quintessential to mention practices not to pursue that can make or break your game. And first among them is Not to copy manufacturer content.
A lot of online sellers invariably tend to copy (with minuscule changes) the manufacturer content. What they forget that there are, most probably, dozens of others getting their products from the same resources. And it they all are bit sluggish, chances are your content would end up being plagiarized and duplicate.
Therefore never copy the manufacturers content. Furthermore, their intent is different and you would be different. Among other practices to stop is the use of the same content (or, piecewise) in multiple pages: duplicate the content.
Now, what to do part:
1. Find your Ideal Audience
The first, and foremost, part is that before hitting the keyboard to write your poorly-researched and jargon-riddled product description. Sit back and relax. Think about your buyer persona, what they read, what their hobbies are and what type of writing style they prefer. There are countless other factors that you can include to zero-in what your ideal customer is like.
Once you're aware of your ideal buyers, things become easy for you to collate the content. Besides, the content must justify its use of superlatives, and avoid extra content for the sake of content. The content must resonate with your audience imagination and aspirations.
Read a product description of the product from, graceandlace.com, a shark-tank funded e-commerce store famous for its online marketing.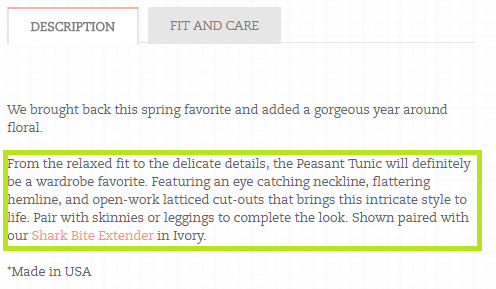 The content targets floral lovers and uses a tone that makes products pitchy and engaging that's the way to move forward.
2. Make Your Product Description Stand Out.
Let's first take a look at Amazon's Kindle Product Description

Clearly, you can see the Product description blurs the line between the features and benefits, also it has done it research right and found out all the pain points of the readers and created an awesome product description content, intertwining features, benefits and pain points together.
3. Shout benefits, not the specifications
Yes, product specifications are an important point but consumers don't come to your page to view its specifications. They've made their mind and now it's up to you whether you can relate to their aspirations, or are completely clueless about it. Let's take a look at a sofa-cum-bed description sold at pepperfry: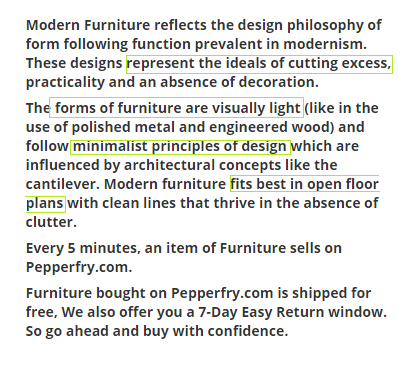 The description clearly mentions its philosophy, which place it suits the best and about its attribute. This type of information compels users to take action.
4. Informative URL's and Keywords:
A no-brainer. Using the keywords in your product description is essential and mostly perceived but not carefully followed. Most of the sellers over stuff the content with keywords and follow a poor variation of products.
Refining your keyword to target a specific and more focused keyword is the way to get found in the results. You can use LSIGRAPH to find different variations of the same keyword and include the most appropriate option
Another practice is to use your products name in the URL, first find out the category and the subcategory and then use these keywords to your effect. A must and we also have benefited from the same.
5. Use Descriptive Words:
Finding the word that truly explains the essence of your offering and is catchy is, often, cumbersome process. However, critical to success. The better you are with finding these words the better gets your chances of creating a compelling copy that helps individuals take a decision. Examples of some of the most commonly used descriptive words are:
Sky-high
Maximum
New heights
Common
Infused
The ranking depends upon various factors and also is driven how much sales products earn. Although sales are not the sole parameter per se. Writing a compelling copy helps your buyers take a decision, understand you and your philosophy, empathize with you and most importantly become your repeated customers.
The Conclusion:
The content with holistic preview gives visitors complete information about the products which helps them take decision easily. Therefore, a great item descripiton increase the item conversion rate.
More from CedCommerce:
1. 7 Tips to Maximize MultiChannel Efforts this Holiday Season
2. How to convert different types of Visitors into Buyers?
3. Holiday marketing: How to receive 2x organic traffic at Bonanza.com?