Holiday marketing: How to receive 2x organic traffic at Bonanza.com?
Running short of time? Get PDF of the blog in your mail.

Mere listing your items at Bonanza will not help you earn revenues from the platform this holiday season. No one is going to purchase your products, howsoever, awesome it may be if they can't reach your listings.
To ensure those maximum impressions, this festive season, at your listings, there are two ways – organic and paid. However, paid will only be used once you're done with all the techniques which can get you organic traffic and defining Item traits is one of the ways to get THAT organic traffic.
What is Bonanza Item Traits?
Item traits are the detailed description of the items. They build on the basic information of the items. Also, item traits are different to the item category. Defining the right item category places your products at right places, but that's not it.
Consider the following listing as an example
Imagine a potential customer is going to summer beach vacations at the Hawaiian Islands and looking to buy a shirt. Suppose he attends a theme part for which he requires a casual, cotton blend theme with regular fit with Rock genre.
This is how the corresponding item traits look like: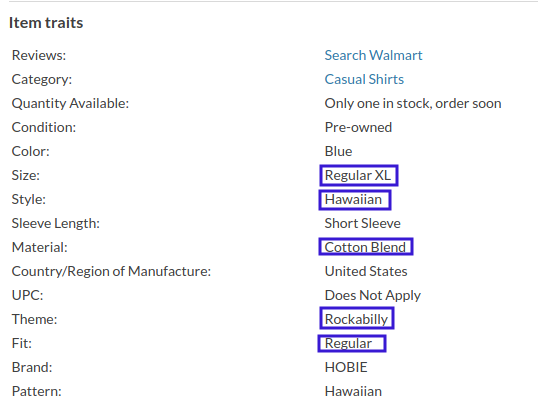 So he will visit → Men's Fashion>Clothing>Casual Shirts.
There, he can be overwhelmed with Hundreds of options. Therefore, the natural action will be to apply filters to directly arrive at a set of options he is interested in.
It is here you may lose the game if you haven't set up the traits for your items. On the other hand, if you've defined all the item traits, your products may appear among the options and increases the conversion for your listing.

Find your way to Bonanza HERE!
The benefits of Bonanza item traits:
The primary function of adding Bonanza Traits is to provide information of your products at all-level. The better informed your customer is, the easier is for him to make a decision. However, the bi-product is even more beneficial – it increases your listing's visibility →
Through Search engine discovery

Product search via filters

Product Recommendation
Through Search Engine Discovery: Suppose someone is looking for Blue Nike Sneakers or Black Women Scarf or Scoop Neck Tank, if all these details are provided under the traits category, Google recommends your products to them, even if they're not present on Bonanza.
When we talk about filters at Bonanza, Item traits are one of the pillars of the filter option. Therefore, if you define traits for your products, the customer finds your products when applying filters to your products.
Also, Item traits complement Bonanza's internal product recommendation system. Once you set up the item traits, when a potential customer is looking for the products, Bonanza recommends your products to them.
Therefore, defining item traits increase your product's discovery in the three aforementioned ways. Also, once a customer arrives at a well-informed listing, it maximizes the conversions.
How the Multichannel Integration app makes defining Bonanza Item traits a seamless process?
Information is power. An information-rich item description makes it easier for a visitor to make a purchase behavior, therefore, increasing the conversion rate. On the other hand, the additional information also increases the search visibility of the items.
The item description may include keywords which a potential buyer may use to arrive at your item or, buyers may use a filter after entering a certain product category to zero-in on their desired results.
Here, Bonanza item trait helps. Item traits enable Bonanza to obtain detailed information — like genre, brand, or color — about merchant's items and enabling them to show the listing to potential customers. Bonanza found out that listings with detailed item traits have 25-35% better conversion rate.
The Bonanza Integration app fetches the Shopify Meta field information first into the app, then maps the same information within the item trait fields and, in the process, eliminates the hassle of creating item traits for the individual products. The other advantage is that Shopify Meta field details for all the products can be imported at once.
More from CedCommerce: