What Merchants Need To Boost Sales in Southeast Asia (Beyond Product & Marketplace)
Running short of time? Get PDF of the blog in your mail.

Play Now
Southeast Asia ecommerce is all set to reach a benchmark of $1 trillion gross merchandise value (GMV) by 2030. It will be the result of GMV seeing 2X year-on-year growth. No wonder the region accounts for 40% of global e-commerce sales.
Undeniably above, stated facts signal an ecommerce opportunity in Southeast Asia that is too lucrative to be missed. That being said, merchants have numerous hurdles to overcome to avail of the opportunity.
Let's delve deep into Southeast Asia customers' major pain points and the best tips required to approach them.
Major Challenges (Opportunities) in Southeast Asia eCommerce
A big reward is never free from challenges. Every ambitious seller eyeing growth in Southeast Asia ecommerce needs to understand the metrics customers consider decisive to purchase items online.
Shipping and Delivery
Delivery experience in Southeast Asia's biggest pain point. 9 in 10 customers are agitated with failure in communicating delivery status and late delivery.
The solution is to speed up the delivery time and keep it that way.
Avoid logistics constraints by procuring high-demand items in sufficient quantities well before the holiday season (especially before Chinese New Year).
Another trick is to offer discounts so the customers can buy the items (that are likely to face shortage) ahead of the peak demand season. It will save your order from getting stuck in shipping bottlenecks.
Build good relationships with your suppliers. He might entertain the request to prioritize your order to be delivered over the rest.
Tell your logistics partner to inform you about the inevitable shipping delay resulting from unfriendly weather situations. It will help you update your customer in time. On the bright side, customers won't blame you for the delay.
Take a deep dive into your store's past year's sales data. It will help you find the high-demand products and anticipate their demand at peak times. Using these insights, you can predict demand nearly accurately. As a result, you can inform the supplier about products you will require well ahead of customer demands.
Another effective way will be to get real-time updates from suppliers about product availability and optimize product listings accordingly.
The Pro Tip: Be in contact with multiple suppliers. It will lessen the burden on your main supplier to produce items in huge quantities.
Adhering to the practices mentioned above reduces your chance to get negative reviews by upto 90%.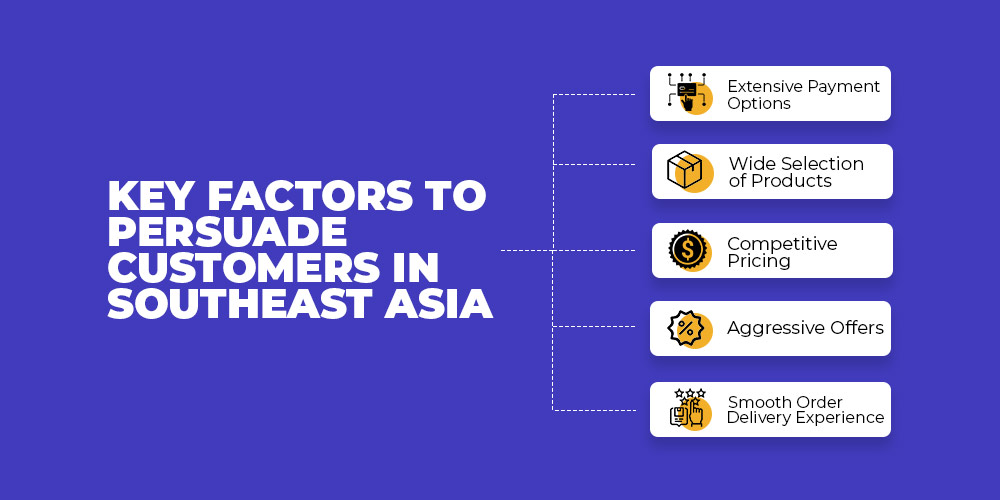 These factors have considered the pandemic-driven shift in customers' purchasing patterns. Moreover, inculcating them in your core strategy will encourage shoppers to spend more. A deeply satisfied customer never hesitates to purchase again.
Middle Class – The Rising Wave (A Huge Customer Base Of 350 Million)
An astounding 350 million strong middle class that continues to grow is an opportunity for significant business growth in Southeast Asia.
The middle class in the region prefers to buy from popular marketplaces and over social media.
High disposable income gives rise to the urge to experience luxury. Hence, the community is eager to spend on activities that promise enjoyment
Travel
Cosmetics
Branded goods
Using Facebook Audience Insights will reveal crucial data giving you a closer look into the attributes of an ideal customer.
Relationship status
Location
Gender breakdown
Age group
Education level
Job title and much more
Having the right information on the above parameters helps target the high potential customers looking for your products.
Therefore, by leveraging it, you facilitate a personalized shopping experience and win customer trust the first time.
Keep in mind that your content is mobile responsive. Southeast Asia customers are ahead of others in using smartphones for online shopping.
Responsive Search Ads (Woo Your Customer With Flexible Ads )
Customer preferences aren't the same all the time. Responsive search ads understand it very well. Therefore, a responsive search ad will adapt and present the best combination of titles and descriptions based on the user's unique search query and search history.
Probably the one with the highest likelihood of catching customer attention. As a result, you can engage the right customer with more personalized ads.
Did you know that digital ad spending in Southeast Asia makes up to $2.4 billion. It is crystal clear how aggressively competitors are trying to woo your potential customers.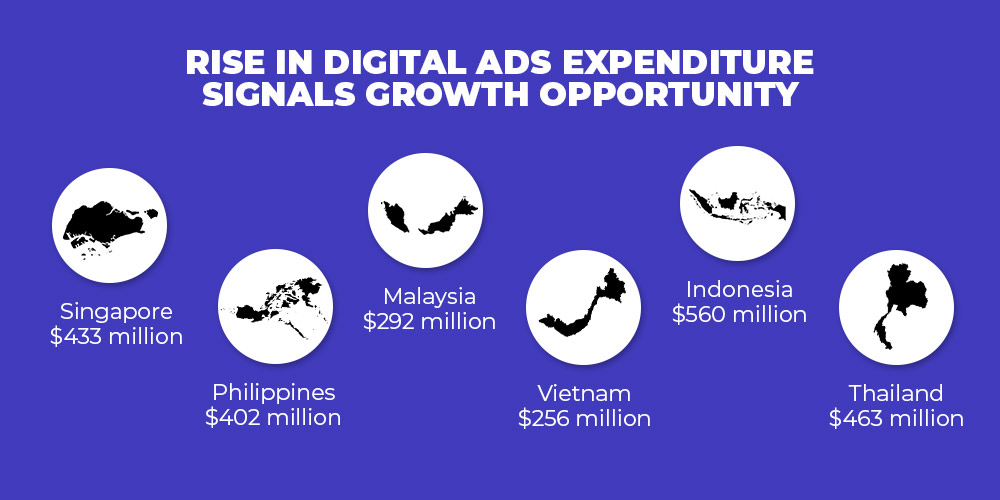 Not reaching out to your customers via ads is equivalent to limiting your business growth. Moreover, it's time to leave no stone unturned to craft compelling ads.
Few Tips to Optimize Your Responsive Search Ads
You must optimize the headlines with below
Target keywords
Call To Action
Benefits
Brand Name
Craft unique headlines

Image credit: thinkwithgoogle
Try headline variations with different CTAs.
Your USP like "X% Off" or "Free SetUp" has the highest potential to capture user attention. Hence, these must always be highlighted.

Image credit: thinkwithgoogle
Automate Your Store Fuel Your Store Success
Automation is the seller's true friend to outcompete other merchants in southeast asia ecommerce and rule out manual errors.
Benefits You Don't Want To Miss Out (if Planning to Scale Business To Next Level and Serve Maximum Customers)
No more overselling or underselling. Hence, loss is significantly minimized.
The ecommerce integration solution looks after all repetitive tasks. You save loads of time.
The crucial task of order processing gets a lot faster and more efficient.
Order delivery time is minimum as the closest warehouse is chosen.
Order status can be tracked without hassle, although order arrives from different platforms like social media, marketplaces, or youtube.
You can integrate all your selling channels (platforms) to enable a centralized view across all channels. As a result, you will always be aware of

Products out of stock
Order status
Average order delivery time
Need not switch between multiple seller accounts
Near real-time inventory sync is a can't afford to miss feature
Allows setting a threshold value so that you never fail to replenish inventory before going out of stock.
You never overstock items. Because you store them for too long on shelves. Hence, inventory holding cost is low.
The feature results in various insights helpful in accurate product forecasting. Revealing the right warehouse location for the items and eventually reducing the shipping cost.
As a result, you need not worry about the below.
Entering the wrong address, SKU, or order details
Spending too many man-hours on listing products on your store or delisting the items
Resources won't be occupied with repetitive tasks. Therefore, it can better be used for core business growing activities.
You can serve and satisfy more next to impossible customers using a manual approach to selling online. As a result, a huge customer base and more loyal customers.
Store automation helps you collect updated information about customers to make data-driven decisions. This data is crucial to enable a personalized shopping experience.
You have the opportunity to sell on multiple marketplaces simultaneously without any added complexity and with better accuracy.
Automation is Awesome
With tons of benefits, it is wise to opt for automation solutions rather than relying on error-prone manual methods of selling online. Therefore, a feature-rich ecommerce integration solution will ensure you target the right customers and the order is delivered on time.
Remember, you won't like to find out while you are in a dilemma about choosing and your competitor opted for it to gain a competitive edge.
Hence, he will be ahead of you in the below manner
Expand his product visibility. Therefore in better condition to reach your potential customer before you
Be in a strategically advanced position to meet the demand surge during the festive season. As a result, you will scale the business to the next level with minimal efforts Delivering a seamless shopping experience consistently
Increase Your Customer Convenience, and Customer Will Increase Your Revenue
Yes, there is no denying that convenience plays a vital role in making a deal happen. Here are a few solid tips to win your customer's trust.
A user-oriented web interface with hassle-free navigation is necessary. It ensures customers are not lost on your website and can locate the required products in less time.
Keep your product page as detailed as possible. It is one of those that can't overlook factors that are decisive for customers to complete the purchase.
Image credit: thegood.com
Payment modes hold high importance in Southeast Asia ecommerce. People in this region prefer mobile wallets and BNPL (Buy Now Pay Later) as their top favorite payment methods.
A decrease in cash usage in the region is creating an apt environment for the rise of digital payment
As a result, you will be able to facilitate a smooth shopping experience.
What Do Customers in Southeast Asia Consider Excellent Shopping Experience
Knowing the new metrics in customer shopping behavior that have emerged recently unveils new dynamics that will help in enhancing the shopper experience.
What Turn's On Shoppers For Online Shopping
Time Saving – 76%
Competitive Price 65%
What Turn's Off Shoppers About Online Shopping
Late Order Delivery 55%
High Shipping Fee 57%
Smooth navigation and clear product specifications are the two vital factors influencing customer purchase decisions
Livestreaming is the concept of making online shopping feel closer to brick-and-mortar shopping. Leveraged by popular marketplaces has been wholeheartedly loved and appreciated by customers for enabling an immersive experience.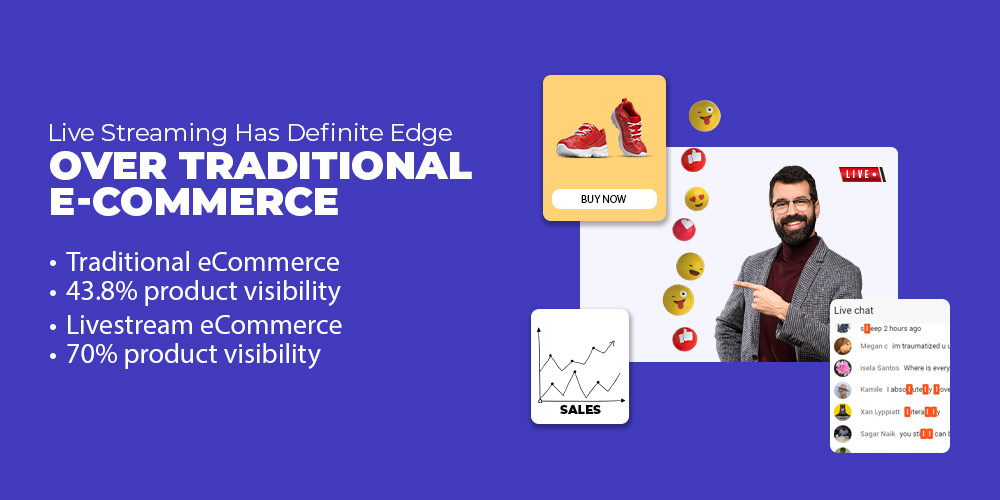 The Pro Tip: Be An Early Adopter of Live Streaming To Pitch Your Products in the Most Impressive Way To Date
Singaporeans Are Committed To Help Local Businesses
Nearly fifty percent of Singaporeans are determined to support local businesses over others to help them rise from the wrath of the pandemic. Hence, Sellers from Singapore must seize the opportunity to target consumers in their own country who are likely to convert considerably easier than others.
Malaysian Shoppers Are Motivated By Below Towards Online Shopping
It saves time and cost
Flexible payment options
Widest product range
Fast delivery service
Scenario 1: Customer and Seller Both will Increase
Those who recently started online shopping in Malaysia expect rewards from the brand they opted for. Therefore, new user vouchers are a lucrative option to woo Malaysian customers in your ecommerce store.
The aforementioned tactics to enhance conversion rate are not just an option but to be leverage as an opportunity to beat the competition.
Yes, Malaysians' interest in searching how to sell online grew by 65% more than before. It is indicative that some new sellers will also onboard various marketplaces in Southeast Asia.
Leveraging the above insights will help you peek inside the mind of Malaysian customers. Moreover, knowing the trigger factors help you frame a personalized strategy instead of relying on a generic one.
Scenario 2: Order Tracking is On The Rise in Southeast Asia eCommerce
The most striking thing to notice is a meteoric 4000% rise in the search volume for keyword best express tracking. Therefore, delivery time being the biggest pain point can make or break a deal for the shoppers.
As a seller, one can opt below methods to optimize the delivery time. Moreover, it helps his ecommerce store emerge as a trusted player for timely order delivery.
Keep your high-demand products in multiple warehouses. Hence, you can ensure timely and cost-effective deliveries.
If your customer base is largely international, choose at least one warehouse close to the port.
Partner with local last-mile delivery services. Because, they best know how to make courier deliveries in the shortest time.
Inform delays due to inevitable reasons well in advance. As a result, it reduces customer frustration.
Summing It Up- Right Approach Can Win Customers in Southeast Asia Despite Hurdles
Adhering to the above practices equips you with the emerging dynamics of customer behavior in Southeast Asia.
Moreover, you gather insights necessary for optimizing your resources to drive superior performance. As a result, it will position your business to create value that will give you an edge over your competitors.
Hence, once you are ahead of competitors, your business will be the customer's first preference.