How to prepare your store for the Chinese New Year 2022?
Running short of time? Get PDF of the blog in your mail.

Play Now
Regardless of the ongoing disruptions in the last couple of years, China continues to ride a surge in eCommerce demand. The revenue share of the Chinese eCommerce market is projected to reach US$1,535,304m in 2022.
Moreover, with an annual growth rate of 5.02%, this revenue share can result in a projected market volume of US$1,778,222m by 2025. While the number of eCommerce users is expected to amount to 1,230.4m users by 2025, China proves to be an important market that plays a crucial role in balancing U.S. imports and exports. If you are a dropshipper or happen to ship your products from the Chinese market, you must prepare your eCommerce (/dropshipping) store for the upcoming Chinese New Year.
A glance at Chinese New Year 2022
The Year of the Tiger starts on February 1, 2022, also referred to as the Spring festival or Lunar New Year. You will be glad to know that this is celebrated throughout much of Asia, and more than 20% of the world population celebrates this festival. With over 500 million workers travelling across the country to visit their hometowns, it is also known as the "world's largest human migration. The Chinese New Year not only points towards people in China going on holiday, but it also redirects you to plan early to avoid delays that could affect your yearly sales.
It is said that the Chinese New Year may further disturb the global supply chain as shippers and warehouses in China suspend services for the holidays earlier than usual. With a public holiday running from January 31 to February 6, factories, shipping, and shops shutdown which means:
Manufacturing is halted for one or two weeks before and after Chinese New Years' Eve. Suppliers and warehouses start to wind down operations one to two weeks in advance.
Getting operations back to normal can mostly take up to a month.
Chinese New Year Shutdown timeline 2022
Over the last few years, China has become a powerhouse in product development and manufacturing. It is now known as the world's factory because of the sheer number of manufacturing operations in its territories. Below is how the Chinese New Year Shutdown will look like:
Mid-end January: Employees begin leaving the factories.
January 31: All employees have left the factory.
February 1: Chinese New Year.
Mid-February: Employees begin arriving back at the factories.
February 21: Most employees have returned.
February 28: Operations are almost back to normal.
Hence, no new products are manufactured, and no packages can be shipped to your customers during that time. Primarily, the whole country is put on pause. We've put together specific survival tips and resources to help you prepare, prosper, and do well with your dropshipping store during the upcoming months.
OFFER ALERT: To enable merchants to sell freely, CedCommerce will be running a discount of 15% on all its SEA integration plugins starting February 1st to 15th of February, during the Chinese New Year 2022.

You can use the code: CNY15 to avail the offer (please note this code shall be active from 1st of Feb'2022). Reach out to us if you want to claim your offer before 1st of February at: business@cedcommerce.com.
How should you prepare for Chinese New Year 2022?
Get in touch with trusted suppliers – JD.com.
While most of the factories in China will be going on Chinese New Year vacation within a week and will not be back to operations until the second week of February. You will probably need a supply chain / logistic solution to secure your business. The good news is that our strategic partner – J.D. Sourcing, part of JD.com, China's largest retailer – can help keep your business running during the Chinese New Year supplier shutdown. Their logistic network will still be running throughout the holiday, with only a few days' expected delay. Here are two ways to keep your business running with J.D. Sourcing during this period:
Sell US Stock – these will all ship like normal during Chinese New Year
J.D. Sourcing has ~450 products currently in their U.S. warehouses, including high value, hard to find categories, like consumer electronics and appliances. Products have all been vetted by J.D. and shipped to U.S. customers in 2-5 days.
You can see how to search through J.D.'s U.S. inventory by searching the keywords [US Stock] in this video:
Move inventory for your best sellers to J.D.'s warehouse before the shutdown starts:
To keep selling your best-selling products, you can work with J.D. to move inventory to their warehouse now – here's how: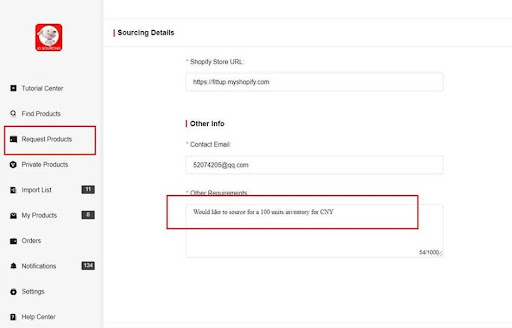 Submit your request in "Request Products" before the end of day Monday, January 17, to have the best chance of sourcing your product before suppliers go on break. Some suppliers are already on vacation, and J.D. Sourcing will do its best to support our merchants.
Remember to include these details in your request:
Product name (URL preferred) and variants you want to stock
The total number of pieces you want for each product variant
How it works:
You will pre-pay 100% of the product cost for requested pieces, and then J.D. Sourcing will purchase requested inventory
Products will be held in your J.D. Sourcing Private Product Zone so that no other merchants can sell it
If you still have leftover inventory after February 28, J.D. Sourcing will offer the option to refund up to 30% of the remaining stock and allow other merchants to sell them
If you haven't already checked out J.D. Sourcing, register an account here, and then to connect your store.
Submit a request today, and the J.D. Sourcing team will contact you ASAP with feedback on your request.
Automate your eCommerce operations
Ensuring your inventories are up to date and well-synced can sometimes be tiring. Moreover, when you are handling all your eCommerce operations manually. Fortunately, at CedCommerce, we help you get through all your ecommerce activities in an automated manner. Explore our wide range of solutions that can help you avoid overselling and underselling and keep you informed through real-time notifications about your inventory levels.
How to deal with last-minute delays?
Highlight shipping delays with details using the sticky bar on your store homepage.
Pause your advertising campaigns on items you fail to store in the warehouse.
Be prompt in responding to customer queries.
Avoid Platforms where sellers are resellers. They don't have loads of stock available with them.
Share tracking code to help customers locate the order during transit. It will keep them calm.
Prepare for post-holiday hiccups. Expecting everything to go back to normal by February 7 will be a myth.
Now that you are well-versed with supply chain providers and automating your eCommerce operations, it is time for you to kick start with the Chinese New Year preparations and amplify your conversions.
Happy Chinese New Year!