Discover the Most Popular Products of 11.11 Singles Day 2020
Running short of time? Get PDF of the blog in your mail.

Play Now
The end of 2020 is here, and so is the holiday season. Singles day is fast approaching, and it's high time for you to start preparing for the sales with your most popular products. As per the statistics, in 2019, the Gross Merchandise Value (GMV) of Alibaba during 11.11 raised about $2 Billion in just 2 Minutes. This year as well, the expectations are higher than ever before due to the pandemic and isolation. Shopping season brings an opportunity to get your best selling products in front of your potential customers and lets you earn recognition among the others. The best strategy is to adopt a systematic approach to bring your best selling products into the limelight. Sell what people are buying. Find out what are the most popular products that people buy on Singles Day sales.
Shopping extravaganza has begun, and with it, customers and merchants are looking forward to making the best out of this year's Singles Day. Thus, the holiday season is the best time to increase your sales and earn more revenue.
11.11 is one of the splendid shopping festivals in Southeast Asia as merchants start preparing their stores from mid-October to get their high in demand products listed and increase their market potential.
Stay aware of what popular products are in demand by customers and plan your marketing strategies accordingly. Let us look at the best selling products of 2019.
The Best-Selling Products of 2019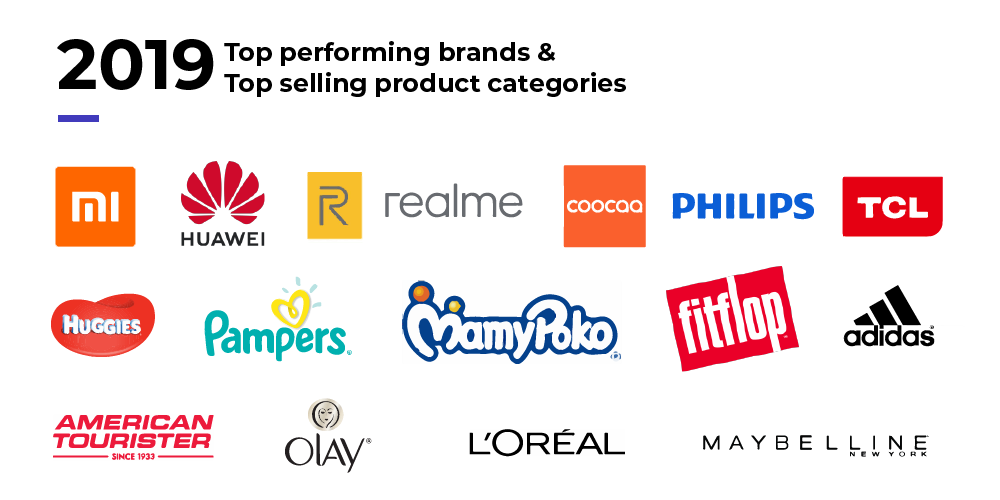 Alibaba's Singles Day 2019 broke the records by selling goods worth $38.4 Billion. The high demand products sold in the 11th edition of the Singles Day are electronic gadgets and fashion items.
Shopee is one of the leading marketplaces in Southeast Asia, which recorded sales of 70 million items from the 11.11 Global Shopping Festival 2019. The top-performing brands included Maybelline, Unilever, Pampers, and Globe.
Shopee bestsellers during the 11.11 included Mobile and accessories, Women's Apparel, and Home and living were the top-selling product categories among the shoppers.
During Shopee 11.11 Big Christmas Sale, the top-selling items included phone cases, power banks, and face masks. Among male shoppers, jogger pants and earphones were the most demanded items.
Shopee and Lazada are the trendsetters in Southeast Asia, making a wide variety of products being projected and sold.
Being well aware of the leading brands and top popular product categories of 2019, plan your products accordingly to get your best selling items in the limelight and improve your sales this Singles Day!
With better deals and innovative ideas, merchants are ready to surprise customers this Singles Day. Since merchants were able to exhibit their most popular products before the main event of November 11, let us look at which brands and products are in high demand.
Most Popular Products from First Sales Window of Double 11, 2020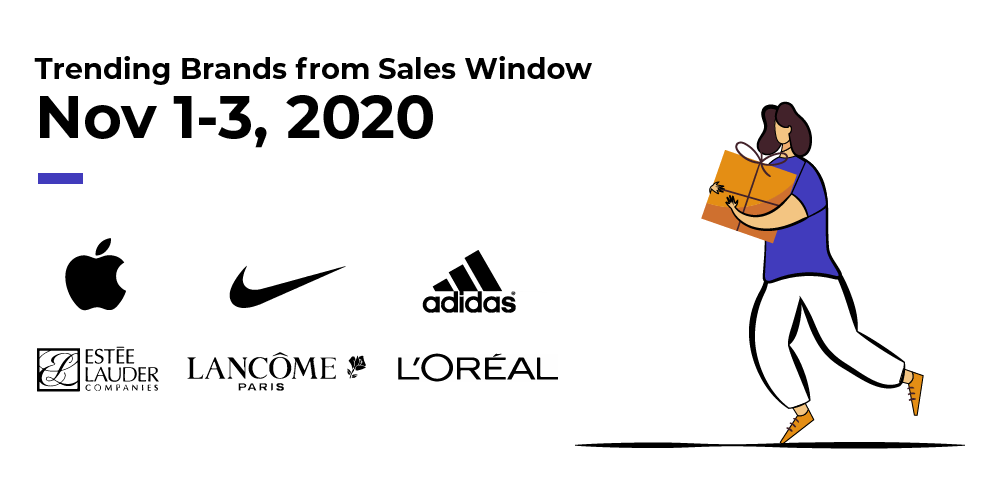 In its 12th year, Singles Day is all set to break the records of the previous year. This year, Double 11 will be massive as this time, merchants will showcase their products not just once but twice.
The main idea behind the two shopping windows was to increase support to merchants affected by Covid-19. 
Alibaba reports the substantial success of the first sales window, from November 1 to 3, 2020, along with a sneak-peak on what international eCommerce platforms have planned during the festive sales of 11.11. Let us have a look at the most in-demand products and categories of this year's Double 11.
The trending brands for 2020 include –
Over 100 brands achieved RMB100 million in Gross Merchandise Value(GMV) within 111 minutes into the first sales period.
The top brands included Nike, Adidas, Apple, L'Oréal, Estée Lauder and Lancôme.
Beauty items remained the most popular products, which generated more than RMB10 billion in GMV.
The first to exceed RMB1 billion in sales during 11.11 was Estée Lauder's Tmall flagship store.
More than 1800 brands surpassed their previous years' GMV on November 1.
The first item to be delivered was the mosquito repellent.
In this year's 11.11 shopping festival, nearly 200 luxury brands joined, among them Montblanc, Piaget, IWC Schaffhausen are the first-timers.
On Taobao Live, luxury brand Cartier hosted its first jewelry show, unveiling more than 400 timepieces and jewelry items.
Within two hours, the Livestream attracted 770,000 viewers.
With such impressive numbers, it is natural to expect this years' 11.11 to be gigantic. The above stats show how excited and enthusiastic customers are and what popular products are in demand this 11.11.
During the festive seasons, marketplaces tend to attract huge audience attention by merely offering discounts and deals, which allows them to gain a considerable profit.
Let us have a look at the fantastic deals that these marketplaces have to offer.
Delights offered by Marketplaces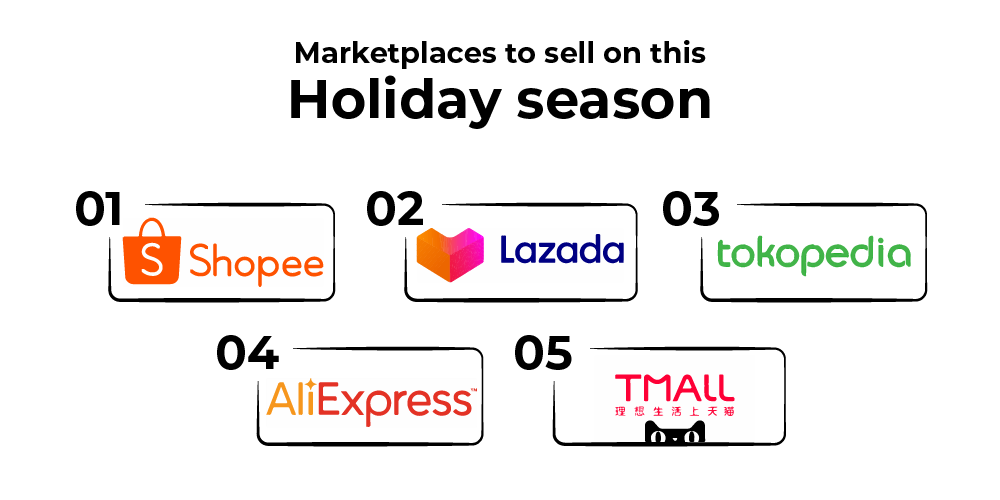 Shopee and Lazada are the leading marketplaces at the times of shopping festivals in Southeast Asia.
A little behind, Tokopedia, and Aliexpress also are the runner ups in this shopping race.
Shopee
The lookouts from Shopee this year includes-
Daily free shipping on a minimum spend of RM 11
Daily 50% off vouchers
Shopee is offering daily RM1 deals.
Get an extra discount by using two vouchers together.
Shopee is hosting 11.11 Big Charity to raise awareness and donations for KidSTART and underprivileged children.
Lazada
Lazada is among the leading marketplaces in Southeast Asia, which offers a wide range of offers and entertainment features.
It offers 11 Million vouchers and 11,000 exclusive deals this Singles Day.
LazMall offers up to 90% off on its top brands.
Taobao offers up to 80% off plus coupons on toys and games, sports and outdoors, etc.
Lazada Malaysia promises to deliver products within 24 hours.
It is providing an 11x money-back guarantee as well.
Aliexpress
With Aliexpress, brace yourself for some impressive aspects-
Aliexpress offers discounts up to 70% off on millions of items.
It provides huge discounts on jewelry and watches, Home and garden, sports and entertainment, and many more.
Keeping these marketplaces in mind, merchants can take their business online and sell their best products with these marketplaces to gain surplus during one of the most significant sales.
Ease the process of selling by automating your stores!
These festive times can be a lot tiring and hectic, and automatically managing stores can be a sort of relief.
With our integration facilities' help, you can automate your stores in no time and enjoy the festive sales with much more enthusiasm. Improve your sales by automating your stores with our integration facilities, which helps you –
Uploading products in bulk in a single click.
It helps in real-time inventory synchronization.
Listing products as per their categories.
It facilitates managing orders centrally.
With these extensions, experience flawless multi-channel selling and improve your sales this festive season and beyond!