Amazon Seller Ratings: Defining Factors and Tips for a 5-star Rating in Q4 2021
Running short of time? Get PDF of the blog in your mail.

Play Now
Seller rating is a tool to carve your credibility with your customers as a seller and help them avail a premium shopping experience on Amazon. These ratings surely help sellers create a good reputation with buyers, and most of them know this. But the hard part is to get a premium rating on Amazon based on which you can even win a Buy-Box, and eventually escalate your sales in leaps and bound.
Now let us expand our understanding of seller ratings first before we dive deep into the factors that can help you earn a 5-star seller rating,
Understand the Seller Ratings on Amazon in detail
Seller ratings are overall performance reports of the merchants and third-party sellers on Amazon based on varied factors that ensure a quality service. These factors include seller communication, quality of service, delivery time, ease of refund and return, and whatnot. These parameters help the customers to opt for a more trusted and reputed seller for making a purchase. When these top-performing sellers deliver expected services, they tend to create more sales and better customer satisfaction.
Amazon ensures that you, be given ample time to prove your worth as a seller, so for the ratings, the orders from the last 365 days are assessed. Usually, the seller rating is defined on a numerical scale of 0 to 100, where 100 stands for an ultimate service that ensures a good customer experience whereas, 0 stands for an absolute worst performance. These ratings influence a buyer while making a purchase and ensure quality with the buyers.
Difference between a Seller Rating and a Feedback
It is imperative to understand that a seller rating is way different than the feedback. While the former is the rating provided by Amazon based on varied metrics that denote quality service, the latter talks about the feedback shared by the customers directly in the form of remarks based on their experience. Customer feedback on Amazon plays a significant role in deciding the seller ratings, but it is not the only factor for reaching that score.
Following are some rating metrics that come forth when discussing the performance of sellers. Let's know more,
On-Time Delivery: This metric defines the frequency with which you deliver your orders as per stipulated time.
Order Defect Rate: This is the number of defective orders divided by the total number of orders.
Valid Tracking Rate: How frequently do you include the order tracking shipment information with your customers.
Refund rate: A higher refund rate reflects more dissatisfaction among your users.
Late Shipment Rate: This metric defines the frequency of shipping your orders late.
Negative Feedback Rate: The frequency with which your customers review your products and services negatively.
Perfect Order Percentage: This defines the frequency with which an order is delivered with 100% frequency.
Late Response Rate: This metric defines the quality of customer support you offer to your customers.
Pre-fulfillment Cancellation Rate: How many times you run out of inventory.
Return Dissatisfaction Rate: This metric defines the frequency of inaccurately processed returns.
Though these metrics are pivotal in achieving a good rating for the sellers but working on a few can also bring exponential growth in your business and ratings.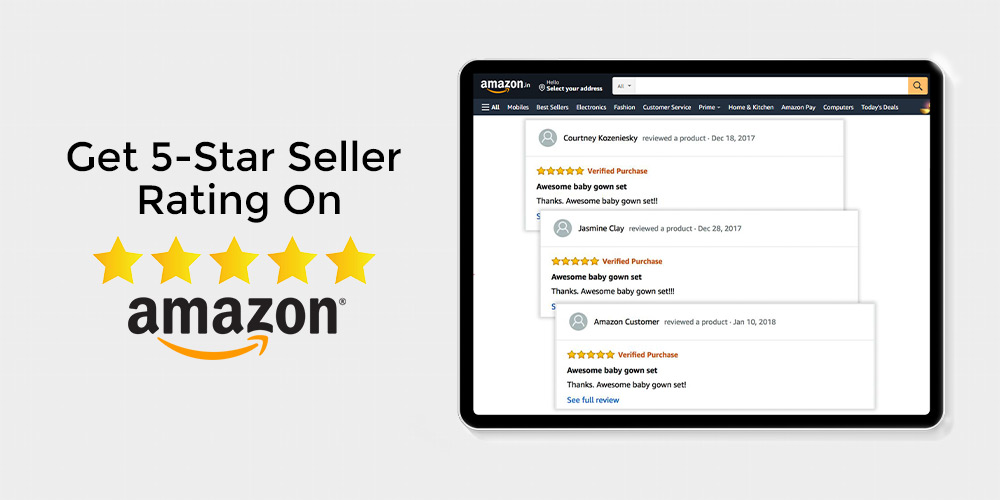 Importance of a Good Seller Rating on Amazon
A good seller rating can act as a pivotal aspect for the success of your business. It will not only give you an edge over your competitors but will also help you build trust with your customers. The other benefits are mentioned below,
Improved relationship with Amazon

Having a good performance score will strengthen your relationship with Amazon. This will, in turn, lead to better exposure and opportunities in the future. Also, a positive seller rating means you are a good seller and ensures customer satisfaction, which is a priority with Amazon.

Influences Buy-Box position

A good seller rating increases your chances to win an Amazon Buy-Box. Thereby, establishing you as an authentic and top-performing seller and also escalating the sales exponentially. Though different parameters define your eligibility, a good feedback score is indeed a bonus.

Adds business value

In the highly competitive marketplace of Amazon, trust is the key factor that bridges the gap between the sellers and the buyers. When choosing between multiple sellers, shoppers prefer the one with a better rating only.

Improved conversions
A good seller rating will eventually lead to a high conversion potential along with a reputation as an authentic seller.
6 defining factors that affect your Amazon Seller Rating
On Amazon, it's still unclear as to how these rating function but we have a basic understanding as to how they are calculated. Each order that you fulfill as a seller on Amazon, grades your performance based on the following metrics,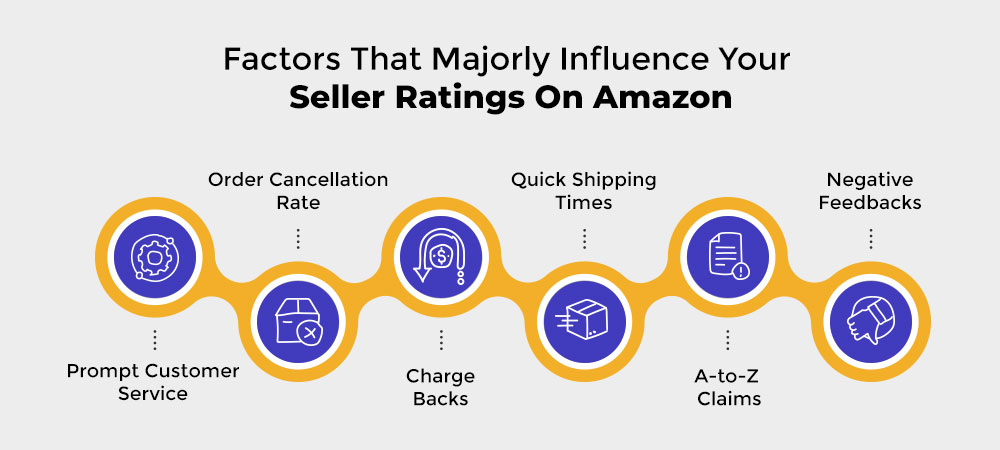 1. Prompt Customer Service
The longer you'll take to respond to your customer's concerns and queries, the chances of you losing points on these ratings will increase as well. It will also lead to dissatisfaction among the buyers and will affect your sales eventually. So make sure to communicate back at least 24 hours and retain the trust of your buyers.
2. Order Cancellation Rate
You lose points if a buyer chooses to shop with you and cancels the order after confirmation. This factor affects you adversely at both ends, be it losing on a sale or falling seller ratings. Though there can be different factors, like, late response time, negative product reviews, etc driving your ratings from the back end, you still need to offer the best of your products and services to give your shoppers a satisfactory shopping experience.
3. Quick Shipping Times
It is essential to promise what you can deliver. So, always mention a shipping time that you can meet in reality, considering different factors that can cause a lag. Provide a shipment tracking code on order confirmation and communicate responsibly with the shoppers in case of any delay. A customer can wait for a delayed order, but poor communication ruins the seller's reputation for a long time.
4. Chargebacks
Many shoppers feel conned by the sellers when applying for a refund or order cancellation. In this case, they reach out to their bank or credit card company to report a fraudulent transaction. Many factors can contribute to a chargeback, also known as 'charge disputes' or 'reversals'. But as a responsible seller, you must ensure a trusted and foolproof buying experience for your customers.
5. A-to-Z Claims
The above factors carry different weightage in deciding the seller rating, but the A-to-Z claims play a significant role in the whole game. Amazon is strict when it comes to customer issues and has zero tolerance for serious concerns. These claims are penalized more heavily than the other issues like late shipment, as it directly affects the overall credibility of the marketplace.
6. Negative Feedback Rate
This metric is an internal measurement method of Amazon which is not visible to its customers. Here, all the orders with negative feedbacks are taken into consideration divided by the total number of orders. If the percentage score achieved is between 0 to 2, that seller is considered a top seller on Amazon. Though, a score of 5 or more is considered a worrisome seller. Amazon pays serious attention to negative reviews as it directly hampers the site and questions its credibility.
Quick tips to become a 5-star Seller on Amazon
Having good seller ratings and feedback will always help you reach faster to your customers than your peers. Your services will make them happy and in turn, will lead to more purchases. Find out some proven tips to make your feedback scores even better,
Communicate proactively

Studies have reported that sellers who take more than 24 hours to resolve customer complaints are more likely to receive negative feedback on Amazon. A prompt and quick response will always reflect your sincerity and dedication towards your customers. And buyers acknowledge that.

You can also, implement CedCommerce Amazon Integration tools for a flawless selling experience.

Set updated competitive pricing

Product prices are the second most prominent factor, after customer feedback, that can affect a sale. People tend to choose a quality product but at a lower price. So, it's highly important for you to set your pricing as per market trends for better seller reviews.

Deliver premium packaging

As the proverb goes, 'Your first impression is your last impression, most of the customers like a good packaging of the received orders. It shows them that you care about their orders. A decent packaging can bring in more sales based on this factor alone. So make your packaging clean and decent for better seller ratings.

Timely logistics delivery

After the confirmation of the order, customers want their products to reach them as early as possible. A delay of any type turns off the excitement of the buyer and can result in a poor rating. As a seller, try to deliver the orders on or before the promised timeframe. This will help in gaining trust and customer loyalty thus resulting in positive seller feedback on Amazon.

Hasslefree refunds option
In case of a return or refund, ensure a professional and quick action plan to make the refunds to your customers. In case of a delay, a dissatisfied buyer can write a seriously negative response which can hurt a lot and result in poor reviews on Amazon.
Good cataloging & accurate descriptions

Writing accurate product details with engaging, high-quality images that depict the product exactly in real-time, is the best effort you can make to influence the herd mentality of customers. When the customer finds the exact product and functionality as mentioned on the product page, trust builds between the seller and buyer in a moment. You can also, cater to their common questions related to product usage and functionality on the details page. This will create transparency with the customer and will result in better seller ratings.

At CedCommerce, we bring you a simple and effective Live Listing tool to reduce the hassle to manage the listed products easily on Amazon.

Take customer feedback seriously

Customer feedback is a make-or-break parameter for your online reputation. 87% of the buyers prefer to review feedbacks on Amazon before making the final purchase decision. Be proactive and be ready to deliver as per the genuine inputs from the customer end. This will help you improvise your services and build a comfortable bond with your customers.

Maintain rich inventory
As a seller, you should always keep surplus inventory to cater to the orders, especially during peak shopping seasons round the year. A buyer can get disheartened by seeing the product unavailable at the time of purchase. This can directly affect your sales as well as your reputation. You can also, opt for Fulfilment By Amazon(FBA) for more calculated inventory management and shipment. Moreover, the products fulfilled by Amazon take less time in delivery and are taken with a positive mindset by the customers. This will eventually make your position stronger and will lead to impressive seller reviews on Amazon.
Boost Your Sales With Effective Listings.
Conclusion
As we can understand by now, that creating a solid seller reputation on Amazon is a consistent process and takes time. But the rewards are worth the efforts and will eventually improve your business reputation over time. So explore one metric at a time and ensure perfection on every single order in terms of quality and support. Incorporate the best practices for a positive and rewarding feedback cycle and win the crown of a premium seller with a 5-star seller rating.