7 Reasons Behind Why Small Businesses Online Fail Miserably
Running short of time? Get PDF of the blog in your mail.

Play Now
Apple started as a small business, so did Amazon. And both are creating history from time and again. It took a significant amount of hard work, vision, and compromises to shift from a garage to Silicon Valley! But do all ventures relinquish the same growth? NOT. Some businesses fail miserably, while some take years to expand. Why do small businesses fail? What can be the reasons for failure even after having a sellable product? 
This article compiles seven valid reasons why small businesses fail. If you manage your eCommerce business with Shopify, you can hire experts to improve, optimize or revamp your business. With some help from Shopify experts, you can eliminate the risk of failure. 
How? Let's find out. 
Why Do Small Businesses Fail?
It will be cliche to mention why small businesses fail and not give a viable solution to overcome the hurdle of failing. Whatever we put forward will also have an achievable solution attached to it. 
Reason 1: Small Businesses Don't Have a Website –
For customers, the internet was a way to stay connected, entertainment, and shopping. Whereas for brands, the internet turned out to be a synonym for communicating with their target audience. One primary reason small businesses fail is that they still don't realize the actual value of the internet and online modes of retailing! 
The Solution – Before we bid farewell to 2021, here is the key takeaway – The internet is not just a service. It is a way of life with a myriad of opportunities!" 
It is neither too late nor too early to take your small business online. With Shopify, the transition from offline to online is significantly streamlined. Do you manage a small business offline? Why don't you talk to an expert and discuss taking your venture online? 
Reason 2: Outsourcing Way Too Much –
What should you be outsourcing, and what should you do by yourself? The answer to this question can make or break your venture. Outsourcing too much or doing everything yourself is the 2nd most significant reason small businesses fail miserably. 
How to draw the line between what should be outsourced and what you should be doing by yourself?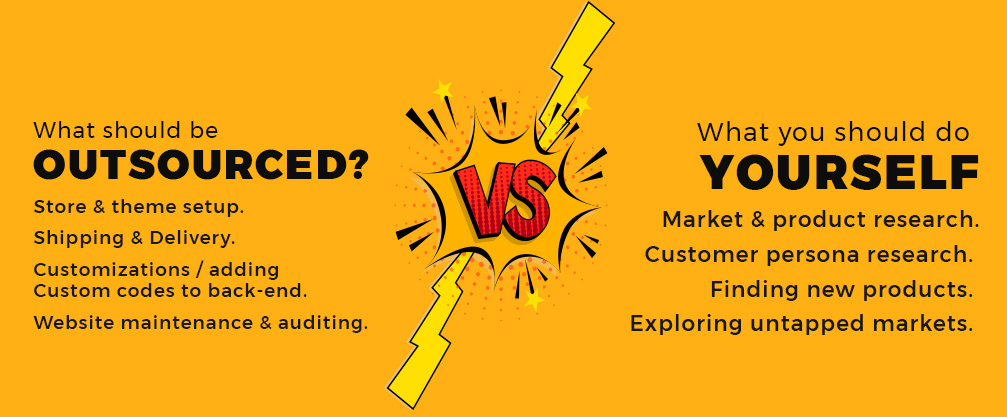 The Solution – The image above should give you a rough answer to the question. Think and act like an entrepreneur. They never struggle to add codes and maintain their websites. Instead, they are more included in partnerships and expanding their small business.
As an owner, you need to build a concrete base for your small business. Once done, you can outsource things that are recurring in nature. You can take help from Shopify experts and delegate website maintenance, optimization, bug checks, and focus on how to grow your small business online (rather than struggling with what went wrong today?). 
Reason 3: Starting a Business Without a Concrete Vision –
According to the Small Business Association, over 627,000 small businesses kick start their operations each year, but approximately 595,000 businesses close the same year. The remaining 32,000 enterprises can witness their first year of operations! 
One primary reason small businesses fail at nascent stages is that they lack vision, mindset, and a roadmap for the future proceedings. 
The Solution – To make the odds fall in your favor, here's what you need to do – 
A lot of brainstorming. 
Scribble plans (on tissue papers, online whiteboards) and shape them into reality. 
Hire loyal, hardworking, and intelligent people. 
Work more than the regular working hours. 
And most importantly, believe in your idea!
Getting help from Shopify experts is not synonymous with success in your small business. If you lack vision, and if you're clueless about how to take things forward, then this might be the reason why your small business failed (even after getting help from industry experts). 
Reach out to our team, who would love to be a part of your small business's brainstorming, planning, and strategizing phase for your small business. 
Reason 4: Poor Market Research –
If you sense an untapped opportunity and the next day you're setting up a small business, then you might flunk anytime soon. Poor market research is the reason why small businesses fail miserably! 
As a budding entrepreneur, you need to spend considerable time researching the market, customer sentiments, and products. You need to make sure that the market where your customers are and where you want to establish your small business happens to be one.
The Solution – Market research is the preliminary research that decides the foundation of your business. Before preparing mouth-watering barbecue cuisine, you heat the barbecue, gather ingredients, oil, and spices. 
In the same way, the success and impact of your small business will depend on how much time you have spent doing your research work. Do you have a plan ready, and you're still in doubt if it supports what happening in the real world? It is now time to get help from a Shopify expert who will assist you in understanding your business and its hidden potential. 
Reason 5: Insufficient Funds –
Irrespective of the size of a business, every venture needs funds. Only a fool will say that you don't need many funds to start your business online!. To scale up your venture and dominate your competition, you need funds from time and again. 
If you have started a business without proper planning of funds, then it might be the reason why it failed before it could witness growth.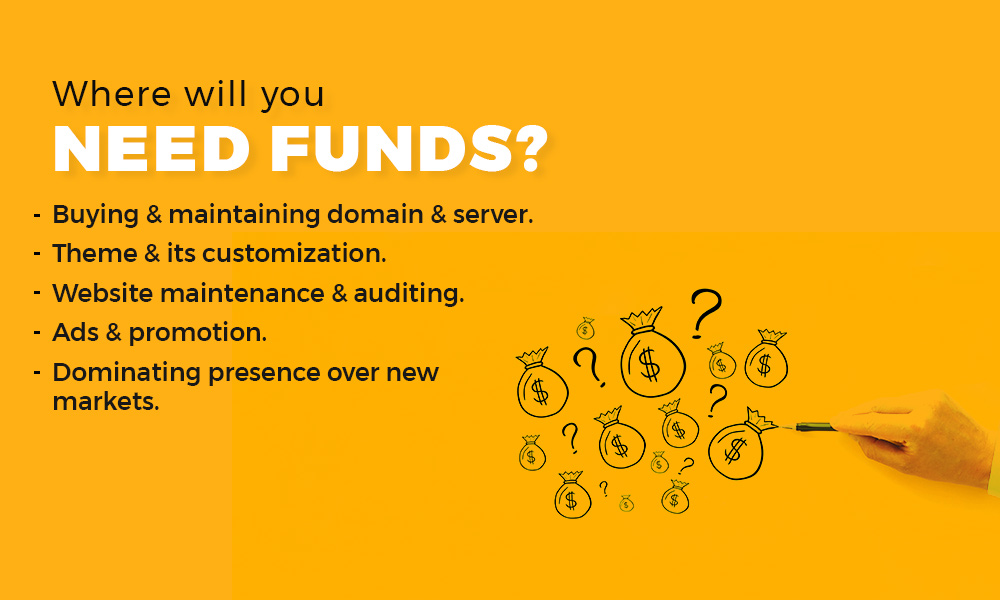 The Solution – Make sure to collect outstanding invoices and avoid bad debt that you have sufficient cash at hand and the at the bank From daily expenses to marketing and promotion budget – it is better to allocate your costs and keep an outflow of your funds. Shopify Capital is a fantastic way to help small businesses. You can apply for loans between $200 to $2,00,000USD to fund your small business. 
Reason 6: Lack USP –
A unique selling proposition or USP is the essence of what makes your business better than your competition—not figuring out the USP or being unable to communicate the same to your target audience. Both can be the reasons why your small business might fail to capture your customer's attention. 
The Solution – Take time to formulate key USP(s) of your business. Your business might be small, but the USPs make it big. Once you have figured out USPs, keep talking about them uniquely. 
Social media, blogging, running ads, copywriting. These are some common ways of communication with your customers on the internet. But if used wisely, you can come up with an uncommon communication strategy that will hook your customers instantly! 
Reason 7: Neglect the Power of Digital Marketing –
If you are taking your business online (no matter how small it is), you cannot ignore the power of digital marketing. Since digital marketing is itself a universe of subtle elements, novice entrepreneurs are baffled when they explore its depths. 
From utilizing digital marketing tools to implementing strategies, your small business's success (or failure) will directly depend on how easily you leverage the power of digital marketing in your venture. 
The Solution – To begin with, figure out what digital assets you need during the foundational steps. Then as you progress with your online business, keep utilizing various tools, and tactics to gain authority over your competitors on search engines. 
Once you are done with the foundational steps, you can help Shopify experts who will assist you as and when required. But to do that, you need to understand your business as no one else does. And communicate the same to the experts. 
Remember that getting help from Shopify experts for your small business is not a magic trick. Experts are helpful to your business only when you are clear about what you need them to do and the things that require a push from their end. 
Where to Find Shopify Experts for Your Small Business?
Do you know what's the second-best thing about Shopify? Under one roof, you will get everything you need for kick-starting your small business online. 
The first best thing is that you can get help from Shopify experts who will assist you in building your online store, optimize it with Google's guidelines and promote your business on the internet in the most creative ways. 
Searching for the best Shopify experts might land you to the agencies that merely claim to be the best. But if you're looking for someone who is the best in what they do, then CedCommerce (as Shopify experts) is there to unleash the true potential of your small business. 
Summing Up –
So these were seven solid reasons why small businesses fail even after having a potential product. Starting a small business might be easy, but scaling up is not. Keep in mind these seven reasons and keep on eliminating them from your venture. 
For anything else, you can get help from Shopify experts – your friendly assistants!