How to write a good eBay title and description for products?
Running short of time? Get PDF of the blog in your mail.

Play Now
eBay is a massive e-commerce marketplace with many competitors for a single product category. You must keep a few basic things in mind to beat the competition as a seller on eBay. To make a person buy your product, you must understand how to write a simple and easy-to-understand eBay product description and title. To excel as a seller, you must write a good Title and Description. Learn everything from square one, which includes answering questions like what is eBay Product Listing?, What is a good Product title and What are the critical elements of a good product description?
Any product's eBay product description and title effectively show a clear picture in front of buyers, increasing your chances of making a sale. Your eBay product description is an advertisement for the item you're selling. It is an opportunity to inform and excite buyers to look at your product.
What is eBay product listing?
Still, trying to understand what is eBay product listing about. Let's begin with the basics. When you upload your product's information (like the price, descriptions, and offers), that's called a listing.
The eBay product listing consists of two crucial parts. The first is the eBay product title. It tells the name and category of the product you have listed on the marketplace. The second part is the eBay item description. This part includes your product's details like the sizes, variants, warranty, and other specifications.

Understanding eBay's Item Description Policy
According to eBay, it's essential to accurately describe your item in the listing to avoid misleading buyers.
Your item description must be accurate. So you must select Item Condition that accurately matches the item. Ensure it is consistent throughout the eBay description, title, and item specifics. Also, you need to refrain from using special characters or symbols and confusing or unclear titles or subtitles.
When item specifics are required, fill them out completely and accurately. Also, you need to make sure that you avoid using inaccurate information."Does not apply," unbranded/generic, or "N/A" should not be used for required product identifiers primarily when the manufacturer has provided that information for the product. Moreover, include information specific to that field and avoid including terms in the wrong area.
If you create a listing using the eBay catalog, ensure the product details match the item precisely. Additionally, list your item in the correct category and use the eBay site's primary language (use the appropriate language for the region) where the item is listed. Also, you should include pictures and videos in your description wherever you can.
How to write a good title and description for eBay?
Here are some basic rules on how to write good titles and descriptions for eBay–
Use descriptive keywords to convey what you're selling accurately. You can use approx to 80 characters.
Avoid the use of multiple synonyms and avoid plurals.
Include the details like spelling; words should be accurate and correct.
Include the item's brand name, and artist, in the eBay title of the product.
Incorporate item specifics. For example, add size, color, and condition.
Describe exactly what your item is, even if your eBay title repeats the category name.
Talk about the original packaging if your product comes with it.
When selling pre owned products, mention the wear and tear if it has any.
Example of a good title and description for eBay
Apple iPhone 5 (Latest Model) – 16GB – White & Silver Smartphone
A slim and stylish design makes the Apple iPhone 5 lightweight and easy to carry.
The phone is four months old and in excellent condition.
Rechargeable Li-Ion Battery
Comes with a charger and screen protector.
Up to 480 minutes of talk time
4-inch Retina display with a resolution of 1136 x 640 pixels
Packed with great features!
Source: ebay.com
What's forbidden under the eBay Product and title guidelines
Don't use false or inappropriate information.
Avoid website addresses, email addresses, or phone numbers. The exception is the sale of domain names.
Don't include words like "wow" or "look." Buyers don't search for terms like these.
Never use avoided words like- prohibited, banned, or illegal.
Basic rules for writing eBay product descriptions
The eBay product description is a complete overview of your product. It gives you a chance to attract customers. You must always remember essential points like using complete sentences and correct spelling and grammar.
Prioritize the most important details that buyers need first, such as additional details about your item.
Product-specific information like size, shape, color, age, manufacture date, country of origin, company/artist/author, and notable features or markings.
Tell what's included and the type of packaging.
Everything related to the return policy should be clear.
Write the description as readable as possible.
Example of a good eBay product description
Product Title
Levis 501 Original Fit Jeans Straight Leg Button Fly 100% Cotton Blue Black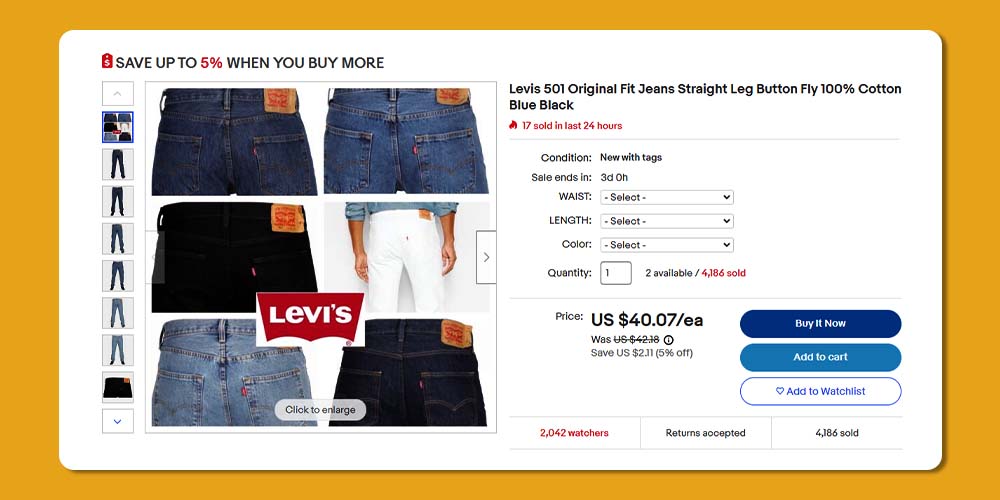 Item Description
Levi's Men's 501 Original Fit Jeans Straight Leg Button Fly 100% Cotton
Button fly closure
Sits at waist / Mid Rise
Original fit
Straight leg
Five pocket style
100% Cotton
Machine wash, tumble dry
Imported
Item Specifics
Condition: New with tags. A brand-new, unused, and unworn item (including handmade items) in the original packaging (such as the original box or bag) and/or with the original tags attached.
Model: Levi's 501 Original Fit
Accents: Button
Country/Region of Manufacture: Mexico
Department: Men
Style: Classic, Straight Leg
Fabric Type: Denim
Product Line: Levi's 500 Serie

What to avoid while writing an eBay product description
Anything that isn't true.
Trademarked logos unless you have permission to use them.
Negative comments.
Prolonged descriptions, and fine print, which buyers may not read.
All caps, multiple fonts and font colors, and HTML. These things can make your listing unreadable on a mobile device.
Repetition of information provided in other sections of your listing.

How to write Good eBay Title and Description – Final Checklist
Say NO to the use of acronyms at all.
Forgo the words like beautiful, elegant, etc. Write product specifics only.
Make sure your eBay title and description are easy to understand and clearly communicate what the product is and its main features.
Capitalize the first letter of each word. Not all letters of a word.
Using 12-16 relevant keywords can drastically improve the CTR.
Include four to seven technical or physical specifications of the product. This can bring in 400% more conversion than the eBay titles with specs less than four.
Utilize the maximum 80-character limit. Earlier, the limit was 55 characters, but now eBay has extended the character limit further.
Focus on benefits, not just features. Remember to highlight the benefits and how it can improve the buyer's life or solve their problems.
Add subtitles to your listings. It is paid, though. Subtitle can cost you USD one per listing. But it gives a 700% better conversion rate than listings without subtitles.
Always take care of spelling and grammar. Wrong spelling always negatively impacts the CTR and, thus, sales. Visibility is heavily affected because of incorrect spellings. Listings with wrong spellings do not appear on the search results.
Use bullet points and short paragraphs for eBay item descriptions. Break up your descriptions into short sections and bullet points to make them easier to read and scan. This also makes it easier to highlight key features and benefits.
Be honest and transparent. Don't exaggerate or misrepresent the product in your description.
Be honest about its condition, features, and any flaws or issues.
Use active voice. Write your eBay description in active voice and use strong verbs to make it more engaging and persuasive.
You can also contact our eBay experts at CedCommerce for queries or support.