What to Sell on Walmart for Halloween 2022?
Running short of time? Get PDF of the blog in your mail.

Play Now
The spookiness is about to begin as it's Halloween on the last day of this month, i.e., 31st October. You must be looking for an answer to what scariness needs to be implemented into your store for Halloween 2022 to make the most of this spooky festival. Well! This blog will answer that for you and tell you about Walmart's top-selling Halloween products.
This year plans to celebrate spooky Halloween are up and may reach the pre-pandemic levels. With the Halloween-related products in your Walmart listings, you can convert this Halloween into a great sales opportunity. So we have come up with some product ideas to help your business on Halloween's fun-filled, scary day.
Halloween and its importance for Sellers
On 1st November, most people in countries like the US, Canada, and the UK celebrate All Saints Day in remembrance of the people who are no more. And a day before 1st November, Halloween is celebrated. On this day, people light bonfires, play tricks and treats, and wear scary costumes and scary masks to ward off ghosts.
Since people celebrate Halloween in full swing with unique costumes, parties, and trick-or-treating, it brings numerous opportunities for sellers to boost their business. According to the National Retail Federation(NRF), with consumer spending of $10.1 billion in 2021, the sale of Halloween-related products is estimated to reach an all-time high figure of $10.6 billion in 2022. Also, the expected per-person spending on Halloween 2022 is over $100. If we look into the category-wise expenditures for Halloween, the total planned spending on costumes, candies, decorations, and greetings is expected to reach $3.6 billion, $3.1 billion, $3.4 billion, and $0.6 billion, respectively. So, with a proper action plan, you can convert this Halloween into a brilliant sales opportunity.
Halloween Products to Sell on Walmart
Halloween is marked and well known for its mysteriousness and spookiness and accounts for billions of annual sales. As a seller, specific spooky and scary Halloween-specific items need to be added to your inventory to make record-breaking sales on Walmart this Halloween. The most important are the ones listed below:
1. Costumes
Costumes are among the top-selling Halloween products on Walmart. People of all age groups need Halloween customers. People wear costumes based on various themes to keep the spookiness of the festival alive.
Also, you can narrow down your costume list based on the latest TV series and movie characters. Ensure that your inventory has it all.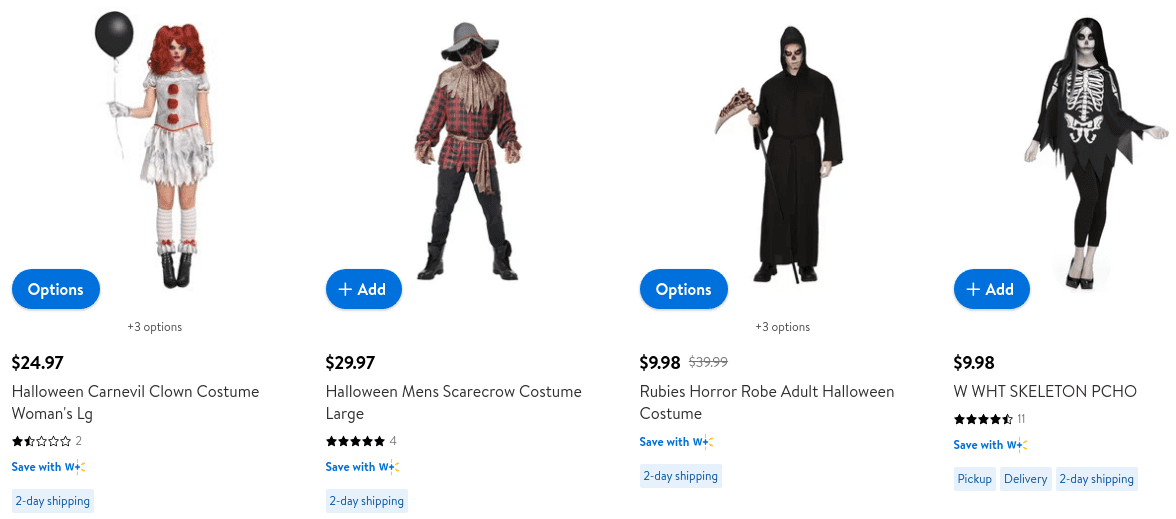 Source: Walmart.com
2. Decorations
Apart from the Halloween costumes, decoration items are a must to make the scariness visible. The range of decorative items is extensive. Ranging from the spider's web to the skull, from scary bats on the walls to magic Ghost, and from inflatable stacked pumpkins to Skeleton, there are countless items that you can incorporate in your inventory to sell higher on Halloween.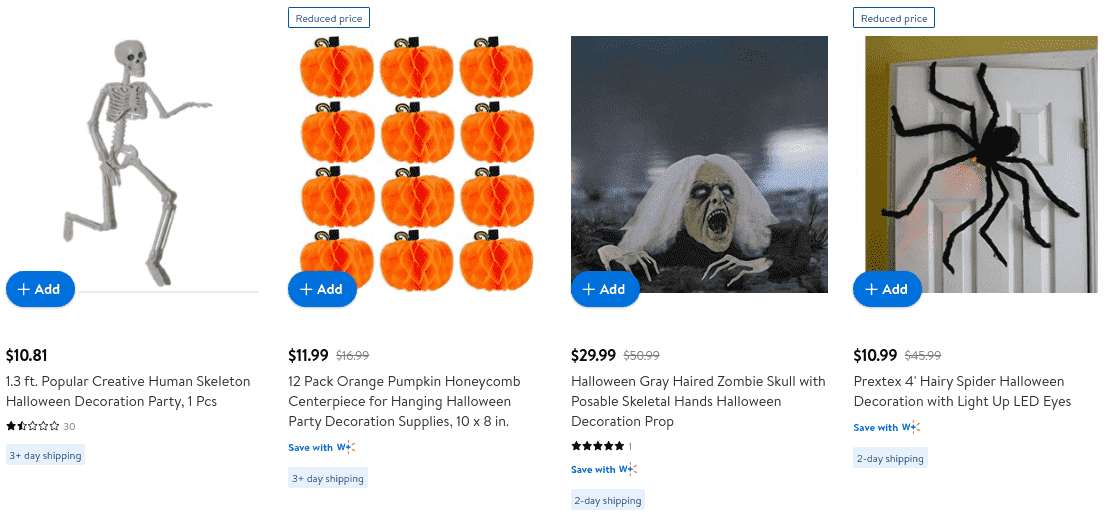 Source: Walmart.com
3. Candies
Candies are among the top-selling Halloween products on Walmart. There is no Halloween without candies. Since candies cost less, people celebrating Halloween buy them in bulk and distribute them on the scary Halloween night. Ensure to stock them up.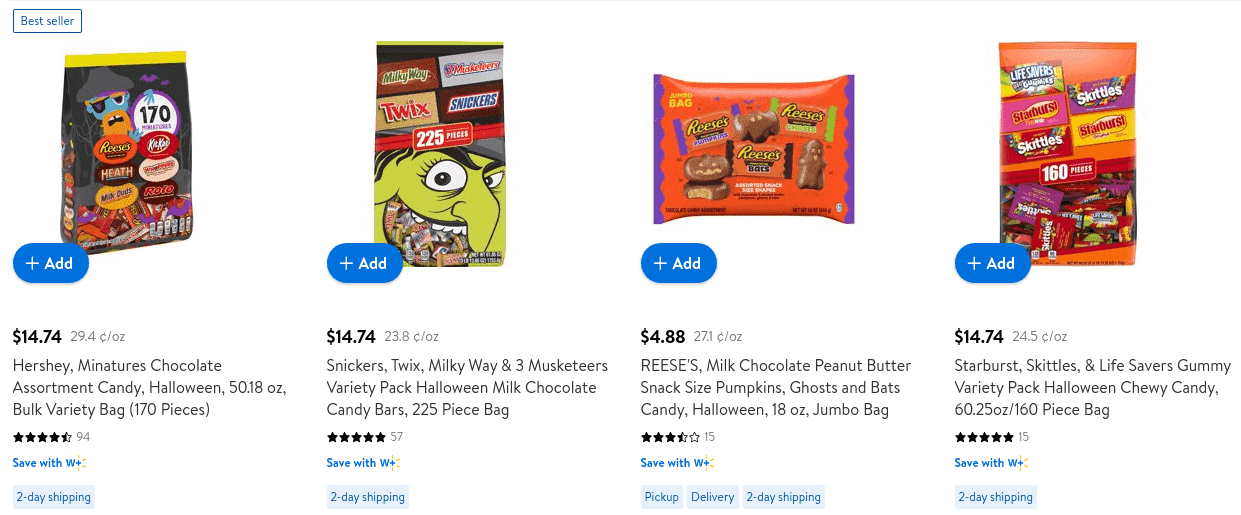 Source: Walmart.com
4. Trick or Treat supplies
Along with the candies, Halloween Trick or Treat supplies also sell in good numbers as they are needed to collect the Halloween gifts and candies. Scary buckets, Baskets, Bottles, etc., are the items used to collect the candies and gifts. Ensure your Walmart listings have all of these trick-or-treat supplies for Halloween.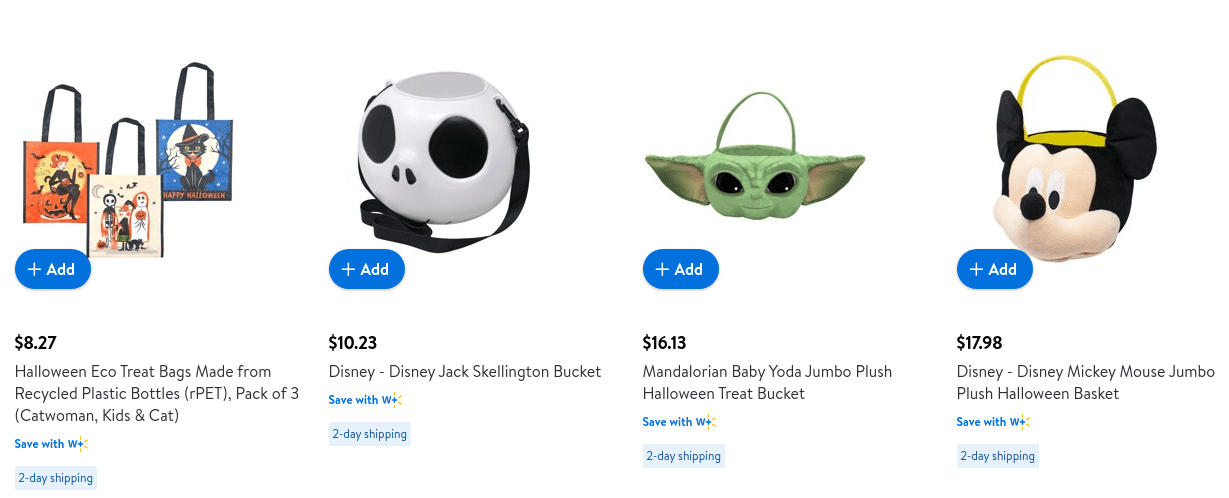 Source: Walmart.com
5. Party Supplies
People throw parties on the spooky night of Halloween and make the dinner creepy, so they buy party essentials with a spooky theme in high numbers. Party supplies, including Halloween Round Trays, Skull round plates, Orange pumpkin paper plates, etc., must be in your stock to meet the requirements for Halloween parties.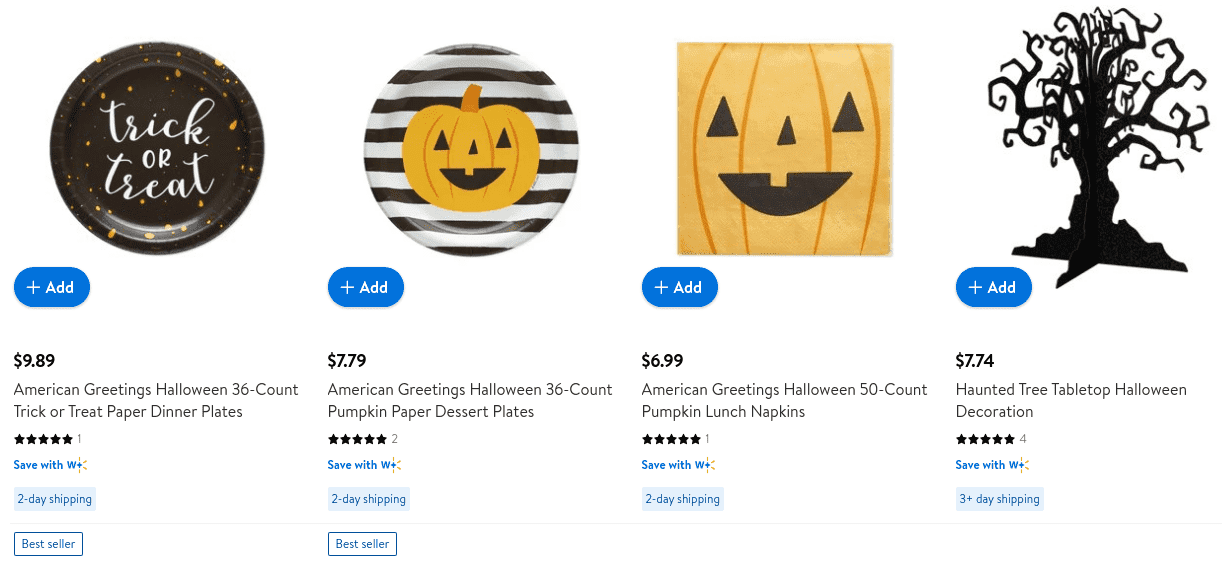 Source: Walmart.com
6. Makeup
Halloween makeup is an essential element of the outfit of people celebrating Halloween. It completes the dress of people celebrating the spooky Halloween festival. As they are inexpensive, it's likely to have higher sales of these Halloween makeup items.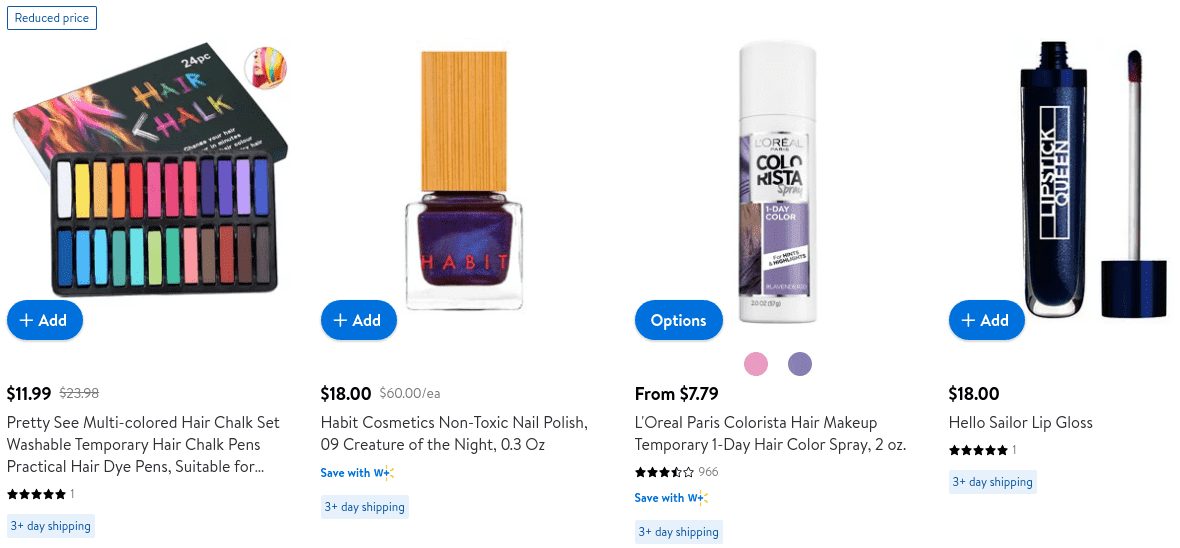 Source: Walmart.com
7. Accessories
Among the best-selling Halloween products on Walmart, accessories based on the Halloween theme, including Coloured Halloween Wig, Halloween feather wings, Halloween lion costume, Halloween Orange hair clown masks, and wolf masks, are also the items that are in huge demand in the scary festival. So stock them up.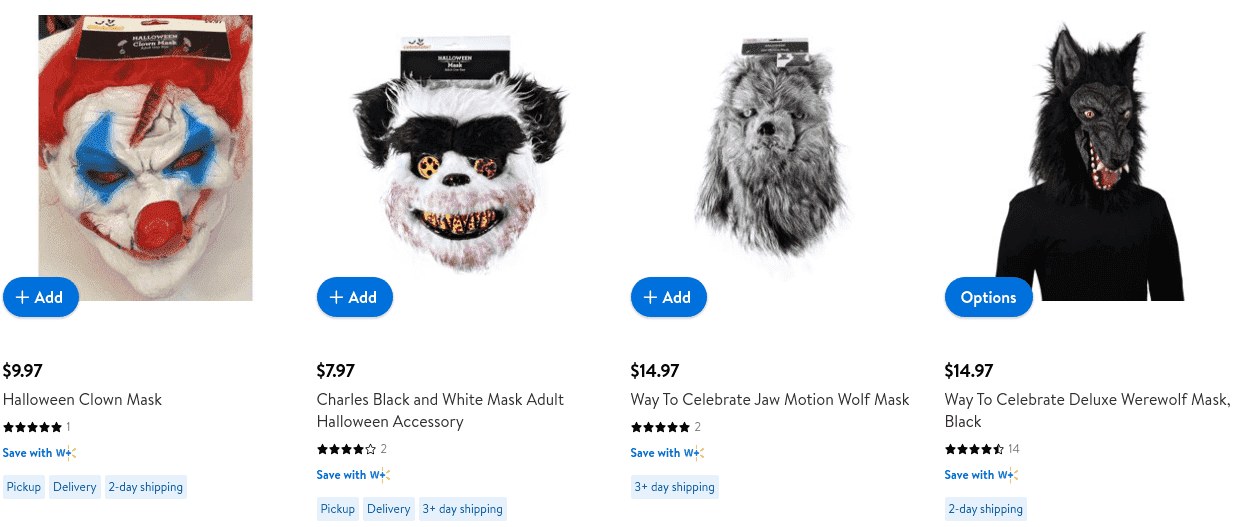 Source: Walmart.com
CedCommerce and Halloween
Celebrate Halloween on Walmart with CedCommerce, Walmart's official channel integration partner. Things are difficult to manage manually during the high rush hours when customers shop the most during festivals. Various features of CedCommerce's integrations, as listed below, can be of great use to meet the increased demand for trending products on Halloween.
With the feature of inventory synchronization, the integration app helps to synchronize inventory between your store and Walmart. This helps maintain a uniform inventory across both selling platforms.
With product profiling, you can now create profiles for a category of products and assign similar settings for those products. So this way, you can perform bulk settings on a group of products in an effortless manner.
Auto acknowledgment of orders helps to acknowledge orders automatically. So now, you don't need to sit on your system for lengthy hours to acknowledge orders manually. The app is enough for it.
The integration app eases order management. You get a dashboard in the app that helps you monitor and manage all your orders on Walmart. You get information about Sales orders, Failed orders, and orders that require a Refund too, and all these with just an app from CedCommerce.
Backed by round O'clock customer support from CedCommerce, you get all the help you need to use the integration app efficiently. CedCommerce aligns a dedicated account manager instantly when you opt for the app.
To Sum Up
The festive season marks its beginning with Halloween on the 31st of October. To sell higher during Halloween, you need to optimize your store immediately as per the trending products on Halloween. Therefore, stock up on the above-mentioned Halloween-related products to efficiently fulfill Halloween orders on Walmart. From Halloween Costumes, Decorations, and Candies to Trick or Treat Supplies, Party Supplies, and Accessories, every Halloween-related product must be in surplus quantities in your inventory to fulfill orders for your Walmart listings on the spooky Halloween 2022.
This blog must have given some product ideas for Halloween. I hope this helps you convert 2022 Halloween to be profitable. Good Luck!