Upgrade your Amazon Listing with Powerful Hacks in 2021
Running short of time? Get PDF of the blog in your mail.

Play Now
Do you wish to be your Customer's first choice when it comes to purchasing on Amazon? With the evolving buying trends in 2021, it's high time you invest in creating an excellent product listing on Amazon. Optimization of product listings based on SEO parameters helps brands rank higher as well as improve traffic(as per the Amazon search algorithm), which in turn improves visibility and conversion rates. 
Level-up your Amazon Listing for better Ranking
As a seller or vendor on Amazon, upgrade your product listing pages to gain better Amazon product ranking, improved Click Through Rate(CTR), higher Conversion Rate(CR), and eventually excellent sales. To achieve this you need to optimize factors that affect your visibility, relevance, customer satisfaction, and retention.
Let's dive deeper into the advanced hacks for a powerful Amazon Listing making maximum conversions,
Create an eye-catching Product Title
Your Product Title is the most influential and revealing factor about your product. A catchy, crisp, and trendy title always catches more attention. As per Amazon, 
A Product Title can have elements such as Brand name, Product line, Manufacturer's Number, Material used, key features, product type, color, size, and packaging details. 

Ensure that each word begins with a capital letter in the Title.

Use the Brand name at the beginning of the Title to improve rank organically.

To make your Title more stylish, use special characters like | , & and – wisely.

Also using a highly relevant keyword will act as icing on the cake. You can also start your Title with your focus keyword.

Do Competitor Research in the same category to check the trending style for creating product titles.
The key to an attractive title though still lies in the order you place these elements so try different iterations before reaching a solid choice. This eventually helps elevate Amazon sales rank.
Focus on SEO-driven keywords
As discussed above, your Amazon product ranking depends a lot on the keywords used in your product listing. These keywords help Amazon to understand what you want to rank for. Through these keywords, the audience makes their search and reaches your products. It's advised to use them in your product title and evenly on your page.
             There are many free tools available for better keyword research like Google Keyword Planner, Helium 10, etc. Some interesting Amazon guidelines for optimum keyword usage are,
The search term quota is reduced from five fields to one field for better search quality.

Spaces and Punctuations can be used but they don't count in length.

If your Search terms are over the limit, Amazon will not index them for that ASIN.

Avoid redundant information that is already captured in other fields.

Never repeat the focus keyword.

Use a single space to separate keywords. 

Avoid misspellings and subjective terms.

Don't panic, if your search term is not searchable. Rather upgrade your search.
Know more about Amazon keywords and provide excellent visibility to your product.
Craft your Product Descriptions with Value
Your product description doesn't directly impact Amazon sales rank but it affects visibility. Customers buy products that offer value and appear convincing through the details mentioned. You can include the following features to make your product listing relevant and persuasive,
Follow the 1000 characters (including spaces) limit as per Amazon guidelines.

Include Specifications i.e. technical & physical details of your product like size, material, quality, shipping weight, color, etc. Completing this section shows Amazon that you are diligent when it comes to listings.

Mention the guarantee & warranty you wish to offer.

Talk about value addition rather than describing benefits

Avoid fake claims as they can spoil your reputation and turn off interested buyers. 

Make sure you answer the doubts or questions of your customers through your details.

Also, maintain a valid price of your product as it strongly influences your sales and conversion rates.

Don't forget to add a direct and to-the-point CTA at the end.
 Your product description must tell a story that will increase your customer engagement and conversion rates. 
Consider using Fulfillment by Amazon(FBA)
The products that are fulfilled by Amazon tend to rank higher when compared to other merchants. In this way, Amazon is solely responsible for storing, packing, and shipping orders and also to manage returns and exchanges. This feature builds trust with the customers and helps them engage with your products.
Focus on EBC or A+Content
Also known as Enhanced Brand Content or A+ Content, is a great way to set up for remarkable branding. The product pages that showcase such content tend to show more conversions, better reviews, and reduced return percentages. Sellers must invest some time to understand more about A+ Content for maximum returns. 
For more information, understand How Amazon SEO and A+ Content together uplift the sales. 
Have a Convincing Format
Buyers prefer product descriptions that offer crisp and specific elements in their copy. They tend to skim through the content rather than reading the whole page. Prefer using bullet pointers to detail your main features. The top 5 bullet points get the maximum visibility so try to fill them with the utmost value. Also, you can use all caps to highlight special features to draw in buyer's attention. Always structure your listing flow properly and conclude towards a CTA in the end.
Use Engaging Visuals of High Quality
What looks good sells faster. People connect better with visuals than mere words. Invest in high-quality images of your product and lure your customers with eye-catchy Amazon listing.  Follow certain thumb rules so that your listing doesn't get suppressed,
Images having high-resolution with 1000 pixels in either height or width as per Amazon guidelines are most suited so that the image doesn't break on zooming. 

Merchants can upload

seven to nine product images per listing

, out of them one is the lead image.

The lead image must have a plain white background for clarity to customers. 

Show different angles of your product zoom in and out. 

Display product packaging, show product utility/usage via images.

Also, your image should reflect the exact shape & size of your product. 

Use infographics displaying the usage of the product.

You can also hire a professional photographer to click the best pictures. 
Invest in Referral Traffic
Not all visitors come on Amazon to buy a product so it's better to redirect them to a landing page rather than another listing. By this, you can gather the basic information of your prospect and can improvise for better listing. This will upgrade your product listing and will improve your Amazon sales rank.
Focus on generating Positive Reviews and a 5-star Rating
According to Amazon A9 Algorithm, customer reviews play a significant role in your product ranking. 
Run email campaigns among your customers to inform them about the new launch, product arrival, new features added, etc. 

Provide samples and ensure quality. 

Customer satisfaction and seller feedback are key factors

for your Buy Box chances.
Once the product reviews begin to roll in, product ratings improvise as well. If you are rating between 4-5 stars, you are doing well but for lower ratings follow these tips, 
Audit your product page & update if any error exists, 

Avoid negative reviews, 

Offer quality at the best price. 
Positive reviews and strong seller feedback are the wheels that keep the trust-building as the number rises.
Perform A/B Testing at Regular Intervals
With so many elements to play with, there is always room for innovation. Upgrade your listings regularly and test them based on different metrics. Play with your strengths and enjoy maximum visibility. Always perform A/B testing and see what content converts well for you.
Things to avoid for Engaging Listings
Though there are so many variations to create an interesting listing, chances are always there to miss on some essentials. Always,
Adhere to

Amazon guidelines for Product Listing

,

Avoid keyword stuffing as constant repetition can create a negative effect,

Don't use punctuations like dash, comma, etc. while creating keywords. Using a single space is enough,

Avoid spelling errors and use of synonyms.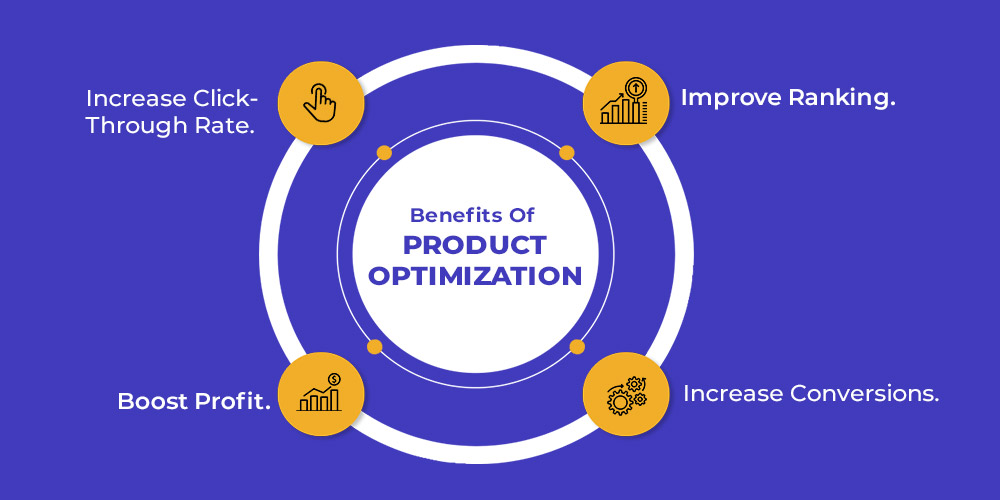 Conclusion
A product listing is a golden opportunity for you to sell your product right. With an impressive listing on Amazon, you can influence, persuade and make your mark as a Brand. This will in turn increase your CTR, increase conversions, boost sales and improve ranking.
               Understand how your customers perceive it and accordingly make your page attractive and value-driven to stand out in the whole Amazon marketspace. For more tools to upgrade your Amazon portfolio, connect with us at Cedcommerce and improve your sales.