Top Strategies and Tool For Amazon Repricing in 2023
Running short of time? Get PDF of the blog in your mail.

Play Now
Amongst many strategies followed aggressively by competitive sellers on Amazon, 'Amazon Repricing' Strategy is one of the determining factors directly impacting the sales. If you are new to the term or have already known about it, this piece of write-up will educate you extensively in both conditions.
A quick run-through to the topics covered in the blog
Let's begin reading about them one by one –  
What is Amazon Repricing?
Amazon Repricing simply means resetting the prices of your products by looking into the current competitive prices, competitor's price strategies and cost choices of people. Resetting product prices is a part and parcel of updating your listings. On your selling journey, you will have to keep a versatile approach towards prices. Also, keep changing it as per the needs and trends in contemporary scenario on the marketplace.
There are certain selling and marketing situations that you will come across, which will demand you to reprice your Amazon products. Let's read out some prominent factors wherein you will have no option other than repricing your products.
Factors Determining Amazon Repricing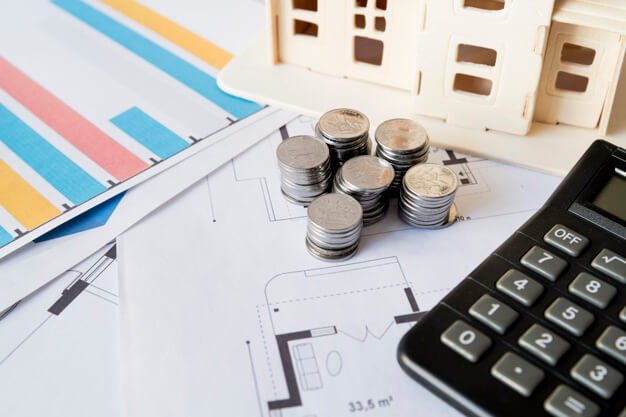 Competitor's Analysis –
Don't forget that Amazon is your first competitor. The rest of the competitors can be tackled with aggressive pricing strategies but what is a hard nut to crack is Amazon itself. To be on the click list of prospective customers, you will have to be competitive enough.
Occasions and festivals –
Occasions and festivals are the most crucial time for sellers to capture the haunting the customers by offering them the occasional shopping items with discounts and deals. Discounts and deals are all-attractive themselves. Besides, your competitors selling similar products with deals and offers might get a benefit over you and you would certainly not want that.
Fluctuations in Price Trends –
Amazon knows what is the current scenario on other marketplaces and accordingly puts pressure on itself and third-party sellers to adjust the prices. So, even if you don't find any internal pressure, it is the external factor/trend (other marketplaces) that sets trends, followed by you.
Winning Buy Box –
Amongst many factors that make you eligible for winning the buy box, pricing tops the list. An inadequate or less competitive price makes you unworthy of winning your Buy Box.
Remember! You can neither minimize nor maximize your product price set by Amazon.
Boost your sales by adding the Amazon Top Selling Products to your Inventory.
Now let's look at some of the expert tips or better call it Strategies that can make you rank top on Amazon at any given point of time on your selling journey on Amazon.
Top Amazon Repricing Strategies To Keep You Ahead Of The Pack
Opting for Automatic Repricer –
One of the leading tech-solutions that has ruled markets is repricer software. Sellers, in increasing numbers, are switching to automated software that reduces hectic manual tasks and automates the prices, and makes changes swifter, real-time and without errors.
Manual repricing is also good but should be in practice until you have a large number of products to sell. However, it is always advised to go for automatic tech-solutions to have ample of time for other business marketing plannings and price accuracy without delay.
Look at the image to understand the function of the software –
A large number of products can be listed.
As a seller, you can easily feed the date between which you want repricing to happen against Amazon and your competitor.
The green color shows the Buy Box status, how a seller once lost a buy box for one product but won for another.
Protip – There are many repricer software that does not allow to set minimum and maximum prices, but it is always advisable to install ones that allow you to set your own profit-based minimum and maximum prices.
Add shipping and FBA Charges –
Refrain from doing this common mistake. While setting your prices, don't forget to include your own charges such as shipping in case of FBM or FBA and storage fees in the case of FBA. A combined price only with a suitable profit margin can increase your wealth.
Feed Minimum and Maximum Price wisely –
You can set your own minimum and maximum prices that your software will apply looking at the price changes of the same or similar products on Amazon. These price bar should be set keeping in mind the profit margins you want to keep at any given point of time.
Consider the following image –

As shown above, a repricer tool helps you to set your own maximum and minimum price at any given point of time. There are also more options within the price select types, which are fixed, percentage, and buy box price.
Put Genuine Price –
Price your products according to the quality of your products. If they are of not that good quality and are used, then price it accordingly. Any bad review or negative feedback from a customer can land you in bad condition.
Know some of the factors that sellers ignore and land up getting an account suspended on Amazon.
Think Like An Economist –
An economist understands how demand and supply form the basis for price determination in the market. So what you can do is list your products differently and analyze their demand and suppliers in the online market and accordingly increase and decrease your margins.
In case of low demand and high supply, you can lower your margins and reduce the prices to attract those handfuls of customers.
On the other hand, set an above competitive margin for products high in demand and less in supply.
Refrain from being the cheapest seller –
Cheap products sometimes also relate to cheap in quality. Just keep the price competitive, that's it. Stay on the middle ground, neither too low nor too high. This will be the safest side for you to take.
Choose Working Products Only –
Just because repricing is important, doesn't mean you start working it all over. Stick to your most profitable and competitive products and then optimize them on the grounds repricing and measure its impact and then move with another one.
Learn from Your Experience –
Online marketing is all about experimenting. There is nothing static or fixed. Your buyers have never met and don't know you and therefore, things are always uncertain. What product seems to be in your favour can be no more profitable for you in a couple of days.
Thus be ready to play and change your strategies as and when required.
Repricing is far more than just the price adjustment. It is an integral part of your Amazon sales strategy.
Best Amazon Repricing tool in 2023
There are numerous repricing tools available that can be of immense help to you. CedCommerce is one such leading global eCommerce tech-solution company which offers world-class integrations and add-ons with advanced automated features.
Amazon has launched a new Amazon Repricer feature in 2020, i.e., "Amazon Sold By Amazon(SBA)" that clones third party repricer tools.
Amazon Repricer, an extension developed by CedCommerce provides an innovative way to compete with the competitor sellers on Amazon. This feature makes sure that the products of the merchant (admin) always win the BuyBox and thus increases the sale significantly.
Enables vendor to view the marketplace price
Dynamically Reprices the product once competitor decreases or increases the prices
Removes the hassle of monitoring competitors pricing
Enables reasoning repricing for each product.
How Does It Work?
The Repricer is a new technology that utilizes machine learning and real-time analytics to help sellers in maximizing the margin and win the Buy Box.
The Amazon Repricer checks out what is the lowest price of the merchant's products on the Amazon store. And changes the price of the product to the lowest one, while not going lower than what is set as the minimum price. On the other hand, if the merchant's competitor's offer price is much costlier than the merchant's offer price, then the price increases, while not increasing more than what is other merchant's offering.
Finally, the last check ensures that the new value lies between the minimum and the maximum value defined by the users. After all this process, the latest price is updated back to Amazon. And it is made live as the new price for that product.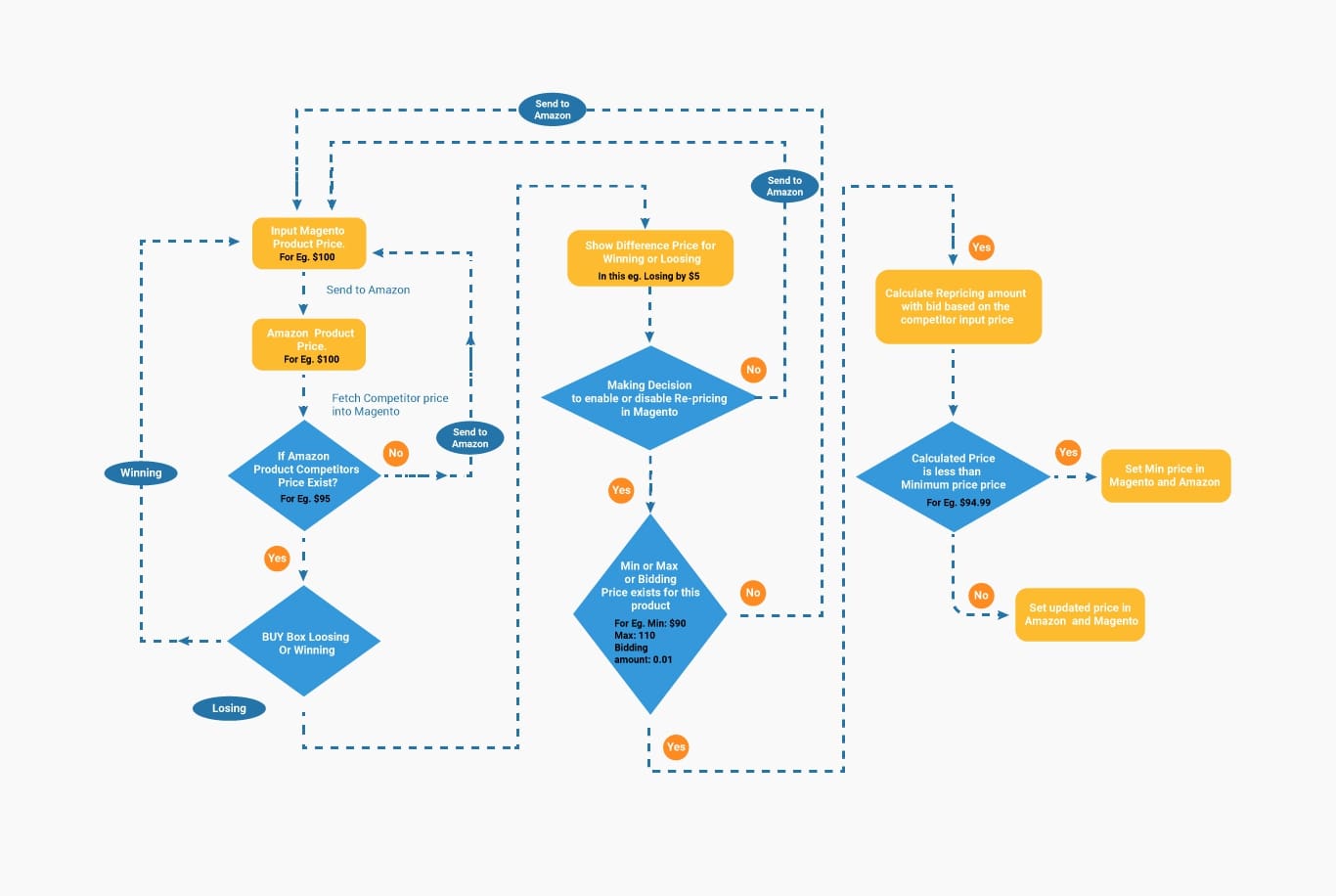 Conclusion
Going for the best Amazon Repricer tool is the need of the hour. None of the leading sellers or new prospective sellers has made or making a profitable selling possible without a price master plan. Keeping a keen eye on competitors and pacing up with the trend an efficient repricer tool, is all that you need to know.