Shopify Conversion Rate – From Concepts, Strategies & Optimization
Running short of time? Get PDF of the blog in your mail.

Play Now
Conversion rate is one of the most critical KPIs in the world of eCommerce. Store setup, theme customization is a one-time effort. But you should keep a check on your store's conversion rate regularly. This article has everything you want to know about what is the good conversion rate of your Shopify store.
Be it any platform, the definition of conversion rate remains the same – It is the total number of conversions divided by the total number of visitors. 
Let's say, your Shopify store gets 1K store visits every month. But not all the visitors will buy products from your store. To make sure that most of the visitors get converted (in some or the other time) – that's what Shopify conversion rate is all about. 
But is it all about online shoppers ordering from your store?
NO! 
A conversion happens when visitors act according to your expectations. Websites and apps can have multiple conversion goals. 
Micro & Macro Conversions for Better Understanding of Shopify Conversion Rate – 
Just like there are activities that trigger the main aim of the website, there are also some activities that indirectly contribute to your store's conversion rate. Here are some macro & micro conversions –
Macro Conversions are the ultimate goal of your store. In most cases, they are transactional in nature. Some examples of macro conversions are – 
When a user purchases a product from your store. 
Subscribe to a service. 
Request a consultation or sign up for a free trial.
Micro Conversions can help you in improving your Shopify conversion rate. As a result, it provides a deep insight into how visitors are moving through your sales funnel. By tracking micro-conversions, you can analyze the buyer's journey and improve your Shopify conversion rate better than your competitors. 
To improve your Shopify conversion rate, it's highly recommended to install Google analytics in your Shopify store. 
Strategies to Improve Your Shopify Conversion Rate –
 Here is what you can do to improve your store's conversion rate. Don't do everything at once. Rather pick up one thing at a time and implement it wisely. 
Use HQ Images and Videos – Images and videos are some of the ways through which you can convince online shoppers to hit the purchase button! 
Using high-quality images and product videos can make sure that your customers don't abandon their shopping carts.
Offer Free Shipping – Payment methods and shipping services can make or break the deal. It's necessary to spend quality time on your store to set up these 2 services. If you're not offering free shipping then customers are more likely to shop somewhere else. And this will affect your Shopify store's conversion rate. 
Competitive Pricing – Competitive price makes sure that visitors don't leave your store because they found the product costly as compared to other stores!


To track the pricing of your competitors you can use Prisync app.

Provide Limited Time Coupons – Coupons can ensure a good Shopify conversion rate. Create coupon codes that customers can use during checkout for a limited time. This limited-time will create a sense of sense of urgency and shoppers. 


With Privy app, you can generate coupon codes, track email marketing and much more! 

Experiment with the Checkout Process – If the checkout process is lengthy and full of checkpoints, it's going to hamper the user's experience. Try and come up with a crisp checkout process with not more than 3-4 checkpoints. A good Shopify conversion rate is all about enhancing the user's experience and cutting down the lengthy process during their buying journey. 
Use Abandoned Cart Apps – Abandoned carts are a big bummer and they are inevitable as well. They are not a good omen for your Shopify conversion rate! 


You can use Consistent Cart app to take care of your abandoned carts in your store. 

Use Chatbots – You can use chatbots in your store to make sure that there's someone available to answer the queries of your customers.
You can reach out BotMyWork and come up with a personalized chatbot for your store. Using chatbots will ensure 2 things. Firstly, to enhance the shopping experience, and secondly, it's a great way to improve your store's conversion rate. 
Make Customers Feel That They Are Shopping at a Safe Place – You've got to build a certain level of trust among online shoppers. Customers want to know that they are dealing with a legitimate online store. 
This method might be subtle, but it will reduce abandoned carts, build customer's confidence contributing to your store's conversion rate.
Here's what you can do about it –  
-> Install SSL at checkout and site-wide if possible. 
-> Show small images of credit cards, PayPal, and other payment options in the footer menu. 
-> Display McAfee, GeoTrust, and other security badges and make sure that you have an active account with them. 
Setup Your Store in Such a Way that Visitors Can Easily Find Products – Once again, this conversion strategy requires you to do a lot of A/B testing! There's no set method of a logical store setup. 


If you're having trouble setting up your store, you can reach out to Shopify experts to get the job done for you!

Are You Allowing Customers to Checkout as Guests? – Who wouldn't want visitors to sign up? But it would be best if you allow users to checkout without signing up for an account. Forcing the users to first register will impact the conversion rate of your Shopify store. 
Give Detailed Product Descriptions – Make sure you describe the product in great detail, so customers know what they're getting! You can use intent-based keywords in product descriptions and titles. This will help buyers in finding the right products.

Always Welcome Customer Reviews – Customer reviews act as authentic proof to your store because online shoppers don't forget to check customer reviews and ratings!

It might not be a direct Shopify conversion strategy. But it adds a lot of value to your store and builds trust among customers. 
Have a Friendly Returns Policy – Don't take shipping and return policies lightly because more than 50% of online shoppers read the store's return policy before placing an order. 
Is Your Store Mobile-Friendly? – A lot of traffic on Shopify stores comes from mobile phones. As a result, you should make sure that your store is mobile-friendly. 
If your store doesn't provide a great mobile experience then you are missing out on a huge chunk of online shoppers. 

Reach out to Shopify Experts to have a great mobile-friendly store!

Display Your Store Details – This builds trust. Either you can have a dedicated page that shows your contact details, or you can place them on top of your store. This way, your store visitors will be assured that they can contact you if anything goes wrong! 
Provide Valuable Content – This is perhaps the most effective way to improve the conversion rate of your Shopify store. While other methods might decay with time, a constant valuable content addition never goes out of style!

It's Not Bad to be Attention Seeker – Grabbing customer's attention can improve the Shopify conversion rate. Product images/videos are probably the first things customers see in an online store and form judgments. This is why you need to make sure that you are using captivating ideas for your homepage, category, and product pages. 


If you cannot grab visitor's attention in the first 3 seconds, you're more likely to lose them!

Communicate Your USP – What makes you different from your competitors? Be funny, be smart but always communicate your USP to your customers!
Measure Your Shopify Conversion Rate – Knowing what it takes to improve your Shopify conversion rate and tracking are 2 different things. 
Always have the analytical and behavioural tools installed so that you can accurately track customer's behaviour in your store. 
Add Filters to Category Page – Filters help your customers in navigating and reaching the right products. As a result, you should always group your products in such a way that it showcases what the user is searching for. 
For price-conscious customers, you can create a price filter on the category page and eliminate their objection by filtering for products they can afford. It will help you in improving your Shopify conversion rate. 
Conversion Rate in the eCommerce Ecosystem – The Benchmark
Below are the 2 images that give a fair idea of the conversion rate in the eCommerce industry. It's necessary to keep a check on the benchmarks. It helps you to improve your Shopify conversion rate compared to the industry norms. 
The above images clearly tell that not every visitor will shop in one go. Only after a series of emails, and giving reasons to come back, they are most likely to contribute towards your Shopify conversion rate!
eCommerce Conversion Rate in 2020 – The Overall Picture – 
Below is the average conversion rate industry-wise that will help you in tracking your Shopify conversion rate.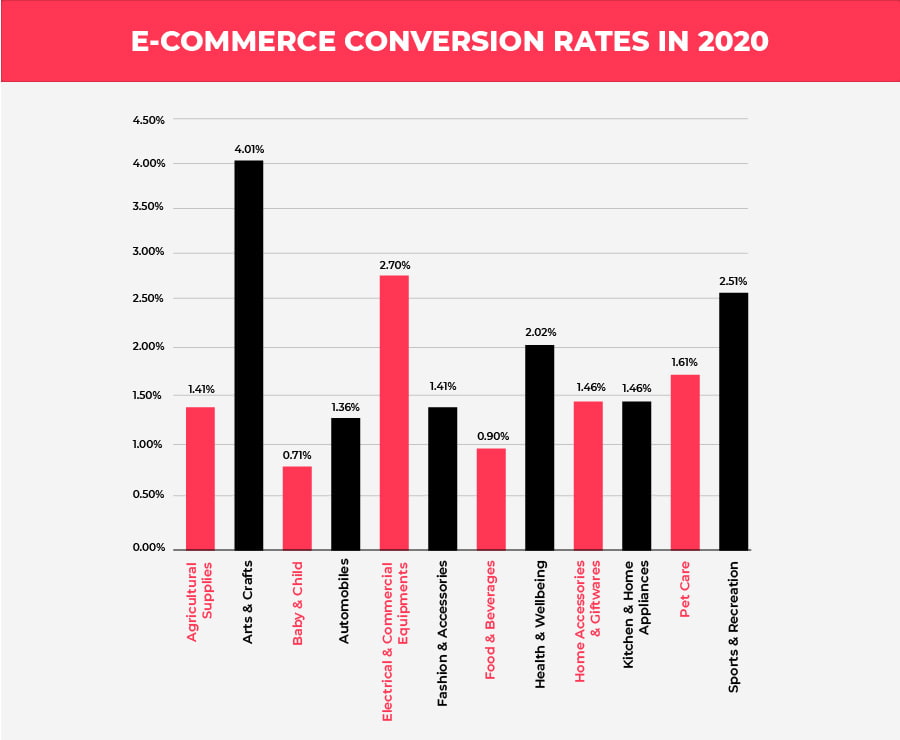 eCommerce Conversion Rate by Channels – 
The conversion rate by traffic source is incredibly useful to set channel-specific goals. Referral traffic is by far the best performer!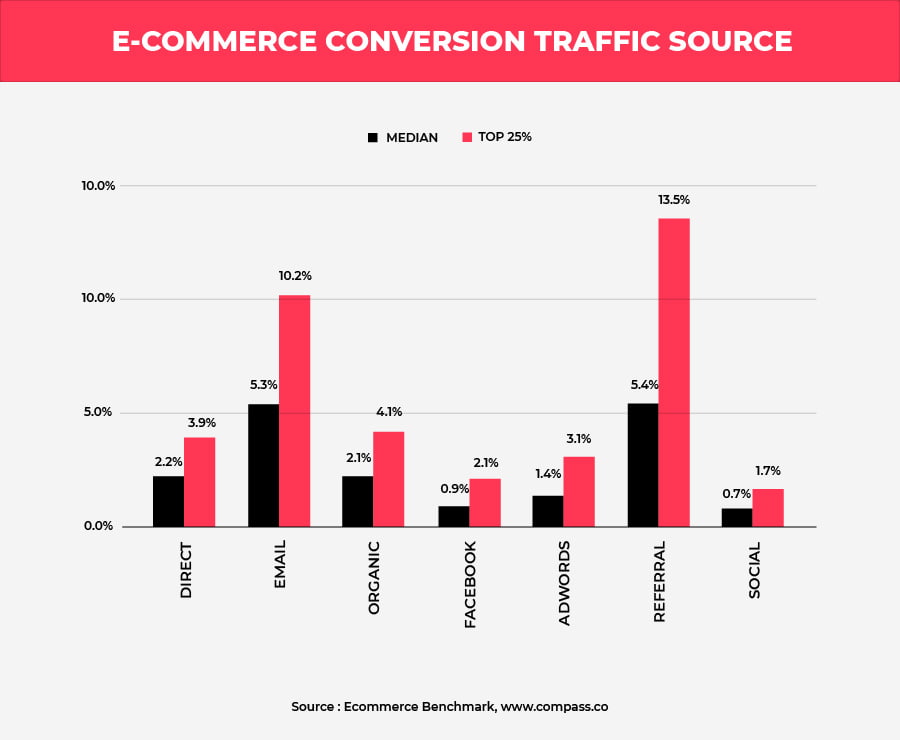 eCommerce Conversion Rate by Payment Method – 
Payment is the final step in the customer journey that stands between them and the products they ordered. 
It's either payment or shipping that makes or breaks the deal. Don't forget to include these payment options in your Shopify store!
PayPal transactions have been stealing away the show with 70% higher checkout rates as compared to non-PayPal transactions.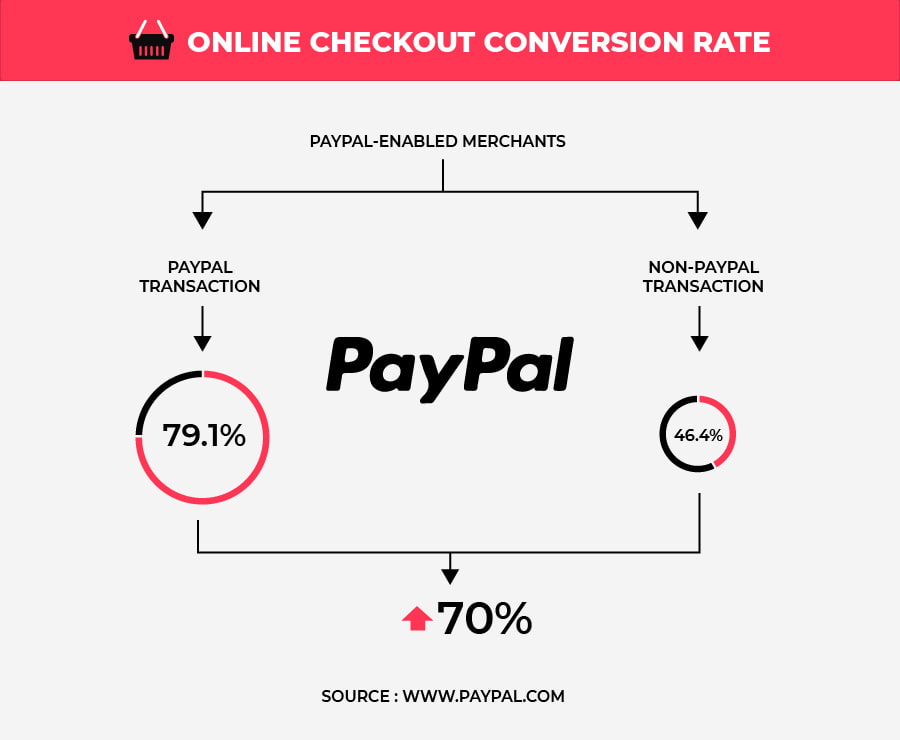 Conclusion – 
It's a dream of every online merchant to receive orders from time and again. Every change you do your store affects your Shopify conversion rate. 
As Shopify Experts, we guarantee one thing. If you follow the above strategies, you're most likely to improve your Shopify conversion rate.