Prepare your Etsy shop for last-minute Christmas shoppers!
Running short of time? Get PDF of the blog in your mail.

Play Now
Christmas is the time to spread love and joy, bond with family, and chill. It is the most important (and stressful) time of the year for sellers like you across the world. While the world gets busy searching for the perfect gifts for their loved ones, you get busier to create and deliver it to them. In order to achieve a good number of sales, you should prepare your Etsy shop for Christmas before it's too late!
2020 has been a surprising year for all, including the eCommerce industry. According to the U.S. Retail Index, the pandemic has accelerated the shift from brick and mortar stores to online shopping by five years! The growth hasn't been uniform in all categories of goods. For example, demands for clothing supplies saw a considerable decline, while grocery items and home improvements/management items recorded significant growth in their demands.
In this blog, we are going to see how Etsy climbed up the ladder of success and how you can prepare your Etsy shop for Christmas 2020.
A look back at 2020: How Etsy broke all records
Sellers all around the world were presented with a challenge to meet the surging demands of many unusual products. Etsy was solid in its planning in the initial months of 2020 which was clearly reflected in its first quarterly report. The marketplace recorded $1.4 billion and revenue of $228 million, this was 34.7% higher than Q4 2019. This was made possible due to the agility of Etsy sellers and the efforts of the marketplace to meet its sellers with the rights buyers.
The second and third quarterly reports were more like success stories. Etsy continued to generate record-breaking sales and revenue.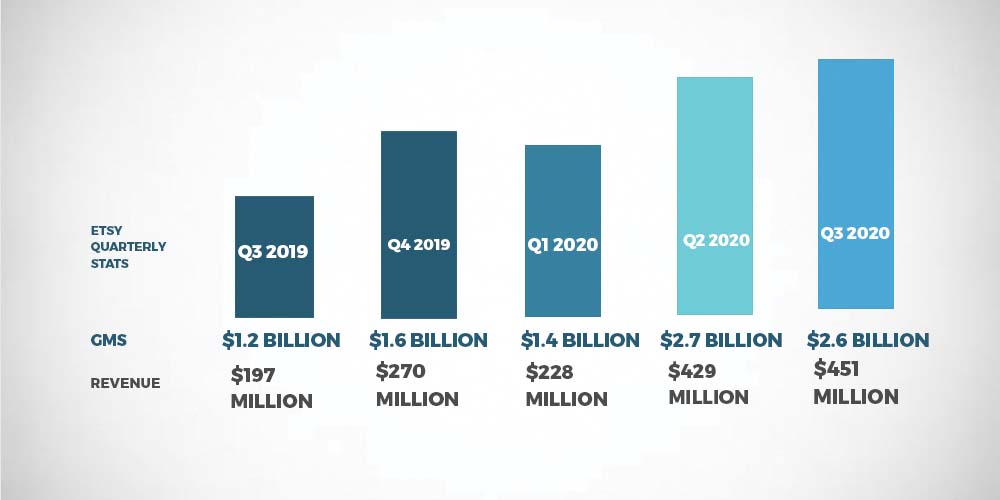 The categories like home decor, homeware, home furnishing, craft supplies, beauty, and personal care recorded the highest growth this year. Additionally, face-masks solely were the highest contributor to the GMS.
Etsy has enhanced its visibility and reach among holiday shoppers through improved advertising (Offsite Ads) and investing in TV commercials. Since every month millions of new buyers are joining the platform, the sales trends are anticipated to be higher during the Christmas sales season.
How to prepare your Etsy shop for Christmas: Best practices
Christmas shoppers are still searching for the perfect gifts. And there is much scope to make good sales even post BFCM. Many sellers have gone out of stock and some have taken a break after the hectic shopping season. So this becomes the perfect time for you to put your best foot forward. With the right strategies and consistent efforts, you can attract all those Christmas shoppers and get more sales!
Listing products on Etsy is never enough to make actual sales. Let's get right into what are the things you must do to attract the last-minute Christmas shoppers.
Review your listings
Review your listing attentively and focus on the aspects that affect the ranking of your product on the search results. Search engine optimization is the key to getting found by buyers. Read more to understand the right SEO practices.
Make sure that you:
Use Christmas related keywords in your listing title, descriptions, and tags.
Avoid using high difficulty keywords.
Fill in your shop information.
Give a detailed description of your shop policies.
Mention your shipping time.
Use attributes, categories, and tags
This one is a must. Product attributes, categories, and tags make sure that your product can be found and shown to the buyers searching for something similar. Again, use terms that are related to Christmas in your tags. You are given 13 tag entries for each listing. Utilize them carefully and smartly. Similarly, assign the right category and attributes to your products. You can avoid repeating your attributes or categories in your product tags.
Update listing photos and videos
Product photos and videos that are of bad quality can affect your listing quality score severely. The less attractive your listing image is, the lesser clicks you will get, and hence a low listing score! This will further affect your product's ranking. To fix that, you will have to take attractive images of your products. The more professional, the better!
Make sure that you:
Use bright lighting while capturing.
Always have a decluttered and clean background.
Try to show your product in a Christmas themed setting.
Be authentic and show how your product really is.
Use social media
Social media gives a great opportunity to connect to your buyers directly and engage with them. The more impressions on your product, the higher will be the conversion rate! The most popular among Etsy sellers are Facebook and Pinterest. Instagram can also be utilized for the same.
Use social media platforms to:
Appear professional.
Redirect traffic to your store.
Talk about your products and share your product story.
Announce discounts, offers, new additions, and other shop updates.
Engage with buyers and use their feedback.
Build brand recognition and trust in your buyers.
Read more to know how social media marketing can help your business flourish!
Don't hold back from promoting your listings
Etsy offers a great opportunity to its sellers to promote their products across the web (on social media and search engines) through Offsite Ads. Apart from that, you can also opt for promoted listings in order to promote your products on Etsy itself. While many sellers find advertising a little heavy on their pockets, you must remember that the Christmas shopping season has a great potential to generate a better return-on-investment for your business. If you are serious about selling during Christmas, make sure your listings are well exposed through better advertising.
Here is an exclusive (Q & A) session with a successful 6-figure Etsy seller, Anna Beck sharing some crucial insights around the holiday season. Her experiences can be an eye-opener for many existing and aspiring sellers like you. Get the inspiration as you prepare and kickstart your festive season sale 2021.
Avoid miscommunication
Christmas sales majorly include gifting items and other special products that people buy for their loved ones. For this very reason, buyers want their deliveries to be on time and not delayed at any cost. This is why it is advised that you clearly mention your processing time to avoid any further miscommunication. Similarly, mention your shipping charges with exchange and return policies too.
You can also try answering the most asked questions about your products in advance under FAQs. Clearing up your buyers' doubts will make sure that they make a purchase decision quicker.
Offer gift wraps and handwritten notes
Well, that's like the cherry on the top offer. And Christmas shoppers love it. Considering many are sending gifts directly from you to their loved ones this year, offering gift wrapping and notes will definitely be a good idea. Remember, this will consume time, so have your supplies ready in advance!
Discount and sales
The most obvious one. Well, what is Christmas shopping all about without sales, discounts, and great offers? You can plan out your own sales and offers for your Etsy shop. Etsy comes up with various site-wide sales throughout the big season, so keep an eye on what is coming next, make sure to be a part of it, and get featured under Etsy's sales for greeted exposure on the marketplace!
Don't stress out!

We know this is going to be a hectic time for you and you have your expectations up, but don't stress out. Enjoy the process of selling online, and when you are stuck, we are a click away to make things right for you!
Need help with selling on Etsy? Reach out to us today!