Onsite SEO: Optimizing website structures for multi vendors
Running short of time? Get PDF of the blog in your mail.

Play Now
Your online website is the primary link between your business and your audience. But if your eCommerce website isn't able to reach the right people who actually need your services and products, then you do need to think twice about the SEO of your website. Here, we are talking about on-page SEO as it enhances your online presence by making your website search engine friendly. And once your website starts ranking higher on search engine results, your online platform will automatically receive more traffic. In case you're a multi-vendor marketplace owner, making use of strategies based on search engine optimization for marketplaces is an essential step to which you must pay attention.
Without wasting much of your time, we will jump straight to our topic. But before that, it's important for you to understand Onsite SEO for multi-vendor in a wider sense.
What is Onsite SEO?
Onsite SEO, also known as Onpage SEO, is a practice that involves search engine optimization of the elements available on your online website with the main purpose of making your website rank higher in search engine results to earn elevated relevant traffic. SEO for marketplace websites may not essentially require the traditional SEO statistics for good SEO health. In fact, when it comes to onsite SEO for multi-vendor websites, you may need to provide extra consideration with the help of SEO strategies that are built around a multi-vendor marketplace platform.
Also Read: Understanding SEO to improve multi-vendor Google ranking
So, what exactly is SEO for marketplace websites?
Let's help you understand this with an example! Amazon, the global online marketplace, makes use of the 'A9' search engine and that's how it delivers results when you lookup for a widget. So, the entire game of onsite SEO for multi-vendor websites revolves around acknowledging the keywords associated with a product and thus, likewise lists the products based on the query. Now, this is just one aspect that plays a vital role in a multi-vendor marketplace SEO, but there are more.
In this blog, we will be talking about all those key aspects that can elevate the visibility of your multi-vendor platform. So, let's move to the next section of our blog:
Also Read: Search engine optimization for multi-vendor stores
Onsite SEO for multi-vendor:
The structure is important, regardless of whatever we are involved in doing. And it can't hold any truer for websites. You see, websites need a structure, just like anything else and the structure has an even more important role to play with websites than it does anywhere else. An unstructured website will likely make it more difficult for the user to navigate his/her way around. And this in turn, will help them drive away from your services.
After all, would you prefer to stay in a hotel room, or go in and consider purchasing anything from a shop that has its stuff strewn all over the place, without any semblance of order?
But optimizing the website structure is quite important in the larger picture. The absolute best practice would be to take up an SEO consultant while you are setting up your website. This ensures that the SEO strategies can be implemented at a deeper level and form an underlying part of the overall structure. Unless this is done, you could well end up missing some opportunities due to poor structure.
Also Read: SEO basic concepts to understand
Why is a good website structure important?
Your website structure is a crucial aspect of your onsite SEO strategy. A good website structure is as crucial as building straight roads. After all, we don't want to create a crazy and confusing maze for the users to navigate once they are inside to reach the content which is most relevant to them, do we? Look at it this way, if we have 1,000 or 500 products, we need to make sure that each and every product page is available to the search engines as easily as any of the others. What actually happens is that the structure of your multi-vendor website guides these search engines and informs them about the most important pages of your online website. And that makes your website structure a very actionable part for multi-vendor marketplace SEO. This also implies that with the help of your website structure, you can influence and decide the pages that need to rank highest in the SERPs.
It's impossible to guess what particular item a customer is looking for like we can do in brick and mortar stores by directly asking them. Hence, there is a need to go the extra mile.
For example, below is the approximate website structure Amazon follows: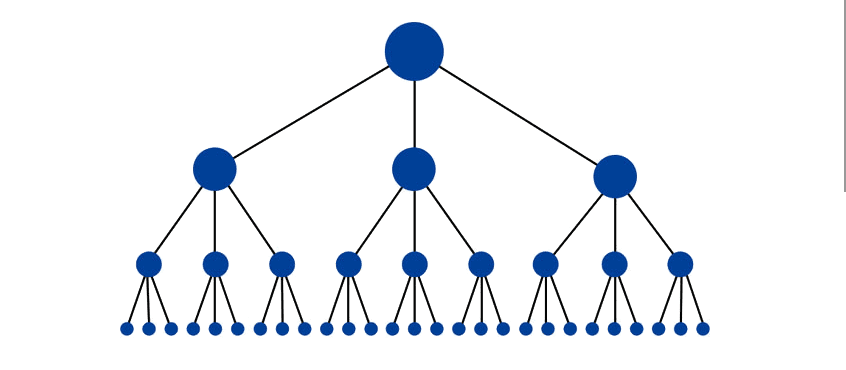 So, as a part of our SEO strategy, we must ensure that the overall website structure is decent and responsive.
Let's tell you how a good website structure looks like with the help of some key points:
As a part of search engine optimization for marketplaces, a good website structure also ensures that your content must not compete with other content from your website itself. Say, you have two similar products or, say that you have written two similar articles, your websites' articles may end up competing against each other. Unless the structure is very clear, this can lead to link cannibalization between two or more links — in short, not something we would like to see happening.
Also Read: A quick guide to search engine optimization of your website
User experience improves drastically, once you implement a better website structure strategy.
You can avail all the advantages of having the best structure in all websites of a particular category, and Google rewards such behaviour by providing extra site links to your website in search results.
Tips towards creating a better, enhanced website structure:
Okay, so now that we have decided how to go about improving the structure, the only thing that remains is the part focusing on how to actually do it. And here is how we can build coherence into a website.
Credits: Yoast
Recognizing and building 'Cornerstone' pages:
A cornerstone article contains a lot of important content that basically touches every facet of your website. The content on the 'About Us' page can be said to be a cornerstone article. The content in the 'About us' page is something that tells your audience about what services and products you provide, how you work, and what your website is all about. This content can be seen as the crux of whatever you are promoting. In short, the MOST important content on your website merits to be referred to as the cornerstone content. So, cornerstone content plays a very vital role in improving the onsite SEO for multi-vendor websites.
Now, once you have recognized the cornerstone content on your website, you also need to comprehend the categories and subcategories.
When you are all done with the recognizing part and have sorted everything out, all you need to do is to start linking. Every page lower down the hierarchy should link to the page above it in the hierarchy.
At the very top is the "Home Page" with all the cornerstone articles linking right into it.
Keep the number of cornerstone articles small and intact. You should aim for a minimum of one to two, and a maximum of 5 to 10 cornerstone articles. Because, keeping the number of cornerstone articles small but relevant, precise, and well structured at the same time can help your audience and the search engines understand your online platform in a better way resulting in a better multi-vendor marketplace SEO.
Also Read: SEO basics to start with
Categories:
Categorizing products and services on your website makes it easy to navigate for the user and likewise, the users can easily find what they are looking for. So, divide all products into their respective categories.
The size of the categories should be proportionate. In short, no category should be twice the size of any other.
This rule could take some tweaking on your part but try and implement it. You can resort to rather the simple expedient of creating multiple categories, out of extra-large ones.
Make sure that each page at the top of a pyramid links to subpages. All the subpages should also link back to the pages on top of the pyramid.
Also Read: How to create an online marketplace?
Using 'Categories' and 'Tags':
Categories and tags are kind of your website's index words, who lets you micro-categorize the content on your website. The major difference between tags and categories with respect to Onsite SEO has to do with hierarchy. While categories are something like the Table of Contents', tags are more like an indexing service. Tags rely upon the indexing of the content instead of cataloging them in any particular order.
Create tags sparingly, and try and deploy every tag multiple times.
Try and ensure that the readers are able to see the tags somewhere, say the bottom of the article or near the end of the product description.
Remove, but preserve through Redirection:
With regard to onsite SEO, it is very important to keep updating the content on the pages you have already published.
Removal could be an option however, it would mean that all the page authority and its contribution to the page ranks will also be lost.
To avoid this situation, use the redirect (301) to point your page and all their authority to some other page. Do this before you remove all its content.
The best option would be a still functioning page for a single product. But if that is not possible, redirect it to a related category or even to the home page.
Keywords:
After content or the right product, the keyword is probably the single most important factor. It has an important role to play in how search engines perceive your page, and the rank you get. Keywords are some of the most important factors around for onsite SEO. Keywords are the words and phrases that mainly describe what your content is all about. Using relevant keywords matters the most when we are considering search engine optimization for marketplaces because search engines make use of keywords in order to rank results. So, if a particular term is searched by a user, and your content is relevant to that query, your page ranks higher.
But, how to find the keywords a website ranks for?
Well, simple, you can use inbound marketing, SEO software, or Google keyword planner and pick those with the most searches and the least difficulty level. With the help of these tools, you can search for possible and relevant keywords as well as how much people are searching for them.
What are the most important places to optimize for the targeted keywords on your website in order to improve the onsite SEO for a multi-vendor marketplace?
Title
Description
Headings & Content
Image title
URLs
Conclusion
In the case of SEO for marketplace websites, following the best SEO practices is of no use unless you're following each of them. Above mentioned tactics for onsite SEO for a multi-vendor marketplace, must not be avoided to ensure the good SEO health of your online platform. As the search landscape is always evolving, you must keep your SEO practices updated. So, to rank your website in 2020, you need to optimize for a number of factors that the search engines consider vital, be it technical or on-page SEO. So, onsite SEO for multi-vendor websites must be prioritized on a constant basis.
At CedCommerce, our topmost priority is to ensure a smooth e-commerce journey for your business with the help of our e-commerce solutions and extensions. For more information on how the multi-vendor marketplace works, get in touch with us today!