Why Online Merchants And Sellers Are Best Placed To Become MILLIONAIRE In 2017 ?
Running short of time? Get PDF of the blog in your mail.

The Global retail e-commerce sales were approx. staggering $1.9 trillion dollars in the 2016 and is expected to reach more than $2.3 trillion dollars in the year 2017. The rise of the e-commerce is nothing short of phenomenal and the success saga will remain same.
Let's take a look on following Statistics:
.
 Global Retail E-commerce Sales (2014-2020)
.
B2C E-commerce Sales (2014-2020)
 
.
Share of E-commerce in the Retail (2014-2020)
Analyzing the above 3 statistics, it is apparent that e-commerce will rise, however, one of the prominent reasons for e-commerce to rise apart from technology penetration in the developing country, confidence building towards buying from websites and other factors is RETAIL INDUSTRY JOINING THE BANDWAGON OF THE E-COMMERCE.
As of 2016, only 8.6% retail is online is utilizing the e-commerce and still it accounts for gigantic $1,233 billion dollars. When more and more sellers will join the rise of the market will truly be unimaginable.
"AND ALL THREE FIGURES POINTS TO ONE FRATERNITY THAT CAN BENEFIT FROM IT THE MOST – ONLINE SELLERS"
However, the success is highly probable but not guaranteed. It requires measure steps and careful steps to be taken. First question arises, "What steps to take that makes it possible for me to be a millionaire in 2017".
The answer is not a straight one. First, it requires an assessment of your finances. Depending upon it, you can decide "how much to invest". If you can't pump in the large amounts of money to expand the products and market them better" No problem.
WITHOUT REQUIRING SIGNIFICANT INVESTMENTS:
What you can do is fully utilize the power of Marketplace platforms. There are several marketplace platforms that let 3rd party sellers sell on their platform. It increases the selling frequency, provides larger exposure to your products, brings to you new orders and helps you acquire new customers. Some of the most prestigious platforms are given below: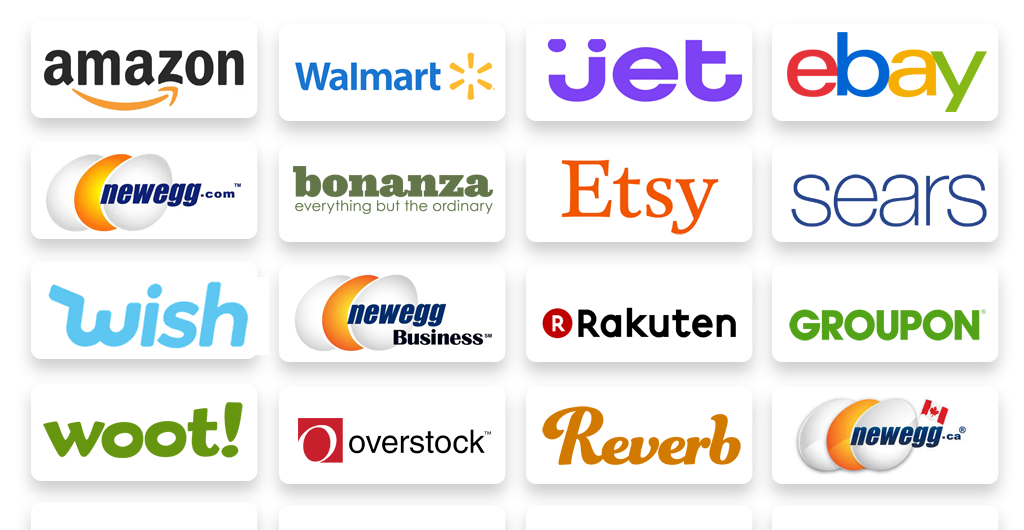 .
MARKETPLACE PLATFORMS:
One can easily CONNECT with these marketplaces through API solutions developed by 3rd party integrators. With these integrations one can easily upload the products their products on the aforementioned platforms from their online stores and get the orders, manage them and ship them for fulfillment.
MORE INTEGRATION OPTIONS:
Apart from selling on marketplaces, certain comparison site and affiliate networks are very fruitful. Here online sellers can enlist their products and depend upon the comparison or recommendation you can get more customers for your website.
Some of the Best Comparison Sites are:

And the examples of Best Affiliate Networks are:

THE COMPARISON WEBSITES ARE A POWERFUL TOOL FOR GETTING NEW CUSTOMERS AS THEY DISTINGUISH YOUR PRODUCTS FROM YOUR COMPETITORS AND AID CUSTOMERS IN RAPID DECISION MAKING. SAME IS WITH AFFILIATE NETWORKS, HERE INFLUENCER ENDORSES YOUR PRODUCTS AND YOU GET NEW LEAD FOR YOUR PRODUCTS.
As of now there is no short cut to success but adhering to solutions that maximize the outreach of your products, helps you acquire new customers, benefit you from others traffic and redirects traffic to your website or products can most definitely pave the way for you to become a millionaire in 2017. Because these e-commerce solutions bring to you, without spending a single penny on marketing – traffic and orders.
Thanks for your interest !
Regards
Team CedCommerce