Magento Mobile App Integration For Magento and Magento 2 Platforms
Running short of time? Get PDF of the blog in your mail.

Magento, an open source platform, is an empowering technology for more than 250,000 e-commerce stores around the globe trending in features like full scalability, operational optimization, vast scale functionality and much more; serving as a transforming element in the field of e-commerce. MageNative Magento 2 Mobile App extension provides a flexibility and the easiest way to build the mobile app.
Although there has been cumulative modification and accomplishments brought up in the field of open source e-commerce platforms, related to integrations, and add-ons, there remains several aspects, concerns, and possibilities that are yet needed to be explored and covered up related to the field of M-Commerce.
Magento also remains an ideal choice for the new as well as existing merchants hankering to sell online, because of its seamless possibilities along with numerous integration tend to increase functionality & services as per the requirements. Thus delivering an indirect increase in sales and net profit.
M-Commerce Statistics
Since 2015, there has been a greater switch towards emerging trends, behavioral pattern and increased activity related to demands and use of M-Commerce platforms. Mobile commerce transactions now account for more than, 60% of all transactions that are through (smartphones + tablets) in the U.S. Talking globally, mobile commerce accounts for 35% of retail and eCommerce transactions. Thus it can easily be inferred that mobile app is the premier choice for buyers. Keeping in view of the same.
CedCommerce brings up its radical innovation: the MageNative app which is full-fledged developed applications for iOS and Android platforms.
Comparative analysis of the operational features offered by MageNative app vs Third-party Apps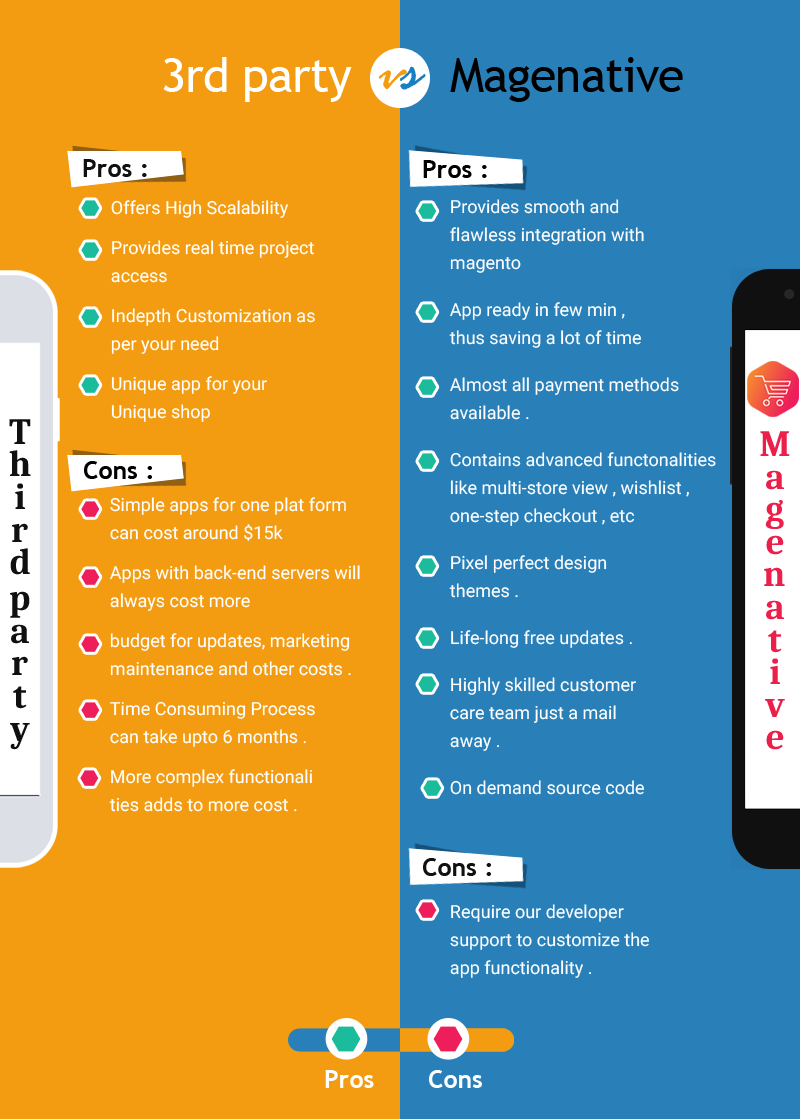 MageNative App from CedCommerce is a cost-effective, seamless mobile experience platform, for merchants yearning bring their Magento 1.x or Magento 2.x store on mobile with optimum performance and full functionality.
With the MageNative app, merchants can now convert their e-commerce store to m-commerce within just a few minutes, which is now absolutely FREE for 30 days (as a trial period); thereafter in order to continue services merchant needs to pay the applicable charges.
The MageNative Magento 2 Mobile App is designed to support all types of products that exist in Magento store, offering smooth functionality and optimized view. The MageNative App covers almost every aspect of online experience that a customer/merchants prefer.
Inimitable benefits of MageNative Magento Mobile App
1) Perfectly compatible with all Magento1.x and Magento2.x versions.
2) Fully Native app providing a realistic shopping experience to the customer.
3) Extensively elegant, customizable look and feel which ensures it matches the standards of the web store.
4) Customizable logo, splash screen, and color scheme.
5) Push Notification feature to let customer never miss real-time info.
6) Turbo fast page load time.
7) Simple and Effortless searching algorithm to quickly find a suitable product.
8) Refine products with multiple filter navigation.
Magento 2 Mobile App Builder from Official Magento Marketplace
Technical advantages and aspects: MageNative Magento Mobile App
1) Platform Support:
MageNative App is supported 
by the world's most popular mobile platform:
2) Magento on the Go:
MageNative Magento Mobile App offers almost each and every feature of Magento web to the Magento mobile app allowing merchants with full functionality.
Additional Benefits includes :
I. Easy customization with full functional app design dashboard
II. Add Launcher Icon as per the brand of your shop
III. Add App Icon to be visible on the top header of your app
IV. Add / Update Homepage Banner Add
V. Supported to all types of product
VI. Simple Product Support
VII. Downloadable Product Support
VIII. Configurable Product Support
IX. Bundle Product Support
X. Virtual Product Support
and much more …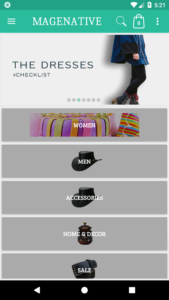 Magento Store Promotion:
MageNative provides different policies to promote the products, sales, discounts deals and much more. To provide the latest information of store like new products, coupons, order, etc push notification feature is available for the customer so that they never miss on updates.
To provide everyday deals, a feature is available which will allow the listing number of deals with their expiry time.
Customize Look and Feel:
MageNative app offers the color combination for the app as well change the static images displayed at different multiple pages in the app.
Report / Track Records with Google Analytics:
MageNative app incorporates the google analytics functionality to the Magento 2 mobile app so that each customer's activity can be monitored in real time. Merchants can also learn and study the behavior of customers and on conforming to that, a merchant can offer deals/review etc… as per the targeted customer.
All Payment Support:
The best feature that MageNative Magneto 2 Mobile App offers is flexibility related to payment option. The app uses web-view type for the checkout process so that customer will be redirected to any kind of the payment gateway which merchant using on his/her store and adaptable to most of the payment methods.
Ease of Shopping:
MageNative Magento Mobile App is backed by features like autocomplete suggestion, multi-attribute filter, descriptive product page, multi-view category page ( i.e list view, grid view, and large product view list) and a one-step checkout that makes the shopping experience for the customer a pleasant place to shop again and again.
Thus for the Customer hankering to bring their Magento store on MageNative Magento 2 Mobile App is an all in one solution to meet the conformability and requirements, and thus delivering the expected mobile interface for the m-Commerce solution. Merchants can Now avail the app and Enjoy 30 Days Free service.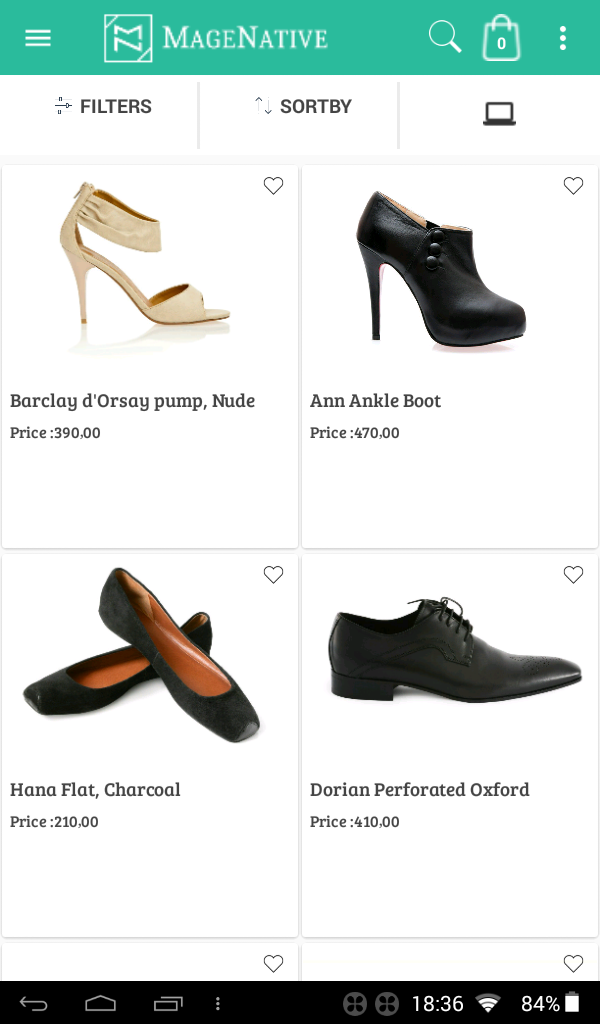 About MageNative:
Established in 2015, MageNative has been heavily involved with customized m-Commerce developments. The company offers a slew of solutions and has a vast, global client base. The company has a full-fledged research division, which constantly strives to create state-of-the-art solutions for eCommerce store owners, looking to expand into mobile commerce.
Magenative also deals with Magento mobile app, Magento 2 mobile app, Shopify mobile app, WooCommerce mobile app and Delivery app which allows the store owners to create and deploy native mobile applications for Android and iOS smartphones. The company is also working on mobile solutions for more eCommerce platforms namely Opencart, Prestashop, etc.
Know more facts about the business app: click here
Thanks for your interest!
Regards.
Team MageNative