Are You Curious about Email Open Rate, Click- Through Rate? Learn more about it.
Running short of time? Get PDF of the blog in your mail.

Play Now
Email Marketing is a dynamic process in the world of digital marketing. Almost every brand and company practices email marketing. But is everyone procuring the desired results? Probably not. Reason? There are multiple. Either you are not sending the correct email, or you're not sending it to the right group of people. But! What if these things are accurate, and yet you don't get what you anticipated? That may be the case if your email open rate and click-through rates are not up to the mark. This blog will tell you how to increase the email open rate and click-through rate which will help you to excel with marketing campaigns. Later in the blog, you will also learn about the ideal email frequency to achieve engagement in your email. So, Let's Get Started!
What is Email Open Rate? How to Increase The Email Open Rate?
The percentage of the number of emails that have been sent by you and been opened by your recipients is termed as email open rate. It tells you how successful your email marketing campaign is and how engaging your emails are for your target users.
Here are the few bonus points that can make your customers click your email, increasing your email open rate:
Send Email to the Right People. Don't Buy List.
It is always a better practice to 'create your own customised list than to 'buy' an existing list. Utilising the existing email list may include people who are neither interested in your product or service, which will lead to no expected activity towards your product. Instead, send to your manually segmented list who have subscribed to your brand, this will help to skyrocket your email open rate.
Update your List regularly
It is advised to check your List periodically to boost your email open rate. Check for inactive subscribers, invalid email addresses and filter your List. Make sure you send your email to those who are active so that you're certain your subscribers are receiving your emails on time.
Do the A/B Testing. Say NO To Repetitive Email Subject Line.
Best, Free, Sale, or some words like that known as spam words may prove to be fatal for your email subject line, body content, and then the whole email. Always remember to use the email subject line that may tend your customer to think if you want your email open rate to be high. Don't forget that the email subject line is the first thing that a reader comes across. If the email subject line goes wrong, it's an end. Practice the A/B testing and check what could be the best email subject line for you. Even the best and biggest brands do that!
Send At The Right Time
No one likes to be pestered with unwanted blabbering when it's most unwanted. Sending an email at the wrong time will not only decrease your email open rate but also worsens it. A reader is his own boss, and if he marks you as spam, it's the end game for you. So to avoid that, send emails at the right time and segment your email list carefully. Practice keeping track of what action your customer has taken.
For example, if a customer has purchased for the first time with you, send a welcome email within a day. Also, send a follow-up email to get feedback but after a few days by which the user has used your product well to make a point. Any email sent at the wrong point of time may really frustrate your users, getting you the worst result. So, be on time the next time you send an email.
Avoid Spam Filters
What if your email is not reaching your recipient at all? Yes, it happens. If an email is being filtered by spam filters that Internet Service Providers and email service providers have in their system, emails will not reach your customers' inbox but will go to the spam folder, and will only cost you the time, money, and energy. It will leave you no money on the table if an email is not even being seen by the user, let alone the high or low email open rate. So, before shooting the emails the next time, consider How to Avoid Spam Filter in Email Marketing and turn a profit.
What is an Email click-through Rate? How To Increase click-through Rate?
When your email recipient clicks on the link that you include in your email, it is directly recorded by the email click-through rate. very convenient, isn't it? However, there are 2 ways that can tell you your email click-through rate.
Number Of People Who Clicked The Link You Provided In The Email / Total Number Of Email Recipients Number Of People Who Clicked The Link You Provided In The Email / Number Of People Who Opened The Email
To have a successful email marketing campaign, you have to increase your email open rate and have a good click-through rate. Let us find out some ways to increase the email click-through rate.
Segment Your Email List
Segment your email list in the following ways to increase your email open rate and email click-through rate:
Demographic data: Gender, Where they live, Job title Behavioral data: What are the actions they take for your product or service? What do they buy? Are they free or paid users? When did they open your email? When and how often do they buy? Customer sign-up data: Onboarding new users and rewarding the best ones. Customer email client data: If they're browsing on mobile or desktop, When they say they want to receive emails.
Be Clear. Create Quality Content.
You're highly mistaken if you think ten irrelevant with unsolicited content will get you results. Instead, send emails with customer-friendly content. Monotonous emails always find their way to the trash. An informative email with basic things is what customers look for; they want fresh content that grabs their attention without emphasizing the promotions. Your email has to be crisp and flowy so that the reader sticks around to the main idea of the email. It's not that hard to frame an email in your customer's favour if you put yourself in their shoes.
Write a Personalized Email. Make It Look Familiar.
The reader likes to be addressed by his name Reader feels. Seeing the name on the email subject line, readers get the sense of familiarity, it makes the mail more interactive on the readers end. Therefore, the readers continue to read the open rate and email click-through rate. This specific action gives the possibility of the reader opening the email in future using his name as the keyword.
Format Your Email. Make It Mobile Responsive.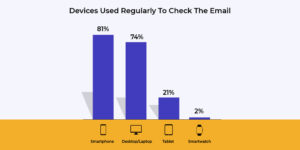 A study revealed that about 81% of all emails are first opened on mobile devices.
The data itself is self-explanatory; maximum users tend to open the email on their phone. It is very important for emails to be mobile responsive. If it gets difficult to read or understand the message conveyed by email, users will get frustrated, and the email open rate will decrease. Your email has to be quick, responsive, well presented with attractive display and engaging content; this will increase your email open rate and email click-through rate.
Let Your Email Do The Talking. Insert The Videos.
Research reveals that the use of videos in email marketing is on the rise and has a 280% higher rate of return than traditional emails.
With the inclusion of a video in your email while conducting the campaign, you may attract the target groups and offer them something new compared to the old techniques of an email body content. Result? It can skyrocket your email click-through rate and increase brand recall, which results in an increased email open rate when you send the emails in the future to the customers.
Bombard your Email with CTA's.
More CTA's, Merrier email click- through rate!
If your email is short and has the gist of your message, in short, it's perfect. But! If your email is long, it is always better to include more than one CTA button. In the beginning, middle, or end of the mail, your users should always have an option to click the link to reach out to you or to take the desired action that you want them to take. In such a case, the chances are fair that they don't have to look out for the CTR, and they may click it with ease, increasing your email click-through rate, and if all goes well, the email open rate may also be high the next time you email them.
Now along with the email open rate and email click-through rate, one more thing is extremely vital to understand, and that is the email frequency. Have a look at this aspect of email marketing.
What Should Be The Email Frequency?
While email open rate and email click-through rate can be handled with a strategy, email frequency is a bit more complicated. Email frequency is the number of emails that a company or marketer sends to its customers. But is there any perfect formula to know what should be the email frequency? I'm afraid not! Every business has a different email frequency rate, and it completely depends on the users. The frequency that may work well with a fashion may not do well with a pharmacy. The target group differs, and their expectation also differs. Now the real deal is, how would you know when and how often you should send an email to your target group? There are specific facts that you may keep in mind to make your frequency a balanced one, to increase the email open rate and email click-through rate.
Segregate Email List
Divide your email list into two groups; the First group uses the same frequency that you have been using. The second group, use this group to test your frequencies by increasing them or decreasing, provided there are a large number of recipients.
Measure The Result
Measure not only the email open rate or email click-through rate but also the opt-out rate of your emails. Rank your segments in order of engagement and email click-through rate.
Retest
If you haven't identified the best email frequency rate, retest until you reach the optimal frequency rate.
Risk In Sending Too Many Emails
Less Engagement: Too many emails can't tend a recipient to open it.
Unsubscription: The recipient might unsubscribe.
Spam: Your email might get marked as spam.
Reputation: Reputation can be damaged if the emails are too pro-selling.
Risk In Sending Too Fewer Emails
Less Opportunity: Fewer messages sent means less offering, less engagement, and hence.
Fewer selling opportunities.
Little Visibility: In the bunch of emails, your email will not be visible.
Subscribers May Forget You: Lack of emails or inconsistent emails may make your users forget you, amongst many other such emails.
Provide Value To The Recipients
Even if an email frequency is a bit higher, if your email has some substance and you are giving your recipients something that they may spend their time on, there is a chance the open email rate and email click-through rate will be higher.
One Platform To Boost Your Email Marketing.
Hubspot is the best tool created to help you manage sales, marketing and reporting for your business. Hubspot integrates with your online store to manage all your data and automate your process for email marketing. You can track each activity such as Email Open Rate, Email Click-Through Rate and check the precisely evaluated statistics of your Email frequency from the past and present, which helps you to manage your future email campaigns.
Cedcommerce is partnered with Hubspot which provides professional aid to integrate your Magento store with Hubspot seamlessly. Hubspot Magento Integration is a robust solution that offers you features like, segmenting the email list, list your target audience and enables you to have mobile responsive emails.
If you want to get your email marketing game strong click the button below and learn more about Hubspot Magento Integration.
Let's Conclude this:
Email Marketing is one of the prime marketing strategies for an eCommerce Store. Brands can directly communicate with their customers by understanding their target and personalizing the emails accordingly, this will increase the Email Open Rate and Click-Through rate. Hubspot Magento Integration provides an Email marketing combo for the Online stores to manage everything with ease.