Highlights of CedCommerce Experts – A Kickass Shopify Store Developer Agency!
Running short of time? Get PDF of the blog in your mail.

Play Now
Do you remember that iconic scene when Dumbledore said"Help will always be given at Hogwarts to those who ask for it"?These words gave Harry Potter the confidence to defeat Tom Riddle. Let's come back to the reality. This dose of confidence is necessary. Merchants who plan to sell online through Shopify can access this confidence by collaborating with Shopify store developers and experts.
Countless such agencies and freelancers commit to build, optimize, promote, and scale your Shopify storefront. But among the myriad options, CedCommerce Experts is the choice of more than 40,000 merchants. We turned 3 during the chill of December last year. With this arm, CedCommerce is committed to helping retailers build scalable eCommerce business on Shopify.
It took work for a handful of visionaries to nurture a team of 60+ full-stack Shopify experts who find solace in building highly convertible Shopify storefronts. In the light of our 3rd anniversary, we would love to share our achievements, philosophy, and what our Shopify store developers are up to this year (and onwards).
Do Merchants Really Need a Shopify Store Developer Agency?
Yes. Regardless of niche and size, retailers of all kinds need a Shopify store developer agency. Whether you have just kickstarted you venture or planning to launch its online arm. You will need an agency at various stages.
But mind you! Every retailer has 10+ Shopify expert agencies and freelancers that deliver a fully functional Shopify store. But is selling online all about building a great storefront? No. And this is what makes us different from mundane Shopify store developer agencies.
Let us resonate through a storefront we are currently working on –
About the Business –
Capel Rugs is a century-old business. It manufactures and sources supreme quality rugs that make American homes cozy, comfortable and luxurious.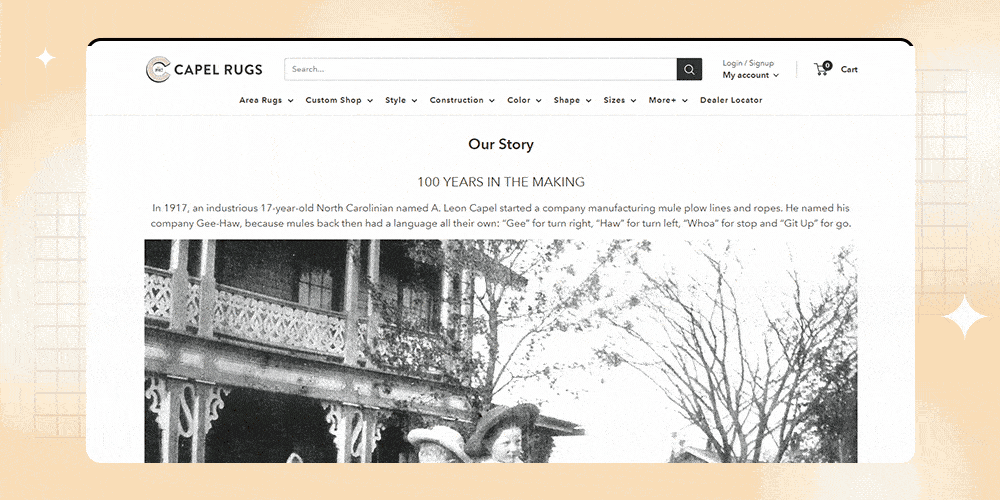 The Challenge –
Management wanted customers to get a complete picture of their rugs. From the overall look to the rug's linen, customers should get an inside-out view of the product.
If customers have a design with them then they should be able to upload an image of it which the management can use to create on-demand rugs.
Capel Rugs approached us just to tweak their store's front-end. But our Shopify store developers found critical issues in their store. They were impressed by the presentation. Finally, the management decided to hand-over their store for speed enhancement and custom functionalities.
Stay tuned! We will show-off our work when it comes to reality.
Meet CedCommerce Experts – A Shopify Store Developer Agency You Can Trust!
CedCommerce is home to some classic visionaries. The kind of visionaries who aim to make eCommerce simple with best-in-class and affordable eCommerce solutions. Today, CedCommerce is partnered with prestigious institutions from the digital commerce industry.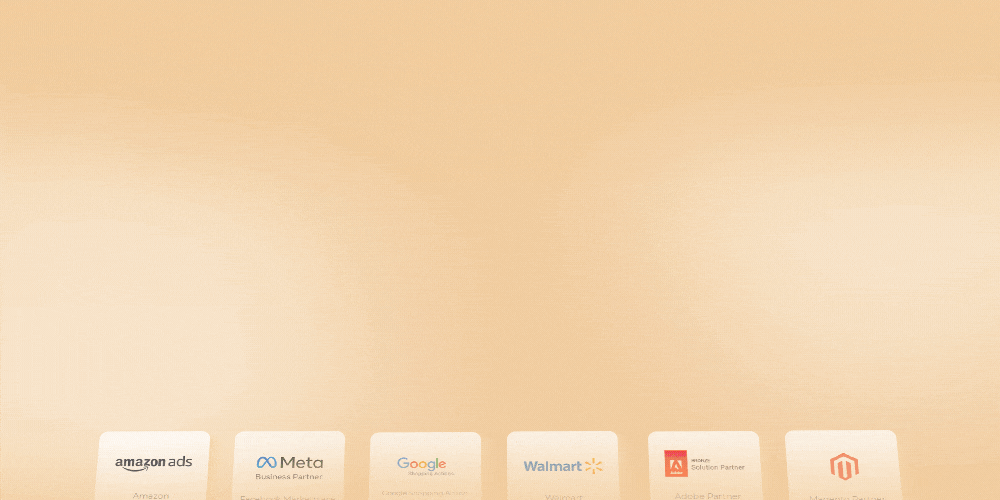 After gaining momentum, 3 visionaries planned their odyssey to explore Shopify's ecosystem in 2015. The journey was not easy. But they never gave up either. Instead, they made countless learnings throughout their journey –
Let's tickle Shobhit Nigam & Manisha Rautela and hear what they have to say on their journey.
Coffee & Conversations with CedCommerce Experts –

Answer –
Without a doubt, it would be tumultuous. A roller-coaster journey. Just like everyone else, we too, were recovering from the pandemic paranoia. And all of a sudden we found ourselves in the midst of a global inflation.
Retailers from across the globe have started taking precautionary measures to cut down spending on their business, which is a unique challenge for us.
A challenge to offer budgeted solutions as well as encourage retailers to invest in their venture even during the not-so-good times. Inflationary situation is cyclical – it will come and go, and come again.
Not only do we have to act as prime Shopify store developers but we also need to encourage merchants to keep up their hustle.
Answer –
We grew from a 3-member team to 60+ Shopify store developers, testers, coders, designers, analysts, and marketers. It is our prime objective to sync the team with our leadership philosophy. We must inspire them to work with a collaborative spirit.
While other agencies emphasize timely delivery and customer assurance, they lack collaborative approach. As soon as a designer's work is done, they are no more concerned with the overall progress of a project. It is unhealthy and unprofessional.
At CedCommerce Experts, no matter how general or specialized a project is, we want to ensure that all of us take equal responsibility. From the time of preliminary design till the time of delivery – the entire team should take responsibility and create storefronts like a child of our own.

Answer –
Now that we are 3 years old, we have realized that we have only worked together. But a bond is not restricted to our shift timings. As a team, we now interact with each other after office hours and during weekends. Just like friends, which is of utmost importance.
Apart from more interactions, we want to ensure the growth of our team members. We believe that everyone is unique, and we can move mountains together.
Training sessions and individual auditing will be needed to hone our team. There is a lot more. But for now, we are focusing more on interactions and the team's growth.

Answer –
Because we are a full-stack Shopify experts agency (chuckles!). Our experience with eCommerce platforms tells us that Shopify is by far the best choice for retailers because –
It is easy to use. Just open a store set-up tutorial, follow the instructions, and it's that easy to build a Shopify store.
Shopify is the multiverse of eCommerce. Shopify Capital, Shopify Learn, Shopify Markets, and Shopify Flow help retailers manage and scale their businesses better. It is not the case with other platforms. They only emphasize building a storefront.
Shopify is flexible and convenient. Flexible in terms of pricing and suitable in terms of usage. Retailers who start small can signup with Shopify for $29/month, with full access to the app store and other features. For enterprise-level businesses, there is Shopify Plus.

Answer –
2023 will be the year of change, betterment, and expansion.
We want to ensure that all of us become better manager at everything.
Very soon, we'll be penetrating global markets and Indian-origin brands.
We are on our way to building convenient apps and themes for Shopify merchants. A free theme that has premium-like features. Shopify merchants need only pay for its maintenance. It's that easy.
We are trying to be omnipresent. Apart from Shopify expert panel, we will strengthen our presence on Fiverr, Bark, UpWork, and other websites.
The Future of Managing Scalable Business on Shopify Lies With CedCommerce Experts –
It would be unfair to tag CedCommerce Experts as a Shopify store developer agency. Building a highly responsive Shopify storefront is one of our fortes. Our team can manage and scale your business with Shopifylike no one else does.
We are full-stack Shopify store developer agency that believes in building scalable and globally recognizable business models on Shopify. Here's how our experts fam makes it all happen –
Prime Advocates of Your Business –
Avatar (2009) is the biggest blockbuster of all time. Did its production kick off overnight? No. James Cameron and his team spent years researching and then began producing this mega-blockbuster.
In the same way, creating a Shopify store is easy. But if there is no research that backs up the business, then the store is good for nothing. Our business strategists know the impact of an in-depth analysis.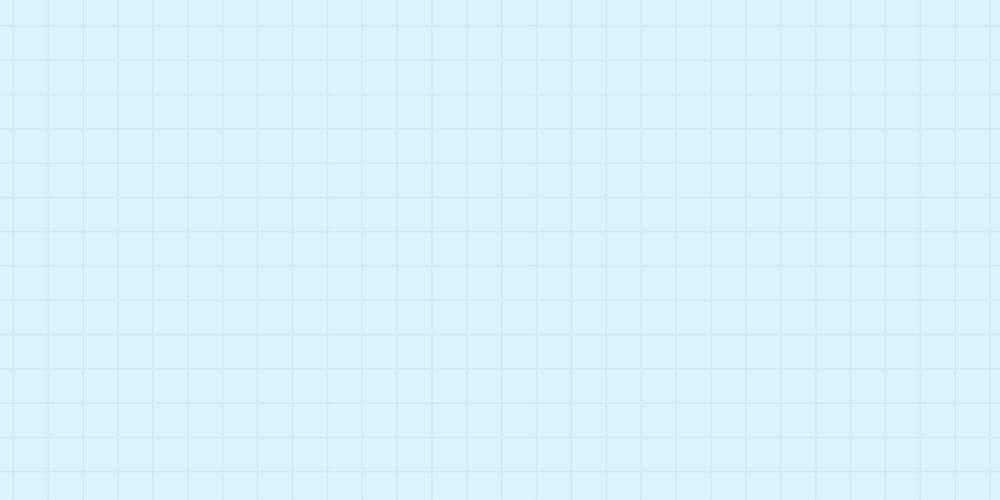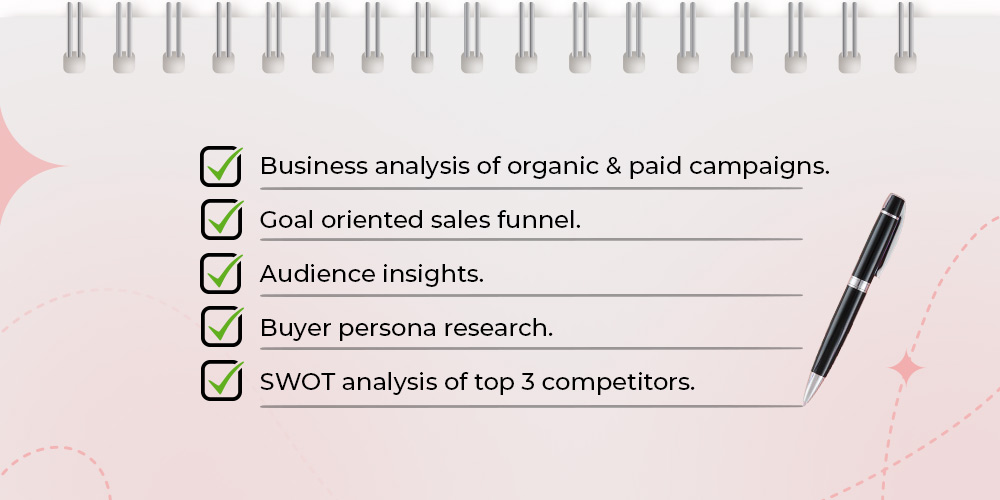 Build a Store from Scratch –
For a sapling to grow into a plant and bloom flowers, its sowing and nurturing are necessary. Our team of Shopify store developers is passionate about building kickass storefronts. The magic lies in the process.
Soon after onboarding, we collaborate with each other to ensure that a retailer's aspirations are subtly included in their store's design and layout.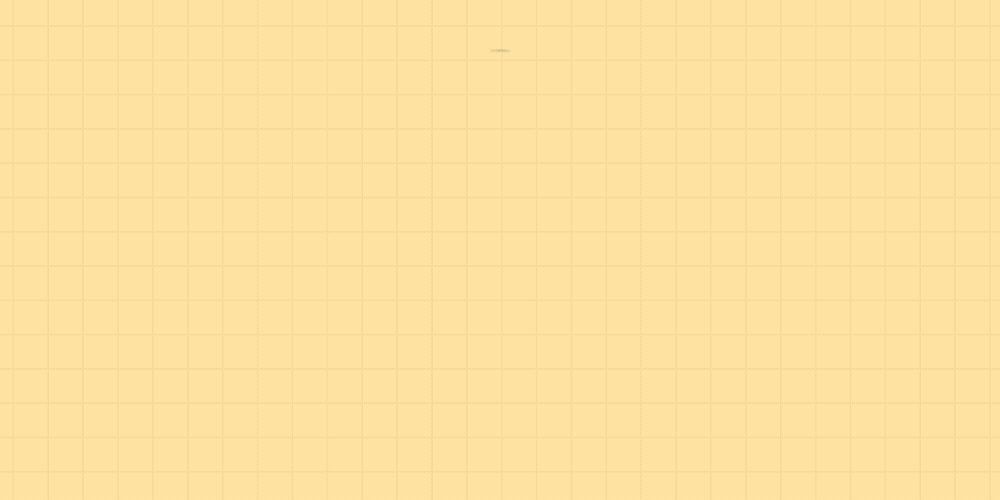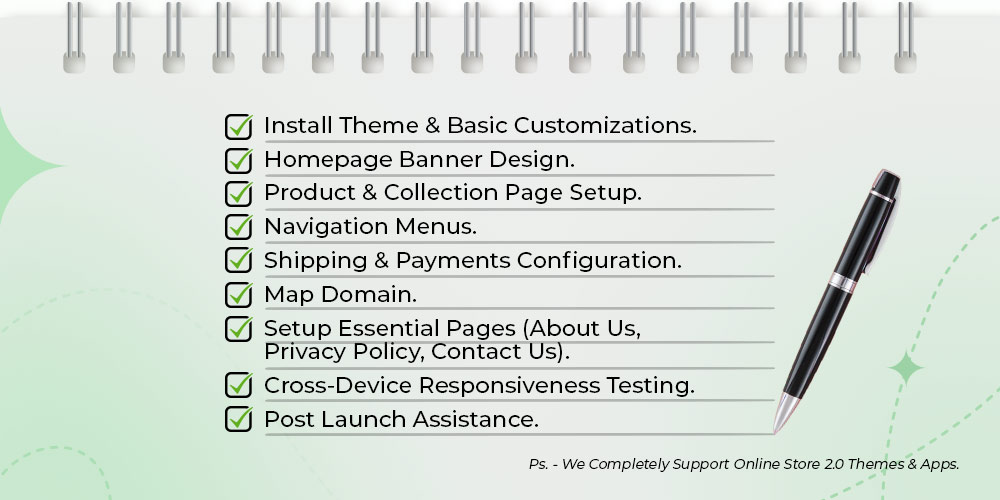 Optimize an Existing Shopify Storefront –
Let's say a retailer wants to make changes to it's existing storefront. Our Shopify store developers understand the scope and why a retailer is asking for it. Only when we figure out the problem statement do we begin with its twisting and tweaking.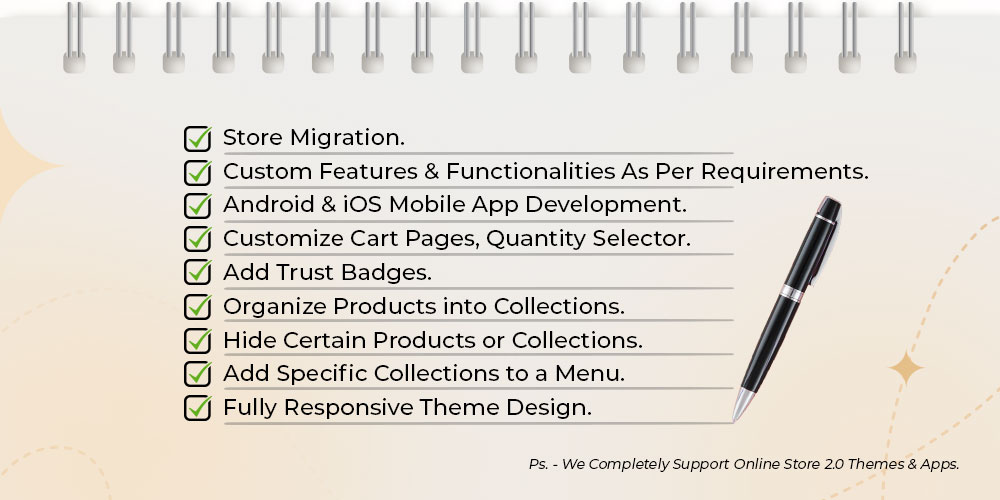 From migrating to Shopify, custom domain mapping, to making changes in a theme. Nothing is stopping our Shopify experts team from tweaking a storefront.
Speeding Up Storefronts –
No matter how great a website is. It is suitable for nothing if it takes more than 4 seconds to load. Speed is as important as adding sassy-ness. Our expert team is well aware of it. Which is why they will take care of your store's load time.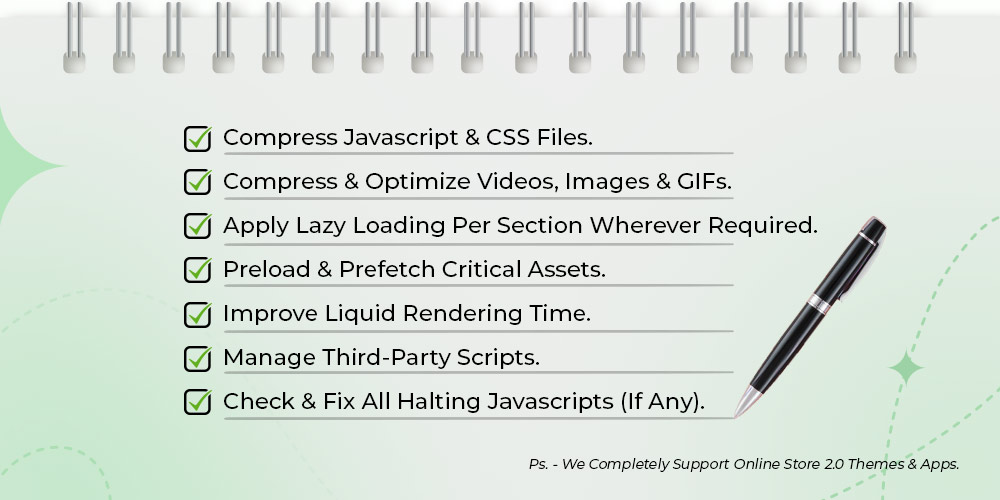 Make Your Shopify Store Visually Kickass –
No matter how great a book is. It will remain mundane if it is not colorful and handy. Our Shopify store developers code. But what about it's look and feel? Thanks to our design ninjas and web designers.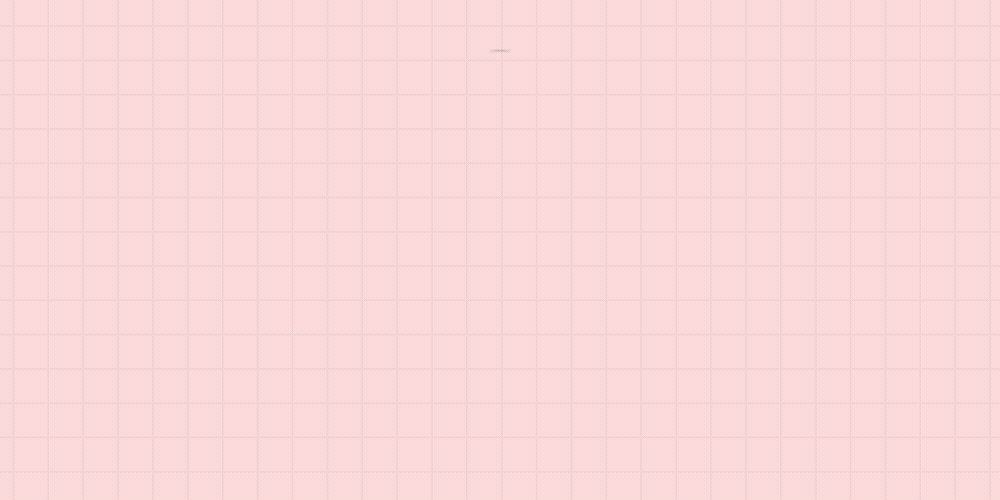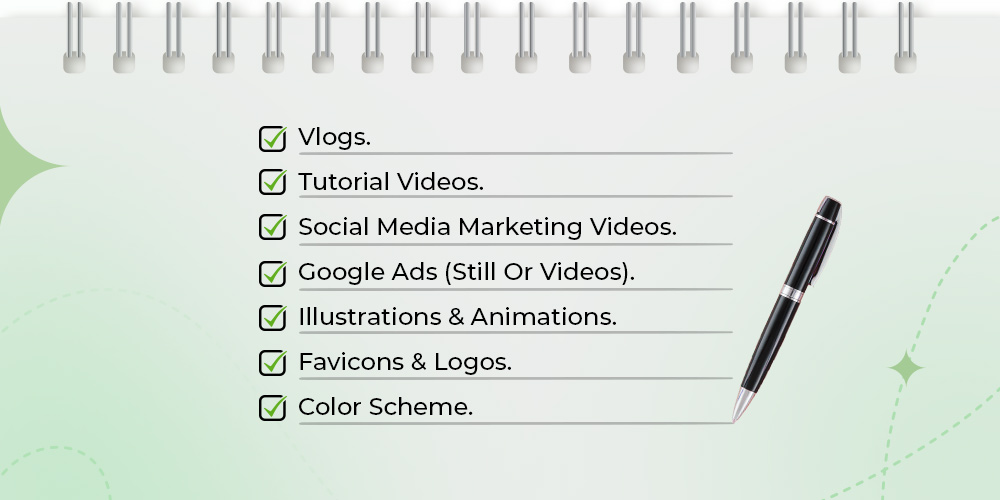 ROI-Driven Digital Campaigns –
The story doesn't end here. We are keen to help Shopify retailers manage their digital campaigns like a pro. From preparing personalized ad campaigns to tracking their performance – our digital marketers find solace when they help merchants strategize digitally.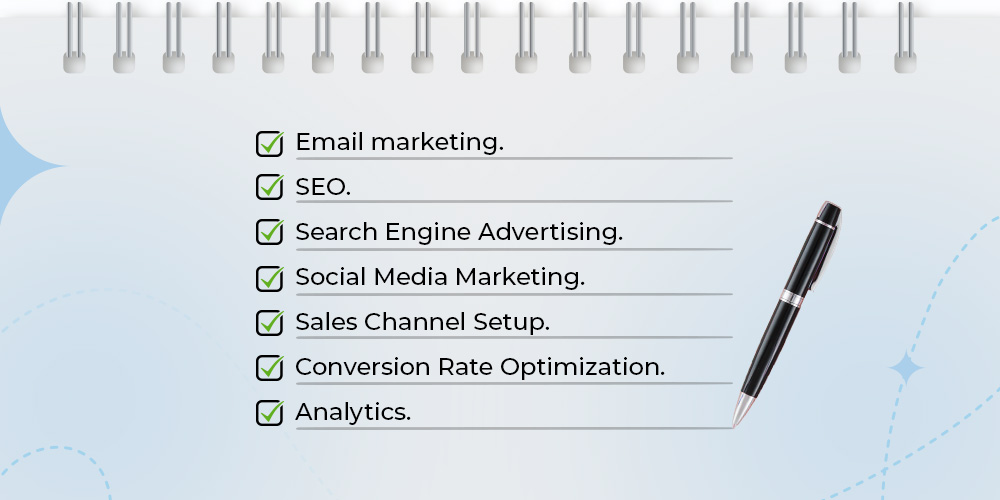 Summing Up –
The blog might have ended. But our will to serve retailers with anything and everything with Shopify will never end. This was all about who we are, what we do, and what we want to achieve. If you know anything willing to sell online then let us know. We will nurture their business like our baby.