Shopify is Revolutionizing Online Selling by Social Commerce
Running short of time? Get PDF of the blog in your mail.

Play Now
How convenient is it today to stay connected to the world? You need to sign up on a few apps and bang! Facebook, Instagram, Twitter, etc., help connect with people, share resources, and nurture healthy relationships on the internet. But are you aware that you can also sell products through social media? Apps, where you used to hand around, tag your friends, and expand your reach, are now slowly looming to be the social commerce platforms. Social commerce is a great choice to reach, build relationships, and sell your products to the internet community. This article briefs you about how you can tap into social commerce with Shopify to increase your store's reach, visibility and grab some sales!
Sell Online on Social Media – Millennia's Hotspot!
Social commerce is not a present-day term. Social media platforms were limited to discovery and consideration with purchase taking place off-platform – in an online store.
Now users can browse, shop, and place an order for the goodies within one connected social media experience – That's the magic of social commerce! Selling through social media platforms might sound cumbersome, but it's not. Here's a simple case –
Andrew is an active Instagram user. While scrolling his feed, he came across a carousel ad of a pair of denim jeans and shoes. The lightning deal instantly hooked him, and it didn't take much time for him to decide that he would buy what he just saw. In minutes, he placed an order, and within five working days, he will be receiving the shipment.
With social commerce platforms, you can discover, consider, connect and purchase a brand under one roof. From great visibility to convenience in shopping – social commerce is one of the most convenient shopping solutions to new-age internet shoppers.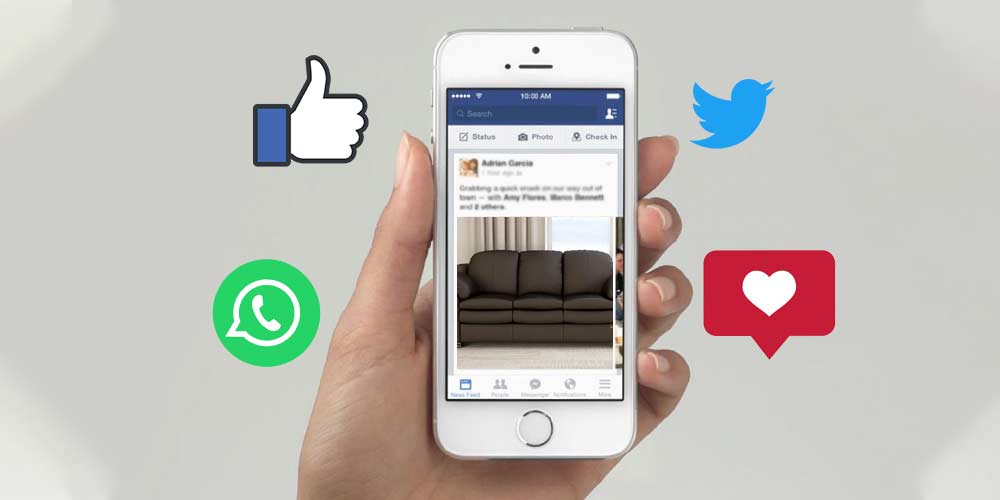 The growth of these platforms is just terrific – analysts are forecasting that social commerce could be worth $600 billion in the coming years! Although social commerce platforms are still brewing – merely 6% of the UK consumers have purchased directly through this feature.
But in China, it is an essential part of online selling. WeChat bagged $115 billion by selling on social media in 2019. Pinduoduo (an app where a group of friends can shop together) has grown from just another start-up to China's second most valuable online retailer.
The ability to place an order within social media would encourage 21-to-34-year-olds (the most significant social media population) to bond with brands. Today, as a seller, you have more opportunities to interact with your target audience across a growing number of digital touchpoints.
But How Do You Sell Your Products on Social Media?
That's interesting! It's just breathtaking to see online retailers as media platforms, and media platforms are retailers.
Every social media platform has a distinctive set of audiences, making it easy for brands to understand user's buying behavior better. Let's have a look at prominent social commerce platforms individually.
Facebook & Instagram – It's hard to tell which platform was the first to introduce selling through social media, but it's not difficult to quote the pioneers. There are a plethora of ways through which you can sell your products directly on Facebook and Instagram. Facebook commerce is an approach to raise the bar of social commerce.
Facebook and Instagram ads help you captivate your audience through engaging videos, photos, swipe through carousels, tilt to the pan and explore images with tagged products – all in a single ad.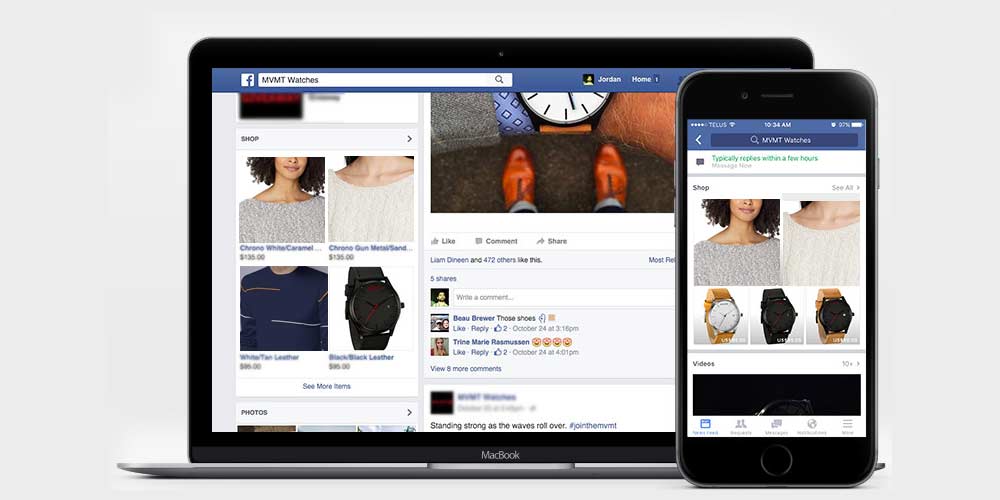 Besides ad offerings, Facebook turned its pages into mini-stores – Facebook PageShop and Shops that allowed users to experience online shopping inside a Facebook page's premises.
Instagram is known for its rich content nature – It's an apt social commerce platform for fashion, beauty, and lifestyle brands. Checkout on the Instagram feature allows users to view products from a shippable post and purchase them within the app's app.
When used with Instagram's live feature, shoppable posts make the overall social commerce experience exquisite.
It is a popular shopping culture in China and Korea where brands tag products in their live streams, and viewers can tap on the products to learn more and purchase on the go. To start selling through Instagram, you need to have a follower-base of at least 1000.
At the Global level, Facebook has extended its ecosystem, adding more partners who provide the feature to sell your products on Instagram and Facebook. CedCommerce is one of them (keep scrolling down, and you'll get the link).
Pinterest – Is an impressive place to discover new ideas. Its Verified Merchant Program (VMP) takes social commerce to a whole new level by offering a discoverable appearance and shoppable experience from vetted brands. A shop tab is also an addition to make selling on Pinterest seamless and exciting.
Twitter – Social commerce is not just about offering your products on the internet. Reserving a space in the minds of your customers is equally vital. You can do this through Twitter.
Have you heard about Manny's Deli? It's a Chicago-based restaurant running since 1942. Locals are crazy about Manny's sandwiches, kishke tongue, lox, and bagel. But due to the pandemic, Manny's 300-seater restaurant was stranded. When business was not in great shape, the management decided to share its concerns on Twitter.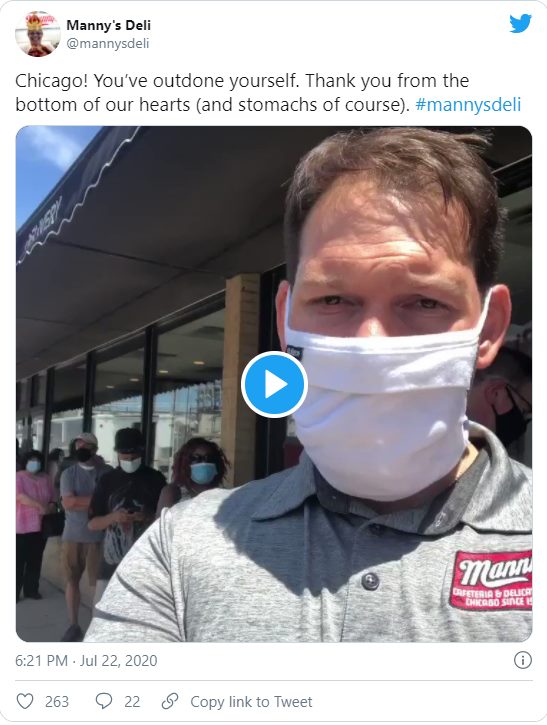 In a single night, the tweet went through thousands of retweets and support from thousands of people. People contacted Manny's to extend their love and support to the restaurant. Through a single tweet – Manny's pulled 1500% in sales, 20 million media impressions, and 500,000 engagement! For a brand, this is like a dream come true! And all this happened through social media and a simple post.
Notable, isn't it? Nobody thought that platforms designed to interact and connect would also forway into selling stuff online and do wonders!
Social Commerce Vs. Traditional Commerce –
While the end goal remains the same – sell products to people on the internet. How each platform accomplishes is different.
Traditional commerce is a bit convoluted – scroll a website, navigate the menu, find a product, place your order and pay to the merchant – that has a risk of abandoned carts.
But with social commerce, the entire buying journey is under one roof – you pick the product you want, testify it through reviews, and if you have second doubts, you can chat with the brand there itself. There are fewer steps when purchasing anything through social commerce platforms which saves you from abandoned carts.
In a typical online store, customers will hover around your store, select a product, pay for it and receive the shipment – there is not much interaction between you and the customer. To do that, you've got to back-up your store with a chatbot. Through social commerce platforms, customers can get in touch with you before they make a purchase. This alone strengthens the relationship between customers and merchants.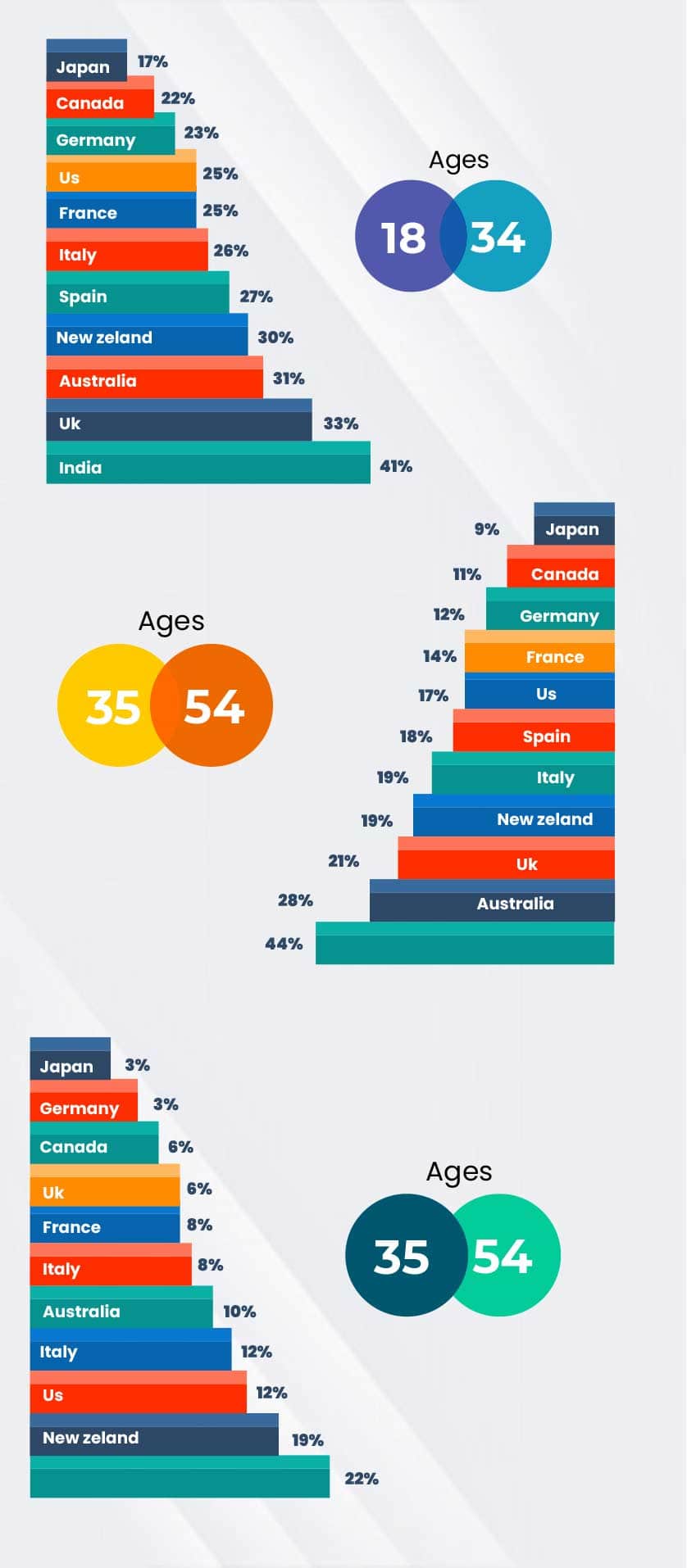 You can just run ads for your online store on social media – that's how the industry has been for years. But when you decide to sync with Shopify and social commerce, many doors open for you.
Since social media is all about community building – one happy customer can get you ten more customers. If you want to know what it feels like to enjoy the organic ways of promoting your business, you've got to try selling through social commerce platforms.
Shopify's Alliance with Social Commerce Platforms is Growing in Leaps & Bounds!
So, which platform to signup with to reap the best out of social commerce? Well, it's got to be Shopify because it has rolled out a streak of initiatives that opened doors of social commerce.
Through social commerce, Shopify encourages sellers of all kinds to think out of their store and start selling to places where there are millions of active customers!
Hey Siri – Let's Go Shopping with Shopify!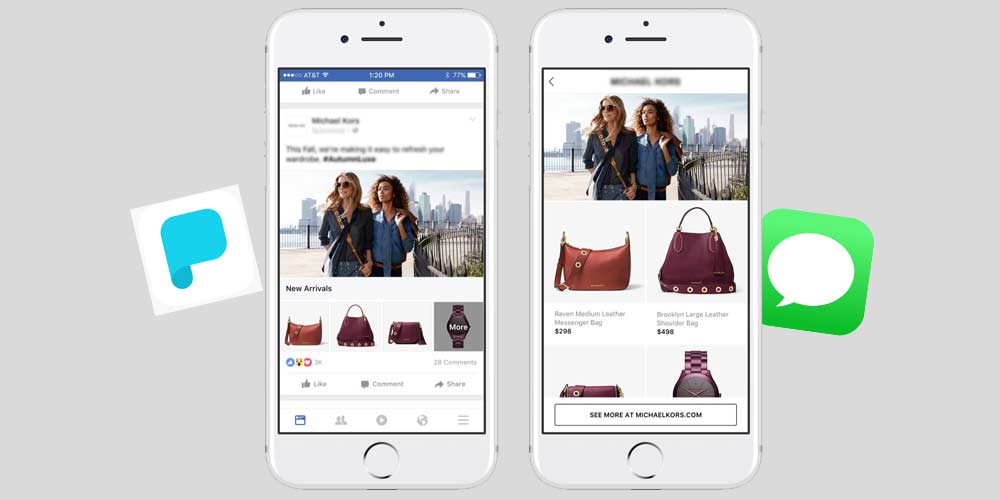 When you bridge the gap between customers and brands, it creates long-lasting relationships and squirts trust among the target audience.
In 2019, Shopify partnered with Apple Business Chat and soon turned a simple messaging app on iPhone into a social commerce platform.
If you own an iPad, iMac, or an Apple Watch, you can browse Shopify stores, ask for product information, and securely pay for products with Apple Pay within the conversation. You can also manage customer conversations through Shopify Ping (which will soon be terminated)
Buy on Google with Shopify Payments –
Showcasing your Shopify products on Google search, Google shopping, and assistant is now possible with Shopify's partnership with Google. Checkout CedCommerce's Shopping Feed for Google app – which supports Shopping actions and ads, surfaces across Google, merchant promotions, local inventory ads, and much more.
Instagram Stories, Shopify & Shopping –
Imagine you're showcasing your products to a 400 million user-base. The amount of engagement and conversion rate is unimaginable! Through CedCommerce's Facebook & Instagram Shopping app, you can turn this imagination into reality!
It allows users to discover products on Facebook shops, tap on the Instagram tag, purchases a product, and checkout from your store without leaving the Instagram app.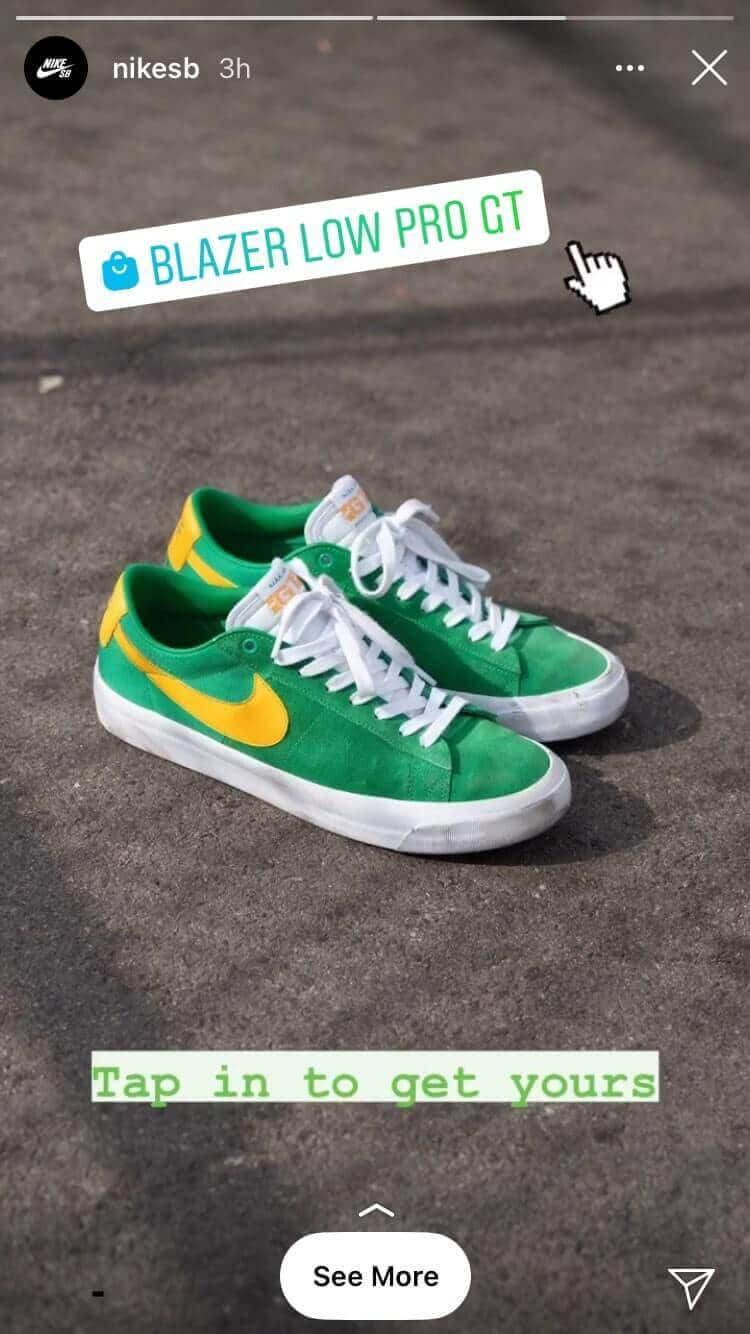 If you want to build your brand that talks to its customers, then Instagram is the best social commerce platform with loads and loads of playground for you as a Shopify seller.
Let Bots Assist Your Store's Visitors through Shopify Chat –
Shopify Chat is the first native chat feature that allows you to have real-time conversations with your customers. The app is available on all browsers and operating systems. Customers can ask product-related questions, request updates, and grab discount codes.
Shopify Introduces eCommerce to TikTok –
It didn't take much time for Shopify to realize that short-videos are the next big thing. Shopify partnered with TikTok to come up with one of a kind eCommerce solution for its sellers. Through TikTok Business, you can create in-feed shoppable ads.
You select the product you wish to run an ad for, and TikTok will prepare a captivating video on its own. There are ready-made templates for sellers, which you can use to create a TikTok.
In the coming time, a lot more is expected from the Shopify ~ TikTok partnership that's going to elevate the social commerce platforms.
Create Buzz Through BuzzFeed –
Shopify's BuzzFeed channel allows you to tag your products for BuzzFeed editors to search and feature in their campaigns. This social commerce platform helps you to reach 200 million loyal readers.
This integration is only available for the US merchants selling to the US customers in $. BuzzFeed writers create content through unique links, and the link drives customers directly to your online store. Order fulfillment and customer information are provided upon purchase – just like the regular Shopify store sales.
Nobody thought that a media website could turn out to be a hub of shopping activity! But it's all possible because of selling through social commerce with Shopify!
Why Pin When You Can Buy?
As high as 80% – weekly pinners are said to have made a purchase based on a pin they like. Shopify was quick to sniff an opportunity of social commerce here. Shopify's new sales channel allows US and Canadian merchants to tap into Pinterest's audience and turn existing products from their store into product pins on Pinterest.
A shop tab is an add-on for free/organic promotion. You can also promote your nails as paid ads and bring customers directly to your store.
The goal is to help Pinterest's community to find the products and companies that inspire them. The integration allows Shopify merchants to reach more shoppers and help customers discover the brands they love.
Social Commerce Platforms are Ruling in the UK –
According to scrutiny channeled by MasterCard Research, a majority of UK consumers are utilizing social commerce platforms like Facebook, Instagram & TikTok to do their shopping as brick-and-mortar retail stores remain closed across Europe.
Out of all the prominent platforms, Instagram was the favorite pick of UK's social shoppers, with 92% of consumers saying they had purchased products there compared to 39% who favored Facebook, 22% YouTube, and 20% TikTok.
US's young shoppers have been shopping like crazy over social commerce platforms, and at the same time, 54% over 55-year-olds have admitted to buying more socially, contributing to 25% of purchases.
And this US is Following China's Imprints –
Social commerce in the US is about to reach a mind whopping $36.9 billion – which is merely 5% of the US eCommerce sales. Compared with China, then the same figure is a mere one-tenth of it.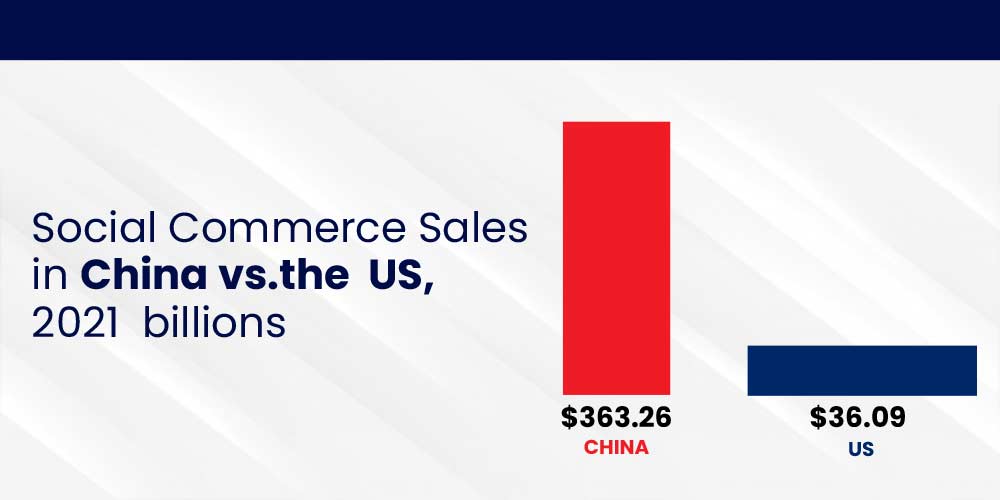 Social media platforms in China are multifunctional and have a broader purpose than their Western counterparts. Also, consumers have more affluent, sophisticated, and highly connected millennials – which has helped social commerce to mushroom in China.
Compared to the US (in terms of shopping through social media), China is almost a decade ahead. In China, it is said that social commerce makes up 12% of retail eCommerce sales. Chinese social media platforms offer multiple opportunities for shoppers to make their luxury purchases online.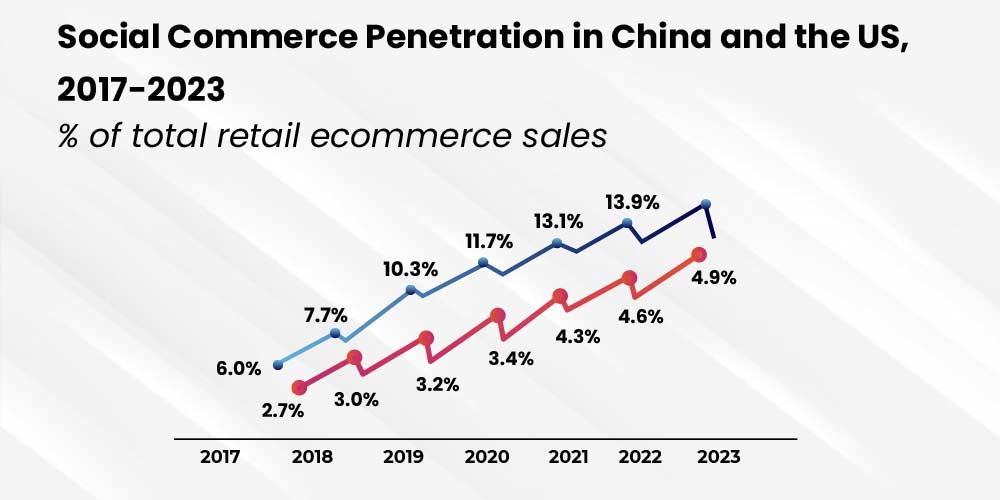 Social commerce platforms were brewing in China when the rest of the world was getting used to the traditional eCommerce ecosystem. Chinese brands also played an important role in the emerging trend. They were ready to testify to this trend and welcomed it with an open heart.
Are You Ready To Leverage Shopify & Social Commerce?
Shopify is not just a place where you can create your online store and start selling. It's a community where you're most likely to find some genuine innovations from the eCommerce world. When it's about social commerce, Shopify made it easy for you to reap the best out of it. Here's what is expected from you when you're selling across social media platforms –
Put great efforts into imagery and product showcasing. That's what attracts online shoppers to your product.
Give your visitors some stake in the buyer's journey – a reason to share and contribute content.
Create a personalized shopping experience or take a one-size-fits-all approach – choose wisely!
Every social media platform is distinctive. Whenever you decide to pick up a social commerce platform, be sure to move ahead with a fresh approach and do your research.
Summing Up –
From brand building to a product's reach – you can do wonders with social commerce and Shopify stores. A little research about your target audience will help you settle where you always wanted to be.
While Shopify will help you develop an online store, social commerce will help you penetrate the thick community of internet shoppers and find your products' right target audience. Social commerce and Shopify both complete each other.
Today, selling is not just about launching an online store and run ads online – it's much more than that, and social commerce platforms are just a shallow topic of upcoming trends in eCommerce.
Still, have doubts? Reach out to Shopify experts and explore the ins and outs of online selling with Shopify!