Everything on Walmart Ad Campaign and Performance Management Dashboard
Running short of time? Get PDF of the blog in your mail.

Play Now
Quick Brief – Today's shopper journey is complex. With a minuscule attention span, shoppers are eager to find the best products that suit their budget and are not afraid to do their research. Thus making it necessary for sellers to advertise their products efficiently to increase product visibility and increase their chances of achieving better sales. Walmart being one of the leading global marketplaces provides sellers with additional benefits through Walmart Ad Campaigns and Walmart Sponsored Ads.
Walmart Ad campaign provides numerous benefits that contribute to enhanced sales and better visibility of your products. Read on to learn about Walmart ad Campaigns and their effectiveness. Find about different aspects, types, and best practices for running an effective Walmart Ad Campaign and manage them through Walmart Campaign Performance Dashboard.
Contents: 
Why should you consider advertising on Walmart.com?
In 2021, Walmart became the #1 online grocer and #2 eCommerce platform in the United States. These stats result from increased online shopping trends during the pandemic and the Marketplace's far-reaching advertising strategy. Sellers across the US reaped the benefits of a thoroughly planned and well-executed Walmart Ad campaign, with the help of Walmart's Campaign Mnagement Dashboard.
Walmart.com offers numerous benefits when it comes to advertising your products on the platform- a dedicated promotional dashboard being one of them. Moreover, the paid promotional services also offer unique insight into how well a campaign is performing and what can be improved.
Benefits of Walmart Ad Campaigns:
Support organic presence – Paid advertising on Walmart.com tends to enhance your product's organic presence, discoverability, and visibility.
Helps new sellers to boost their performance – New sellers can also avail of digital advertising to promote the early sales performance of their products.
Help SKUs with lower visibility – SKUs that do not perform well can gain higher visibility as a result of effective, targeted ads on Walmart.com.
Benefit from seasonal spikes – Seasonal products such as holiday decorations, patio furniture, etc., can benefit from the seasonal spikes.
Walmart's Campaign Performance Dashboards
Walmart recently introduced a Campaign Performance Dashboard that drives clear campaign insights for Walmart advertisers. The dashboard provides real-time updates and analytics. It assists advertisers with in-depth visibility of the campaign performance and offers full transparency into omnichannel marketing campaigns.
The Campaign Performance Dashboard is available for all Walmart Display and Sponsored Products campaigns. It provides advertisers visibility into campaign performance on Walmart's digital properties. The dashboard is accessible to advertisers through the new Walmart Ad Center platform.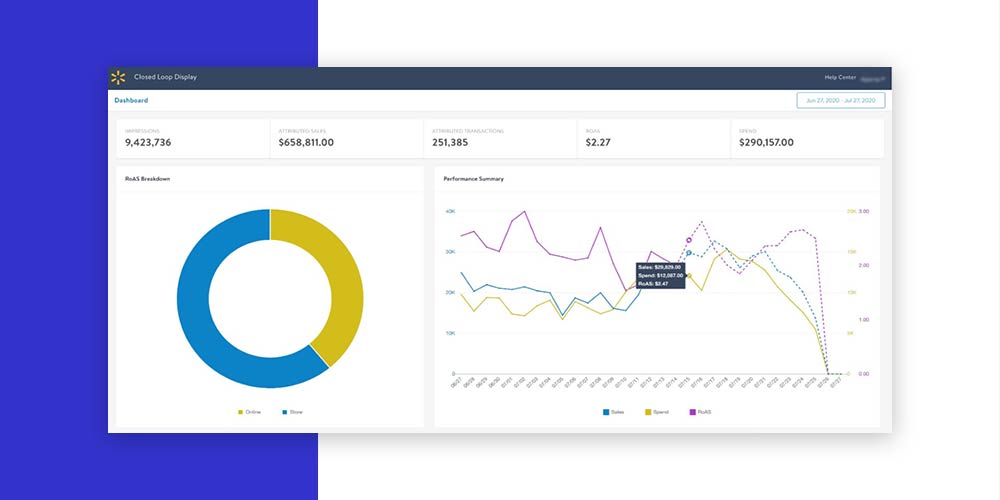 Since advertisers wish for total transparency and control over their campaigns, Walmart introduced Campaign Performance Dashboard to fulfill their demands. This easy-to-use platform enables advertisers to track and optimize campaign performance for better efficiency over time. It also assists them in managing campaigns.
Walmart Ad Center provides access to Performance Dashboards, where advertisers can access their live campaigns as and when required.
Types of Advertisements on Walmart
Though Walmart.com provides limited ad types, several valuable sponsored products, and online display ad options enhance your product's visibility. The display ads drive online sales by popping up when relevant searches are made, providing shoppers enticing details about a particular product while they shop online.
The different types of Walmart Advertisements are:
Walmart Sponsored Products 
Search In-Grid Results: These ads appear within the first three search results pages and are CPC ads. They drive traffic to relevant product detail pages of Walmart. For such advertisements, expenditure controls are in the hands of advertisers as they set the budget and bids and pay only when a consumer clicks upon an ad. The Search In-Grid Results ads are available for both manual and automated campaigns. For ad eligibility, the store and products you wish to advertise should surface organically within the first 128 search result positions as these types of ads heavily rely on relevance.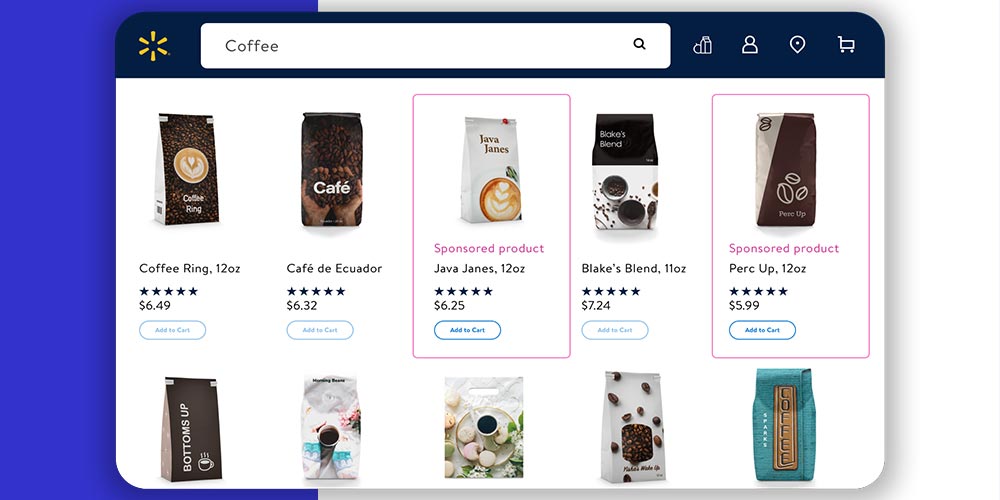 Carousel Ads: They appear in various locations across Walmart.com. Displayed from the homepage to the product page, all carousels are available for automated campaigns, while manual campaigns only come with the search carousel. Carousel ads act as an all-rounder for the success of your Walmart advertising campaign irrespective of whether your goal is to maintain your existing visibility, grab new customers, or more.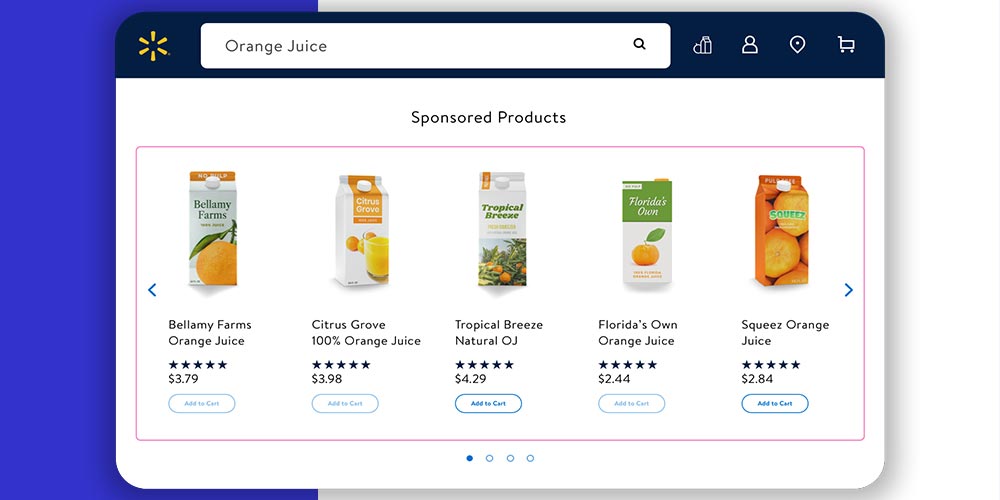 Some of the most popular Walmart Carousel ad placements are:
Search results
Category pages
Browse pages
Curated shelf pages
Product detail pages
Homepage
Unlike Search in-grid ads, Carousel ads do not have the eligibility criteria of appearing in the top 128 organic listings.
Most importantly, Carousel ads may also appear within personalized shopper carousels. These may include items that were viewed or even purchased by the customers.
Also, Read:
Walmart Buy Box Banner
The buy box banner ad is a highly competitive placement only available for automated campaigns. Shoppers can find the Buy Box Banner advertisement for relevant alternative items on the product detail page.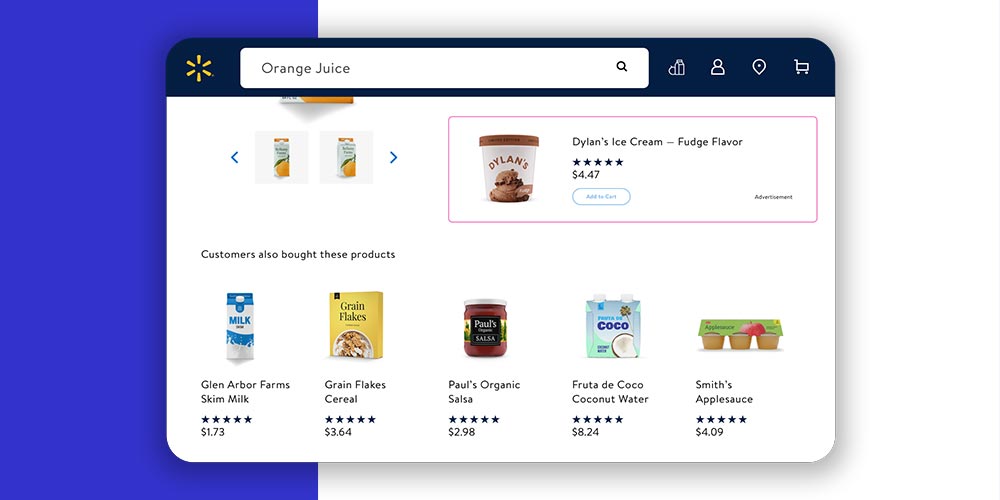 Walmart Search Brand Amplifier
Search Brand Amplifier refers to a branded group of products that appear at the top of a search result listing. The Walmart Connect team manages the placement of this ad.
These ads provide a unique opportunity to increase the brand recognition and awareness of the products in your listings. Additionally, brand Amplifier placements display your logo, custom headline, and a maximum of 3 individual SKUs that appear right above the returned search results.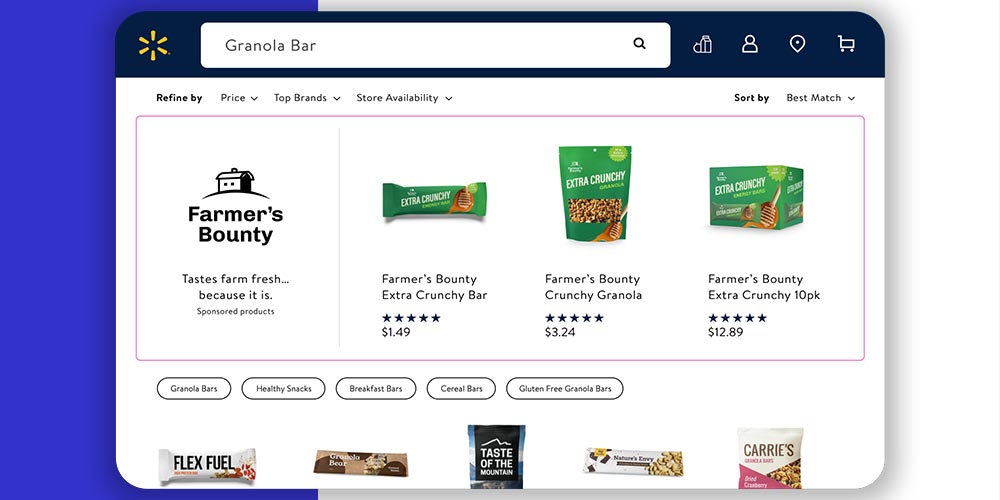 Walmart Offsite Display Advertising
Walmart advertisement enables brands to reach potential shoppers beyond their digital limit. Moreover, offsite display ads help sellers capture customers across the web, including social media.
What we are saying is 
Walmart Ad campaigns are an essential driving strategy; furthermore, they contribute to return on investment.  Running Ads with Walmart is especially beneficial considering there are currently no negative keywords in Walmart.com advertising. To sum up, if you wish to expand your Walmart Marketplace store to the next level, get in touch with experts that can help you set up campaigns easily. Learn how the CedCommerce team can help you secure your piece of the Walmart pie through the industry's most comprehensive Walmart marketing program.